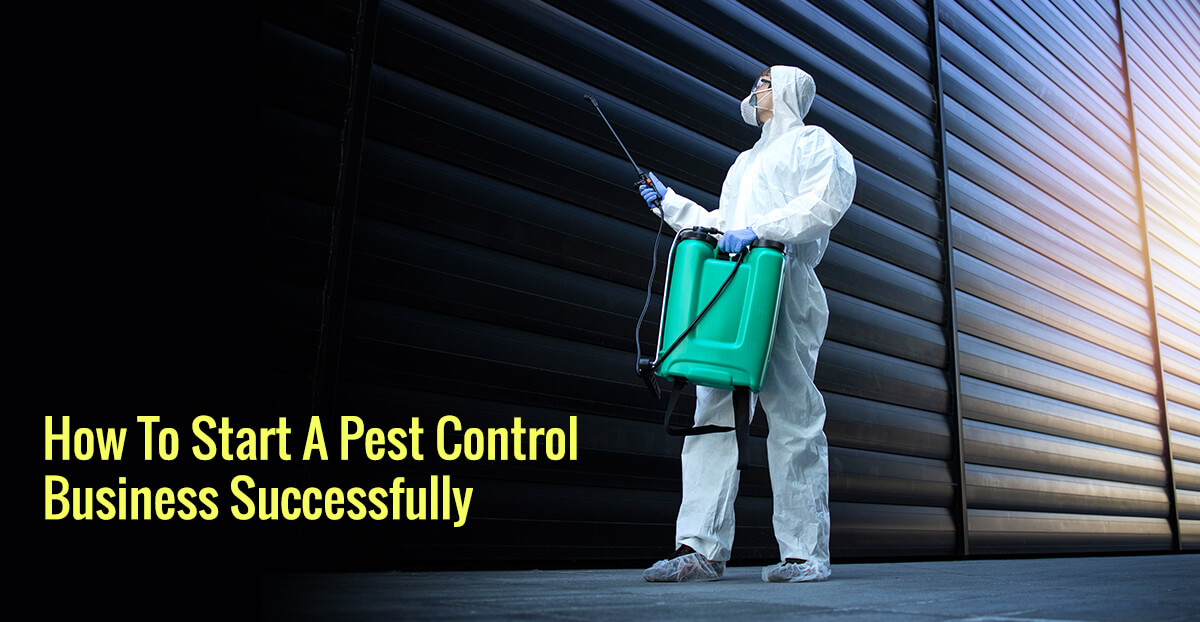 How To Start A Pest Control Business Successfully
One of the best ways to start a successful business is to ensure that the business addresses one of the chief concerns faced by clients and is also an evergreen business, not seasonal or occasional business. One such business idea is to start a pest control business. Pests are a cause for concern for almost everyone, for residents and commercial spaces alike. A pest control business will always be in demand throughout the year to help fumigate and sanitize spaces, making them free of pests.
Let's learn how to start a pest control business successfully.
What Is Pest Control?
Pest control refers to the process carried out by exterminators or pest control workers to eliminate pests such as termites, cockroaches, rats, mice, reptiles like lizards, etc to protect homes and offices as well as commercial spaces from a pest infestation. In other words, it is the process of regulation and management of the different harmful living organisms to ensure a hygienic and healthy environment.
The process of eliminating the pests could either be through the usage of baits (either poisonous or natural) or by setting traps or by sealing off the entryway for the pests. The most commonly used method however is fumigation which refers to the use of chemical sprays to eliminate the pests. Along with the process of fumigating the premises, pest control workers also need to educate the clients regarding better methods to control pests or ways to reduce the occurrence of pests. 
How To Start A Pest Control Business Successfully 
To start a pest control business, entrepreneurs need to narrow down on the services they wish to provide as well as select the audience to whom they plan to provide their services.
The pest control business can either provide services to residential premises or to commercial spaces such as restaurants, offices, hospitals, malls, or industrial units or to both commercials as well as residential spaces. Within residential spaces too entrepreneurs can either specialise in lawn areas or attics and crawl spaces.
These services can either be provided as one-time solutions or on a contractual basis as either monthly, quarterly, or yearly packages.
The next specification is to decide the kind of service and the type of pests the pest control business will specialise in, and help eradicate and control pests such as –  
Rodent control

Termite control

Mosquito control

Fleas and ticks control

Bed bug control

Removal of nests such as those of wasps, bees, or hornets

Fumigation

Baiting 

Trapping varmints
Entrepreneurs can deal in any or all of the above treatments depending on their experience, skills, training as well as manpower.
Once aspiring entrepreneurs decide on the exact nature of pest control services that they wish to provide, the next step is to create a pest control business plan. A business plan is a written document that outlines the goals of the business along with the vision and mission and jots down the exact steps to be taken to achieve the goals and the time frame to complete them.
A business plan is a must for every business and entrepreneurs can avail Business Planning and Idea Validation services to help create a thorough and detailed pest control business plan. This service will help in deciding the name and place of the business, the business entity type and business activity along with the business activity, necessary experience and training needed, and the mission statement plus the target audience. Further, the business planning service will help analyse the current and potential competitors, studying the strength and weaknesses of the business and of the competitors. The most important assistance provided through the service is to finalise the funding requirements and help look for funding sources such as banks, NBFCs, Government schemes, subsidies, etc.

The pest control business plan will act as a road map that entrepreneurs need to follow to start and run their business successfully.
Procure Necessary Compliances
The next important for starting the pest control business is to obtain and comply with all the necessary compliances needed to start and run the business,
The basic compliances needed to start a business include registering the business entity as deemed appropriate by the entrepreneurs, either a partnership or proprietorship or LLP or company. A Shop Act registration as well business premise documentation and other necessary compliances. Businesses can learn of the mandatory and necessary compliances needed to start their business to make their business legally compliant. Apart from these, there are certain business-specific compliances that the pest control business needs to obtain along with some other compliances such as Udyam Registration, GST and insurance which are good to have. The deAsra team can help aspiring entrepreneurs become aware of all the mandatory licences required for the pest control business and provide assistance in procuring them too.
Obtain Required Equipment
The next important requirement to start a pest control business successfully is to list down and obtain all the necessary equipment needed for the business.
A reliable and spacious vehicle is necessary for the business to transport the workers to the site for pest control and to carry all the supplies and equipment. The other equipment required includes sprayers, fogging equipment,  dusters, granular spreaders, respirators, vacuums, UV flashlights,  aerosol dispensers, termite baiting tools and bait guns. It also includes chemicals such as insecticides, rodenticides, etc and safety gear such as suits, gloves, coveralls, boots, etc. This equipment is a must for the business and an investment that needs to be accounted for when starting the pest control business. 
Another important factor to consider when learning how to start a pest control business is to work towards creating a brand image for the business right from the beginning.  This can be done by having an easy-to-remember brand name, along with a logo and a tag line if possible. Additionally, the business can invest in uniforms with the brand name and logo and have these names on the vehicles too. Investing in business cards, signage, websites are other ways to create a brand identity for the business which audiences can easily recognise. While creating a brand image it is vital for entrepreneurs to develop strong networking skills and develop relationships with residential or business clients as well as with suppliers.
Design A Marketing Strategy
Marketing is a vital element to consider while starting a new business. The marketing strategy for the pest control business must be decided before or while starting the business to ensure that the business reaches the target audience and converts into a money-generating venture.
Traditional advertising methods can be employed to spread the word via print ads, signage and leaflets and pamphlets.
Digital advertising and marketing can be carried out through ads on social networking sites along with having a digital presence on platforms such as a Facebook page. In addition to these advertising techniques, entrepreneurs can explore platforms like WhatsApp Business and Google My Business to spread the word about their services and expand the client base. They can avail WhatsApp for Business setup as well as Facebook Shop set up to start marketing and selling on these platforms.

These are the basic factors to keep in mind while planning to start a pest control business successfully. 
The pest control business has abundant scope and is a great business opportunity for aspiring entrepreneurs. With assistance from deAsra, entrepreneurs can successfully start this profitable business.