How To Start A Manufacturing Business?
Earlier, starting a manufacturing business was difficult due to a lack of innovation in terms of machinery, equipment and techniques of carrying out the manufacturing process and also due to costly capital expenditures, but now with the changing times, evolving technologies and the ease of securing loans has made it relatively easy to start a manufacturing business.
Manufacturing businesses are thought to be highly lucrative but they are also the businesses that require the most amount of hard work to set it up. However, with a determined commitment towards the business, the otherwise complex enterprise can also be established easily, combined with certain factors to be considered before starting the business. 
There are certain factors which should be considered if you want to know how to start a manufacturing business. These common factors comprise of 
Registration of the business as a suitable business entity

Registration of the business under the GST taxation structure

Registration of the existing business to obtain a Udyog Aadhaar 
These are registrations that are needed for almost every business but for manufacturing, specifically, there are certain factors you need to keep in mind to help you start the business. 
How To Start A Manufacturing Business?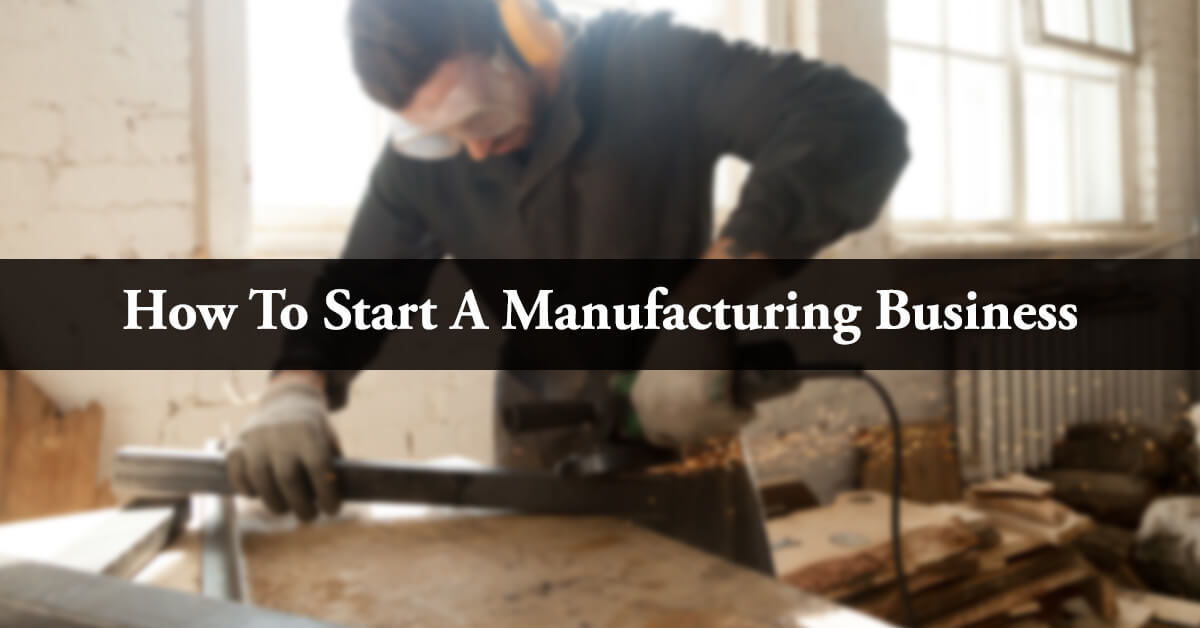 When considering how to start a manufacturing business, there are certain elements to consider which will help set up and establish the manufacturing unit and the business in general, much faster.
Conduct Research
Research is one of the most vital elements which many business owners neglect in their excitement to start a new business.  Research needs to be conducted about how a manufacturing industry and the business works, what techniques and practices are in use. Similarly, researching the market is also important, to find out what the customers want, and what the market, including the competitors are offering, and what your business can offer. Thorough market research will help you learn about how to start a manufacturing business and will also help you come up with small scale manufacturing business ideas. 
Look For Partnerships or Associations
A manufacturing business involves associating with a number of other people and businesses. Manufacturing business owners need to interact with suppliers of raw material, transporters, retailers, mechanics, technicians, and several others. It is thus important to form meaningful and strong partnerships to help carry out the business smoothly. These associations can be with multiple vendors, not restricting to only one particular supplier or vendor, because as a business starting out and aiming to grow, you will need multiple partners to help out when required and to meet the desired requirement. Having a handful of vendors provides diversification and also helps keep the pricing competitive.
Tackle Legal Requirements
Often, business owners first start a business and then face hurdles in the form of necessary legal licences and permits. Instead, it is always better to tackle these problems first by getting to know of all the legal permits, licences and requirements that are mandatory for the particular manufacturing business and obtaining them before purchasing equipment and appointing staff to start the business.
Consider The Location
Another important point to consider before starting the manufacturing business is the location of two aspects of the business, – where the actual manufacturing unit will be located and where the products will be sold. Importance of location in business cannot be overlooked as it will a significant role in expanding your business. Both the locations can be the same but while choosing the location it must be considered whether the place can be expanded or be operational in the future or after growth and expansion. Also, in case of a manufacturing business, proximity to the market cannot be the only factor to consider because the business needs to have quick and easy access to raw materials too along with essential amenities, and it must also be feasible to operate in the same place after scaling up.
Consider Daily Operations
There are a number of activities happening constantly on a daily basis at a manufacturing unit and these need to be attended to by the business owner. There are aspects like actual operations, sales, marketing, inventory management, dealing with vendors, handling workers, etc.At the same time, if the place to market the products is different and managed by the owner itself, then the operations of that place needs to be handled too. Usually, these situations are not given thought while starting a manufacturing business, but they are vital for the business to operate and to create a profit. If planning to manage the day to day operations alone, business owners must have a systematic plan in place beforehand or then employ people who will help get some of the tasks done.
Practice Cash Flow Management
If business owners are wondering what is cash flow management and why is important to a manufacturing business, then the answer is that cash flow management implies tracking the flow of money into  the business and out of the business. More specifically, it is the process of monitoring, analysing, and optimizing the net amount of cash receipts minus the cash expenses. Since a manufacturing business, even a small one, has a number of aspects to consider, having a system is place for cash flow management is imperative to ensure that the accounts are not in disarray and consist of inaccuracies. Having a system in place to manage the cash flow before the business starts will help the business to start on a systematic and organised note, and practicing it regularly helps the business grow positively.

Make Marketing Plans
Many a times business owners spend a lot of time towards the manufacturing process and to make the products but fail to comprehend that a marketing strategy is equally important for the business to run into a profit and must thus be planned while or before starting the business itself. 
While strategising the marketing techniques it is important to consider various ways of advertising and marketing and means of achieving the target. Social media platforms and digital marketing techniques are proving to be highly effective even for small scale manufacturing businesses and have a much wider audience than the traditional forms of marketing. 
Consider Inventory Management
Imagine running a manufacturing business, trying to fulfil an order and finding out that you are out of the desired raw material. It can slow down the manufacturing process and affect the business negatively too. The solution to such situations is to have an inventory management plan in place where an inventory is maintained for the bare minimum materials and quantities required to keep the business running under any situation. 
Plan For The Future
While focusing on the present, we often lose sight of the future. Similarly, while learning how to start a manufacturing business in the present, owners must not neglect the future, but instead must consider making plans for the business on a long term business. A target can be fixed as to where the business should be in a few years, the scale of production should be to what level, the machinery and equipment need to be restored when and which new technologies can be applied in the future to the business, along with considering several other factors for the future. Thus planning for the future before starting the business is thinking big, even while starting small.
These are some of the critical factors to consider when looking at how to start a manufacturing business. For further technical details or guidance regarding any of the aspects, business owners can approach deAsra for help at any stage while setting up a manufacturing business.