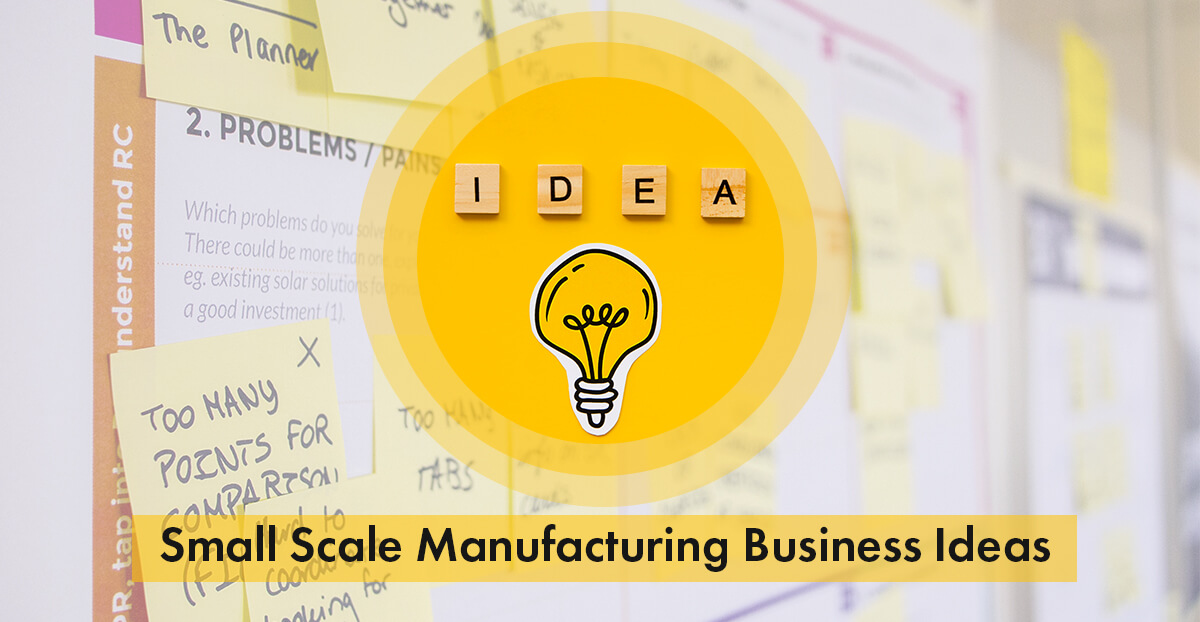 Small Scale Manufacturing Business Ideas
Aspiring entrepreneurs often shy away from businesses that deal with manufacturing as they consider it a labour intensive and resource-intensive business that can only be carried out on a large scale. But that is far from reality. In fact, small scale manufacturing businesses are ideal to start with and are more likely to flourish as they make progress one baby step at a time. So if you are wondering how to start a manufacturing business, here are a few ideas for you.
Manufacturing businesses are equally vital to the economy of the country as are other businesses. In fact, the economic strength of the country is measured by the development and growth of the manufacturing industry. Further –
Manufacturing businesses provide employment to a number of people, thus addressing the issue of unemployment within the country in their own small way.

Manufacturing industries and businesses bring about innovation and new equipment and technologies which can help solve the problems faced by various other businesses. For instance the manufacturing of tractors and agricultural machinery and equipment helps the agricultural sector immensely.

Manufacturing businesses bring about modernization in the entire industry via their innovation and manufacturing process.

Manufacturing business results in goods which are the most traded items, (80% goods as compared to 20% services) thus boosting the trade industry as well as bringing in foreign exchange which is vital for the economy of the country.
These pointers all indicate the importance of the manufacturing industry and related businesses for the economy growth of the country.
Manufacturing businesses do require an initial investment while setting up but once the business is established and running the results are quite rewarding. The advantages of a manufacturing business include-
A manufacturing business has a high rate of returns and once the business manufactures goods that are in demand, they are bound to make a profit and achieve a return on investment soon.

In India labour is easily available, especially unskilled, which is a vital necessity while starting a manufacturing business and thus another advantage while setting up and starting the business. Additionally, labour is relatively cheap as compared to other countries, thus helping reduce the overhead costs of the business.

The laws and legislations in the country favor a manufacturing business and thus offer special concessions and benefits to them while setting up, thus making it is relatively easy to set up a manufacturing business in the country. 

Additionally, the steps related to

how to start a manufacturing business

are easy to comprehend and follow through, making it possible for entrepreneurs from any and every background to set up a manufacturing business.
Small Scale Manufacturing Business Ideas
Once entrepreneurs are aware of the importance of the manufacturing business and its advantages to the economy of the country and the benefits while setting up the business irrespective of on a large scale or a small scale, the apprehensions while starting a manufacturing business will disappear. The next logical step is to explore and research about various small scale manufacturing business ideas that are popular and feasible to start easily.
Paper and Paper Products Manufacturing
Paper and its products form a vital component of most industries, especially as packaging material for a variety of goods. Corrugated boxes made from Kraft paper are easy to manufacture with the application for packaging of varied items, ranging from automobile parts to food items. Similarly, cartons and crates can be manufactured on a small scale and are an excellent business idea which is also profitable. With the 'Eco-friendly Environment' wave spreading all over, paper bag manufacturing business has picked up in the market. There is a considerable increase in Paper products owing to the ban on plastic bags and products such as straws, thin micron packaging, etc. Other paper products include envelopes, notebooks, files, handmade paper, invitation cards, paper cups, tissue paper and paper straws manufacturing. The manufacturing process for paper and paper products is easy to set up, a profitable venture with a nominal investment which will not create a major financial burden.
Food Products Manufacturing
Food products manufacturing is a very lucrative and essential small scale manufacturing business idea that can be explored by budding entrepreneurs. While considering food related business ideas the demand for it, the equipment and raw material required, the cost of setting up the business are some factors that need to be considered. Food manufacturing is quite diverse and offers a wide range of choices in terms of business ideas for a small scale manufacturing business. Some of them include- 
Bakery

– This is one of the most popular small business ideas which includes manufacturing of bread, buns, rusks, and even confectioneries such as cakes, pastries, doughnuts, biscuits, etc. The deciding factor for success would be on choosing the right product and the appropriate marketing strategy, which will depend on the finances available and the demand for specific products in the market.

Wafer Manufacturing

– Wafers are thin sliced fried snacks that are popular across all age groups. Wafers could be made using unripe banana and now a days even sweetened, ripe banana wafers are available. Other wafer or chip options include potato chips, tapioca chips, jack fruit chips, and many more, which require minimal equipment and can be started from home too, and later shifted to a larger manufacturing facility.

Chocolate Making –

Chocolates are the best form of celebration, whether it is celebrating something small or a big achievement. Chocolates also make great gifts and are in demand, thus making it a profitable option to choose. Additionally, chocolate manufacturing does not require very large spaces or complicated equipment. 

Oil Making

– Cooking oils are an essential component of every Indian household and very rarely are food items cooked without cooking oil here. Cooking oils are also one of the items exported and can thus be considered as a manufacturing business. There are various types of oils that can be manufactured, such as palm oil, groundnut oil, rice bran oil, sunflower oil, which are mostly used for cooking and selected for other product manufacturing. Coconut oil is another option to consider manufacturing which has diverse uses right from being used as a cooking oil, to being used as a hair oil, and for the production of soaps (including detergent and laundry soaps), cosmetics, detergents, etc.

Dairy and Related Products –

Milk is considered a dietary essential and is a part of the daily diet of almost every Indian household, thus giving an idea into its immense popularity and thus its demand. Milk related products are equally profitable ideas that can be considered for manufacturing such as paneer, curd, ghee, etc. 

Ice Cream Making

– Another great small scale manufacturing business idea is the production of ice cream, which is actually a dairy product (since its made from milk) but its immense popularity makes it a separate product that is manufactured exclusively and can be a lucrative business idea.

Pulses Milling And Processing – This is another excellent small scale manufacturing business idea for food products which is easy to set-up, requires a small investment along with a place, rented or owned, to set up the business. The business could comprise of flour making or an atta chakki and/or processing and making of flour from pulses such as millets, jowar, moong, chana dal (besan), rice flour, etc. and even multigrain flour which is quite popular and an excellent health food option. So, If you are pondered with the question of how to start atta chakki business, you don't have to worry much about it as it can be set up with small investment, less manpower and even in confined spaces.
Fruit And Related Products –

Fruit pulp, fruit juices, essences, fruit based jams, frozen fruits, and vegetables are some of the manufacturing ideas that can be considered which do not require any prior raw materials and are healthy options securing a steady demand for them. This domain includes the processing of various food too and manufacturing of sauces such as ketchup, etc.

There are several other food businesses too which are excellent choices in terms of manufacturing and at the same time profitable too which include-

Custard powder

Condensed milk

Jelly

Wines or microbrewery

Salt

Meat processing

Livestock feed

Spices including pickles, papad, condiments 
Fashion Related Products Manufacturing
Fashion is an ever evolving area which comprises of a wide range of products and items which can be considered as business ideas for manufacturing on a small scale. These could include accessories such as bindi, bangles, laces, hair bands, jute bags, handbags, cloth bags, costume jewellery etc. It can even include garments such as fabric manufacturing via looms or production of embroidered work or manufacture of dress materials, saris, suiting and shirting fabrics, western garments like tshirts, denims, jackets etc. While opting for fashion and garment related manufacturing business, the feasibility of the business must be considered along with a demand for the kind of goods produced. These businesses need a manufacturing area and an investment for equipment and the finances need to be considered for the varied business ideas.
There are a number of other business ideas including detergents, soaps and phenyls as well as incense sticks and candles, beauty products, plant based products, pots, agricultural products and tools, etc. being just some of them.
This list of ideas for small scale manufacturing businesses is comprehensive but not all inclusive since there are a vast number of ideas waiting to be explored and converted into business opportunities in the manufacturing sector. To know more about these ideas and for further elaboration and guidance while planning to start a manufacturing business, contact deAsra for assistance.