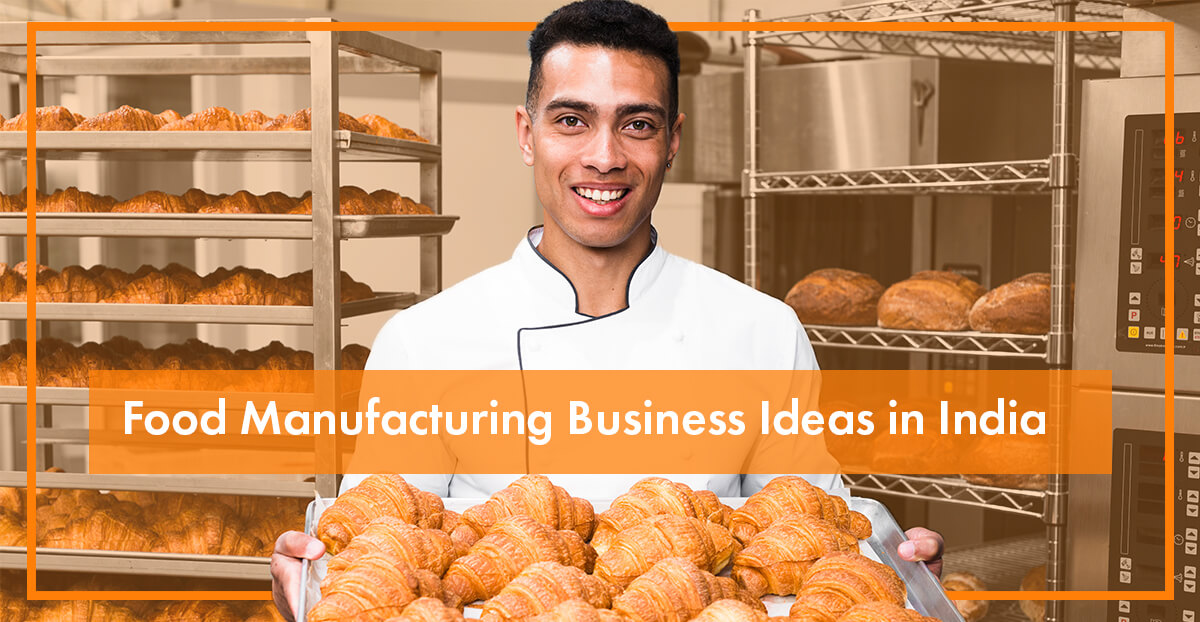 Food Manufacturing Business Ideas in India
Starting a food business can be a profitable venture, especially in a country like India where the population density is high and exponential growth has been observed in the food business. However, a food manufacturing venture requires hard work along with requisite knowledge about the food manufacturing industry. If you're looking to start a business in the food processing industry, then this list of 10 small food manufacturing business ideas will help you.
Chocolates
Chocolates, a favourite across all age groups, are sweet, brown confectionery items made of roasted and ground cacao seeds. Being a chocolatier is a profitable small food manufacturing business idea. With a variety of options to choose from, you can get to pick the kind of chocolate you want to make ranging from milk chocolate, or dark chocolate, or both. To make your chocolates more interesting, you can add nuts and other ingredients too.
For all the those who are looking for a perfect work-life balance, homemade chocolate business is a good idea for you.
Location: You can make chocolates from your home and once your business expands, you can rent a small space as per your budget, which can house all the necessary heating, moulding and freezing equipment required for larger production of chocolates.
Employees: It is a one-person business, but as the demand for your product grows, you can hire more employees as per requirement. In fact, employees are a requisite for small scale manufacturing businesses, and you must ensure that they are trained or can easily be trained for the job.
Equipment: Your primary equipment will be a gas stove, refrigerator, utensils like pots and kettles, moulds, and wax paper while operating from home. When expanding the business, the equipment also must scale up and include chocolate spinners, moulding and demolding machines, chocolate tempering and cooling machines, pump-driven chocolate depositor machines, etc. all of which can cost approximately Rs 5 lakhs and above.
Making chocolates is really easy and if you don't know how to make it, you can take short courses where a one-day basic course is priced at approximately Rs 900 and advanced courses cost about 4000-5000 rupees per session.
Jams and Jellies
A jam is a thick mixture of fruit, pectin, and sugar which is boiled until the fruit is soft but thick enough that it spreads easily. According to a recent study by IL&FS Cluster Development Initiative Limited, the total number of processed fruits and vegetables is almost 15 lakh tons per year. And, out of this, only 10% is of this processed fruit is used for making jams and jellies. This shows that starting such a business will give you more customers.
Location: Initially, you can start this business at home, but you will require to move to a larger space when you expand the production. For a small-scale manufacturing unit, you will need to consider a minimum of 1000 square foot of covered land or constructed space for manufacturing and also consider cost of building the unit (when purchasing a land), and civil work to fit your manufacturing requirements. While considering a location for the business, make sure the place has access to water and basic amenities needed for production of jam and jellies.
Employees: You will require a minimum of one assistant to help you if you wish to produce the products in large quantities and to expand the sales. Further, when considering to obtain license for small scale food manufacturing business, you will have to adhere to the pre-requisites pertaining to number of employees too.
Equipment: For a small-scale production process-oriented unit, you will need a
pulper
juice extractor
mixer and grinder
slicer
cap sealing machine
bottle washing machine,
carton sealing machine.
The approximate cost for the setting up of a manufacturing unit will range from Rs 18 to 19 lakhs where the break up includes Rs 6 to 7 lakhs for the land and construction, Rs 6 lakhs for the machinery, Rs 2 lakh for pre-operative and preliminary expenses and the remaining towards fixed assets and as working capital. From this type of unit, you can get about 30 tons of production output per year. If you wish to produce more quantity, then you can purchase automated machines also.
Cookies and Biscuits
Biscuits are a favourite among the old and young alike. They make for great accompaniments with the preferred beverage of India, tea, and are equally tasty when eaten as is. Hence, a cookie or biscuit manufacturing unit is a good food manufacturing business idea.
Location: Initially, you can start this business at home, but you will have to rent or purchase a space when increasing the production. While establishing a higher capacity manufacturing unit, you will have to make place for production, storage, office work and packaging and the minimum requirement will be of 1500 square feet for a small-scale production unit.
Employees: You will require one assistant to help you if you want to produce enough quantity to sell when working from home but when expanding the production capacity, you will require employees to handle the biscuit making process and the machines at the unit, such as production, packaging, keeping track of storage and raw materials, etc.
Equipment: When working from home, the pieces of equipment required to make cookies and biscuits are the same as those required to make chocolates. You will need a gas stove, oven, utensils like pots and kettles, cookie molds and cutters, and wax papers. The equipment needed while setting up a small-scale production unit with semi-automatic machines includes-
Automatic continuous roller cutting machine
Flour Shifter automatic screw type vibrator system with an automatic lifting system
Sugar Grinding Machine
Roll Sheeter
Double action horizontal mixing machine
Cooling conveyor
Oil spraying machine for salted biscuit
Turntable working between oven and conveyor fitted with motor and starters
Extra Brass roller for rotary cutting machine & roller cutting machine
Syrup Machine with one motor & starters
Biscuit Grinder with motor
Working table with S.S./Aluminium top
Weighing Balance platform type
All this equipment is expensive and can approximately cost 80, 00,000 just for the machinery and plant and the overall cost escalating to Rs 1.25 crore when considering land, building cost, furniture, working capital etc.
If you want to take a cookie making class, it will cost around Rs. 3,500 to 7,000 for a 5-day class covering variety of cookies along with the basics and advanced courses will cost more.
Ice Cream
Who doesn't love a yummy scoop of ice cream? Ice creams have for the longest time been the most sought-after desserts. These statistics show that the overall production of ice cream in India was a whopping 185 million litres in 2018. This gives an idea as to the popularity of the frozen dessert and thus makes ice cream production a great small food manufacturing business idea as it is one of the few food items liked and enjoyed by people of all ages. For those who are eager to step into the business, you can also choose from the already established ice cream franchise list and save yourself the efforts of creating a brand name.
Location: Ice creams can be made on a smaller scale at home too and you will need a shop from where you can sell your ice cream. While planning to manufacture ice creams on a larger scale you need to look for space that is at least 1000 square feet with clean water supply, wide entrance and subsidized power supply for small-scale production.
Employees: You will need at least 2-3 other employees to help you sell and make the ice cream. When setting up a small-scale unit you will need more employees for various production processes and for handling the machines.
Equipment: You will need spade spoons, a blowtorch, a refrigerator, an ice cream machine, and a sieve when working out of the home kitchen or only on a pilot level. All of this will cost you around 2-2.5 lakhs. The list of equipment for a production unit includes-
Refrigeration compressor with motor and accessories.
Cooled condenser with piping
Water spray assembly
Liquid receiver
M.S. Brine tank
Agitator fan assembly
Push Cart trolleys
Ice-cream freezer complete with extension with valve, shut off valve etc.
Electrical including motors complete set and mechanical accessories
This list of equipment and an average set-up costs approximately Rs 5-6 lakhs. An ice cream making class for 3 hours costs approximately Rs 1000 where the basics are demonstrated but a professional course at an institute definitely costs much more.
Pickles
Firstly, you need to understand how to start a pickle business. Pickles are the most common food product found in Indian households. Indians abroad too crave pickles and pack enough to last for a while when visiting the country, thus displaying potential for export of pickles too. Pickles and its manufacturing is a great example of small business startup ideas and you can earn a lot of money with a food manufacturing business like this.
Location: You can start making pickles at your home.
Employees: This is a one-person business and you can get more employees later on when you expand your business for assistance as the process is quite simple and does not require much manpower.
Equipment: The raw materials and ingredients for making pickles are cheap and hence, you do not need a lot of capital to start the business. You don't need any machinery or special pieces of equipment for making pickles initially and later too, since the production of pickle is simple, the equipment and machinery is less and simple too.
Sauces
Sauces are another popular item found in most houses. Again, there are various options like tomato ketchup, mustard sauce, sweet chilli sauce, etc. Manufacturing this is a good food manufacturing business idea, and you can definitely earn good profits from this business.
Location: You will need to rent a small space for manufacturing it and since the process is not too complex a space within 1000 square feet will suffice.
Employees: You will need 1-2 helpers initially and the need for a number of assistances will be less since the production process is not very complex.
Equipment: You will need various equipment such as a pulping machine, a steam jacketed kettle, an exhaust and process tank, spice grinding machine, and a hand-operated label gumming machine which will cost approximately Rs. 2.5 lakhs.
You will also have to learn how to make sauces, which is taught in a food processing course which will cost around Rs. 30,000 to Rs 50,000.
Wafers
Wafers are one of the favoured snacks throughout the country and also one of the most profitable small food manufacturing business options available, mainly because of the low amount of capital required. Wafers are easy to make, and you have a range of options to choose from such as potato wafers, banana wafers, tapioca wafers, soya wafers and several other varieties. Addition of spices or flavors can make them even tastier. And increase the range of products.
Location: You can make these wafers at home and while scaling the business, a 1000 square feet space that is covered, easy to access via modes of transport, and has an adequate supply of electricity and water is a must.
Employees: This business can be managed by 1 or 2 people while working from home but a small-scale production unit requires workers to operate the machines and for the various production processes.
Equipment: All you need is a gas stove, a fryer, and a good quality slicer while manufacturing from home and you do not need to invest a lot of money. However, a production unit with the production of large quantities requires equipment such as-
Washing tank
Peeling knives
Slicing machine
Rinsing and spinning machine
Batch fryer
Spice coating pan
Sealing machine with inert gas flushing arrangement
This equipment and cost of the plant, machinery approximately costs Rs 5 to 10 lakhs. Making wafers is easy and you can learn it in one week.
Honey
Honey is the better and healthier alternative to sugar, and thus people will always pick organic honey over the honey made in factories. To procure the honey, most honey producers start and maintain their own bee colonies. A food manufacturing business like this is easy once you learn everything.
Location: You will need to rent a small area for harvesting your honey. The processing procedure consists of removing unwanted particles and wax from the honey. It is advised to learn the honey-making process from a professional before you start doing it yourself.
Employees: You will need 1-2 helpers initially.
Equipment: There are two ways of processing honey- a manual process and an electric process. You will need a bee smoker, a brush, and a honey extractor for a small-scale business.
Juice
Juice is a healthy and tasty beverage option which is relatively easy to make. In a food manufacturing business like juice manufacturing, there are a variety of options you can pick from like readymade fruit juice, or juice concentrates, or both. You can start off by making a juice bar business plan, this will provide you with some insights and give you a definite plan of action.
Location: You can start by making juices at home, or you can get a juice cart and start operating from there. You don't need to learn anything since the process is very simple.
Employees: You can manage this business alone and when you wish to expand the business, you can employ workers for the purchase, production, marketing and accounting processes.
Equipment: You only need a good quality juicer, which will cost around Rs. 20,000 and other basic equipment like knives, peelers, cutting boards, strainers, spoons, saucepan, bottles cleaning and capping machine, etc.
Smoothie Powder
A delicious smoothie is the most favored breakfast option amongst the youth. Many people don't have the time to make a smoothie at home every day, so, the concept of a smoothie powder will be welcomed by most.
Location: You can make it at home. The process to make a powder like this is very simple and you can learn it in 1-2 weeks. A food processing course can also teach the process, but it costs approximately Rs 30,000-50,000. When expanding the production, a 1000 square feet space can suffice, which has adequate water supply, electricity connection and basic amenities.
Employees: It is a one-person business initially, which can be expanded by employing few workers.
Equipment: Your main equipment is a good quality food processor/blender, which costs around Rs. 10,000 -15,000 along with other basic equipment for production in large quantity.
Start Your Food Manufacturing Business Today!
So, have you settled upon a food manufacturing business idea yet? If yes, then contact deAsra to get assistance in setting up your business.
Just remember that before starting a small food manufacturing business, you need to know about food safety measures and food handling practices.