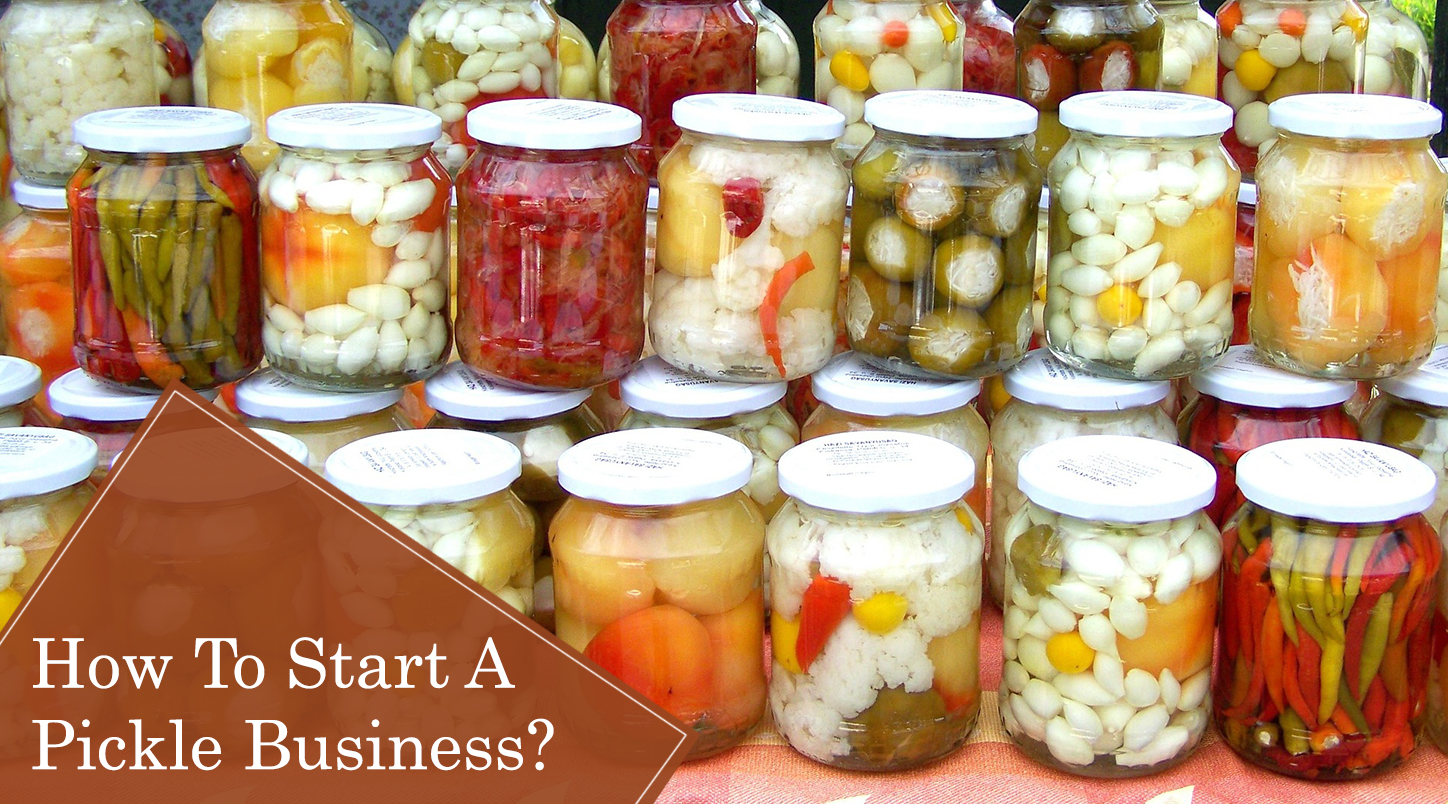 How To Start A Pickle Business?
Food and food items are integral to our survival, not just as a basic necessity, but something that we turn to when we are happy, when stressed, when emotional, or even when wanting to relax. Have you noticed that whenever any plans are made, (whether it is plans for the weekend, or plans made as a family for a get-together or even plans made for a date), they are usually made around food, for instance, meeting for dinner or visiting a new restaurant or a meet-up over snacks and drinks. Food is always a part of every celebration and festivity too. Imagine Diwali without all the delicious fare or Christmas without the plum cake and desserts, feels very incomplete. Food is an important part of everyday life.  
Food in itself is so versatile and diverse, catering to a variety of palettes. Being such an integral part of existence and an evergreen business, food is a good sector to consider plunging into while planning to start your own business. One food item that is indigenous to India and its people and is always in demand, is pickles. Every home in the country has a different type of pickle which is a must during mealtimes. In fact, pickles might be one of the most sought after items that people travelling abroad take with them and people staying out of the country lustfully remember. So if you are wondering how to start a pickle business, then this is the place for you.
The pickle business is a great business idea to start ones entrepreneurial journey, especially in the food business. Pickles are prepared by preserving different fruits and vegetables in vinegar or brine along with different spices and other ingredients. The perfect taste of the pickle depends on the correct mixing of different ingredients at the best proportion and the perfect timing for the processing. A small amount of pickle can help people polish off an entire meal, which is just one of the positive points of starting a pickle business, the other advantages being- 
Varieties –

there are a dizzying number of varieties in pickles, such as mango pickle, lemon pickle, chilli and garlic pickle, carrot pickle, cabbage pickle, brinjal pickle, curry leaves pickle, beans pickle, different types with differing tastes- some sour, some sweet, some bitter, some acerbic. Each region in India has a unique pickle belonging to that area, made with locally found ingredients, such as lingri ka achar from Himachal, Kair (pepper) ka achar from Rajasthan, Bhoot Jolokia achar from Assam, Kolhapuri thecha from Maharashtra and many more. This wide variety makes the pickle business rewarding and a great business idea too.

Demand –

Indian meals are incomplete without pickles and are needed on a daily basis therefore creating a huge demand for pickles. In fact, pickles are so popular that those traveling abroad take a bottle of pickle with them without failing, even if they can do without a lot of other things. 

Ease Of Preparation –

pickles or achaar are a form of fermented food and are quite easy to prepare. Pickles are usually prepared with minimal ingredients and do not involve much cooking, or extensive use of cooking gas. 

Minimal Equipment –

the pickle making process requires minimal equipment, restricted only to the vessels used to mix the ingredients and marinate the pickle and jars to store it in. While making pickle on a large, industrial scale will require various machines such as a cutting machine, pickling machine or pickle mixing machine, large containers to store the pickle for it to marinate and lastly jars to fill the pickle into for delivery and retail marketing.

Minimal Space

– the pickle making business does not need a large space or area and can be prepared in smaller areas too, without affecting the quality. In fact, a lot of pickle making businesses start from the kitchens of the entrepreneurs. Aspiring entrepreneurs who want to start off on a smaller scale and then expand their business, can operate from their homes too or from a small space or a spare room.

Minimal Investment –

the pickle making business does not require much investment since the demands of the business are minimal. Majority of the expenses for the business include purchasing of ingredients and marketing the business. The other expense includes acquiring the licences and registrations necessary to run the business.

Ideal For Women Entrepreneurs –

often aspiring women entrepreneurs have the zeal but lack business ideas that can be pursued taking into consideration their liking, their strengths and feasibility. The pickle business is ideal for women entrepreneurs who want to establish themselves and start their own independent business. 

How To Start A Pickle Business?
The pickle business has a number of advantages and is an excellent business opportunity for entrepreneurs to explore. However, the most important question that entrepreneurs face is how to start a pickle business, what are the essential requirements for starting the business and which permits are mandatory in order to start and run the business. The pickle business does not require much preparation beforehand, however, the few requisites for starting the business include-
Licences And Legal Formalities
Before you ask yourself how to start a pickle business, you need to understand the prerequisites. Licences, permits and registrations are often mandatory to run a business. They help provide the business with a legal identity and a structure as well as stipulate rules and regulations with which to operate the business. The licences required to start a pickle business include- 
FSSAI or Food Safety and Standards Authority of India is an autonomous body established under the Ministry of Health and Family Welfare, Government of India. It is responsible for protecting and promoting public health through the regulation and supervision of food safety and governs the food quality of the products sold in the market. FSSAI is a mandatory registration/ licence for business entities that engage in food and related activities. Nearly every packaged product comes with a certificate and number from FSSAI that guarantees quality in product. Permit needs to be taken based on the annual turnover of the business and for the same, the FSSAI checklist can help to make the decision. Depending on the turnover and the regions and markets to which the products are marketed and sold,  the entrepreneurs need to apply for a licence or registration. The checklist helps to decide whether to apply for a license or registration. The FSSAI registration stipulates the conditions and protocols for manufacturing and packaging the products following a standard and hygienic procedure, thus ensuring that the business produces quality products.
An FSSAI license, apart from ensuring quality and safety standards, helps attract a large number of customers by adding trust and confidence in consumers about food safety and hygiene. Also, while looking to distribute the pickles to other retail stores, grocery shops and supermarkets, the FSSAI license creates a positive reputation for the products and thus helps sell them.  

Shop act licence applies to shops operating within the municipal limits. The Shop Act registration is designed to regulate payment of wages, hours of work, leave, holidays, terms of service and other work conditions of people employed in the pickle shop. Shop Act is a mandatory registration and it is compulsory to display the Shop Act document in a prominent place in the business premises. Retail outlets including the pickle business, situated within the city limits need to apply for the Shop Act registration.
The other licences applicable to the business are GST registration, Udyog Aadhaar registration and business entity registration. All of these are beneficial for the pickle business. The GST business helps have a uniform taxation structure for the business, even if the products are supplied across State borders. The Udyog Aadhaar helps provide recognition to the business as a MSME (micro, small, and medium) enterprise and provides several benefits to the registration holders too. The selection of a particular business entity bestows specific features to the pickle business.

These licences are required when starting the pickle business.
Market Research And Strategy
A pickle business is easy to start and run because the pickle making procedure is straightforward, the equipment and space required being minimal and the investment needed also be minimal. This means that there will be several similar businesses in the market and in order to succeed, it is important to study the market, with respect to how the other products are priced, their packaging, and how they are approaching the customers or the market. Likewise, the entrepreneurs can strategize ways to stay ahead of the competition by focusing on 2 main criteria- the quality and pricing. The quality of the pickles must be high and uniformly maintained every single time and also the ingredients to pickle can be chosen carefully, such that they are unique from the other pickles and form the USP of the business. The pricing of the pickles too must be competitive, however ensuring that the business does not run in a loss owing to it. The packaging of the products is also important and can be done in attractive, sturdy containers or jars ensuring the quality remains intact and also the ingredients and its health benefits can be clearly shared on the packaging. 
Now that you know how to start a pickle business, you need to consider other primary factors like a business plan and capital investment. Thus, the pickle business is a great, profitable opportunity for entrepreneurs and requires very few basic essentials skills and formalities to start the business, which can be procured via assistance from experienced experts at deAsra, combined with a desire to succeed.