Ice Cream Franchise List For Starting A Business
I Scream, You Scream, We All Scream For……ICE CREAM!!! 
Ice creams are a rage and an eternal favourite for people of all age groups. In fact the demand for ice cream in every season, even in the monsoon and winter, is proof of the immense popularity of the humble ice cream candy, or cone or cup. 
The number of ice cream parlors in the city are definitely more than before and all of these ice cream parlours are always doing business throughout the year. These shops or parlors act as a great place for people to hang-out and unwind at the end of their busy and stressful days. You cannot avoid the hectic routine, the daily grind or the traffic while commuting but you can definitely unwind over an ice cream, in the company of friends. The mushrooming of various delivery portals has made getting access to that delectable tub of ice cream even more convenient, such that we can get ice cream delivered right at  the doorstep, any time of the day.
Think of it, ice creams are your true mates, as they are the perfect companions for any celebration and for every occasion. Ice cream is also an instant dessert option while entertaining guests, is often a remedy for heartbreak or is the perfect option while binge-watching a sitcom or the Game Of Thrones seasons and is also a great ingredient to be used while whipping up a delectable dessert which can thus 'up' your standing as an expert dessert maker.
All of this ranting just points to the fact that ice creams are perennial favourites and starting a food business, especially an ice cream parlour is a great small business idea. Manufacturing your own ice creams is possible but probably not feasible and will require a lot of knowledge and equipment too. However, the next best option while considering to start a food business related to ice cream is to opt for a franchise. There are a number of ice cream brands to choose from while starting a franchise, but before that you need to be convinced about the franchise business model.
A franchise business is a business in which the owners, or "franchisors", sell the rights to their business logo, name, and model to third party retail outlets owned by independent operators, called "franchisees". 
A franchise is a great option for starting a business, as it has several advantages such as- 
Independence Of Small Business Ownership
While opting for a franchise business option gives business owners the independence of being the owners of their own small business rather than being dependent on someone else as an employee under someone else.
Benefits Of Big Business Network
A franchise is already an established brand and has a business network, of which the new entrepreneur becomes a part and thus benefits from the advantage of the business network of the brand.
Higher Rate Of Success
Since a franchise is an established brand, there is no trial and error in terms of selling the products or creating a brand name, as it is already established. Therefore the rate of success in the business is higher as you do not have to spend time on creating the products or introducing it to the market, thus concentrating on the marketing aspect, therefore ensuring higher rates of success.
Minimal Experience Needed
A new entrepreneur needs experience to learn and establish his business, since he is a novice. He needs to learn all about ice creams, how to make different flavors, how to preserve it, how to store it, how to run the business, conduct market studies, etc. all of which requires experience or special skills which are not needed or even basic experience is sufficient when choosing an ice cream franchise to start a business.
Easier To Secure Finance
While starting any kind of business, securing finance for the business is a must, but procuring funds for the same is not easy. A loan, either from a bank or from a non banking (independent) financial institution or company. Such lending firms are more likely to support a business franchise since it is an established brand which has higher possibilities of succeeding. Therefore, it is easier to secure a loan and arrange for capital to start a franchise business. 
Established Reputation And Brand
Franchise businesses have the added advantage of being part of a business as well as a brand that is already established and even well known among the customers. Thus business owners do not need to spend time and money in order to create a brand as well as a reputation for their business, since the ice cream franchise already has an established reputation and brand recall for itself.
Ice Cream Franchise List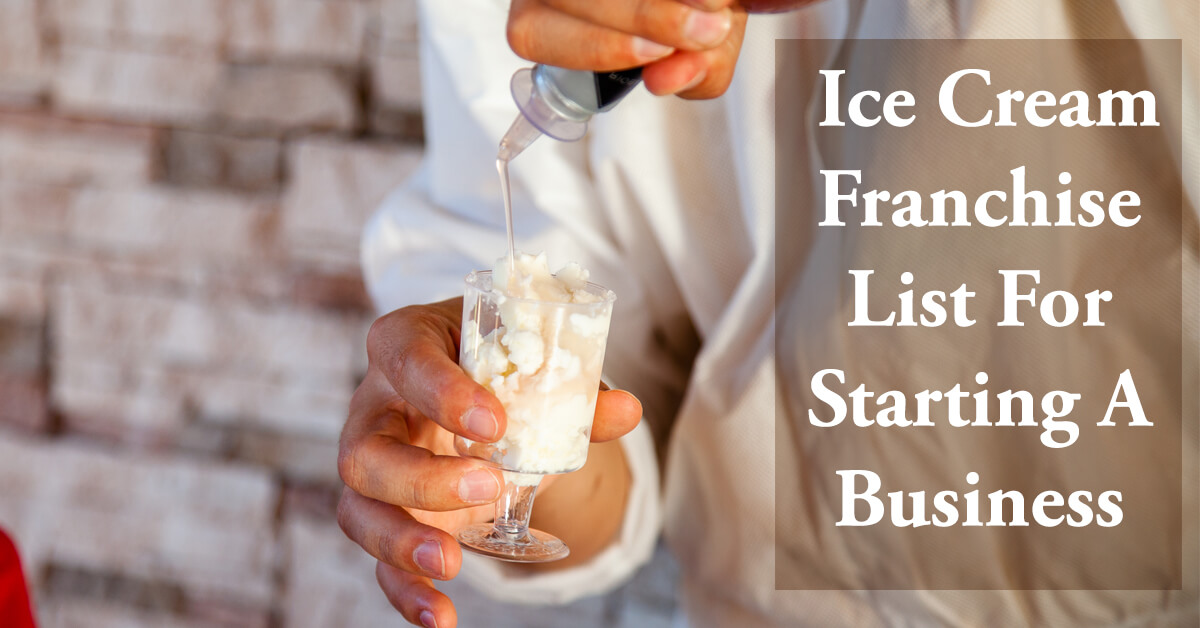 Some brands are popular in the country and make for great franchise options while starting a food business dealing in ice creams. Below is a good ice cream franchise list-
Baskin Robbins Franchise

This international brand is well known and popular around the world. This franchise brand was first introduced in India in 1993, and continues to be a premium, sought after ice cream brand. 

 

Amul Franchise

 

This is a Indian brand/franchise company which has a wide range of dairy products including a variety of ice creams. Amul has grown leaps and bounds over the years and is a very popular and trusted brand

.

Kwality Wall's Franchise

Kwality Wall's is a successful venture of the Hindustan Unilever limited company. The brand has been established itself as one of India's fastest growing ice-cream brands there by making it a great investment opportunity.One of the parlor franchises under the brand is known as Swirls.

Cream Stone Franchise

This franchise brand has made a name for itself in India owing to its unique concept and its customer service and is thus a great investment opportunity for those looking to start an ice cream business.

Gelato Vinto Franchise

First established in 2005, this Italian brand has ice creams as well as gelatos, making it probably the first authentic gelato brand in the country. Thus, investing in the brand is a profitable opportunity.

Ice Cream Buggy Franchise

This is a mobile brand of ice cream that is mobile and is known for its quality, variety as well as delicious ice-creams. This franchise does not require an area for operating and is thus a golden opportunity of catering to various parties like birthdays, weddings, carnivals and other occasions.

Ice Cream Works Franchise

This chain of ice cream has established itself as one that produces 100% eggless and vegetarian ice creams in the country and is thus a much loved brand. The great support and profit make it an excellent franchise opportunity.

Natural Ice Cream Franchise

Established in Mumbai in the year 1984, Natural Ice Cream is a 100% natural, authentic, artisan ice cream brand that has made a name for itself owing to its delicious taste and fresh fruit ingredients. The brand is highly sought after.
Apart from these popular brands there are several other sought after and well known ice cream brands, both national and local (based out of Pune or Maharashtra), that provide excellent business opportunities as a franchise, such as-
Havmore

DairyDon

Coco Berry

Shreeji Ice Creams

Meridian Ice Creams

Creamica and several others
Most of these brands require a minimum investment for establishing the franchise and also a minimum area (in square feet), as specified by the franchisor, to set up the business. Majority of these brands already have chains and their popularity as well as brand is well established, thus making them excellent, profitable business options to explore. However, it must be remembered that for each of these brands the franchise owner needs to comply with certain regulations as stipulated by the individual brands.
The popularity of food businesses, especially delectable option like ice cream, is never going to cease, thus making it an excellent choice to start a franchise business. For any queries related to better understanding of the ice cream franchise list or setting up a business encountered during the entrepreneurial journey can be resolved by the team at deAsra.