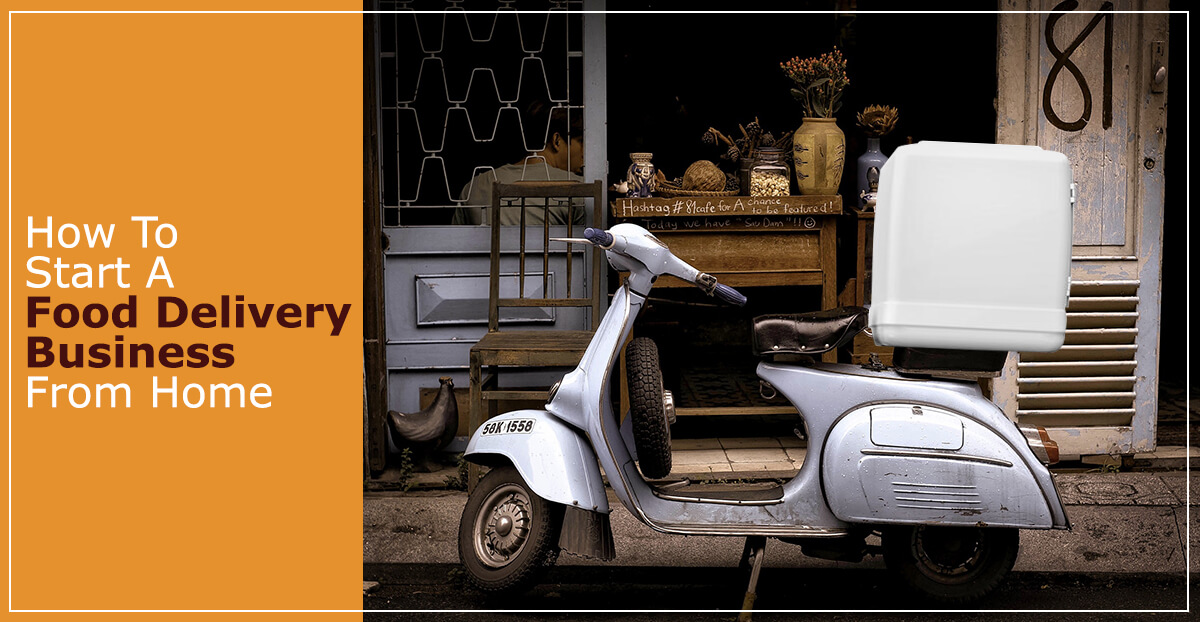 How To Start A Food Delivery Business From Home
If you are someone who loves to cook passionately and the recent lockdown has given you the time and opportunity to explore and hone your skills extensively, venturing into a food business is a great way of earning while enjoying what you do. 
The recent pandemic and the lockdown that followed has helped us put things into perspective, thus making many of us re-evaluate our needs and priorities. This phase has made us realise that we need very basic things to survive and can look for diversity and varieties within these basic necessities. Food features on the top of this list, being one of the most important essentials required to survive. 
In the recent lockdown, with restaurants and hotels closed infinitely, many people have attempted to turn into cooks but majority of them soon gave up and only the true blue home cooks flourished and found their true calling. There is no better time than now for these home chefs to turn their passion into a thriving enterprise. The recent demand for home cooked meals and delicacies is proof that the food delivery Business from home is the new normal which is here to stay in the long run too.
Benefits Of A Food Delivery Business From Home
In these cautious times when social distancing is a norm, a food delivery business from home is rewarding and more beneficial compared to a restaurant. Some of the benefits of this business idea include-
Low Investment- the home food delivery business requires a significantly lower investment compared to a restaurant where entrepreneurs need to invest in a place, it's furniture and seating, a kitchen with large scale equipment and employee salaries among several other expenses. 

High Returns- a food delivery business from home as comparatively low overhead costs and given the increased demand for home made food, delivered at the doorstep- the business has s high rate of return.

Flexible- a food business operated from home gives the entrepreneur the flexibility to work according to their timings and preferences. 
Along with these benefits, a business operated from home saves the cost of transportation, saves time spent commuting and also saves up on resources and equipment as most of them are already available at home.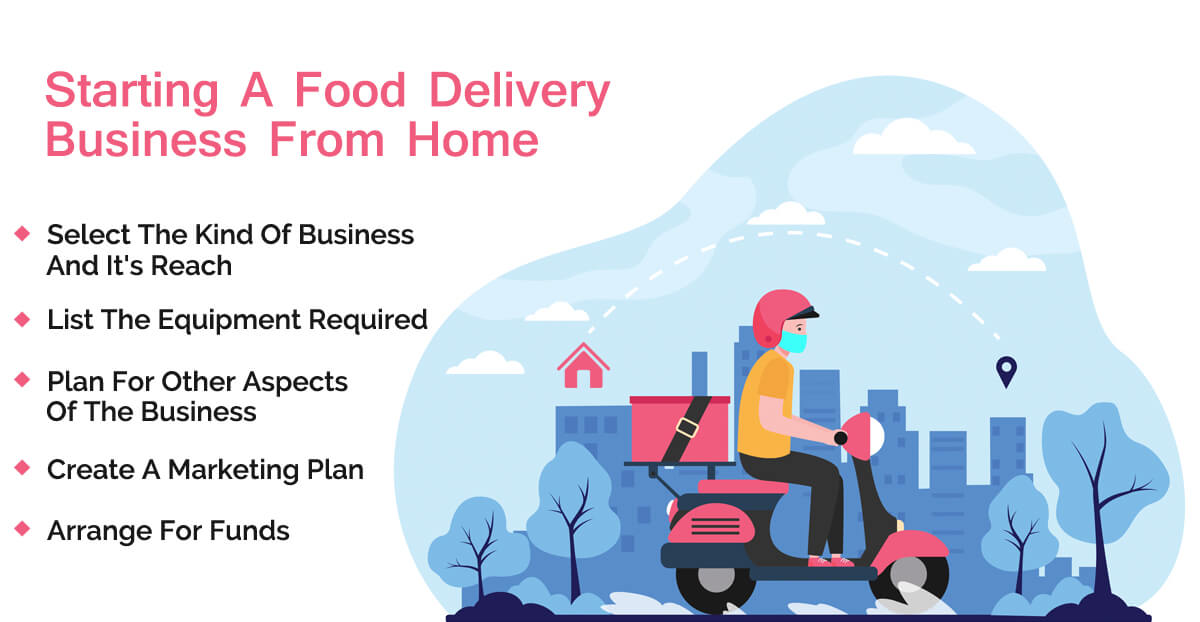 How to Start A Food Delivery Business From Home 
Before, planning to start a food delivery business from home, you must have a good food manufacturing business idea. Looking at the present situation where people are avoiding getting out of their homes and restaurants are shut too, now is the right time to start the business, but how to start a food delivery business from home will be discussed in detail here.
Select The Kind Of Business And It's Reach
One of the primary decisions to make when understanding how to start a food delivery business from home is to decide the kind or type of food and the target audience to which the business will cater.
It always helps the business to have a niche market, especially in terms of the products offered. The same holds true for the food business too. As an entrepreneur you must decide what kind or type of food you will be offering. Some options are as follows-
Basic meals for lunch and dinner such as roti, sabji, dal, rice, salad, etc. 

Maharashtrian cuisine and snacks such as

puran poli

,

aamti, kothimbir vadi, masala bhat,

etc.

Other regional cuisine such as Sindhi specialties, Gujarati dishes, South Indian cuisine, North Indian cuisine, etc.

Specialise in specific international food such as Italian food, Mexican, Lebanese, South East Asian, and other speciality cuisine

Offer only fast food items such as

pav bhaji, pulao, samosa, chaat, kachori, dabeli,

etc.

Create a niche in baked confectioneries or desserts such as cakes, cupcakes, cheesecakes, brownies, Indian sweets like

gulab jamun, rasgulla, ras malai,

etc. 
Along with the cuisine, you, as an entrepreneur need to decide who the target audience will be. 
It could be office goers where the business can tie-up with specific organisations or companies within a specific locality or branches of a franchise, etc and deliver them their daily meals

Offer food delivery to students, bachelors and other individuals who are living alone

Cater to the students of s particular college or even a particular hostel

Provide food delivery service to households as per their order and requirements
The preparations and inventory for the business will depend on the cuisine being offered and the type of audience.
Carrying out market research and studying what the competitors are doing will help with better understanding of how to start a food delivery business from home and provide assistance while planning the business details. 
List The Equipment Required
After zeroing in on the niche segment that you will cater to, the next step in order to start the business is to list down all the equipment, material, inventory required. Fortunately, while starting a business from home, most of the basic requirements are already present such as vessels, pressure cooker, gas burner and cylinder, ovens, mixer, blender, etc to help cook easily and quickly. If needed, you can opt for bigger pots and pans or refrigerator and ovens with a greater capacity but the basic essential equipment is already present when planning how to start a food delivery business. 
However while delivering food proper packaging is required, so you can invest in take-away bowls, cups, glasses, cutlery, etc to pack the food. These could be made of paper, plastic or preferably of some sustainable material thus helping the environment and creating a positive impression with the customers too. 
Creating a list of the equipment and other essentials, apart from helping to plan the business effectively, also helps in getting to know the financial requirement for the business. 
Plan For Other Aspects Of The Business
When learning how to start a food delivery business from home, it is not just the cooking that you need to focus on, but also the other aspects, such as the transportation, accounting, legal permits, etc.
Transportation is a main concern and also the most important feature of the business. You can tie up with the several food delivery apps and services to help deliver your food to the various locy. Some examples of these include Swiggy, Uber Eats or even the delivery app Dunzo. It is easy to tie-up with them, given you study the terms and conditions of each in advance. Many of these will even feature your services on their app for people to order directly from you. 
Alternatively, you could even appointment a person to carry out all the food deliveries and work solely for you. For this you need to consider a salary amount to pay him along with fuel expenses (considering the vehicle is of the employee itself). 
Along with transportation, you even need to have a payment gateway in place along with an accounting system to handle the payments and it's accounting. The solution to this is to Download accounting services checklist and either sign-up for the service or ensure that all the criteria are complied for making the accounting process easier for the business. The checklist can help you prepare for efficient accounting for the business in order to eliminate glitches later.

The other legal aspect is to obtain the permits for operating the business smoothly. Usually a food and related business requires an FSSAI registration. Further details and even procurement of the registration can be done via deAsra, who will help provide information on other legal requirements too, for the food delivery business from home. 
The most crucial aspect of how to start a food delivery business from home is to have a marketing plan, especially making use of digital platforms. For a business operating from home to reach out to the targeted audience, you need to have a marketing plan chalked down. 
One way is to have a website or an e-store where customers can see what all is on the menu and order accordingly from the site itself. But maintaining a website can be too much added work.
Alternatively, you can have a presence on the various social media platforms such as Facebook and Instagram where the mouthwatering pictures of the food will help entice people to place orders. For this first you will need to click tempting pictures of the food you are offering. Further queries relating to how to Create a social media presence for my business can be easily resolved by having an active presence on the platforms and by opting for reasonable services that can help you get online and connect to a wider audience and spread the word about the business.

Other traditional methods such as flyers in newspapers and WhatsApp messages can also be used to advertise about the business, but in today's times a social media presence has a wider reach and creates a better impression too. 
Capital is required for every business, even one starting from home. The main financial requirements for the food delivery business from home include
Buying utensils or equipment, if any

Purchasing the raw materials such as vegetables, fruits, spices, dairy products, and other ingredients required to cook the dishes

Fuel charges incurred while providing the delivery of the food

Registering the business, including obtaining the FSSAI registration, etc as well as cost of registering for food delivery apps like Swiggy, Zomato, etc.

Marketing plan for the business will require some investment too

Other miscellaneous and day to day expenses such as electricity bills, internet connectivity costs and salaries of any helpers employed
The expenses are not much and can be roughly estimated to be around Rs. 50,000  investment which can be covered either from your savings or by applying for a loan from a bank or NBFC (non banking financial companies). 
The costing of the food can be done keeping the following factors in mind- 
Cost of selling each pack of food, per meal and per location

Grocery list and the cost of each ingredient

Other necessary costs, such as gas, electricity, and labor

Labor expense for your staff if you need one, such as a part-time assistant for delivery and cooking
These are the basic requirements and essential details to consider when planning how to start a food delivery business from home. This business has immense potential to grow, considering restaurants will not be opening soon for customers nor will they be operating to full capacity in the near future. People can enjoy various delicacies and cuisines from the comforts and safety of their homes via a food delivery business. 
Now is the right time to start the business and deAsra can provide the guidance and support needed to make a flourishing start for the food delivery business from home.