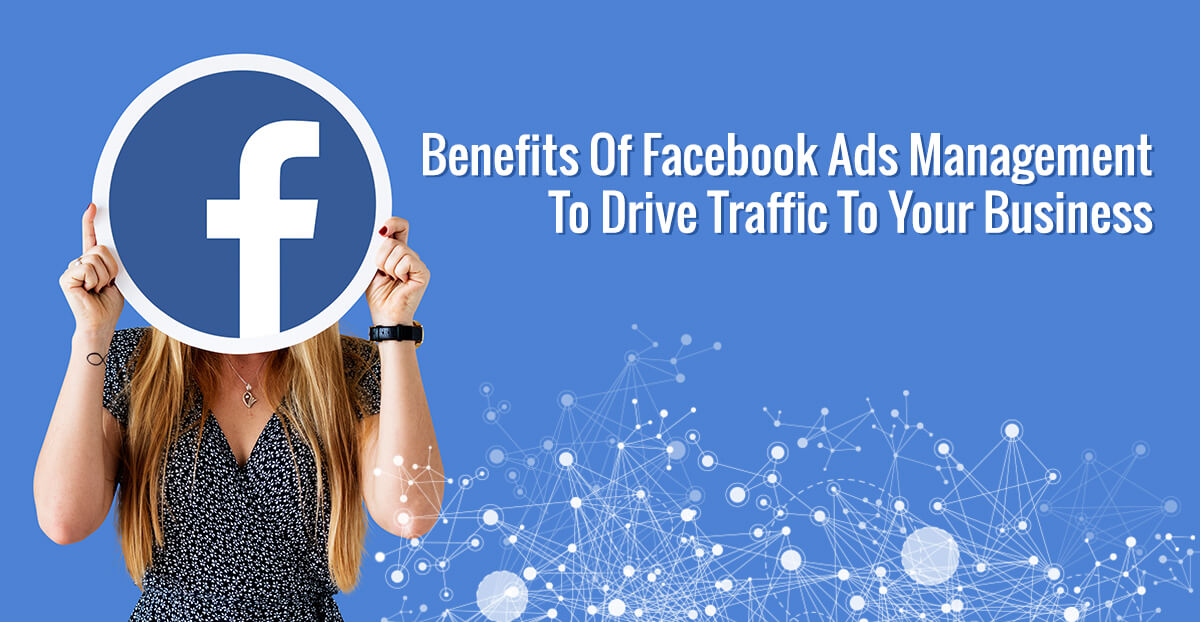 Benefits Of Facebook Ads Management To Drive Traffic To Your Business
Social media is the new way to reach out to customers and market a business. There are a number of social media platforms such as Instagram and YouTube to market your business and reach out to the audience but the most popular network is Facebook, which will help drive traffic to your business. 
In fact, Facebook is the biggest social network worldwide with approximately 2.8 million global monthly active users as of the 4th quarter of 2020. On average, 1.4 billion people use Facebook every day and each person spends approximately 50 minutes a day on the platform. And the most interesting statistic is that the country with the biggest Facebook audience is India. These figures and data strongly suggest that being on Facebook is a must for businesses to market themselves.
But just being on Facebook and having a business page is not enough as a number of businesses are present on the platform. And all of these businesses are vying for the customer's attention. For your business to be visible to users searching for niche products or services and for you to grab the attention of likely customers, you need to do something extra than just being on Facebook. This includes opting for services to market your business such as Facebook marketing service and ads management program. Interestingly, figures reveal that 91% of marketers invested in Facebook ads management last year and reaped the benefits. 

Reasons To Advertise On Facebook
What Does Advertising By Facebook Ads Management Mean?
Advertising via Facebook Ads Management is a method through which businesses pay to reach a specific audience with a message on Facebook. A more thorough definition of Facebooks ads would be that it is an advertisement created by a business on the social network to serve a specific Facebook audience based on their user activity, demographic and profile information. Sometimes the ads are streamed based on the devise use information along with the off-Facebook activity.
Every Facebook ad has certain basic components which make it more effective.
The components of these ads are –
The ad image or creative

The placement of the ad

The target audience for the ad

The amount paid or bid made by you for the ad

The budget for the ad campaign

The schedule of the ad
Essentials To Consider While Advertising On Facebook
Also, while opting for Facebook ads management and marketing services, you, as an entrepreneur, need to keep certain essentials in mind. The essentials to consider while advertising on Facebook include-
Determining the goal of the business

Identifying the target audience 

Establishing a budget for the ads

Finalising the content and image/video for the ads
Benefit Of Facebook Ads Management To Drive Traffic To Your Business
In the present times, social media marketing is a popular and highly effective way to reach out to the audience and SMM services can easily help to achieve that. Social media marketing has several benefits and businesses can take advantage of the same, especially via platforms like Facebook. 

Considering the popularity and reach of Facebook, using Facebook ads management can be highly beneficial for your business. Let's see some of the benefits that businesses can enjoy while marketing via paid ads on Facebook. 
Advantages Of Facebook Ads Management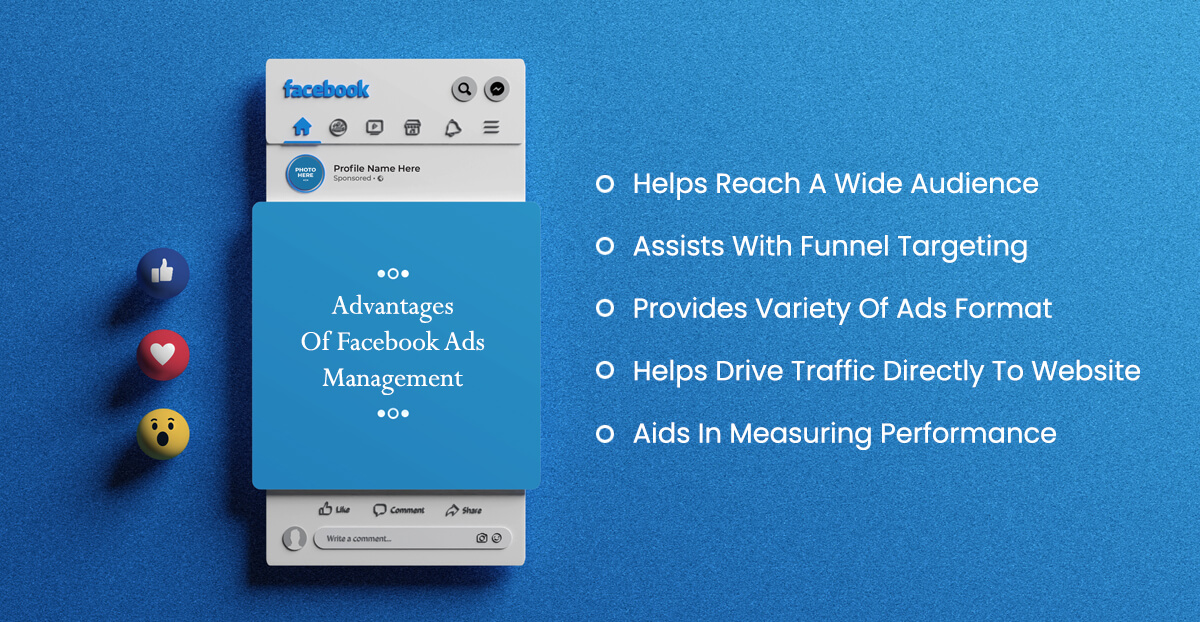 Helps Reach A Wide Audience

 
Given the numero uno status of Facebook globally as the biggest social network and with 2.8 million users worldwide, there is no doubt regarding its wide reach to a global audience of all age groups. 
Assists With Funnel Targeting

 
Facebook ads management helps provide a range of tailored buttons to incorporate into the ads with a specific call to action in sync with the objective of your business. Thus the ads help funnel targeting along with multiple engagements to its specific nature. 
Provides Variety Of Ads Format
The Facebook platform provides a variety of ad formats through its paid Facebook ads management service such as that offered by deAsra. In fact, for each target marketing funnel stage, the platform via its services provides a number of available options for ads along with commonly used video and image ads.
Helps Drive Traffic Directly To Website
Through the Facebook ads management services which provide several ad formats, traffic is diverted directly to your business website. Even though users visit Facebook for browsing the ads compel them to visit websites thus benefiting businesses.
Aids In Measuring Performance

 
Measuring the performance of the ads and gaining insight into the marketing plan through access to metrics is possible with the paid Facebook ads management services.
In addition to these benefits, the Facebook ads management is affordable too, as can be observed when opting for deAsra's Facebook ads management and Facebook marketing services. Your business will surely reap the benefits of paid ad services such as Facebook ads management.
Check out Facebook Ads Management Service Brochure here –
deAsra-upGrowth-PaidCampaignManagement-brochure-2020-Dec