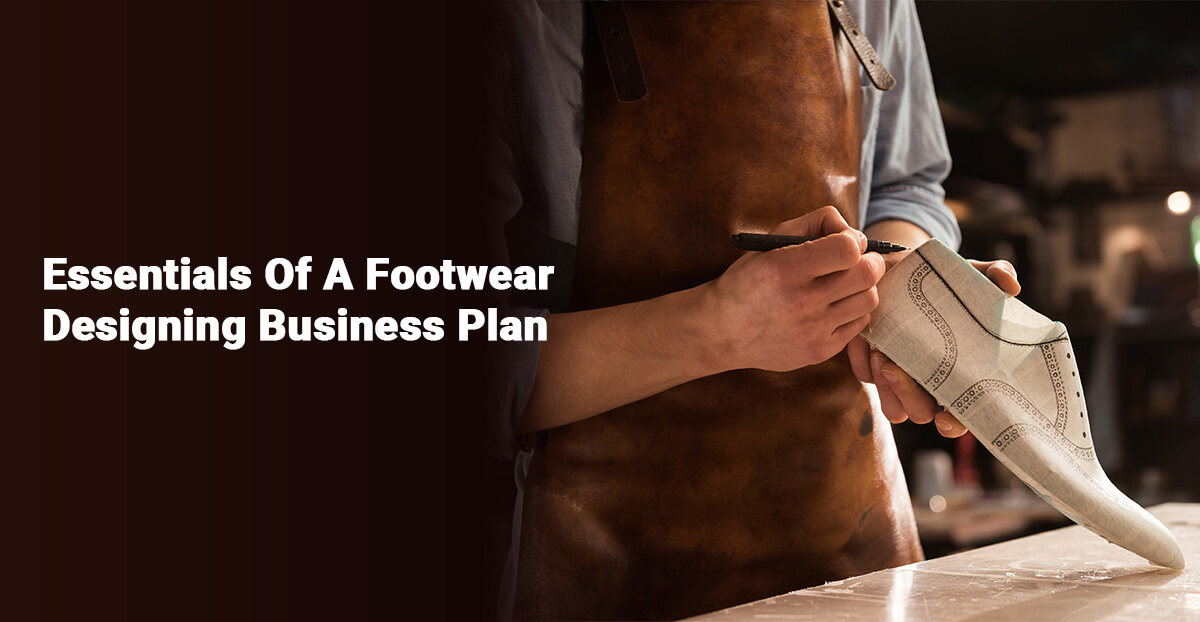 Essentials Of A Footwear Designing Business Plan
"A shoe is not only a design, but it's a part of your body language, the way you walk. The way you are going to move is quite dictated by your shoes" said Christian Louboutin, the famous French footwear designer, and rightly so! Footwear is not just a fashion accessory coveted by several, gender not being a bias, but is a necessity as well. The ever growing popularity and demand for footwear has made the footwear industry one of the rewarding business opportunities in the last few years.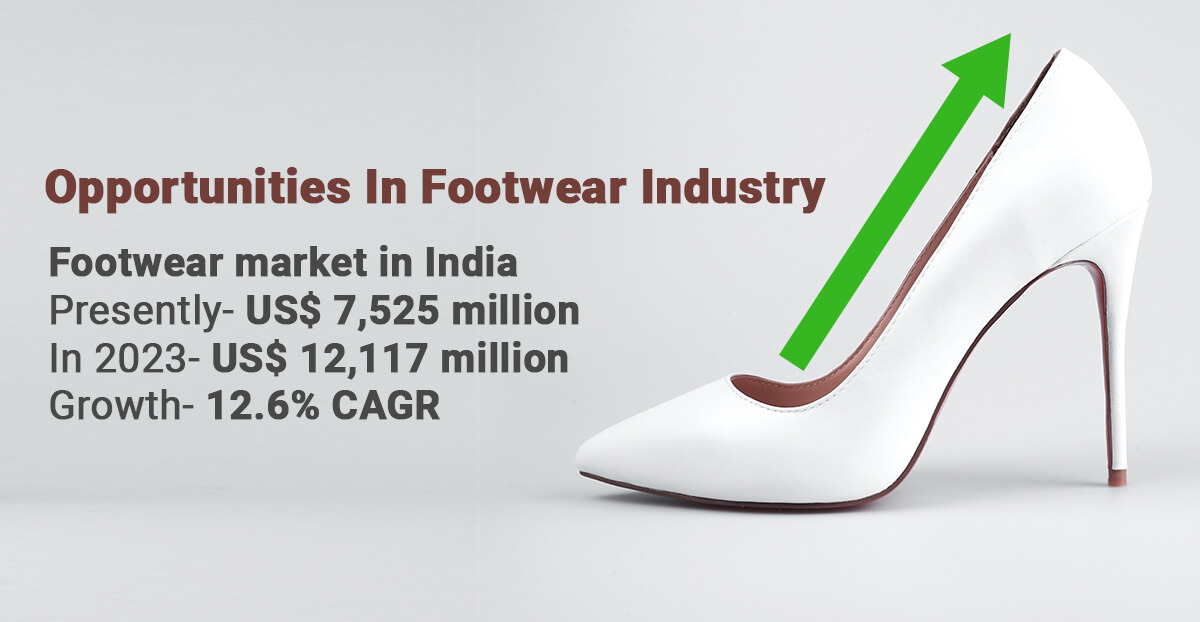 In fact, the market volume of footwear in India presently stands at US$ 7,525 million and is expected to grow to US$ 12,117 million by 2023, which is a 12.6% compound annual growth rate (CAGR), thereby giving an inkling into its popularity and scope for development in the coming years. Along with being the second largest manufacturer of footwear in the world, India is also one of the largest consumers of footwear generating employment for over 2 million people, thus being an exciting and lucrative avenue for interested entrepreneurs to delve into. 
Opportunities in the footwear industry can further be categorised into footwear designing, manufacturing and supplying or selling of footwear, wholesale and retail. Here, we are going to discuss opportunities in footwear designing. The field of footwear designing is akin to designing one's dreams to adorn the feet and French footwear designer Roger Vivier beautifully described by saying, " to wear dreams on one's feet is to begin to give reality to one's dreams". The footwear designing business is thus allowing everyone to wear their dream footwear on their feet and go places, literally and figuratively. 
India as a country has been dabbling in footwear designing from the beginning of civilization, whether in the form of padukas in the Ramayana era or in the form of various colourful mojaris and juttis during the Rajputana era or the kolhapuris of Maratha era, designer shoes and footwear have been part of our history and continue to be equally sought after even now.
These facts and figures are enough for aspiring footwear designers to take the leap and start their own footwear designing business. A footwear designing enterprise is competitive as well as demanding but is equally lucrative and rewarding.
However, just being creative or having a flair for fashion and footwear does not suffice. A footwear designing career or a shoe business plan requires a number of attributes and skills. 
Attributes And Skills Required For Footwear Designing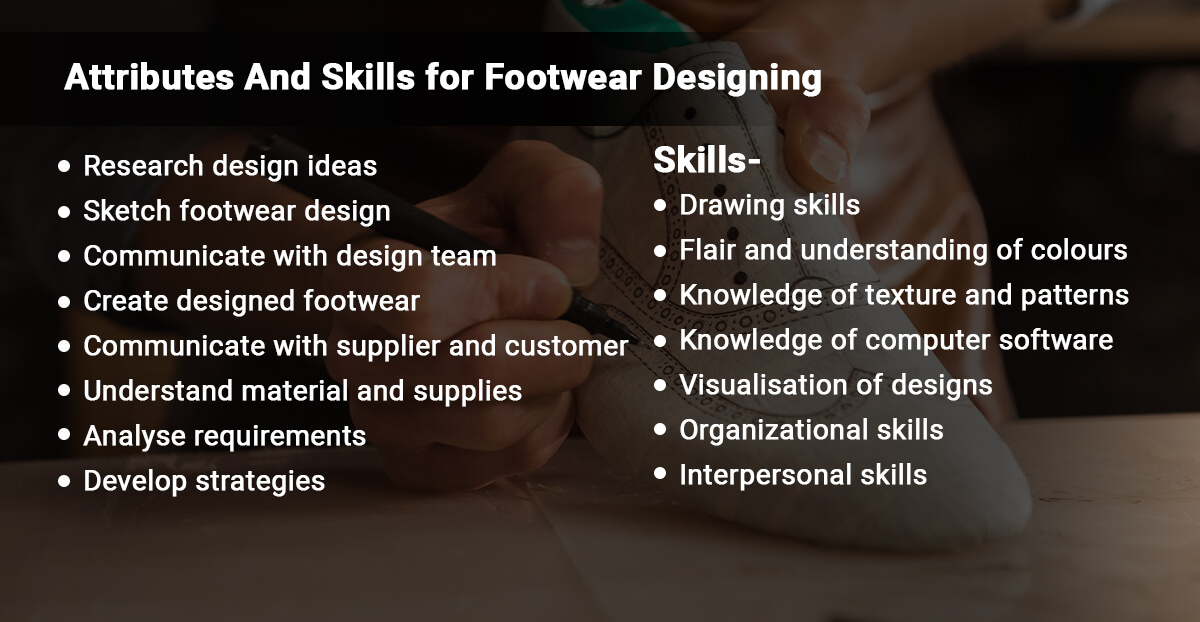 Along with creativity and maybe a degree in fashion, footwear designing calls for certain skills and attributes as an entrepreneur to be able to handle the business aspects of the venture as well.
Attributes for footwear designing
The ability to be able to research design ideas

The skill to sketch several footwear designs

The ability to be able to communicate with the design team to explain the visual idea to bring it to life

The creativity to craft the designed footwear

The knack to communicate with suppliers and customers tactfully

The ability to understand materials needed for designing the footwear

The knowledge to analyse requirements of footwear as per the seasons and occasion

The ability and experience to develop strategies for the marketing and sales of the footwear
Skills required for starting a business in footwear designing
Drawing skills

Flair and understanding of colours

Knowledge of texture and patterns

Knowledge of computer software

Visualisation of designs

Organizational skills

Interpersonal skills
Essentials Of A Footwear Designing Business Plan
The above skills and knowledge is needed for you to start making your own brand designer shoes and creating a name for yourself. But along with that it is important to start the footwear designing business with a thorough business plan in place to start on the right note. 
Essentials Of Footwear Designing Business Plan
Conduct market research 

Define your uniqueness

Identify suppliers

Describe operations

Create financial statements

Decide where to sell

Develop marketing strategy
A business plan is defined as a "formal written document containing business goals, the methods on how these goals can be attained, and the time frame within which these goals need to be achieved". The basic contents of a business plan, including the footwear designing business plan, include- 
Executive summary

Business description

Market analysis

Competitive analysis

Operations and management plan

Design and development plan

Financial summary

Marketing plan and sales strategy
For further in-depth description of the contents of any business plan, you can download business planning checklist, to ensure that your footwear designing business plan includes all the necessary pointers.

Prior knowledge and thorough planning are required to understand how to start a shoe business and run it successfully. Getting to know a few basic essential pointers, initially, can help ease the entrepreneurial journey. 
Here, we will discuss in detail the essentials that must be included in the footwear designing business plan. 
A market analysis of the designer shoes industry is needed to plan your business. The analysis can help study the trends in the market and further help in categorising the customer groups for your business, such as male, female and children's footwear, or formal, casual and athletic wear, etc. The market analysis helps identify the target market along with the target audience. It is suggested to reduce the target market down to a reasonable size so the footwear line can successfully and efficiently manage the customer demand.
The next essential information to be included in the footwear designing business plan is the reason why your products will be different from the rest available in the market. You could make customised canvas shoes by painting them or you could make colourful customised mojaris and juttis or even make sustainable footwear from recycled materials (like tyres), like one of deAsra's dePreneurs. 
You need to define and describe the uniqueness of your footwear, whether it is for men, women or children, for what occasion are the footwear for and how are they different from anything else available in the market. 
The next information to be added in the footwear designing business plan is regarding the actual manufacturing process. This includes information regarding from where you will be procuring the materials whether it is plain canvas shoes (for painting them) or leather for shoes or colourful threads for designing embroidered mojaris you need to discuss from where the raw materials and other supplies will be coming, who the suppliers are, at what price they will be providing the materials and the logistics details too. 
Describe Operations And Management
The information regarding the management and operations of the footwear designing business is important and needs to be included so that you have a clear protocol to follow with division of responsibilities, allowing for streamlining of the entire manufacturing process. The responsibilities of each managerial staff, accounting person, labour, design team, delivery person, etc must be mentioned along with their exact duties, salaries, training and experience.
Along with management the operational details need to be added too such as where will the headquarters be located, where will the actual footwear designing take place, how big is the space, is it on rent or an owned place, what equipment will be needed for designing (depending on the type of designing), the inventory and its storage, etc.
Along with these operational details, the licences and registrations required for the business must be explained too. A small scale manufacturing business such as the footwear designing business usually requires an Udyam Registration, GST registration as well as a business entity registration whether a partnership, sole proprietorship, Company or LLP. You can easily apply for Udyam Registration easily within the comforts of your home and for other registrations you can approach deAsra for assistance. 
A financial statements summary is also a must for the business and must be included in the business plan. It must include all the expenses such as the raw materials cost (leather, canvas, thread, laces, etc.), the equipment cost, the salaries of the manager, labourers, designing team, accountant, transporters, etc, the rent or purchase amount for the office as well as manufacturing space, the cost for electricity and other resources as well as miscellaneous expenses. These all need to be accounted for and listed in detail.
Additionally, the pricing of the footwear needs to be mentioned and what the expected profit percentage will be for the business to succeed and grow in the future. 
Along with detailed balance sheets and estimates it must also include from where the financing will come, whether as a loan or an investment or from borrowings or from savings.
The next important information to consider and include in footwear designing business planning is where and how to sell the footwear. It could be through retailers or having your own shop to sell only your particular brand. But with a shop the reach of the footwear collection will only be limited to the local audience. In order to cater to a wider audience around the globe you need to connect with them digitally. This can happen via a website or you can also consider selling via various e-commerce websites such as Amazon or Flipkart or even certain e-commerce websites exclusively for designer wear or for handmade and unique products. Another option is to sell via a WhatsApp Messenger Business account which can reach out to several contacts at the same time.
To sell on all these sites good photographs of the footwear are needed and therefore professional photography of the products must be considered.
Develop Marketing Strategy
A marketing plan is also an integral part of the footwear designing business plan and must include the strategies to be undertaken to advertise and market the footwear. Traditional marketing methods like advertisements in newspapers and magazines along with discount offers can be used if wanting to reach out to a local audience. However to advertise to a more global audience social media marketing methods can be used such as social media platforms like Facebook and Instagram where you can advertise and even sell the footwear. Google Ads can also be used to market the products to the targeted audience.
These are some of the essential pointers that need to be considered and included in the footwear designing business plan. The business plan will help make a clear road map for you to follow in order to set-up the business and operate it effectively and efficiently. For any guidance to help draw the perfect business plan for designer shoes and footwear or for any other entrepreneurial queries, you can contact deAsra Foundation for assistance and support.