How To Start A Shoe Business?
Gone are the days when it was just the women folks who were obsessed with shoes. Joining the league are men and children who are just as selective of how they adorn their feet as women are. So now would be a great time to be wondering how to start a shoe business?
They say, a journey of a thousand miles begins with a single step, albeit, in a fabulous pair of shoes. Shoes are an integral part of every person's wardrobe and a necessary accessory too. Unlike other accessories that are for adornment only, shoes are a practical necessity or how else would you walk around and get to places. Apart from their practical use, shoes add a stylish edge to your wardrobe. In fact, they say, a woman can never have enough shoes.
So, if shoes are a point of fascination for you too, as budding entrepreneurs, then you too can convert the love for shoes into a business. For shoe affiandos the shoe business is a good entrepreneurial opportunity and even for those aspiring entrepreneurs who are looking to venture into a popular and profitable business idea, the footwear business is a great idea to start their own business. So if you think you have an eye for shoes then you should definitely ask yourself how to start a shoe business!
There are several aspects of a shoe business that can be explored as a business opportunity. Entrepreneurs can start a shoe designing business or a shoe manufacturing business or, the most popular one of them all, start a showroom to sell a variety of shoes (it could even be franchise) that are manufactured by someone else. Out of all these choices, it is better to start a shoe shop because a manufacturing business, especially for sports shoes and leather shoes and boots, requires a lot of machinery and thus a sizeable capital investment which might not be possible while starting out, especially for a new business. In fact, even the majority of the large, global brands do not own manufacturing centres. Global brands too outsource the manufacturing process while concentrating on features and design to make their product unique and focus on marketing it. 
Within the shoe business also there are a variety of specialities and niche product markets to choose from while planning on how to start a footwear business, especially in the retail sector. Entrepreneurs can select their target audience by choosing to deal in men's footwear or women's footwear or children's footwear exclusively or selling all three types within the same store. Additionally, after this broad classification, shoes can further be categorised according to the occasion they are meant to be worn at and also the type of material that is used to manufacture the shoe or by the type and style of shoe. This means that men's shoes can further be classified into formal shoes, athletic sports shoes, moccasins, sandals, flip flops, chappals and so on. Women's shoes have an even wider variety ranging from stilettos to platform heels to kitten heels to wedges to pumps to peep-toes to ballerinas to belles to ankle booties to gladiator sandals to Mary Jane's to flat sandals to loafers to sports shoes to boots to slippers to flip flops and many more. Children too have a variety of shoe types, though the number is limited as compared to the adults. Additionally, the choice in the material used for the shoes is vast too, ranging from leather to suede to canvas to rubber to fake leather or resin to plastic and many more as per the creativity and innovative thinking of the manufacturer and designer. Shoes can be even be categorised as per the occasion, such as formal shoes, party shoes, casual wear shoes, school shoes, sports shoes (with specific shoes for different sports such as football shoes, cricket shoes, tennis shoes, running shoes, etc.), traveling boots and shoes, rain-wear and many more.
In short, the shoe business is huge and provides several avenues for budding entrepreneurs to explore and start a footwear business.
How To Start A Shoe Business?
A shoe business, just like most other businesses, cannot just be started by having an interest in the field or on the basis of enthusiasm to turn into an entrepreneur. Prior knowledge and thorough planning are required to understand how to start a shoe business and run it successfully. Getting to know a few basic essential pointers, initially, can help ease the entrepreneurial journey.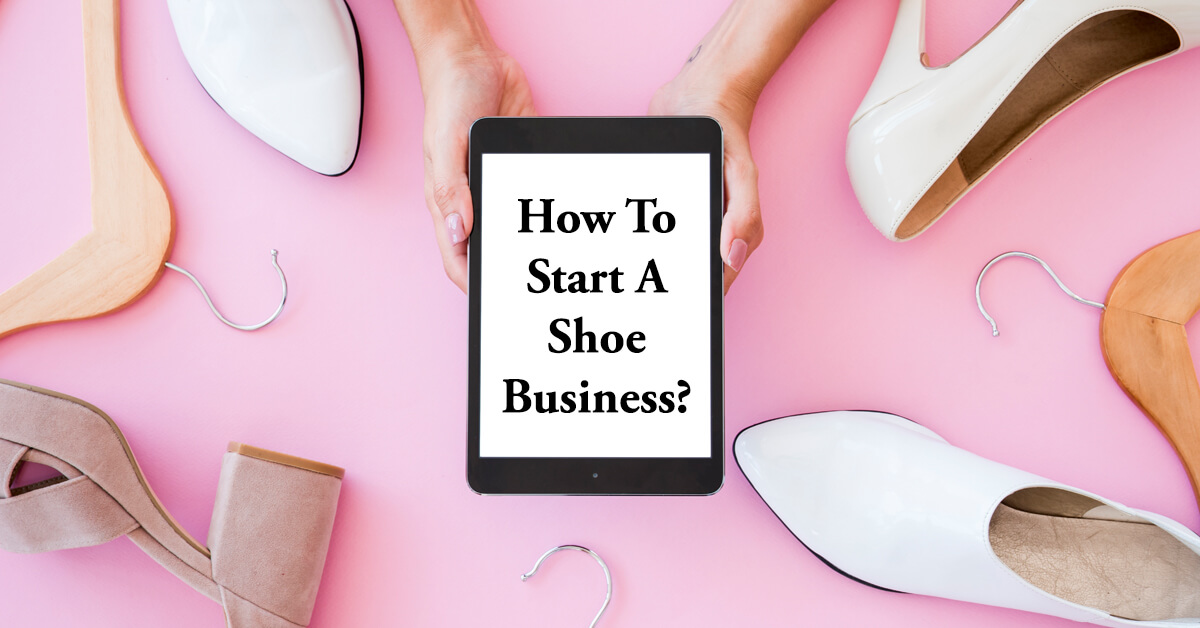 Choosing The Specific Shoe Types
While starting the shoe business, the first step is to choose the speciality that you, as an entrepreneur, want to specialise in, whether it is in men's footwear or women's footwear or whether you want to deal only in leather shoes or stock only boots of various types in the store or house shoes only from a particular brand in the store or have an exclusive multi-designer shop. Alternatively, you can even support certain small scale designers or local artisans or can decide to display only ethnic wear shoes such as juttis or mojris or only Kolhapuri chappals or only organically sourced leather shoes, etc. The choice for the type of footwear to be kept in the store and the audience that is to be targeted must be made as a first step towards getting the business started. Once the niche product is selected, how the products can be sourced must be the next step. It is vital to know where the niche products are manufactured and how they can be obtained easily. Thus the type of shoe business you wish to venture into must be decided as a first step.
Planning The Business
After selecting the products for your shoe business, the next step involves planning the business in detail. This involves creating a shoe business plan that lists the exact nature of the business and the way in which the business will be operated. Also, whether the shoe business will be operated through a store or via online marketing only can also be mentioned in the business plan. Other details to be included in the plan include- 
The cost of setting up the business

Location of the business

Time taken to break even after starting the business

Ways of procuring funding for the business

The number of employees required to run the business

The equipment and materials required for the business 

Study of the competitors in the same business
A business plan is like a map that covers the specifics of the business and helps discover and consider unknown aspects about the business in the planning stages itself.
Registering The Business
When starting a new business, registering the business is an essential step and must be done immediately to carry out the business sans any hurdles and legal issues. A business registration gives recognition to the business and provides a business structure. Entrepreneurs starting a shoe business can choose from a sole proprietorship or a partnership or a limited liability partnership or a one person company. Each type of business entity has its own advantage and the most appropriate one must be chosen which will benefit the business.
Along with choosing an appropriate business entity, the shoe business needs to obtain certain licences that are mandatory to operate the business. These include the Shop Act, if the shoe store is within municipal limits, and also GST registration to comply with a uniform tax structure across the nation and to conduct the business smoothly. These registrations must be done prior to starting operations of the footwear store.
Marketing The Business
Marketing of the business is the next vital step and must be given due importance since the shoe business is a popular business which has several competitors and for your business to be successful, you need to stand out against the crowd. The basic factors to consider in order to market your business is to have a business name that is unique, with which customers can easily connect and can identify. A logo along with the name will help create a brand image for the business and act as a source of identification for the business. 

Along with the business name and logo, marketing strategies need to be planned for the shoe business in order to create a recall value for the brand and products and also to advertise about the shoe business. Advertising via newspapers and flyers can be done. Also the business can participate in events where their shoes can be displayed or spoken about such as fashion shows, photoshoots for magazines, or stalls at exhibitions such as bridal shows or lifestyle exhibitions. All of these events are indirect ways of advertising the business.
Digital marketing techniques can also be employed to advertise and market the shoe business. A website can be generated to create a digital identity through which information about the business can be conveyed and also the shoes can be sold online to any part of the country or even the world. Thus, a website can broaden the reach of the shoe business. Additionally, the business can have a presence on various social media sites and platforms. For instance an Instagram page of the shoe brand can be created with daily updates on looks of the day with the latest footwear from your brand or store being features, or you can have a Facebook page talking about the latest styles and trends in footwear or blogs about how to take care of one's footwear and similar informative and creative blogs and posts to talk about the business and advertise it indirectly. 
These factors will help hasten the process of starting a shoe business and advertising it across various platforms. Shoes are a practical necessity along with being an attractive accessory that has numerous takers, thus making it a great business idea to explore. We have pointed out the important factors of how to start a shoe business. For further guidance and assistance regarding starting a fashion business, experts at deAsra can help you out.