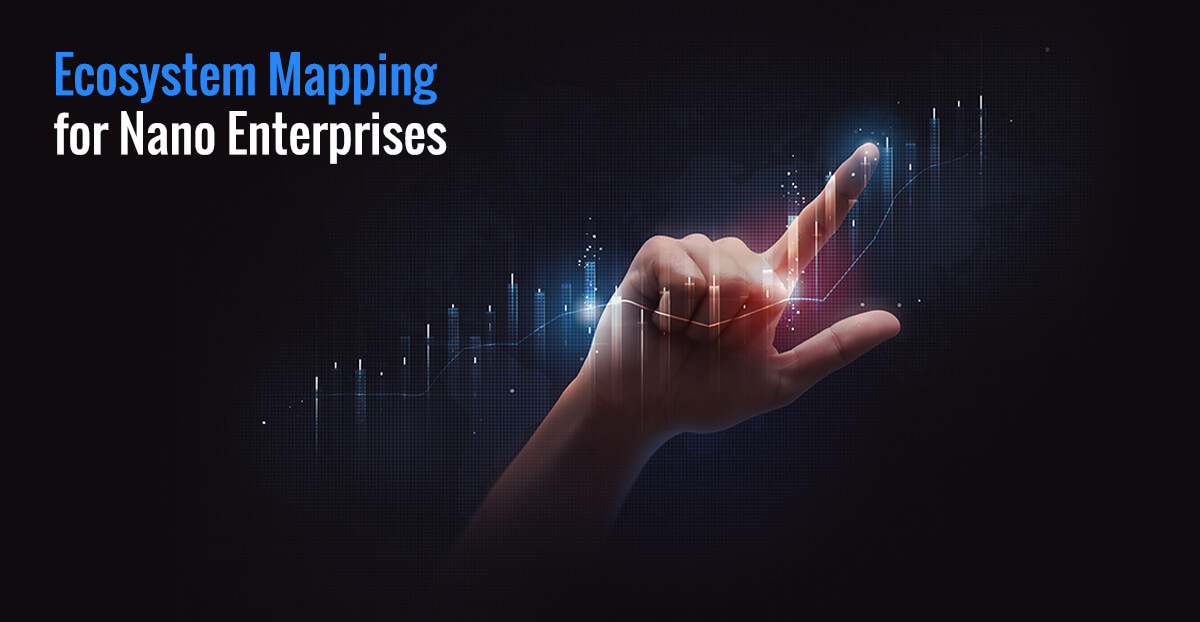 Ecosystem Mapping for Nano Enterprises
Nano-entrepreneurs form an integral part of the entrepreneurial ecosystem.  As illustrated in an op-ed by deAsra aiming to define nano businesses, the Consortium of Indian Associations (CIA), an apex MSME body representing around 50 MSME associations spread across the country, has demanded the government to create a separate ministry for micro enterprises for better focus and policy support. The challenges faced by nano enterprises need a special spotlight on them in order to be addressed affectively and swiftly. Access to credit, technology and marketing skills remain some of the most prominent areas of concern for nano-enterprises. However, despite the large number of nano-enterprises, policy limelight is often attracted by organized small and medium enterprises. Therefore, ecosystem enablers working in the space of nano entrepreneurship development have a crucial role to play in uplifting the business journeys of this segment of the entrepreneurial ecosystem.
The ecosystem to accelerate the growth of nano and micro entrepreneurs has seen a progressing shift wherein some key support areas that have been delved into by various ecosystem members are, legal & compliance, marketing, access to finance and mentorship. 
While compliance is nothing but avoiding unethical business conduct or violation, it has always received a bad reputation because of laws, regulations, and audits. Many small businesses feel caught up in the responsibilities and activities that are necessary for compliance, thereby generally overlooking the very evident benefits of being a compliant business. This leads to small businesses compromising on aspects such as a smooth operational journey, avoiding penalties and gaining customers' confidence. Thus, it may be needed to recognise and acknowledge the sentiment of small business owners who on one hand are already trying to figure out how to run a small business, and on the other hand are overwhelmed with the various business compliances on their shoulders. This is when ecosystem enablers come into the picture and organisations such as deAsra are actively educating and helping small business owners navigate through various legal and compliance areas such as trade specific compliances, labour practices, industry procedures, acquiring a small business registration, tax filing, returns, board meetings, handling of statutory books. Through deAsra's platform, budding small business owners have the choice of either self-learning through the information resources curated such as blogs, checklists, videos, or can choose to interact with experts and understand from them the necessary guidelines and way ahead for a complaint business. Ensuring small business save time and energy through such support activities enables the entrepreneur to focus on imperative tasks such as refining their services/products and other core business planning activities. 
Access to finance has been a persistent challenge in the journey of small businesses. In light of this, building innovating finance models can greatly enhance the chances of small businesses for availing credit and also allowing them to inch towards financial inclusion. Some of the key contributors to address solutions for financing small businesses are Samhita, Gromor, Avanti Finance, Arth Impact, Vivriti Capital, Kinara Capital, The Michael & Susan Dell Foundation and Mera Bills. Samhita's REVIVE Alliance offers a returnable grant, which is a zero-interest finance program in which the borrower has a moral obligation to pay back the amount with no financial burden of any interest. The repayment of the grant begins once the entrepreneur has stabilised the business and is in a financial position to start returning back the grant. Another nano-business focused initiative is run by Udhyam Vyapar, known as Project Udhyami, which aims at revival of nano businesses through hassle free and online daily repayment option, interest free loans of small amounts and consulting to improve business book. Arth Impact, Kinara Capital and Avanti Finance have been establishing models to connect small business owners with affordable loans. For example, Arth Impact ensures that their loans offer flexibility on value of loan, tenure and repayment channels so that the finance availed can accordingly meet the business needs of the micro and nano enterprises. Kinara Capital has been working towards enabling small businesses to attain collateral free loans within a quicker time period with the loan amount ranging from ₹1 lakh to ₹30 lakhs, and with a digital-first process in their preferred language. This model allows loan disbursement within a very prompt time span such as 24 hours, hassle free checking of eligibility for the loan and minimal documentation required for businesses from over 300 different sectors. Furthermore, small businesses are also faced with the challenges of maintaining their regular financial records. Therefore, applications such as MeraBills play a pivotal role in assisting small business owners in maintaining books of accounts and related financial data. The app ensures business owners are at ease in keeping track of the business, and also creates a digital footprint of profits and losses, cash flow and information pertaining to debtors or creditors. Thus, an app like MeraBills also helps in contributing towards digital integration and financial literacy associated with nano and micro enterprises. 
According to a survey launched by deAsra, a general consensus derived from the survey was the willingness expressed by small business owners to gain knowledge about social media marketing and to be able to effectively market their business on social media. Especially when we talk about being in a pandemic, social media marketing is one of the most relevant ways of running a business. Therefore, the importance of incorporating social media marketing into business activities becomes manifold. Social Champ is an innovative training program conducted collaboratively by deAsra Foundation and Upgrowth. The rationale behind designing Social Champ was identification of the most relevant social media platforms for small businesses. The key inclusions of the programs are extensive hands-on training for Facebook, Instagram and Google my Business, introducing and educating the participants with the best practices for social media management, training in content and graphic creation training and expert mentoring and support. Another support initiative in the space of marketing activities for business growth for women owned small enterprises is NITI Aayog's Women Entrepreneurship Platform (WEP). Through various partnerships, WEP offers marketing support to small businesses in order to help them enhance marketing and positioning of their competency. The platform also enables small business owners to broadcast their products and services through various channels to increase market presence. 
Although the ecosystem members in nano enterprise development do form a close-knit community, which can also be seen through the facilitation of various partnership models and innovative collaborations, we still need to see more integration amongst the various contributors. Multiplication of such activities would result in establishing a concrete framework of solutions for nano enterprises, which can further result into contributing towards the process of policy making and policy enhancement.