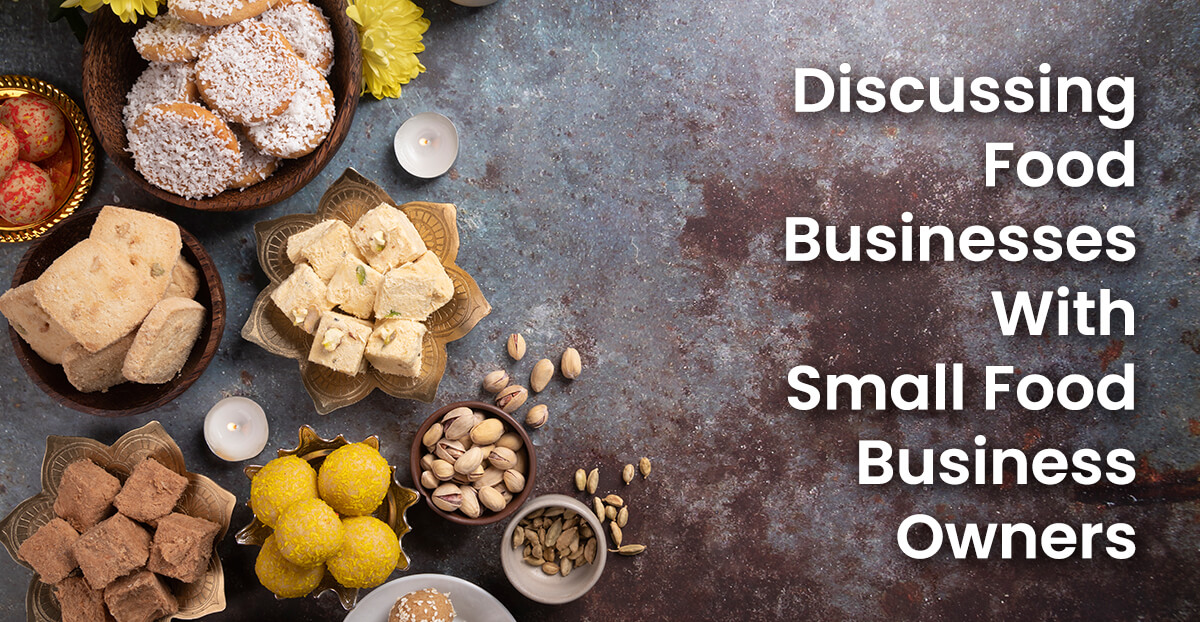 Discussing Food Businesses with Small Food Business Owners
Small businesses, formal and informal, contribute nearly a fifth of the total food product manufacturing output, according to a report by the MSME Ministry. Our city areas are comprised of small food businesses, including canteens, poli-bhaji shops, home-food snacks and tiffin businesses, and local food stalls. A major hit of the pandemic was taken by many small food businesses with many challenges ranging from shortage and added costs of raw materials, the need to quickly grasp technology and social media marketing, retention of employees and enhancing their hygiene measures.
deAsra conducted interaction sessions with over 150 small food entrepreneurs across Pune and PCMC area to understand their business journeys, take into account the challenges faced by them during the ever-changing pandemic situation, and what tactics they applied in order to overcome these challenges and help sustain their business.
Amongst the 150+ interactions conducted, around 30% reported an annual turnover between 5-20 lakh, and around 10% each reported an annual turnover of 20-40 lakh and above 40 lakhs. Small business owners are quickly grasping the new and changing needs of a business in the market we see today. This can be reflected through responses given by food entrepreneurs wherein around 75 percent of business owners reported that they were either able to maintain their turnover or were able to increase their turnover during the pandemic. After questioning them on how they managed to achieve this feat in these testing times, many different processes and thoughts were voiced by the entrepreneurs.
One of the essential ways to rethink business strategy was to build newer and more sustainable business models. For example, as explained by one of the entrepreneurs, a referral system was started during lockdown-like situations to appeal to homemakers to become a part of the promotion and marketing activities which led to the generation of more leads for the business and also allowed homemakers to earn from the referral rewards.
Businesses that earlier had a dine-in business only, realized that the fluctuations seen in the market environment did not allow their dine-in business to fully flourish. This led to many businesses deciding to fully focus on a delivery-based service only and invest their resources into adopting it, as opposed to continuing a hybrid model. While many businesses decide to completely shut down their activities and wait for an opportunity to reopen, some of them chose the downsizing route and focused only on two or three fast-moving products and focused on the selling pitch for only those.
Raw material costs had increased in view of rising prices such as commercial LPG, edible oils, and vegetables, and the impact of this was felt by many food businesses. In an attempt to shield their businesses from the additional burden, a number of measures were adopted to reduce the costs of the business. For example, some businesses urged their customers to donate old cotton cloth pieces which were then converted into small cotton bags and were used to deliver the products. These cotton bags were returned to the business owner and therefore reused for other orders.
Using these bags allowed businesses to save on the costs of using one-time disposable bags. Another method adopted by businesses was to avail working capital which was deployed to maintain the quality of the packaging of the products and also maintain the selling price of the products. This allowed consumers to get the standard experience and keep the same value for money. The shortage of raw materials pushed business owners to research and develop a new network of vendors, which helped them avoid facing situations where they had no raw materials in hand.
One very prominent issue faced by food businesses is the amount of wastage of food products incurred. In order to avoid this added weigh down, some businesses adapted a hybrid menu option which comprised of both pre-ordered options and ready to eat products. Business owners were compelled to dive into an analysis of the consumption pattern of customers, which allowed these businesses to achieve the maximum possible optimized menu which helped in saving a considerable amount of food wastage for the business.
Ensuring a business garners a good amount of online presence becomes imperative when more than half of the world is now operating through mobile phones and laptops. The importance of online marketing was well understood by many small business owners who left no stone unturned in resorting to the skillful promotion of their business through various ways such as posting videos of their kitchen operations and guiding the customers through the hygiene measures adopted, packaging techniques and the quality of setup used to curate the products. This played a role in assuring customers of quality service and thereby generating new leads for the business and increase in the repeat customers.
The prevalence of uncertainty in the pandemic posed a challenge for small business owners to retain their employees. Therefore, in an attempt to retain these employees, both from the perspective of allowing continuity in the business and compensating for the reduced salaries of the employees, some business owners paid for accommodation and food and some ensured complete medical care such as vaccination.
Small food businesses have experienced challenges such as introducing additional hygiene measures, quickly learning new skills such as social media marketing, adopting digital payments, and innovating their products, delivery, and business plans. Taking up these challenges as an opportunity to reinvent their businesses and make them more sustainable, even through a pandemic, is a sentiment that was seen amongst food entrepreneurs.