Essentials Of A Beauty Salon Business Plan
A beauty salon business is a relatively unexplored market that has been profitable for all those who have started it. A beauty salon or beauty parlour provides products and services that enhance the client's physical appearances and mental relaxation. An increasingly higher number of customers, men or women, are using beauty services. It is a booming business and attracts customers of most age groups. From adolescents to adults, beauty parlours and salons are a hit and widely used especially since first looks often make lasting impressions and most individuals are keen to make the right impression.
Opening a beauty salon in today's times can be quite competitive and also it comes with a high startup cost. It is also vital to have specific knowledge about hair, beauty, and personal care. For starting a beauty business, any aspiring beauty professional must have business management skills to successfully run the business.
The first step towards a successful business is to have a concrete business plan in place. In most cases, the plan will be a long document written in simple business terms and in an easy to understand language. A standard plan consists of seven sections as elaborated below.

Beauty Salon Business Plan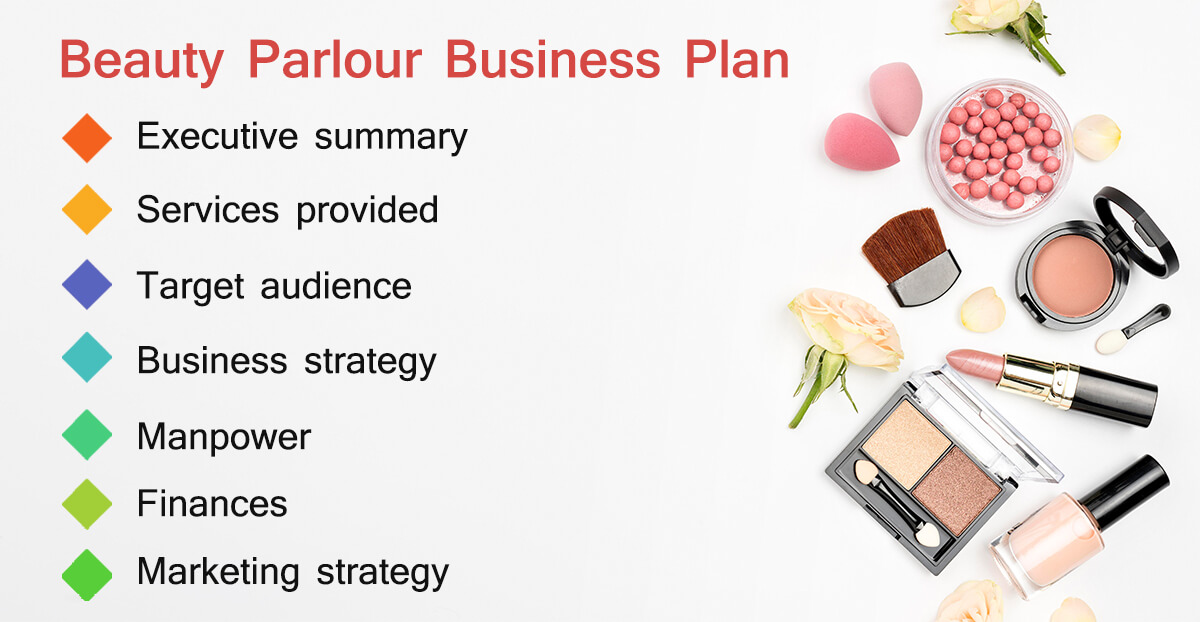 The Summary
An executive business summary must be included in the beauty salon business plan to explain the entire idea and concept. It should summarize the entire business plan in a short, concise but all-encompassing format. Assume your most important readers will read only this section that is why it should be 5-10% of the size of the entire business plan and written in the same sequence as the business plan. It usually contains a brief statement of the proposal covered, background information, and the main conclusion.
The Company Structure
A beauty salon business plan must include information regarding the kind of business entity you opt for the start-up. The beauty salon industry accommodates small business as well as a big chain. Therefore, before starting the beauty salon business, it is important for the entrepreneur to decide on a model, scale and ownership structure for the business.
In this business, sole proprietor beauty salons are the most popular ownership type. You can establish and operate as an independent beauty salon in your neighbourhood. In a franchisee beauty salon chain, your salon will operate as a part of a bigger group. Since the beauty salon would be set up as a franchise, the franchisor would provide support in setting up and operating the branch.
The Services Offered
There are many different kinds of services that a beauty salon can offer. The broad categories are hair care, nail care, skin care, and makeup. You must choose any one or more of the categories according to your expertise and the trends that are popular at the time.  However, you have to provide the most basic services as maximum number of customers seek them. Once you have decided all the services, write them down in detail. Also, elaborate on what benefits your clients will get and how much each service will cost. Some of the services you can offer are:
Hair:

Haircut, relaxers, perms, colour, shampoo, conditioning, curling, reconstructing, eyebrows, treatment, hair spa, hair removal.

Nails:

Manicure, pedicure, polish, nails sculpture, Acrylic nail application, nail art, etc.

Skin care:

Facial, waxing, massage, tan removing, spa, hydrotherapy body piercing, exfoliation.

Makeup:

Bridal makeup, party makeover.
The Market
Describe your target market including your market demographics and market growth. Research the age group you're targetting as well as what are the current trends being followed by that age group. Include tables and charts that show your market growth. A beauty salon can be required by all genders and age groups. Your target audience can be:
Working professionals

College students and teenagers

Homemakers

To-be-Brides

Children
Each group will require a different type of service.  List down each individual section of your target market and what services they would require as part of the market study.
The Strategy
Focus on certain services and make an estimate of your sales and cost for those services. Define the milestones in your business with specific dates or time periods. Decide what your strategy for the implementation is going to be and how you're going to spread the word once you start your business. Brand promotion is very important in the beauty salon business. The success of any budding salon depends on a core group of clients. Plan ahead for your marketing strategy. You must decide and create the content you will be using for marketing beforehand and the advertising and business strategies must be part of the beauty salon business plan.
The Staff
Proper planning with respect to manpower is one of the most challenging issues in starting a beauty salon. Employees are the front line representatives of the business. Their talent and skill, as well as their people skills, will influence every aspect of the business. The main responsibilities in any beauty business depend on the kind of services the staff will provide. Some of the common ones are:
Salon manager

Hairstylist

Cosmetologist

Receptionist

Manicurist

Salon assistants
Name and describe in detail the main members of your team and what their responsibilities will be. List the gaps in management if there are any and show how they will be addressed. This will give you a better idea of the personnel required before you start and what each member is required to do.
The Finances
Finance is the most important part of any business. You should aim to be as specific as you can when it comes to your finance, which includes describing your financial strategy and how it will support your projected growth. Evaluating the overall cost involved in the services should give you effective pricing for the services you're going to provide. Include a break-even analysis that shows risks as a matter of fixed and variable costs and include a detailed projected profit or loss and balance sheets.
Estimate your liquid fund requirements to start your business. Before you actually start running the salon, you must purchase all the products, material and equipment required for the services you're providing.
List down what the services are and what the raw materials and equipment are required for them. For example:
Hair cutting: Oil, gel, shampoo, scissors, combs, brushes.

Highlights: Hair dye, foil, brush, gloves, shampoo, conditioner.

Hair styling: Oil, gel, hair brushes and combs, blow dryers, curler, straightener.
You must also decide where the funding for your business will come from, whether in the form of bank loans, self-funding and small business grants. You can finance your business by putting in the funds yourself or by borrowing money from family or friends willing to invest in your business. Whether you're borrowing money through a traditional bank loan or have teamed up with investors, you need to figure out how much money you need to get started. Research the paths for each and come to a decision about which one is suitable for you. There can however be situations when funding is difficult to seek and that is when you need to learn the essentials of how to open a salon with no money or with limited funds to get started and witness the business grow slowly but steadily.
While writing a beauty salon business plan, these are some of the standard elements that are included. However, it depends on your requirement which will decide what you choose to include and what not while preparing your business plan. Starting a business can be exciting and having a business plan helps in making the process easier and smoother. Writing a business plan is the first step you will take in making your dream a reality.  If you need further guidance for your business plan you can employ deAsra's business planning services.