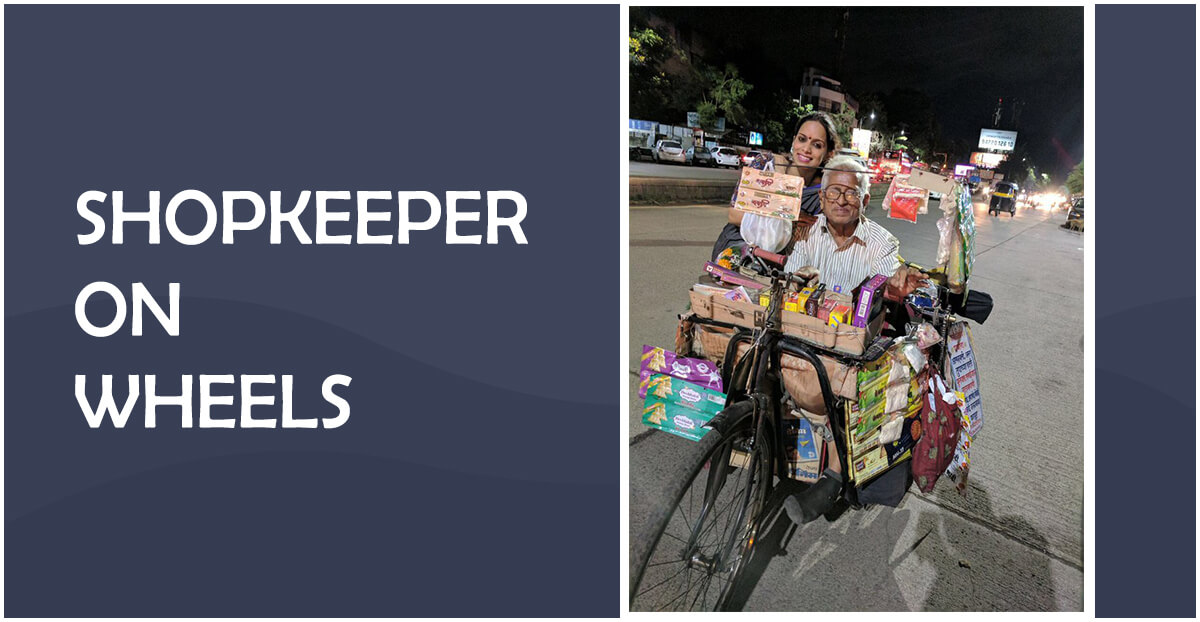 SHOPKEEPER ON WHEELS
Neither age nor physical challenge is a roadblock while venturing into business.  Raman Firodia ……. A differently abled person, the personification of will power and perseverance to win, who made his business venture a success.
……………………………………………………….
What is the right age to venture into business independently?  Soaring into the sky with freedom to achieve new heights is the dream of young wings and the precondition is 'firmly grounded feet'.  But what if there are no feet?
If you are intrigued by these questions, just meet Mr. Raman Firodia at the Anandnagar Signal on Paud road in Pune.  And your queries will be answered.  It makes one think anew, shedding the habit of making fuss about insignificant things. One look at Raman Firodia makes you realize that neither age nor physical challenge can prove to be a hindrance for venturing into business. All it takes is enormous  will power and perseverance to win. Mr. Firodia, an elderly person from Pune started his business past 60. This paraplegic runs his shop on his bicycle.
As a young child, Raman's handicap invited jibes and taunts from other children. Their pestering depressed Raman and he only found solace from their jibes in his mother's hug. A few years later his friends started earning, but he could not take up a job as he was not educated and could not start a business due to his handicap. He despised sitting idle, but he had lost his confidence.  He often wondered where would his wheelchair bound existence take him and how long would he be in such a condition? The thought of being dependant on someone would often depress him further. He sometimes felt suicidal. But his brother inspired him to "Die fighting if you must". Then Raman never looked back and did not need any support and backing.
This OLD MAN sells incense sticks, dhoop and calendars moving around in his wheelchair, the shop on wheels in the neighbourhood of Anandnagar near Kothrud. Mr. Firodia has many customers in the vicinity. His wheelchair is stationed near the signal in the evenings. The old man is often admired by some and receives sympathy from others.  But he does not let any of these affect him. He is surely a source of inspiration to those who have business relations with him. Raman Firodia lost his legs to polio at the age of eight and was subjected to pestering due to his handicap in Nagar, his hometown, which lead to him losing self-confidence.  In addition, due to his family circumstances he could not complete formal education. During childhood, his dependence on family was inevitable but when all his friends grew up and started earning their bread, he realised that he too should make similar efforts.  There was no job due to lack of education and he didn't think about business due to lack of confidence which literally drove him towards depression.  Survival in this world was a big challenge.  His elder brother came to his rescue. "When you firmly decide to do anything, then you can.  And if you want to die then might as well die fighting. Get out of the closet to see what this world is all about." His brother's words proved to be a great inspiration for him.
In his early days in Pune, he worked as an assistant in his brother 's pharmacy. During this period, he read 4 books from Tarkhadkar's series. This helped him to read and write fluently.   Thanks to his intelligence, he could even advise patients on doses to be consumed.  He gathered enough confidence to manage the pharmacy by himself. His brother's pharmacy shut shop in 2004 and Raman had no work in hand. His kind brother bought him a house in Anandnagar, and also took care of his meals and milk, etc. However, Raman did not want to become a liability. One day while contemplating while in a temple, he got an idea.  He collected half burnt incense sticks, used them to make new sticks and started selling them in the temple. With the help of a scrap dealer, he sold about a thousand incense sticks in 8 days. The decision to start a shop was made in 2007, when he was over 60 years of age. His parents and brother were a great support and his brother presented him his first cycle while another was gifted by friends.  And his business commenced.
In course of time, he got acquainted with wholesale dealers.  They brought him material for sale. Other neighbouring shopkeepers, tempo transport owners supported him, extended help. Along with incense sticks, camphor, dhoop.  wati, calendars, etc. also found their place on his Counter.  He noted the phone numbers of manufacturer or marketing agency from product packing and realised that ordering material from them was simpler. His business resources increased. Banks, shopkeepers and residents in the vicinity, and their relatives became regular customers.  He offered and continues to provide personalised customer service by giving them choice of variety of new products and meeting their requirements on time and as per their schedule. More than money or empathy, he believes in customer relations and winning their confidence as the most important aspect of business. That's the secret of his success! 
Firodia has even taken up the responsibility of his parents.  Their medicines and expenses are borne from his earnings. He does not make a bugbear of his handicap and toils for 8 hours per day. While he earns enough for his expenses, he spends the remaining amount for the education of deserving students.
Do you still think there is an age limit to start a business? Or for that matter, is handicap an impediment in venturing into an enterprise?  Any able-bodied youngster with a will and perseverance can become an entrepreneur.