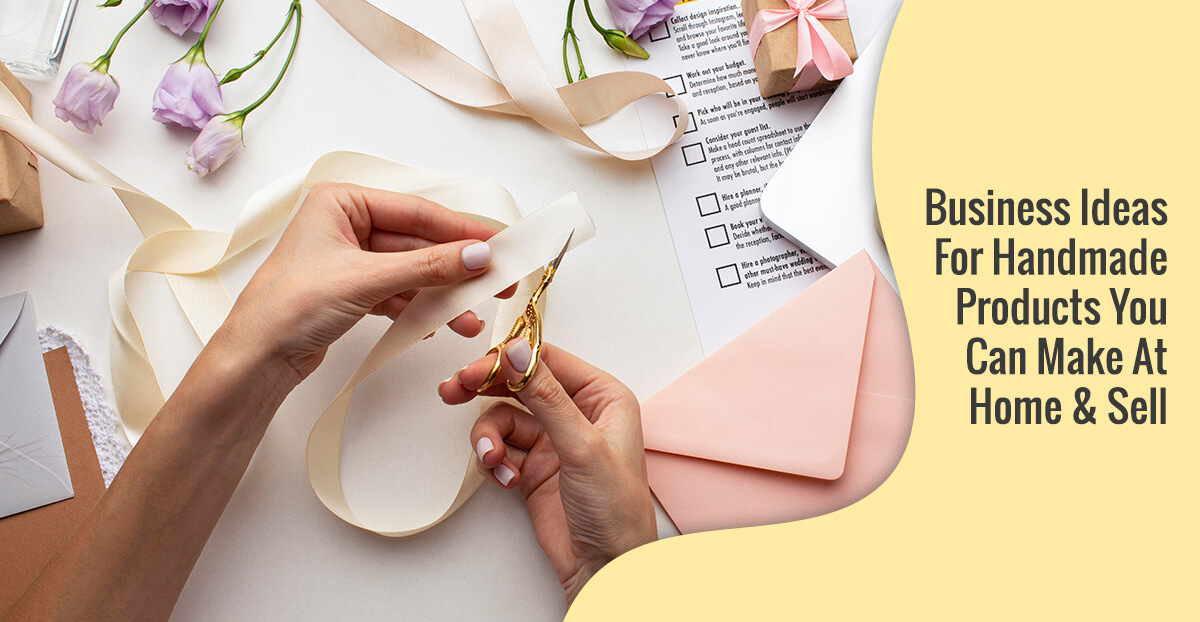 Business Ideas For Handmade Products You Can Make At Home And Sell
Handmade product businesses have been around for quite some time and continue to gain popularity. These include handicrafts as well as various handmade products. Statistics reveal that in the year 2020 alone the global handicrafts market reached a value of US$ 718 billion. And this number is expected to grow at a CAGR of 10% from 2021 to 2026. Such is the popularity of handicrafts as well as handmade products.
So if you are a talented artist and have the skill to make unique, beautiful and useful handmade products, now is the right time to turn your passion into a lucrative business. There are several handmade products and accessories that you can make and specialise in. We have discussed a few such off-beat handmade items in demand that can turn into a rewarding business.
Handmade Products Business Ideas
Here are a few popular and unique handmade products you can make at home and sell profitably. These products score high on the popularity ratings and require the least investment. Also, most of these products do not require specific qualifications to make them and can be made by any passionate artist.

A unique and rewarding idea of products you can make at home and sell includes accessories made using macrame art. Macrame is a versatile form of knotting using fibre like yarn, hemp, jute, etc. The products that can be made with this art form include plant hangers, wall hangings, bags and purses, jewellery and sometimes even clothing items. The addition of embellishments such as beads as well as coloured and dyed threads can add to the beauty of macrame products. These products are a rage currently and extensively used for decor in commercial as well residential spaces.
Apart from the knowledge of macrame art, this business requires a small investment for the raw material required to make the products such as yarn, beads, etc. This business has sizeable earning potential.
Scrunchies or hair ties are the latest fashion accessories that are soaring the popularity charts. These hair ties help gather all the hair and wrap it up stylishly. These scrunchies can be handmade using a variety of materials such as satin, velvet, tie-dye fabrics, organza, etc. These can be further embellished with pearls or glitter for a chic and dressy look. The investment required for making these scrunchies is minimal. These products can easily be marketed online on social networks such as Instagram and Facebook as well as via WhatsApp business groups and Facebook shop setup.
Calligraphy And Hand Lettering Products
Another popular category of products you can make at home and sell include calligraphy and hand lettering products. Hand lettering, which also includes calligraphy, refers to the art of drawing letters instead of writing them. Each letter within a quote, sentence or phrase has a unique composition and acts as an illustration. Products that can be made using this art form include wall art and frames, cards, calendars, nameplates, planners, gift tags, invitations, banners, party decor, t-shirt etc. Lettering allows customisation and personalisation of the products too. You can also take workshops and teach the art too as an entrepreneur. 
The investment for this business is limited, apart from the skill, while the earning opportunities are limitless making it an ideal handmade products business to consider. 
Another art form that has regained popularity is embroidery and embroidered products are selling like hotcakes. Embroidery refers to the art of decorating fabrics using needles and thread. Embroidery includes a number of techniques such as cross-stitch embroidery,  crewel work, quilting, needlepoint, French knotting, featherwork as well as quillwork. 
The products you can make at home and sell with this art include baby clothing such as frocks and shirts, adult clothing pieces, blankets, cushion covers, bedspreads and bedsheets, headbands, jewellery and other decor items such as frames and wall hangings.
Embroidery needs to be learned as a skill before converting it into a business. A sewing machine, threads, yarns, needles, embroidery rings, fabric are some of the materials and equipment needed to start this low investment handmade products business. 
Beading And Beadwork Business 
Beading and beadwork refer to the craft or art of attaching beads to one another by stringing them onto a thin thread or wire with a sewing or beading needle or sewing them to cloth. It is a type of embroidery but its popularity and the number of products that can be made warranty a separate mention of the art as a business idea.
The products you can make at home and sell using beading craft include jewellery such as earrings, necklaces, bracelets, brooches, along with accessories such as headbands, hair clips and bags. Beadwork patches are popular too and can be used in clothing and furnishings like pillow covers, wall frames, jewellery boxes etc. The business requires knowledge of beading along with raw materials to make the products.
These are some of the handmade products that you can make at home and sell to start a business and make a profitable earning. All these products can easily be marketed and sold via social media marketing channels. Apart from these unique handmade products business ideas, other products that can be explored by budding entrepreneurs include pottery and ceramics, candles, organic cosmetics, etc. 
Advantages Of Handmade Products Business
Starting a business of making products that you can make at home allows you to work at flexible hours as per your convenience. As passionate crafters and entrepreneurs, you can devote time flexibly to the business, unlike a 9 to 5 job schedule.
The biggest advantage of starting a business of handmade products in demand is that the capital requirement for all these businesses is minimum. These minimal requirements too can be fulfilled via a business loan. A loan can be procured by submitting a funding proposal. You can avail Business Loan Sarathi package to help prepare a detailed loan proposal and prepare for the lender's interview too when applying for the loan.

Handmade products are usually the result of your hobby, where your creativity and skills are given wings. Making and selling handmade products provides an opportunity of turning your passion into a rewarding earning source. Unlike a desk job or another other business, a handmade products business thus helps you pursue your interests and earn from them.
Most handmade products are made from reusable and sustainable materials which is not the case with most machine-made products. Thus a handmade products business is environmentally friendly and supports sustainable living. 
How To Start A Handmade Products Business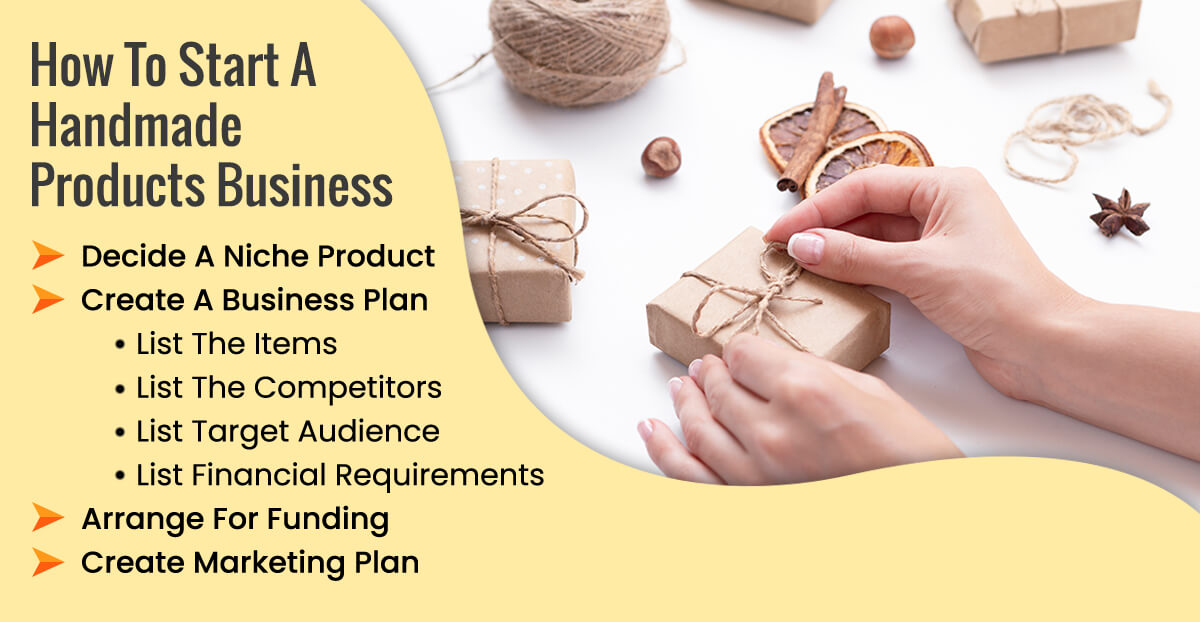 Now that you know the advantages of starting a handmade products business and you have business ideas to help decide the type of handmade product you can make at home and sell, let's learn how to start a business.
The basic steps required to start the business are as follows- 
Decide A Niche Product

Create A Business Plan

List The Items

List The Competitors

List Target Audience

List Financial Requirements 

Arrange For Funding

Create Marketing Plan
Selecting a niche product is the first and foremost step. The next and vital step for every business is to create a business plan which acts as a written document explicitly mentioning the goals and objectives of the business.  
The business plan must also include details such as listing all the products you can make at home and sell along with the operational details. Market research of the competitors and the target audience for your products must also be listed. The capital required to start the business, register it, purchase the equipment and materials and other expenses must all be listed in the business plan. 
The next step is to obtain the funding required for the business by applying for loans from banks or NBFCs. The requisites to apply for a loan can be found here. 
The final step is to create a marketing plan for the business. The best way to market the business is via digital mediums which can be attained by opting for Social Media Management services from deAsra. A few marketing tips along with deAsra's expert-led service will help you reach out to customers successfully- 

Be consistent

Know your customers 

Build a website 

Start blogging 

Run a giveaway 

Invest in great photography 

Be active on social media
These are some marketing tips to help sell your handmade products online.
For further assistance regarding business ideas for products you can make at home and sell or for help with starting or marketing the business, you can contact the mentors and experts at deAsra at any time.