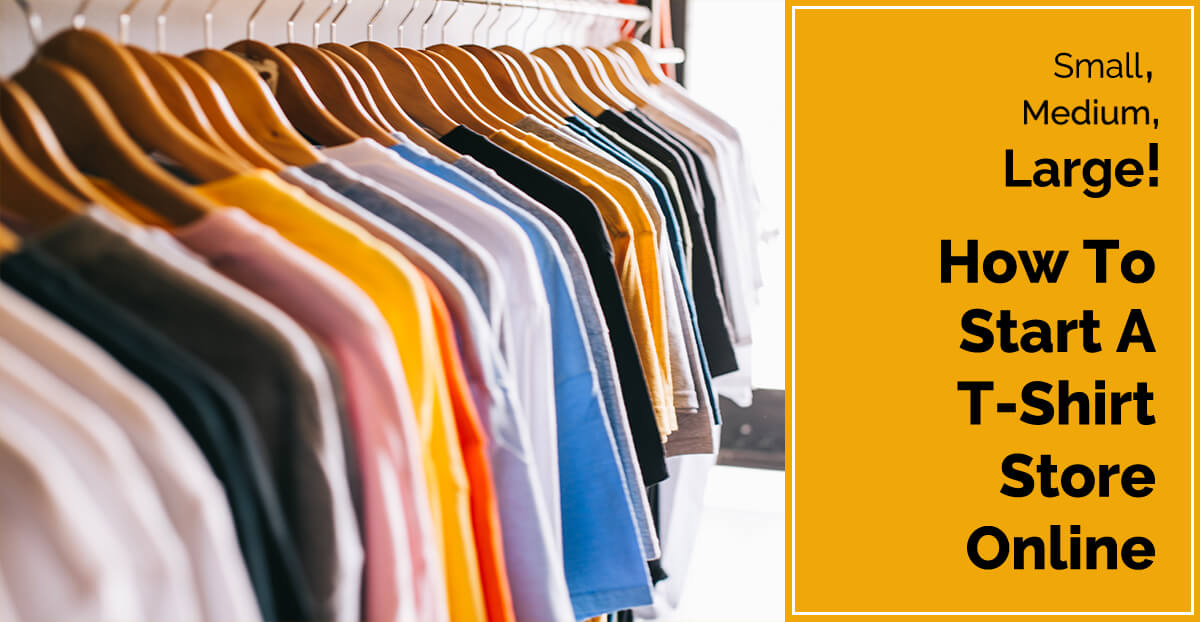 Small, Medium, Large – How To Start Online T-Shirt Store
T-shirts speak louder than words! Yes, you read it right. T-shirt is no more a 'comfort clothing item' but it is also a fashion statement. It tells a lot about your personality and considering the wide range of T-shirt, you can choose your 'type' which can add an instant quirk to your personality. A T-shirt is that garment which no more has gender or age barrier. Anyone, from a toddler to grandparents, can be seen shopping for different types of T-shirts. So evidently, an online T-shirt store would be a profitable venture.
Be it an evening stroll, a causal coffee, hanging out with your buddies or just another day at work, a T-shirt is the first and preferred dressing choice for everyone. So if you're wondering how to start a business online, an online T-shirt store is a perfect business. 
Apart from creating and selling your brainchild, your tee designs on your online T-shirt store, you can also consider creating 'on-demand T-shirt printing'. The recent study suggests that t-shirt printing market-share will reach $3.1 billion by 2025. The T-shirt business has already sought a respectable place worldwide but now, it is steadily gaining popularity in India. 
85% of T-shirt category is dominated by menswear but women's T-Shirt market is picking up the face and will soon be at par with the men's T-shirt market. Starting a T-shirt business online would not only be a profitable business but will also help you spread your business better than a physical store.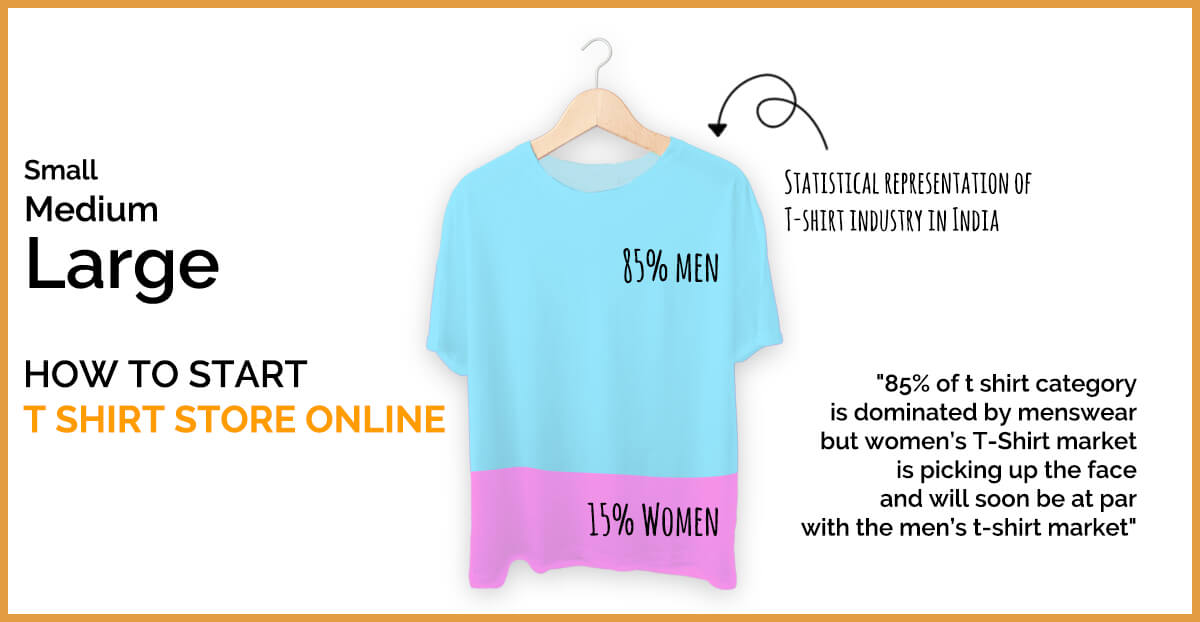 The three important pillars of your online T-shirt store are creativity, quality and  price. 
Important Factors to Consider for an Online T-shirt Store
For an online T-shirt store, you might want to consider the following factors: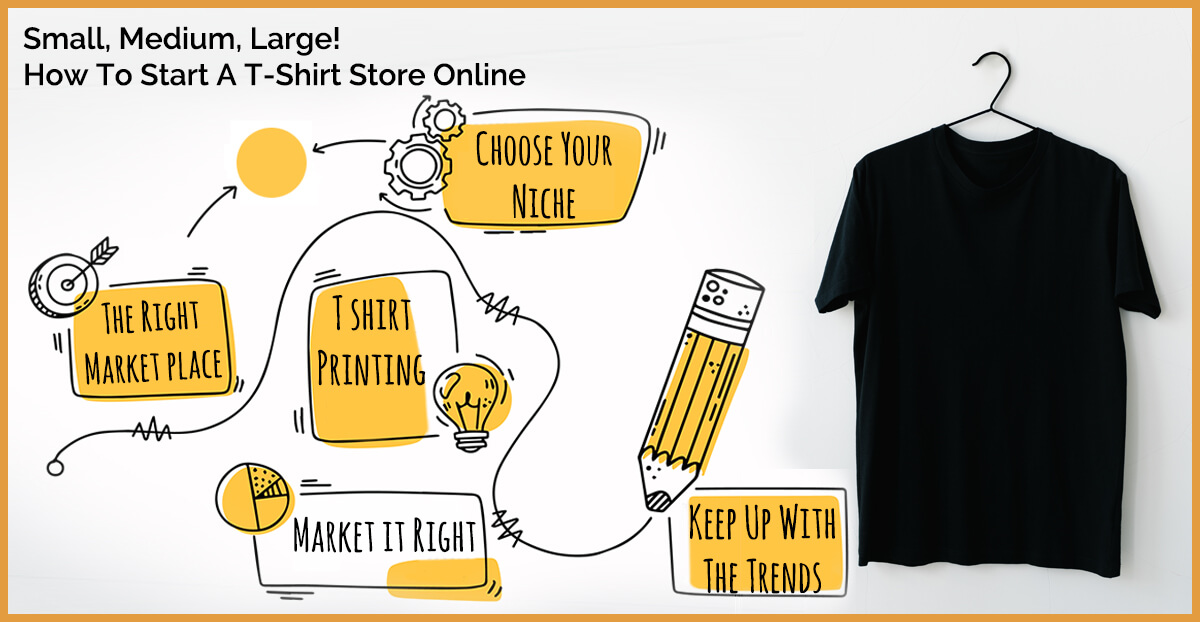 The Right Market Place
The first and obvious place – Marketplace. This location makes it convenient to start and manage your products. Get a background check done before you step into the business. A thorough market study will help you step into the business. Marketplaces are very crowded as well, you need to learn more about the marketplaces model of treating sellers and various help they provide to sellers to scale up sales like discounts, deals etc. 
You can also opt-in for third-party companies who can list and promote your products in marketplaces. If you want to start your own website, you can choose from platforms like Shopify, WordPress, Magento, Zepo etc. This guide will help you in choosing the correct platform. Click here.
Starting T-shirt business online gives you two options. You can sell your T-shirts on an already well established or famous platform or you can create your own website. If you sell T-shirts on a well-established platform, you don't have to worry about the reach of your business but this might cost you a little more. 
If you choose to sell your merchandise on your own website, you can be as creative as you want and you can modify it as per your own wish. But you got to remember that only an attractive website will catch the eye of your customers. For starters, if you are wondering how to create an impressive website, here's a checklist to get you started. Download website design and development checklist and create your own website.  

Choose Your Niche
Start by choosing your USP. You have definitely heard this one before, but do you now why it is important to pick your niche? This will help you create a clear audience for your products. The market is wide and there is a variety of customers in the graphic t-shirt industry. 
Considering the fact that Online T-shirt business is picking up, the most important factors in creating a strong t-shirt business is the capacity to stand out and make a mark. The most efficient way to accomplish this is by targeting a particular audience and interest group.
This being a creative field, you will find people with different choices and preferences. Usually, there are different categories like funny, graphics, cartoon, slogans, superheroes and other varieties. Like for example – the Gen Z are big superhero fans and would enjoy variety in various Superhero tees.
You can also try experimenting with the Women T-shirt section. The average revenue per person in the segment for T-Shirts (women) amounts to 710.44 Indian Rupee in 2020.
Around the globe, t-shirts have always catered to the comfort needs of the youth. In a country like India, where 27 years is the median, online T-shirt store segment contains abundant opportunities for retailers and brands. Our youth needs style along with comfort in their day to day clothing, and T-shirts as compared to other types of shirts.
A recent report from 2018 March predicts that India is gearing up to register a potential growth rate for the sale of t-shirts in the Asia-Pacific region in the next five years.
You have to keep in mind that if your target audience is our youth so even the budget should be considered.
T-shirt Printing
For a successful T-shirt business online you should be aware of T-shirt printing techniques.
With the modern age technology, there are multiple ways you can start your T-shirt business online. The most popular way of T-shirt printing is Screen Printing. You cant either outsource the T-shirt orders to a cloth printing business or you can buy the equipment and print your own designs. 
You can also explore the option of Direct to Garment Printing and Heat transfer printing technique. Before you decide on your printing preference, dig deep and research about these printing types and weigh in the pros and cons of each printing type. 
Keep Up With The Trends
Gone are the days when there were limited colours and designs, the current industry is evolving and adapting to the fads of society. Thus, it is important that your business follows the on going trends and seasons. Indeed, T-shirts have had a long journey from the station of unpopularity to the destination of 'trendiness'. The scenario today is such that the T-shirt trends change quicker than the seasons.
In recent years itself, quote and slogan tees have captivated the interests of the youth and a large portion of the market. People rely on T-shirt to voice their opinions and beliefs. There is a rise in demand for such type of T-shirt . 'The popular series' trend is not far behind in this race. Whenever a series gets popular, the T-shirt denoting the characters, famous quotes from the series and other series related stuff gains popularity.
Other fashion statements of T-shirt include, solid colours, crewnecks, short sleeve t-shirts, basic T-shirt, along with graphic and printed t-shirts which top the all-time favourites chart in India. Competing the above trends are, V-neck, round neck, polo and collared t-shirts along with athleisure, dry fits and sportswear for the health-conscious youth. 
Gym wear T-shirt are selling like hot cakes as now a days everyone needs a seperate wardrobe  (a fancy of course) for their daily trips to gym.
Market it Right
Firstly, start with your Product reviews. Be it any business, product reviews go a long way in building trust and confidence in your customers. Just look back and think how many times you yourself have bought things just because a bunch of people have rated it well or have dropped good reviews on the product you are buying. But if you are a fresher in this industry then this is what you can do, 
Start with your friends, family and relatives. Undoubtedly, the aforementioned crowd will place the order without any reviews. Once you are through this step, sit them down and ask them about their shopping experience. This will help you garner honest feedback and also get you the product reviews to start with.
To spread brand awareness you can start with 'giveaways'. If you want your brand to be noticed and lead you to sales. And what is the easiest way to catch the attention of your potential customers than offering something for free of cost?
This might sound a little pricey but nothing will kickstart your business than free giveaways or amazing offers and discounts. 
Last but not least, Social Media Marketing.
In today's digitally upgraded world, Social Media Marketing will take your business to any nook and corner in the world. To be relevant, it is important that t shirt businesses have to maintain their presence on social media to b   e taken seriously. If you are pondered with the question of how to create a social media presence for my business, check out our service that will create a bang-on presence on trending platforms like Instagram and Facebook. 

You can build your own strategy with weekly marketing plans and keep experimenting with your target audience and products, etc.
Small, Medium or Large, T Shirts are here to stay. Time to start a small T Shirt store online then grow it medium and big.