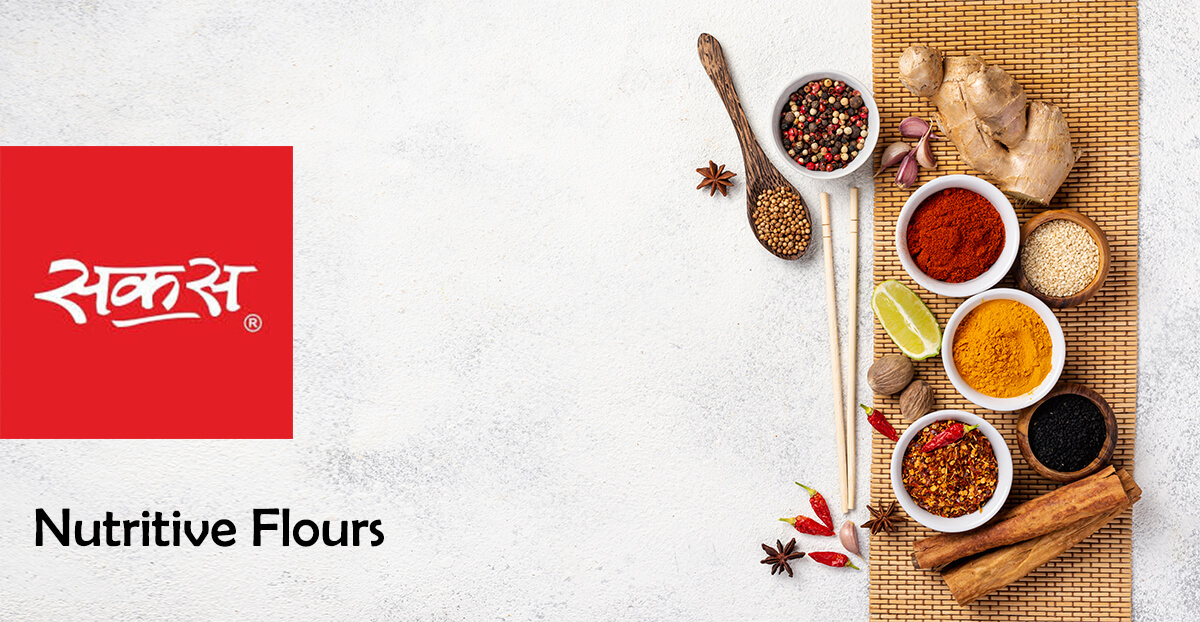 Nutritive Flours: Sakas Brand
Lead: 
'Necessity is the mother of all inventions' and in the same vein, 'necessity is the mother of all enterprise' also holds true, since demand is the prerequisite for any business. Hence entrepreneurs who initially identified the demand and converted it into a business are always successful. Sahastrabuddhe family did the same and the successful brand Sakas was established.
First timers are often in a dilemma about the type of business they should venture into though the desire to do so is strong. They are like vehicles with starting trouble… but once they venture into a business, there is no looking back, since they possess the necessary qualities for overcoming roadblocks. But the dilemma of which business to venture into is always a stumbling block. Such would be entrepreneurs seek advice from everyone around them and browse the internet for answers. It is essential to keep a lookout to identify the real needs of people and draw a plan to convert this opportunity into an enterprise… Madhuri Sahastrabuddhe of Pune did exactly this.
The original business of the Sahastrabuddhe family based in Pune was flour mills. They had one flour mill to start with, then gradually added more mills in Pune and commissioned Masala pounding machines. It became a one stop shop for customers to get their flour, masalas (spices), chilly, turmeric ground, all under one roof. "Purchasing wheat and other materials, cleaning them and getting them ground was a hassle", "Millet, Jawar(Sorghum), Chana (gram) flours are consumed in much lesser quantity, yet the mills required a minimum 1 kg. weight of grain for grinding and storage at home also became a problem". Especially working women who found it difficult to manage all kitchen related activities while doing a job used to chat in groups at the mills about such matters and these conversations might easily have been ignored as part of gossip. But to everyone's wonder, the second generation of the Sahastrabuddhe family, hardcore entrepreneurs as they are, evaluated this problem and converted it into an opportunity to start a new enterprise. Thus, was born the brand Sakas.
The question of how a new business opportunity can be identified is aptly answered by the journey of a flour mill to a brand Sakas. Identifying the customers' needs and converting it into an enterprise, are the two major requirements of a successful business which were easily managed by the Sahastrabuddhes. Changing needs of families with working women in the household was not very difficult to spot in the flour mill business, where the customers were mostly women. The norm earlier was to purchase grain and cereals to meet the entire year's requirement. 50 to 100 kgs of grains had to be cleaned, washed, dried and stored. It was necessary to make monthly visits to a flour mill to get the quantity required, but the entire process was cumbersome and time-consuming for working women. It would be a dream come true if they could get ready to use flour of their own choice and in the quantity they require. Working women would even be ready to pay a bit more for such products. Manufacturing and marketing such products thus began and later became Sakas brand which Puneites are well acquainted with. 
In the beginning, four types of flours – wheat, rice, jawar and chana were offered. Initially these four flour types were produced in large quantities and were sold loose as per the quantities required by each customer after weighing and packing them. But as demand increased, weighing and packing for each customer became a challenge while catering to multiple customers at a time and 1 kg packets were introduced. However often even this quantity proved to be quite large for a nuclear family as it is a perishable item and it could not be stored for long. Hence, the half kilo packs were introduced. On popular demand, bajari (Millet) flour, corn flour, bhajani (flour prepared from roasted millets, pulses, lentils, wheat and rice), upawaas bhajani (flour prepared using sago especially for fasts) were added to the offering. The product range has only grown since then and today Sakas offers 64 types of products. Traditional Maharashtrian cuisine is loved especially by the elder generation. However, not only is the preparation of ingredients time consuming but also the exact proportions of the various ingredients are unknown to many. Many products like the dhirdi flour (made using gram flour and spices), lahi flour (Popped sorghum powder), rajgira flour (amaranth flour), bhajani, metkut (spiced powder made using dry roasted rice, lentils, spices and wheat), etc. and sanjyacha rawa (Made using semolina and wheat), chana dal rawa (split chickpeas semolina), rice rawa (rice semolina) were therefore offered.
The potential to work hard and entrepreneurship qualities are not uncommon, but most up like an elephant who has been chained right from the beginning, and eventually, even after being set loose, it doesn't try to run away. No attempt is made to break loose. "Business is not our cup of tea", "It is too risky", are unfortunately common misconceptions, and one is  brainwashed to such an extent that even the thought of an attempt does not cross the mind … eventually though the plunge is a must and risks have to be taken… this is exactly what the Sahastrabuddhe family did.
They have a knack of establishing a healthy rapport with people to know their needs and gain their feedback… they thus realized that customers also require ready to eat chapattis. They started offering chapattis (Indian flatbread), puran polya (sweet Indian flatbread made using chickpeas and jaggery stuffing), gool polya (sweet Indian flatbread made using jaggery, sesame seeds and gram flour), khava polya (Indian flatbread made using condensed milk or mawa), and similar products. amba-sanja poli (Sweet Indian flatbread made using semolina, jaggery, and mango) is a specialty of Sakas. Also, chiwada (Indian snack made with flat rice, cornflakes, groundnut, dried coconut) chakali (savory snack made from rice, Bengal gram and black gram flour), many types of laddoos (sweet made from flour, sugar and various ingredients depending on type of laddoo), shev (small crunchy fried chickpea noodles), shankarpale (crispy sweet/salted snack made with flour, semolina and milk), rajgira laddoo (laddoo made from amaranth), travel chiwada and dietary items for diabetic and other patients were also introduced. 
The popularity of Sakas mainly derives from their established target customer base, foresight of requirements, and likely changes expected with time. Catering to needs on account of special occasions of festivities, and changing, modifying and adding to product range has been a strength of Sakas. Quick and adequate response followed by immediate action on feedback and complaints has also boosted their acceptance and popularity. Their shop is open throughout the day and is a boon at odd hours for last-minute needs. 
Sakas is well established as a quality brand. Best quality raw material, its cleaning, hygiene at workplace, compulsory use of aprons, gloves and caps are strictly implemented.. chores such as roasting, frying etc. are standardized. Baking set timings in ovens for various products ensures product standardisation.  Most employees at Sakas are women who are usually used to working based on intuition about quantity required and hence are reluctant about using measured quantities of ingredients. At Sakas, the quantities of ingredients used in any product have been formalised. All employees have to strictly follow standard manufacturing practices and operating procedures, which makes Sakas products consistently tasty.
Initially Sakas products were sold from home, but as the customer base and demand increased, outlets were added one by one and the number rose to 20 shops, along with 400 retailers for selling flours but other eatables are available only at the original shop. The cleanliness and quality were never compromised despite a phenomenal rise in the number of products and quantities produced.
The journey was full of positive experiences as they always feel that they are helping people rather than just being a commercial enterprise. People depend on them for any requirement arising at the last moment such as unexpected guests, or some item running out of stock due to oversight but which is required urgently, or last minute demand of a culinary delight, Sakas has always stood by to fulfill the demand in such innumerable instances. Gaining confidence of customers is a feather in their cap.
The third generation of the Sahastrabuddhe family is now in business and they introduced spill-proof zip lock bags, attractive packing, online publicity of products, etc. and added to the specialties of Sakas. 
During festivals, sales figures are mind boggling: 10,000 kgs of rice flour during Ganesh Festival, 2000 kgs Chakli Bhajani for Diwali, 8,000 kgs Bajari flour for Bhogi, 8,000 Gul polya for Sankrant, 5,000 Puran polya for Holi, 2,000 kgs ground peanuts for major fasting days. These gigantic quantities are ever increasing due to active efforts of the Sahastrabuddhe family. 
The family has not ignored their social responsibilities… they contributed 10,000 kgs of Sattu Flour in 2008 for Adivasi Empowerment Program on a no profit basis – it was a program to fight against malnutrition of tribal children. To celebrate the Silver Jubilee of Sakas, they donated 100 kg flour to 5 NGOs. 
Madhuritai Sahastrabuddhe, the stalwart behind Sakas is also a corporator in PMC (Pune Municipal Corporation). She not only does justice to her roles as an efficient house manager, a corporator and a successful businesswoman but also actively participates in BALARANJAN, a program for children operational for the last 30 years. She easily manages her time and can switch in and focus totally on the job at hand. This is not an easy knack but is a lesson for all.
The product to-be-launched has to pass through extensive tests and experiments on the quantity of ingredients, standard operating practices, quality control parameters, packing etc. prior to the launch in the market. No wonder the products enjoy customer confidence and trust .. which in turn contributes to their success.
As the demand increased, mechanization was inevitable. Ovens used for roasting Bhajani and groundnuts roast 1,500 kgs of ground nuts in 3 hours. Using different machines, 50 kgs of bhajani can be roasted in one batch, 50 coconuts can be grated simultaneously in an hour, 50 kgs cardamom can be ground in a batch. Machines to make puran, to deseed dates, peeling machines and many other machines were added.
This line of business requires constant experimentation. The needs of a simple middle class family have to be identified and tests and trials have to be made for new products to meet these needs. The prototype is made at the Sahastrabuddhe home kitchen and family members are the Guinea pigs of these experiments! When the idli (rice cake made using fermented black lentils and rice) mix was being tried and tested, it continued for a whole month. Naturally, no one at home wanted to even hear the word idli for the next 2 months.  
Cleanliness and hygiene is of utmost importance, especially in the food industry. Apron, gloves, caps are a mandatory part of the uniform. Madhuritai says, "Long hair looks good on a person, not in food!!".