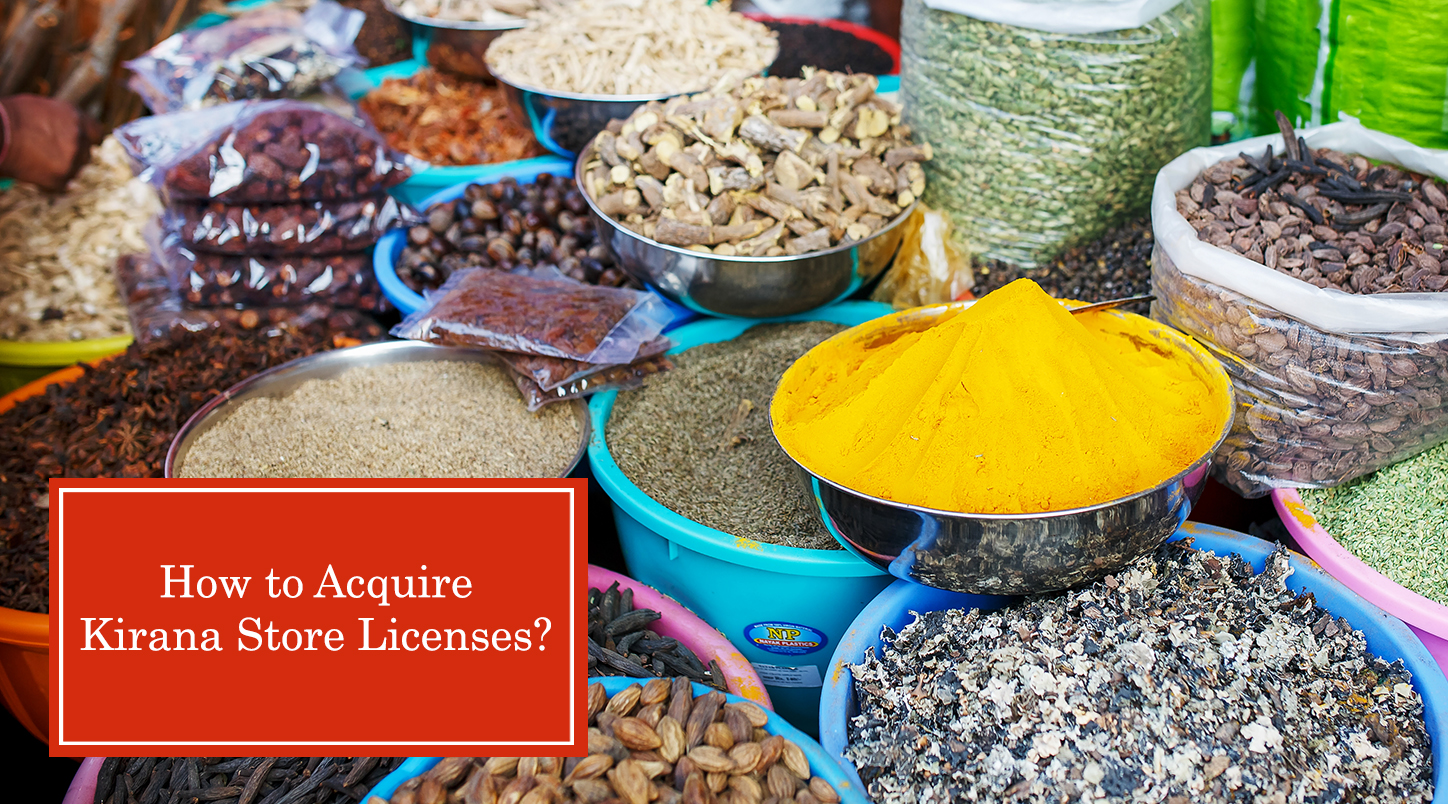 How To Acquire Kirana Store Licenses?
Kirana stores are an integral part of the Indian retail market structure and have an identity of their own. In fact an interesting observation made in India is that despite the steady rise in the number of giant global retail chains and departmental stores, the popularity of the neighbourhood Kirana stores is still intact. 
A kirana store is a small, neighborhood store that displays and sells a variety of items right from groceries like grains and pulses to sanitary items  like soaps, shampoos, detergents to processed foods, frozen foods, edible items and a lot more.
The humble Kirana stores have stood the test of time and even the popularity of e-commerce websites has not affected their business. And these stores are here to stay in the long run. Some of the reasons for kirana stores staying evergreen are-
Successful Model
The grocery store is a successful model owing to the ease of access that it provides to the customers. Before the advent of the giant retail supermarkets, the small Kirana stores were the only means of purchasing essential grocery items and have since then established themselves as a successful model.
Proximity
The biggest benefit that kirana stores have is that they are located close to where most of the customers reside. Their proximity makes them easily accessible by customers and is a convenient option for customers to shop from, especially when there are urgencies. The proximity also helps save time and resources needed to reach the stores, which in turn helps save money for the customers.
Popular
Grocery stores are located close to most residential areas and communities and are easily accessible thus making them popular. Their popularity also stems from their familiarity over the years, even before the advent of retail chains and supermarkets. Additionally, kirana stores provide a variety of different products all under one roof, thus helping save time of the customers and adding on to their popularity.
Personal Touch
Kirana stores have another advantage which is that the shopkeepers know all their customers personally and there is a personal touch that these stores provide which e-commerce websites and large departmental store chains lack.
Selling Locally Relevant Items
Kirana stores are familiar with their customers and know their needs and requirements. They thus house items needed by their customers and also unlike big retail stores, the kirana stores sell items that are locally relevant and popular. For example, in Maharashtra, there are certain items which are unique to the diet and culture of the region, such as traditional Maharashtrian pickles, lasun chatni, thalipeeth bhajani, etc which the local kirana stores sell but big departmental stores might not have.
Immediate Delivery
Most of the Kirana stores in India provide home delivery to their customers, thus making them popular with customers for the convenience provided. Often, owing to the personal touch, kirana store owners take orders on the phone too and provide home delivery services to their customers, most of whom reside nearby. Therefore immediate delivery of goods is an added advantage of kirana stores which is not provided by large retail chains.
Credit Facility
Since the kirana stores know their customers well, they usually provide them with credit facility while purchasing goods which adds to the convenience of the kirana stores. 
Kirana stores are thus a successful and popular model that add to the convenience of the customers owing to their various features and save time and resources too.
Additionally, entrepreneurs contemplating to start a grocery store can also benefit from the Kirana Store model because apart from being popular, entrepreneurs have the advantage of keeping limited stock of a variety of goods and replenishing the required goods as per the demand. Thus, they do not have to invest in large storage spaces and can directly order from the wholesalers as and when there is a demand for particular products. Also, in this time of rocketing real estate prices, a kirana store does not require a very large space, especially eliminating the need for godown space, thus being an affordable option to consider. Also owing to the personal touch and intimate knowledge that the store owners have of the customers and the locality, they can keep a stock of only those items that are required thus utilising the limited space of the store smartly. All of this makes the kirana store model highly economically viable as compared to retail department stores and is thus a lucrative business option for aspiring entrepreneurs.
Kirana Store Licenses
The kirana stores are a profitable business venture that can be opened without much delay given the entrepreneurs have a suitably located shop space which is easily accessible by customers as well as suppliers of the goods.
However, in order to open the kirana store certain licences and permissions are required. It is vital to have knowledge about these kirana store licences and their application process as most of them are mandatory. The necessary licences and how to procure them is discussed herewith.
Business Entity Incorporation
Type – Every business requires a structure and thus needs to register itself as a business entity. It could either be as a sole proprietorship or a partnership or a one person company or even a limited liability partnership. Each type of business entity has its own unique features and defines the business and the appropriate entity must be chosen for the business as deemed suitable by the business owner.

Procedure – the procedure to register the business entity is quite easy to understand and follow. A business registration usually requires

Digital Signature Certificate (DSC)

Director Identification Number (DIN)

New user registration or registration on the MCA Portal

Certificate of Incorporation
This registration can easily be done by experts dealing in registration and licence services.
Shop Act Registration
Every store or shop and retail counter requires a Shop Act licence. The Shop Act is a mandatory registration and is designed to regulate payment of wages, hours of work, leave, holidays, terms of service and other work conditions of people employed.

Documents – the documents required for Shop Act registration include

Scanned photo of the applicant

Scanned signature copy of the applicant

Identity proof of the applicant

Photo of the establishment (or shop) with the name of the business visible

Business specific license such as FSSAI, RTO transport permit, Food and Drugs Administration License, etc.

Procedure – the application process for Shop Act registration (for the State of Maharashtra) is online and can be done by logging into the Maharashtra Industry, Trade, and Investment Facilitation Cell. 

FSSAI Licence & Registration
Kirana stores sell food products and processed items and must therefore obtain an FSSAI license. The  FSSAI is responsible for protecting and promoting public health through the regulation and supervision of food safety and is a mandatory registration/ licence for business entities that engage in food and related activities.

Eligibility – An FSSAI licence requires the food business operators to fit into the eligibility criteria and these criteria decide whether they need to apply for a registration or licence and if a licence, then whether State or Central.

Procedure – FSSAI application or a registration is carried out by the submission of the necessary documents to the designated authorities and includes the submission of Form A and B. The procedure and documents for application of registration, State license and Central licence varies a little but the common documents required include –

Form B – completed and signed

Photo Identity of FBO

Proof of possession of premises (eg. Rental Agreement )

Partnership Deed / Certificate of Incorporation / Articles of Association etc

List of food products to be dealt with

Food safety management system plan

GST Registration
GST is an indirect tax that is levied on goods as well as services such that all the existing state and central indirect taxes are subsumed under the GST. Under this system, a single product is taxed at the same rate in every corner of the country

Documents – the documents required for the GST registration include –

Photograph

ID proof

Proof of principal place of business

Constitution or business entity document

Bank account proof of business

Address proof of applicant's residence

Authority letter

Procedure- the GST registration is done entirely online via the

https://reg.gst.gov.in/registration/

link in easy to follow steps and the registration form is acknowledged and verified by the authorities before they approve the registration

Trade License
A kirana store also requires a trade license in order to carry out the business and to conduct trading of the goods. A trade license is a document/certificate that gives the permission to the applicant or the person seeking to open a business to commence a particular trade or business in a particular area/location, in this case a kirana store.
These are some of the kirana store licenses required while starting a kirana store. These licences each have a different procedure for application and procurement and the experts from deAsra can provide assistance for application and procurement of any of the registered licences.