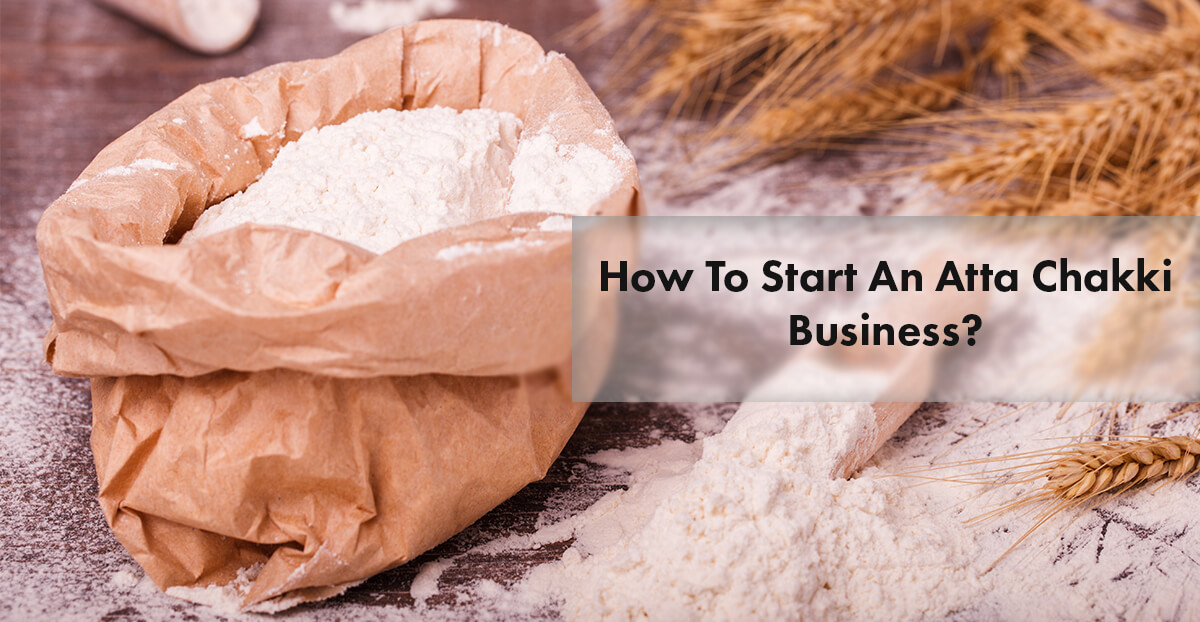 How To Start An Atta Chakki Business?
Small businesses are the driving force of the economy. Although large business chains and cooperations garner much attention and are given some importance, it is actually the small businesses that are the main contributors towards the development of the country. Also, small businesses are a great business opportunity for those aspiring entrepreneurs who want to start a business of their own but are short on experience and capital for investment. Small businesses, therefore, are ideal starting points to become an entrepreneur and establish a new business.
One such small business idea that is lucrative and comparatively easy to start is a flour mill or an atta chakki.
Flour is one of the most basic and essential ingredients, especially in a country like India where rotis, chapati, phulkas and parathas are part of the daily staple diet. Whole wheat (atta) or any other kind of flour including maida, bajri, jowar, ragi are all used as flour to make parathas and rotis. Additionally, flour is also used to make fast food items such as pizza base, buns for burgers, pasta, doughnuts, bread, biscuits, noodles, etc. Thus flour as a commodity is always needed whether for household use or for restaurants and fast food joints. Therefore starting a food business, specifically a flour mill or an atta chakki is an excellent business idea. Read on to know more about how to start an atta chakki business.
There are two types of flour mill businesses that can be considered while planning to start a business. The first one is a basic mill where customers get their grains and have them ground and milled for a certain minimal amount. This business requires the milling machine and space or shop to accommodate the machine and run the milling business. The investment for this kind of mill is minimal, the only investment is for the machine and probably a space, both of which can be rented initially. The second type of flour mill is one where the entrepreneur purchases the raw materials, which is the grains, grounds them at the mill and sells them post packaging. This packaged flour can be sold to retailers or directly to customers. This business comprises of procuring the raw materials, sifting it, milling it and then packaging it, all of which would require machinery and the capital investment would also be higher compared to the basic flour mill. However, the profit margin and demand is also higher for readily processed flour.
Advantages Of Starting An Atta Chakki Business
If you are wondering how to start an atta chakki business, you need first know the benefits of it. A flour mill business has several advantages and is thus a suitable small business to start, especially for aspiring entrepreneurs-
High Demand
Every Indian family uses flour in their day to day meals, thus a single-family requires a significant amount of flour. Also, with the stress on health awareness, many families avoid store-bought ready flour and opt to get it milled instead. Thus the demand for flour mills is going to be high always. Also, large quantities of flour are required by local restaurants and cafes too, thus adding to the demand for flour mills.
Low Investment
A flour mill is a business that does not require a heavy capital investment. The estimated cost of purchasing the milling machine is approximately Rs 2 lakhs, which too can be avoided if the machines are rented initially. Thus, given the rate of return in the business, the investment capital is minimal. 
Easy Availability Of Loans
As discussed, a flour mill has a high demand and also has a low capital investment required to start the business,  which are positive points in favour of the mill business which drives banks to give out loans to entrepreneurs willingly and easily, in order to start a flour mill.
Also, a  flour mill can be opened in a small space and is not a gender-specific business idea, thus providing a business opportunity to aspiring entrepreneurs.
How To Start An Atta Chakki Business?
Atta Chakki is a lucrative business to start once entrepreneurs know the basics of starting the business and the registrations and licences required to start the business. 
Registrations Needed To Start The Business
The registrations required to start an atta chakki include-
Business Entity
The first registration for almost every business is to register it as a business entity by determining the form of the organization. It could be a sole proprietorship or a partnership or a limited liability partnership or a one-person company. The entity, along with giving a structure to the business, influences the taxation structure and bestows certain benefits to the business and must, therefore, be chosen carefully before registering the business at the Registrar's office.
FSSAI registration
An atta chakki is a food business related to the processing of food or food products and thus as per the definition requires an FSSAI registration. Food Safety and Standards Authority of India (FSSAI) is responsible for protecting and promoting public health through the regulation and supervision of food safety thus FSSAI is a mandatory registration/ licence for the business. The FSSAI registration procedure is entirely online and quite to understand and follow, once the documents are known and kept ready. 

Shop Act or Trade License
An atta chakki business in Maharashtra requires applying for a Shop Act License from the local municipal authority in order to carry out the business operations. This licence helps regulate the working conditions along with working hours, leaves, holidays, wages etc. of the employees and helps the business to run efficiently.
 Udyog Aadhaar Registration
An Atta chakki is classified as a small business and therefore needs to be registered under Udyog Aadhaar which is a registration and recognition for micro, small, and medium enterprises (MSMEs).
GST Registration
Every business, including the atta chakki, has to deal with taxes at some point and in order to be subject to and handle a single uniform taxation structure the business needs to be registered under the common GST scheme which stands for Goods and Service Tax.
Apart from these and in order to apply for the above registrations the business also needs to take care of it's BIS certification as well as tax liabilities. An atta chakki doesn't demand any pollution clearance, however, it is advised to check it with the State Pollution Control Board of the local area where the business is situated.
Equipment And Essentials Required For A Flour Mill Or Atta Chakki Business
The basic answer to how to start an atta chakki business is 'equipment'. Equipment is a must for an atta chakki without which the business cannot be conducted. The basic list of equipment, machinery and resources required for an atta chakki are listed (taking into account both the types of flour mills)- 
Availability of transportation facility

Electricity

Water

Semi-skilled manpower

Drainage facility

A minimum area of 3000 sq ft for setting up a small scale unit with the entire product range. However, for a basic mill, a smaller area will also suffice.

Equipment

Bucket elevator

Reel machine (3 segments)

Rotary separator with aspiration channel

Scourer machine with aspiration channel

Intensive dampener

Rotameter

De-Stoner

Indent cylinder

Screw conveyor

V-Groove, Pulleys, Couplings, V-Belts etc

Weighing scale

Dust cyclone

L.P fan for cleaning

Magnate

Silogate

Roller Mill body

Roll Grooving & spindle cutting

Purifier

Super cyclone
Process Of Operating An Atta Chakki Business
Once the registrations are taken care of and the location and equipment are also ready, the next step is the actual production process. Some points to consider for running the actual production process efficiently-
The location to the flour mill must be chosen carefully such that it is easily accessible and close to a residential area where the demand for a flour mill is quite high.

It is important to acquire basic training for running the business, especially regarding the running of the equipment and use of the correct raw materials as well as correct filter/sieves to obtain the desired products. Basic knowledge about repairing the machines is also needed in case of break downs.

While manufacturing and selling ready-packaged flour it is important to consider the process of procuring and milling the grains. The raw materials must be obtained either directly from the farms or from reliable sources, in order to benefit the farmers too. 

After obtaining the raw materials, the next process involves cleaning the wheat grains thoroughly to remove dust, stone and other foreign matters. It is followed by tempering the grain before grinding by treating with water so that the bran is separated from the endosperm.

The parts of the grains, namely germ, bran and endosperm need to be crushed efficiently and the bran removed and the last process involves sifting the flour. 

Post sifting and obtaining the endosperm flour, it needs to be packaged in airtight packets with care and precision and then transported to retailers or sold to customers directly.
These are the basic processes of operating a flour mill business. A small business such as an atta chakki or a flour mill is an ideal idea for starting a small business since it has a high demand and higher rate of return compared to the investment. If you want more information about how to start an atta chakki business, deAsra can throw light on queries related to the small business, license and registration procedures.