How To Start A Soap Making Business?
Since centuries India has been a country that has been using and propagating natural products and natural ingredients. There was a time in the middle when people veered more towards consumerism and machine-made products, including for food items. However, with increased awareness and more stress on healthy and sustainable living, and increased understanding of the use of naturally found ingredients, the demand for organic products is on the rise. 
Organic products are not just limited to food and crop. Organic is anything that is not synthetic, is naturally derived or is made using natural elements and ingredients, sans any chemicals. This includes a wide range of products apart from food items, one of which is organic, handmade soaps. There is a rising demand for soaps that are handmade using natural ingredients instead of factory-produced uniform looking and smelling synthetic soaps. So if you want to learn more about how to start a soap making business, following are some informative tips –
The demand and appeal for soaps is due to several factors-
Organic- handmade soaps are organic, which means that they are made from natural ingredients which are sourced from plants or are found in nature or naturally available. Handmade organic soaps are free of chemicals which can be harmful and are not advisable to be used on the skin, especially on sensitive skins.
Sustainable- organic, hand made products are environmentally friendly. The study of environmental science emphasizes that substances that are friendly to the environment must not cause it any harm or must not deplete natural resources and must support ecological balance, thus terming such substances as sustainable. Handmade soaps are free of pesticides and chemicals, which can in the long term harm water, air and soil. Therefore hand made soaps are sustainable and do not cause any harm to the environment either.
Unique- soaps that are hand made are unique and special since each has a special, personalised feel to it. Also, entrepreneurs use special ingredients and oils to make these soaps, thus making the soaps unique, such as charcoal soaps, Aloe Vera soaps, rose petal soaps, multani haldi chandan soaps which are otherwise not commercially available, thus making them unique.
Safe To Use- soaps manufactured by entrepreneurs on a small scale and are hand made are safe to use, sometimes even by babies, because they are devoid of chemicals and harmful ingredients. This is one of the most appealing factors of hand made soaps and the reason for its growing demand.
Healing Properties- handmade soaps often have ingredients which endow them with specific healing properties. For instance, Aloe Vera soaps are made of Aloe extract and can be used for sunburns and other specific skin disorders. Or turmeric soap can be used against tanning and to brighten the skin and to lighten the blemishes. Earlier, people used to apply ubtan on their skin which was a mixture of different Ayurvedic ingredients which have healing properties. Now, soaps are made by enterprising soap makers which have the ingredients and properties of ubtan but without the need to prepare a paste, thus healing and beautifying the skin.
Customisation- the soap making business, especially handmade soaps, provides the scope for personalisation and customisation where the soaps can be designed as per the customer's requirements. For instance, two fragrances that are suitable to each other can be combined to make a customised soap or initials and signature shapes can be manufactured as per the customer's needs, making them ideal for gifting purposes. This is not possible in commercially available soaps and is a unique feature of handmade organic soaps.
These are just some of the benefits of using organic, handmade soaps, making them popular and sought after products. The trend for handmade soaps is also owing to the increased interest in soap making businesses that are environmentally friendly and rewarding at the same time. Additionally, the soap making business is easy to start and requires minimal investment as well as space to start and operate the business, making business owners consider it as a viable business option. Therefore, owing to its various advantages and it's benefits, entrepreneurs can cash in on it, once they know how to start a soap making business.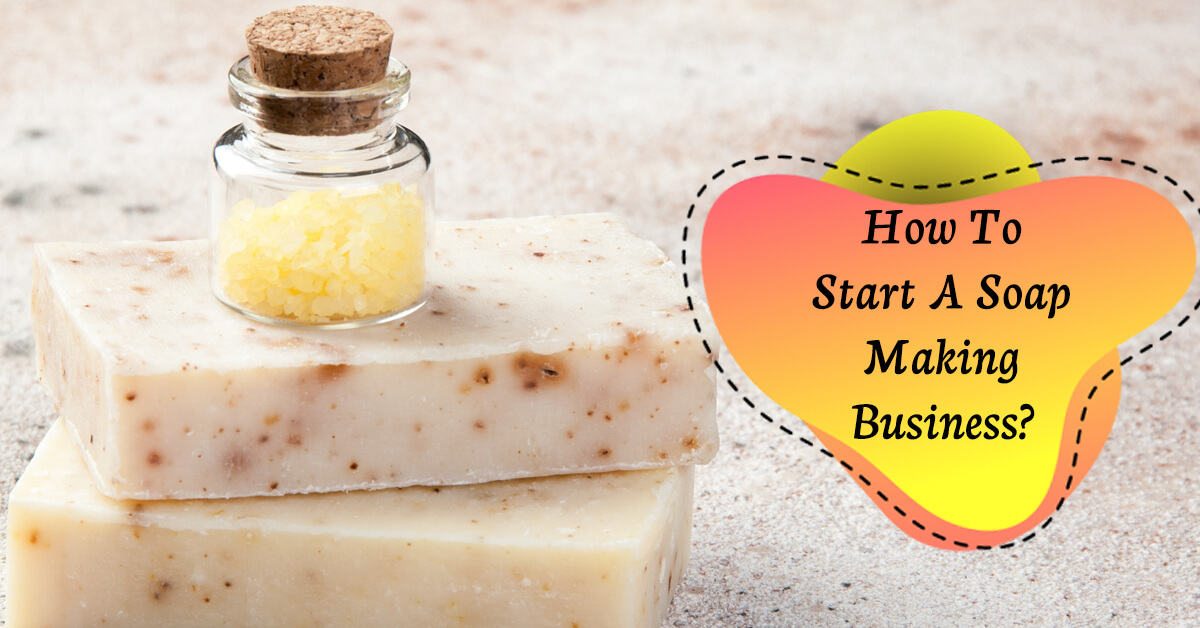 How To Start A Soap Making Business?
In order to start any business, including the soap making business, entrepreneurs need to learn how to start the business, entrepreneurs need to learn how to start the business, the requirements of the business since they cannot rely on the popularity and demand of the business alone. 
Make A Business Plan
Begin your entrepreneurial journey with the essentials of a soap making business plan. Business planning is the first step to any successful enterprise. It is a detailed data of your business. A business plan is like a road map for the development of your business. It includes the short term and also the long term goals, thus making it easy to decide the strategies of your business.
Learn The Technique
Soap making requires prior learning and knowledge regarding the procedure and techniques. Various processes are used to make soap such as the melt and pour method, the rebatching process, the hot process method and the cold process way. It is imperative for business owners to have basic knowledge and understanding about each of the techniques and the pros and cons of these techniques in order to make the soaps easily and in a short amount of time.
List The Equipment
Soap making requires equipment depending on the technique used to make the soap. However, the basic equipment for the process remains the same and includes a digital or normal scale that is accurate, rubber gloves, safety goggles, heat-resistant plastic or stainless steel pitcher with lid which has a capacity of 2 to 3 litres, a large Pyrex pitcher or stainless steel pot, a large spoon which can be made of plastic or stainless steel, Stainless steel measuring spoons, few stainless steel glasses of 2-litre capacity approximately, a few small beakers, ramekins or measuring cups, a few spoons and whisks, stainless steel ladle, soap moulds, stick blend, rubber spatula, and an accurate thermometer along with few napkins and towels. These are the basic equipment needed irrespective of the process used to make soap.  Additionally, a separate space for the manufacturing process as well as a heat stove is also required for the business.
Arrange The Requirements Of Soap Making Business
If you are wondering how to start a soap making business, you need to streamline the process of acquiring raw materials. The requirements of the soap making business refer to the materials and ingredients required to make the soap. Additionally, the requirements are also the legal permits and licences required to run the business. The material requirements for the business include lye, oils (such as castor oil or olive oil), fragrances, water and the rest of the ingredients depend on the type of soap to be made, whether milk based or cream based or glycerine based or water based soap. The other ingredients depend on the fragrance and type of soap whether it is charcoal soap or rose petals soap or lavender soap or any other variety. 
Also, the other requirements of the business pertain to the legal aspect of the business and include registrations and permits such as GST registration, business entity registration and other licences as needed by the specific State or city municipal corporation.
Create A Niche
Once the technique and process of soap making are known, the next step involves designing products that are different from the competitors. A niche product such as a unique soap shape or fragrance or texture can act as a USP (unique selling point) for the business. This helps create an identity for the business with which customers can identify the business, thus creating a brand image for the business.
Market The Business And Products
One of the most important factors to consider while learning how to run a soap making business is to know how to market the business. A soap making business is a business that has many suppliers, some manufacturers are those who make soap in a factory setting using machines where all the products look the same and there is little scope for creating unique soaps and then there are soap makers who manufacture hand made soaps where each soap is unique. This is the biggest selling point of hand made soaps making business and can be used while marketing the product.
Additionally, handmade soaps can be customised and personalised and marketed as custom made soaps, thus providing customers with what they need.
In the digital marketing age, the digital technology and marketing techniques can be used to reach out to a wider audience and to spread the word about the unique products, irrespective of the size of the business. A digital marketing checklist can help throw light on the various features of marketing that can be employed to advertise about the soap making business, for instance, social media platforms such as Instagram and Facebook can be used to share the pictures of the soaps and provide information regarding its unique and beneficial features. 

Along with marketing, packaging of the products is also equally important and must be given due attention. The soaps can be packaged in attractive baskets and hampers, making them visually appealing and can also be clubbed together with other products as gifting options. 
These are some of the essentials pointers that entrepreneurs need to know about when learning how to start a soap making business. However, often the entrepreneurs wish to concentrate more on the production aspect of the business and feel incapable of handling the marketing and advertising, which can then be handled by experts such as those at deAsra who have the expertise and knowledge in the field. This way the business owners can combine the best of soap making techniques and marketing techniques and strategies to help their business start on the right note and grow successfully.