How To Start A Grocery Store In India?
With farming being one of the largest occupations in India, many people are wondering how to start a grocery store in India. Grocery stores in India are the places which can truly be described as the heart of the community as they play a crucial role in our communities, especially rural communities, providing vital sources of nutrition, jobs and tax revenue that support the community. Moreover, grocery stores are also economic drivers, community builders and meeting places.
Also, grocery stores are unaffected by the economic highs and lows as grocery stores sell essential items that are needed on a daily basis, irrespective of the market conditions. This is one of the reasons why food and grocery are considered as the backbone of the country's retail sector.
In fact, food and grocery stores are not just any business. They are one of those businesses that have a relationship with the growth of a community. Existing growth, along with the potential for more, draws the interest of business owners. And their presence guarantees even more interest and development.
Thus, entrepreneurs who are wondering how to start a grocery store that is perennially in demand and financially rewarding should definitely read this article.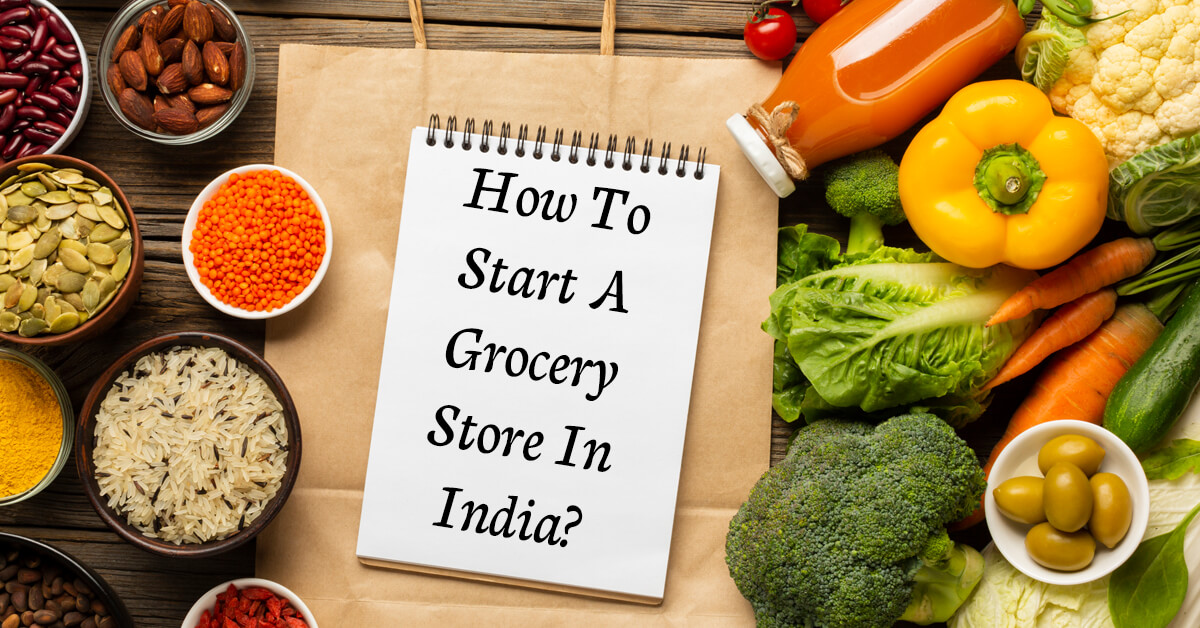 How To Start A Grocery Store In India?
Before starting the grocery store an entrepreneur must conduct a little bit of research, check the competition and learn the basics of how to start a grocery store in India. Entrepreneurs can decide on the niche products they want to keep in the grocery store in order to make it stand out from other grocery stores and to create a target customer base owing to the products displayed. Business owners can consider offering produce that is fresh and sourced directly from the producers. Alternatively grocery store owners can store ethnic products, for instance, a grocery store in Maharashtra can store loncha, thalipeeth bhajani, shengdana chatni, and similar items that are indigenous to the people and the locality. The grocery store can even specialise in home made food such as theplas or dhokla or pre-made food products such as sauces, broths, soup mixes, etc. or even frozen foods such as fries, peas, wedges, spring rolls, kababs, corn, etc. The grocery store can even specialise in organic food items or even gluten free foods and vegan food products, which are otherwise difficult to obtain.
There are a number of niche product markets that grocery store owners can specialise in but there are certain essential elements that they need to consider while starting a grocery store.
Essentials To Consider While Starting A Grocery Store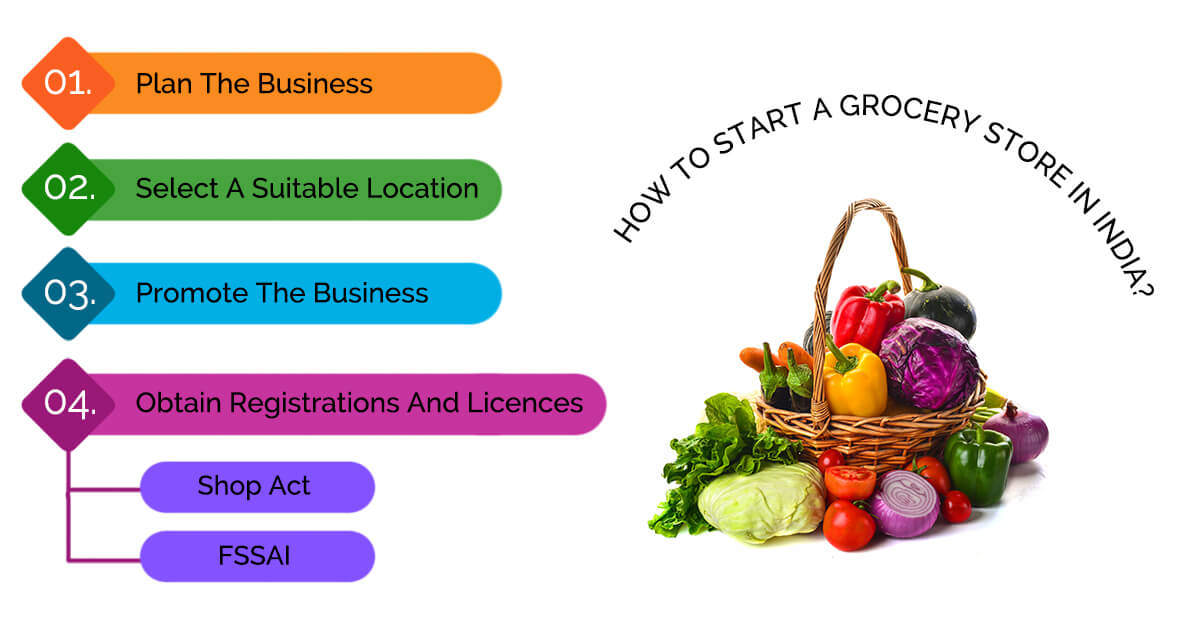 Business owners need to know certain vital points while getting to know how to start a grocery store in India to make the process easy and free of glitches and hurdles.
Plan The Business
A vital element to consider while starting any business, including a grocery store, is to have a business plan in place before actually starting the shop. The business plan is like a road map that charts the exact nature of the business, and lists the goals, objectives and vision of the business along with the methods to be followed by the business owner in order to reach the designated goal of the business. The business plan needs to be made carefully and meticulously, ensuring that all the details of the business are included in it including the investment needed by the business, ways of obtaining the capital required and future plans for the business. Also, the business structure or entity decided for the business must be decided carefully and mentioned in the business plan.
Select A Suitable Location
Location is vital, especially in the case of retail businesses such as the grocery store. There are few criteria to keep in mind while selecting the location for the business, some of which are –
Centrally located-the store must be located centrally so that it experiences large footfall owing to the prime location.

Easily accessible – a grocery store on the first or upper floors in a building is not that easily accessible and this will work against it. The store must be easily accessible by customers and be connected and accessible by various modes of transportation too.

Closer to residents- the grocery store must be located close to a residential area or a locality where the majority of the customers are based. Proximity to the customers helps the business thrive successfully.
While choosing a shop space to open the grocery store, the cost of the location must also be taken into consideration. If financial conditions are favorable, entrepreneurs can purchase the shop space for the grocery store, else leasing or renting the space is a more economically viable option. Entrepreneurs must ensure that a lease contract is drawn with all details and conditions mentioned in it.
Promote The Business
A grocery store is a profitable business idea which sells essential goods that customers cannot do without but the concept of a grocery store is not unique or novel. Therefore while thinking on how to start a grocery store, entrepreneurs need to think of ways to be different from the competition and stand apart. In order to achieve this, the grocery store can specialise in niche product markets such as vegan food products or pre-made products or ethnic products, thus creating an enviable position for themselves in the market. 
Additionally, entrepreneurs can advertise about the business by employing smart marketing strategies such as providing attractive offers such as combo deals, gift coupons, sponsoring events, advertising via flyers, newspaper ads, digital marketing and various other techniques to spread the word.
Obtain Registrations And Licences
Acquiring licenses is the most vital step when starting a grocery store. Starting and running a grocery store in India requires a few permits and registrations. Getting kirana store license is not as difficult as it seems. As most of these are mandatory, procuring them has been made an easy process, once the process and the required documents are known. 
A retail business such as a grocery store requires a Shop Act registration. Shop Act is designed to regulate payment of wages, hours of work, leave, holidays, terms of service and other work conditions of the people employed in the grocery shop. Shop Act is a mandatory registration and is compulsory to display this document in a prominent place in the grocery shop premises

The documents and procedure for Shop Act are easy to follow and the application can be done online.

A grocery store largely deals in food items and any business that manufactures, processes or even sells food items is categorised as a 'food business' and all good businesses must procure an

FSSAI license

. Food Safety and Standards Authority of India (FSSAI) is an autonomous body established under the Ministry of Health and Family Welfare, Government of India which is responsible for protecting and promoting public health through the regulation and supervision of food safety. FSSAI is a mandatory registration/ licence for business entities that engage in food and related activities. The FSSAI license ensures that standard procedures and hygiene is maintained throughout the manufacturing and processing as well as the selling of the food products. Thus the licence builds a trust within the customers that the items purchased is safe and hygienic.

The turnover of the grocery store determines whether the owner needs to apply for an FSSAI license or registration and if license then State or Central. The basic documents required for obtaining FSSAI license or registration include identity proof such as voter ID card or PAN card or driving license or Aadhaar card or passport or any ID issued by Government department along with a NOC of the regional Municipal office, a declaration stating that the food business proposed to be conducted shall conform to the Food Safety and Standards Act, Regulation and all applicable bye-laws, and a scan copy of the photograph and signature of the applicant (or grocery store business owner).

The procedure for application is online and varies a little depending on the type of application and also includes an online payment to be made as registration charge, thus generating a challan and the registration is generated post verification by the concerned authorities.

The grocery business, just like every other business is required to pay tax and for that it needs to register itself under GST, as it deals with the sale of goods. GST stands for Goods and Service Tax and is a uniform taxation structure that is the same for businesses across the country. Every grocery store owner, on registration, will get a GSTIN, a 15 digit code which is a unique GST identification number. 

The GST registration too is conducted online and is an easy to understand procedure provided all the documents are kept handy. 

Other registrations and licences that a grocery store requires when starting include a business entity registration as deemed suitable by the business owner, whether a sole proprietorship or a partnership or a one person company or even a limited liability partnership. Along with business structure registration, the entrepreneur can even apply for an Udyog Aadhaar registration which is a unique identification for small and medium businesses.
Licences are thus a vital element which are mandatory and essential factors to remember when starting a grocery store in the country. Further information regarding how to start a grocery store in India, and learn more about the licences including FSSAI and their procurement, contact deAsra experts.