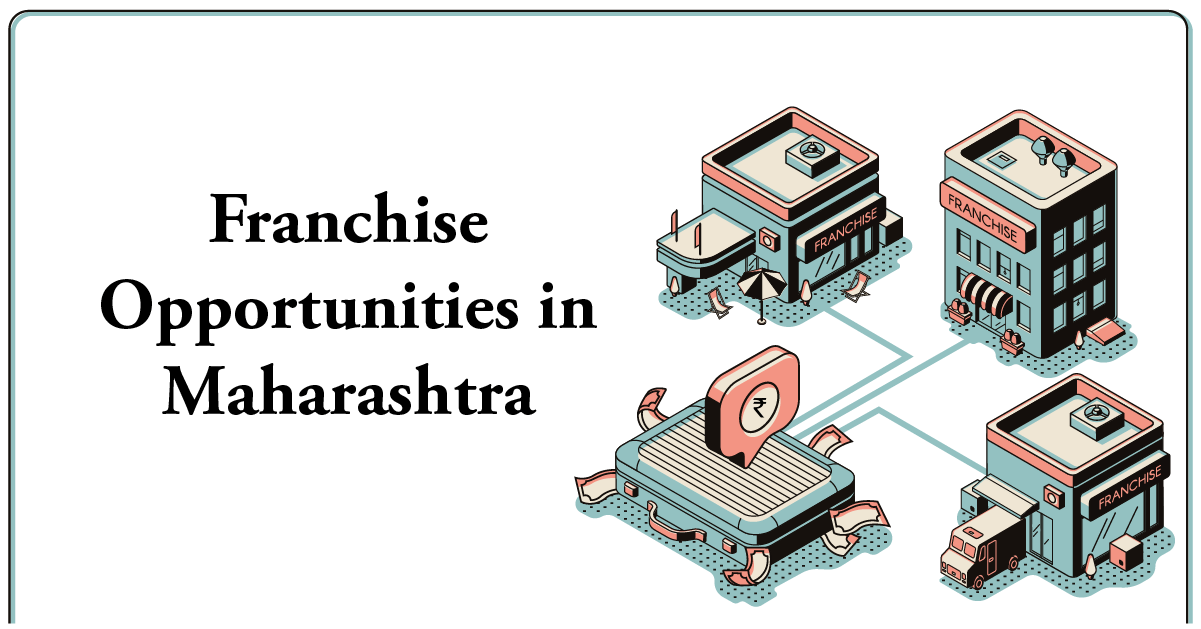 Franchise Opportunities in Maharashtra
A growing number of individuals are shunning the comforts and security of a job to turn entrepreneurs. These aspiring business owners want to be independent and aim to be 'their own boss' by starting a venture of their own. While planning to start their own business, what if entrepreneurs get to start with a tried and tested business idea?  
An experienced tried and tested business idea is always a better plan to start with to ensure a successful run. And a business that is already established and has made a name for itself is an even better idea to carry forward. This is one of the reasons why a franchise option is one of the best and popular options to opt for when budding entrepreneurs are planning to start a new business, especially in Maharashtra, which has a diverse population and is an excellent market for a franchise business.
Apart from these, a franchise business has several advantages. However, defining what a franchise business means is a good starting point while discussing franchise business opportunities in Maharashtra. A franchise business is where the 'franchisors' or the owners of the business give the rights to their business model along with the business logo and name, to 'franchisees' who are third party operators of the business, for a fixed selling price or amount. A franchise business is highly popular as a model of doing business and has several advantages.
Advantages Of A Franchise Business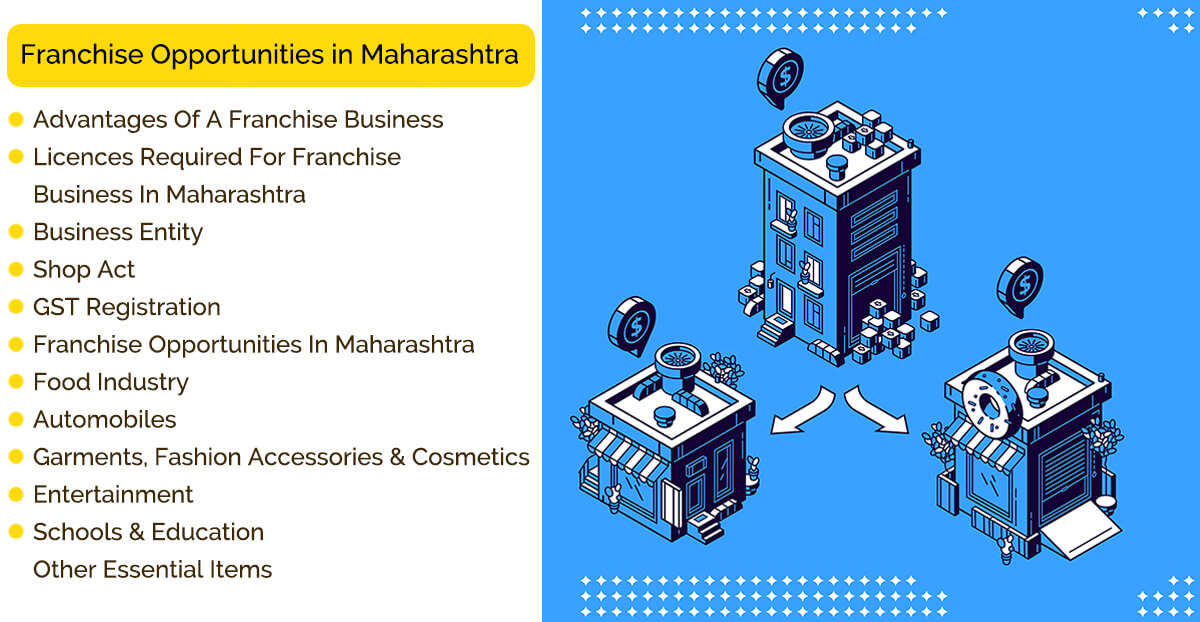 A franchise business is an established business model which has also gained experience over the years and thus a better option to start with rather than a completely new business from scratch.

Owing to a pre-decided business model, name and method of business, a franchise business is easy to start and set-up.

A franchise business has a low-risk factor since it is an established venture that has already been in the market and is a tried and tested business model. Thus mistakes made by a new entrepreneur is ruled out and the risk is therefore considerably reduced.

The franchise is part of a larger network of business and thus this larger community and network can help the franchise owner with his business, in terms of valuable information as well as establishing contacts and connecting with several businesses and business owners under the network.

A franchise already has a brand which can serve as an advantage to the novice business owner to create a customer base on the bases of the pre-existing brand and the knowledge customers have regarding the brand and the products.

Franchise owners are at an advantage of securing a loan more easily than entrepreneurs who are setting up a business from scratch, because banks and lending institutes view franchise businesses as low risk, established, and reputed businesses that have a higher chance of succeeding.

The franchisee provides training to the entrepreneurs before starting the business, thus eliminating the time and effort required by the entrepreneur to acquire knowledge regarding the business.

In case of any difficulties or problems faced by the franchise owners, the franchisee provides help and gives advice on overcoming the hurdles, which is an added advantage of a franchise business.
Licences Required For Franchise Business In Maharashtra
A franchise business, though an established business model, requires certain licences and registrations that are necessary to operate a business in Maharashtra. These registrations and licences help the business to be officially recognised and also endow certain benefits to the business, along with aiding the business to run efficiently and legally without any obstacles. These licences and registrations are thus recommended for businesses and some mandatory licences and permits for a franchise business include-
Business Entity
A business needs to be registered as a business entity to give it a structure and to help give it recognition and identification as a business. The entity can be chosen from either a sole proprietorship, partnership, limited liability company, one person company or any other as per the feasibility and choice of the business owner.
Shop Act
A franchise business is likely to operate from a shop and in Maharashtra, for businesses to operate under a shop within the Municipal limits require a shop act application to be sent to get the necessary permits to operate and run the business operations from the said shop location. The Shop Act is designed to regulate the payment of wages, hours of work, leave, holidays, terms of service and other work conditions of people employed in a shop and commercial establishments, including a franchise.

GST Registration
Another registration that helps the business to operate without any obstructions and has several benefits for the business itself, is the GST registration. Under this registration, the business falls under the common Goods and Service Tax scheme and thus does not have to deal with various differing taxes while carrying out the business since the GST is a uniform taxation structure in several States of the country, including Maharashtra.
Franchise Opportunities In Maharashtra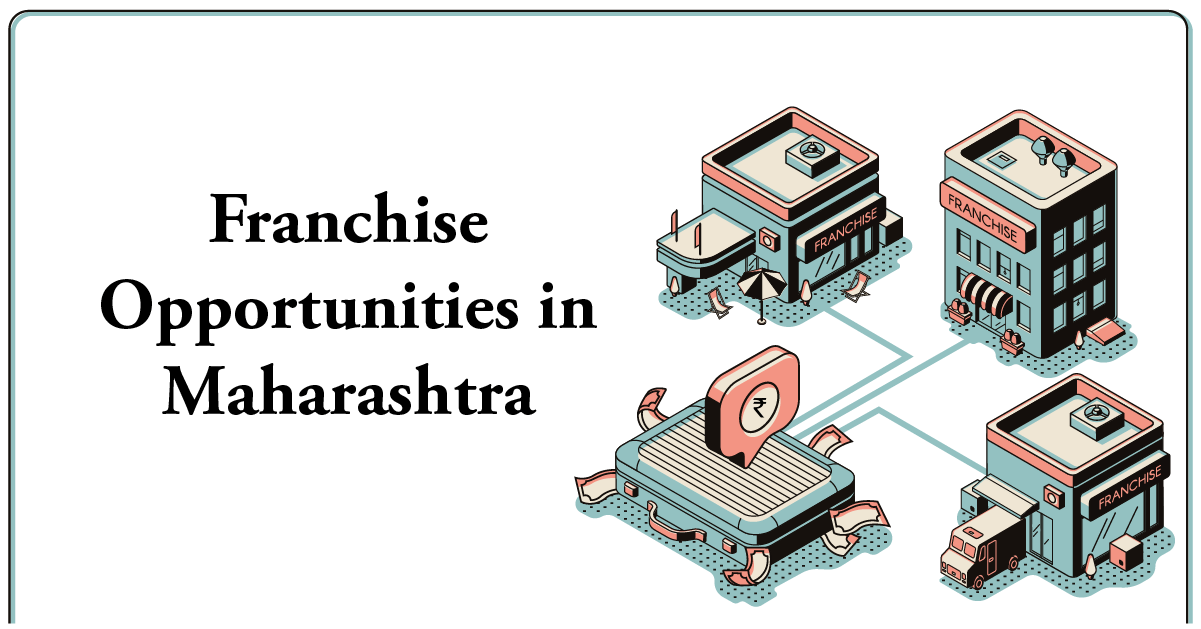 Maharashtra as a State is large and diverse and is ideal for aspiring business owners to start their ventures in the State. Maharashtra supports businesses as well as industries and provides them with certain benefits as well. The market in the State is also huge and diverse thus making it an excellent choice to explore and expand a business enterprise.
Franchise businesses too are profitable ventures to explore within the State.
There are several types of franchise business ideas and each of them has scope for flourishing in Maharashtra. A few popular franchise opportunities that can be explored include-
Food Industry
this is the most popular category which is always in demand and is thus a profitable venture to start out with. The food industry includes several franchise brands which can be further categorised under the following titles-
Fast Food Chains
This includes food chains such as Domino's, Pizza Hut, Subway, McDonald's, KFC, etc. which are global chains and there are several local food franchises too serving misal, vada pav, bhel and other chaat items, such as Rohit Vadewale for instance.
Bakery, Desserts & Confectionery
This is a large category where there are several international, national and local franchise options to choose from, each specialising in a niche product such as cakes, ice cream, waffles, pancakes, kulfis, bread, buns, cookies, toasts and rusks, etc. Some of the brands under this category include Baskin Robbins, Amul ice cream and products, Monginis cakes, Natural ice creams, Belgian Waffle House, and several others.
Snacks
This includes international franchises but there are several local franchise opportunities too which are quite popular such as Chitale Bandhu bhakarwadi and snacks, dry snack items such as khakhra, papad, wafers, chivda, spices, condiments etc 
Automobiles
Automobiles are a must, especially in a State like Maharashtra and the demand makes automobile dealerships and franchises as ideal business ideas. There are several four-wheelers, two-wheelers, trucks, tempo, rickshaw brands for franchise opportunities such as Toyota, Honda, Bajaj, Hero, Tata, and many more including high-end brands like Mercedes Benz, Audi, BMW, Porsche, etc.
Garments, Fashion Accessories & Cosmetics
This is a highly profitable franchise option that is popular across age groups and genders. In fact, the garment industry is believed to be rising steadily and other fashion accessories such as footwear, bags, jewellery, watches,p etc are equally in demand. Some brands and franchise options that can be explored include Benetton, H&M, Fast track, Titan, Hidesign, and many other national and international brands and franchises. Along with clothing and accessories, cosmetics is another lucrative franchise where there are a number of items that can be sold such as lipsticks, creams and lotions, nail paints, blushes, primers, mascaras, concealers and a range of products from brands such as Lakme, Revlon, Mac, Maybelline, etc.
Entertainment
Entertainment and recreation is a must in today's times when people are leading hectic and stressful lives and look for avenues to relax and unwind. Theatres are the best and most popular option such as PVR, etc. and other franchise options in the entertainment category include bowling alley cum cafes such as the Blu-O or play zones for toddlers, kids and adults such as Kidzania, Little Gym or HotFut, etc. which have sports activities or soft play zones or gymnastics activities.
Schools & Education
This is a broad category which is growing by leaps and bounds. Apart from school franchises, there are several extra curricular activities that are mushrooming on a franchise model such as abacus maths, phonics, robotics, dramatics, and also products related to schools and education such as Disney franchise, or exclusive toy brand franchises such as Mattel or Chicco, etc. Musical instruments too are another popular category especially for children such as Casio, Yamaha, Roland for instruments such as keyboards, guitars, drum sets, etc.
Other Essential Items
Apart from the basic items mentioned above, there are other essentials too which can be successful franchise business ideas such as
Ceramics

Plasticware

Glassware

Kitchenware

Movable furniture, etc.
These are some of the popular franchise opportunities to explore in Maharashtra. For details regarding licences to apply for and the process of starting a business (but not regarding any specific franchises) contact deAsra for guidance at every step.