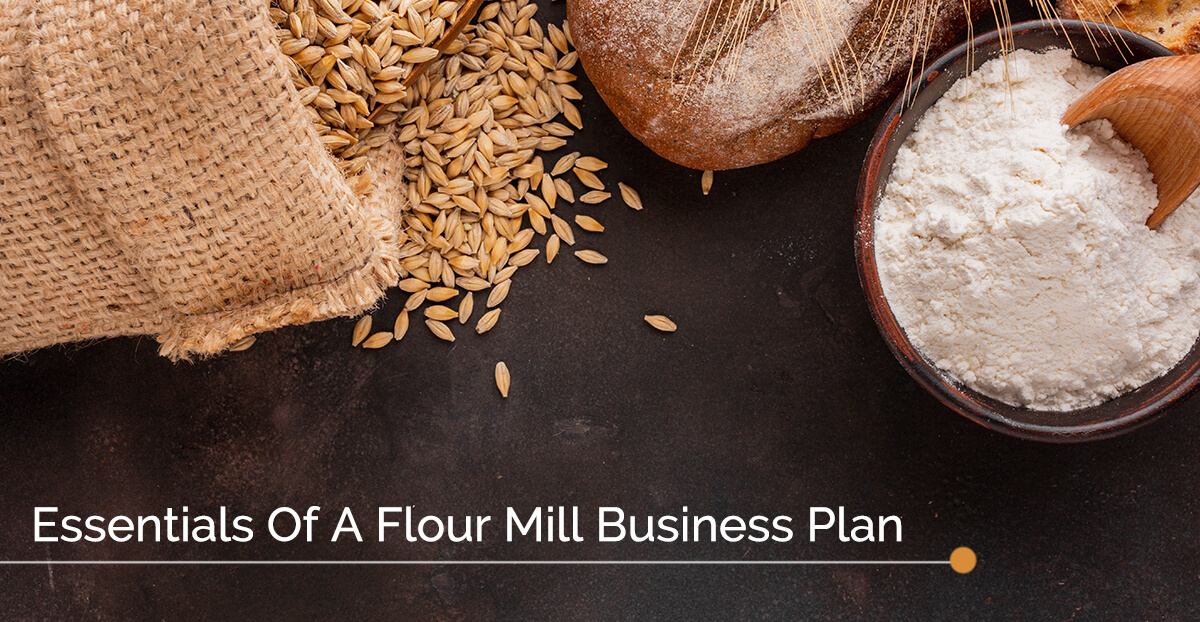 Essentials Of A Flour Mill Business Plan
For an aspiring business entrepreneur, a flour mill business plan is a good idea as it comes under the category of 'essentials'. Roti, chapati is a daily requirement. Thus, your flour mill business will never be out of business. During the time of festivals, this business is in demand as everyone wants to prepare homemade snacks and sweets.
During Ganpati everyone needs rice flour for those yummy modaks and during Diwali there is a rise in mix dal flour for the tasty chaklis. These are just a few instances of why a flour mill business is absolutely essential.
Besides, one cannot stress enough on the fact that everyone needs homemade snacks and these homemade snacks require a flour mill. And what does a flour mill need? Well, for starters (and most importantly) it needs a flour mill business plan. 
Your atta chakki business plan will be your permanent guide. So make sure you work on it diligently and with concentration. To draft a flour mill business plan you need to consider ALL the factors of your business.
Your flour mill business plan should have answers to the why's, how's, when's, where's of your business. At any point in your business, if you feel stuck or lost, you should know where to seek help from and that is your atta chakki business plan. 
Starting a food business requires extra efforts because it's not just the quantity that matter, but it also includes other factors like quality, hygiene and delivery. Be sure to include all these factors in your atta chakki business plan.
Let's get to the point, so how to start an atta chakki business? You need to take care of some technicalities of your business like the legal licenses, the procedure and the capital. 
Here's a detailed breakdown of atta chakki business plan –
The length of business plans may vary depending on how extensively you draft it but it usually contains the same sections. Now you know why a business plan is important. Your atta chakki business plan is like a road map of your business. To make an amazing business plan you need to know what all should be included in a business plan.
Flour Mill Business Plan
Executive Summary
As the word suggests, it should be an 'executive' summary of your business. The key points of your atta chakki business plan should find a place here. The sales, the goal, action items and more. You need to remember that your business plan plays a dual role. It will help you incur funds from banks but also act as your guide. 
Usually, it can be one to four pages long. Treat as a separate document in the business plan so that you can refer to it and tick your goals and benchmarks as and when required. Your executive summary can be updated and is prone to change as and when you seem fit depending on the progress of your business.
For more details, you can check this business plan checklist that includes the important factors of a business plan.

Management Details
Your flour mill business plan should include the detail of management. The details like how much do you plan to deliver, when do you plan to expand your business and more. This should include the steps of your business. 
Marketing Your Business
Before stepping into a business venture, you need to do thorough research. A background study is a must before you start your business. Know your competitors well, know where they are located so as to understand the immediate competition and learn their marketing strategies.
After evaluative research, create a plan and highlight the good points of your business and spread it through online and offline marketing methods. There are many ways of marketing your business. Apart from the digital way of marketing, you can also choose some traditional ways of marketing your business. 
You can consider distributing flyers in the immediate vicinity of your business. This way, you can let people in the area know about your business and also this can trigger immediate footfall into your business.
Define Your Service
Give a detailed description of your products and services. Make a consolidated list of all the dals and grains you will be grinding in your flour mill. Even though it is the same obvious list, creating a list will help them locate their needs easily. 
Also, you can provide a home delivery service in the vicinity of your business. For example, if you can appoint additional helping staff, you can ask customers to leave the packages and instead of having to wait in the queue, you can deliver it to their home. You can leverage this service while promoting your business as there are not many atta chakki businesses who provide this kind of service.
The Hygiene Factor
This might sound a little obvious, but do not ignore the hygiene factor in your business. Especially a food business needs to take extra precautions to make sure that the location of their business is hygienic and clean. Even the staff should take the necessary precautions like wearing hand gloves or caps. 
This will help in building trust in your customers as nothing is more appealing in a food business that cleanliness and hygiene. The caps and gloves will earn you extra stars from your customers. Tiny things like these trigger the 'word of mouth' promotion and before you know, you will have a loyal and a long customer base.
The Flour Mill Equipment
Obviously, you need the soul of your business and that is the flour mill equipment. When you are done managing the aforementioned factors, the entrepreneur should ask the most important question and that is which, how and where to get the flour mill machinery from. All these questions have majorly depended upon the capital that you are going to invest in the machinery, the capacity of your production, availability of raw material and the overall investment. 
Therefore, this decision cannot be made in a haste and it will definitely not be an overnight process. It will take a considerable time to choose the aptest and reliable flour milling equipment supplier. This carefully taken decision will help you avoid any unseen problems in the operation and installation of the flour milling factory and also help in minimising the cost of machinery purchases.
The Legal Support
Any business is incomplete without strong legal support. Your business needs to be compliant with all the necessary legal licenses. It is important that you safeguard your business with these legal formalities. Your atta chakki business will need to be compliant with the following legal licenses – 
Any food business is incomplete without FSSAI license. Your atta chakki has to comply with all the regulation set by the Food Safety and Standards Authority of India. FSSAI Certification in your premise adds to the trust quotient in your customers. It is not a difficult procedure, you just got to keep the right documents ready.
An flour mill is considered as a small or micro business and hence it needs to be registered under Udyog Aadhaar which is a registration and recognition for micro, small, and medium enterprises (MSMEs). 
You need to check the state-specific licenses depending on the location of your business. In Maharashtra, your atta chakki business will require a Shop Act License from the local municipal authorities for the purpose of carrying out the business operations. 
This licence helps in regulating the management of the business and takes care of factors like working conditions, working hours, holidays, wages, leaves, etc. of the employees and helps in running your business efficiently.
Goods and Service Tax enables entrepreneurs to avail government scheme benefits and only GST compliant businesses are allowed to charge GST on their products and services. All businesses, including the flour mill, has to consider the tax system at one point or the other. To be able to and handle a unified, single and uniform taxation method, the business needs to be registered under the common GST scheme/ the Goods and Service Tax.
Your atta chakki business plan should be inclusive of the status of all the mentioned legal licenses. 
So above are the essentials of a flour mill business plan. Hope that you find all the necessary information under this one roof. Agreed that business plan is a meticulous process but once you get through with it, it will help your business. If you need further help with your plan, you can avail deAsra's business plan services which will help you in creating a successful business plan. 

If you have any entrepreneurial questions, please reach out to deAsra Foundation. With a wide range of resources, deAsra will be able to help you in your entrepreneurial journey.