deAsra Ignites Dialogues on Mass Entrepreneurship
September 18, Wednesday, Pune, Maharashtra
The 350 seater Dewang Mehta Auditorium off SB Road was pulsing with the vibrant energy of about 400 today. The venue was marked with the presence of thought leaders of the Mass Entrepreneurship ecosystem. The occasion was deAsra's 3rd Entrepreneur Excellence Awards (EEA). 
Carrying forward an annual tradition, deAsra conducted its 3rd EEA to celebrate the spirit of entrepreneurship and inspire a mass entrepreneurship movement.
The evening commenced with the felicitation of deAsra's 5 champion entrepreneurs (dePreneurs), belonging to diverse business sectors. They were honoured for brilliance in their business ventures.  The awardees were Mrs. Supriya Jagdale, Miss. Priya Nahar, Mr. Akshay Pandhare, Mr. Ashok Salvi and Mr. Chandrashekhar Mane. Take a look at their inspiring enprenuerial stories below.
"These entrepreneurs are from different backgrounds and industries however, they have one thing in common, "Antar-prerna"- perhaps the root word in Sanskrit for Entrepreneurship," said Madan Padaki (Co-Founder, Global Alliance for Mass Entrepreneurship) to set the tone for the evening.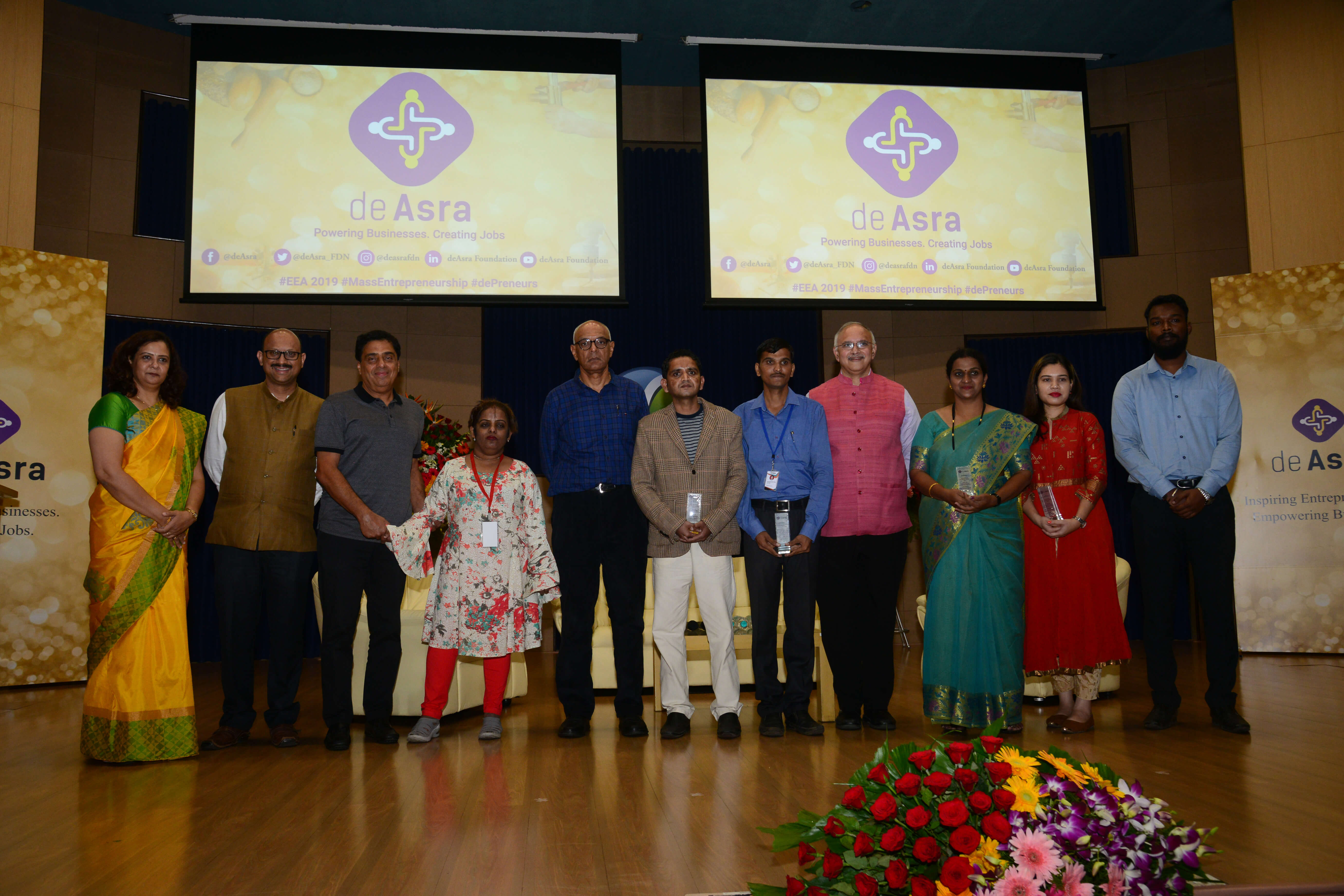 deAsra's Champion dePreneurs with the thought leaders at deAsra's Entrepreneur Excellence Awards 2019 (Left to Right) -Miss Pradnya Godbole, Mr. Madan Padaki, Mr. Ronnie Screwvala, Miss Priyadarshani Nahar, Dr. K P Krishnan, Mr. Ashok Salvi, Mr. Chandrashekhar Mane, Dr. Anand Deshpande, Mrs. Supriya Jagdale, Miss. Ankita Pandhare, Mr. Akshay Pandhare.
Pradnya Godbole, CEO deAsra Foundation then shared deAsra's impact story, Our first goal was to benefit 25,000 entrepreneurs by 2020, I'm happy to share that as of today, 42,000+ entrepreneurs have benefited from our knowledge resources, services and ecosystem. We are currently adding 5000 new beneficiaries every month", she added.
It was then time for the highlight of the evening, The Dialogue on #MassEntrepreneurship – an event that featured a star cast that Pune has never seen-  Mr. Ronnie Screwvala (Entrepreneur, Philanthropist and Founder – Swades Foundation),  Dr. K P Krishnan (Hon. Secretary- Ministry of Skill Development and Entrepreneurship), Mr. Madan Padaki and Pune's very own Dr. Anand Deshpande (Founder – deAsra Foundation, Founder, Chairman, MD of Persistent Systems) who needs no introduction.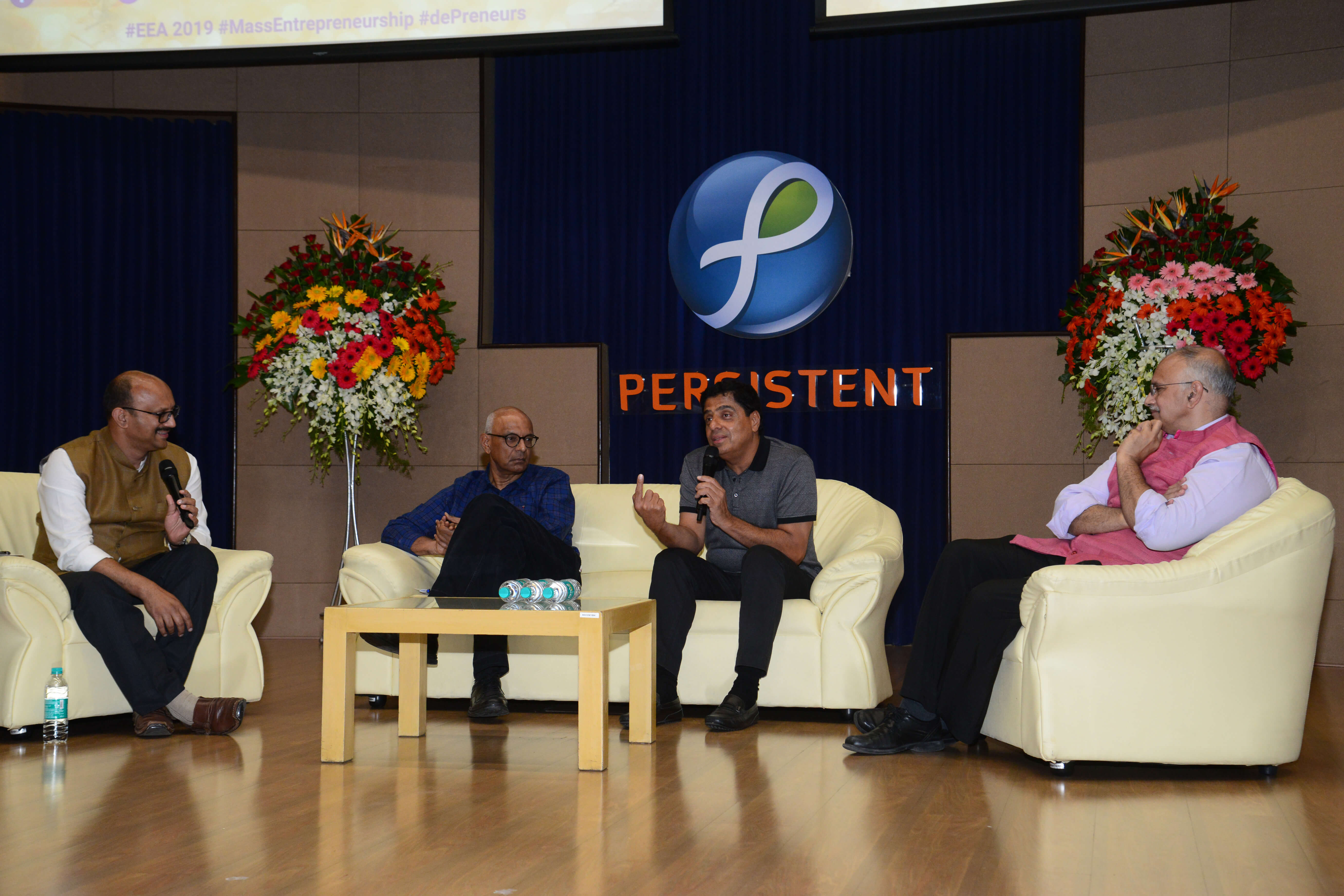 The thought leaders having Dialogues on Mass Entrepreneurship. (Left to Right) Mr. Madan Padaki, Dr. K P Krishnan, Mr. Ronnie Screwvala, Dr. Anand Deshpande.
It was 60 minutes of deep interaction in which the thought leaders shared their views on what each of us can do to boost the mass entrepreneurship movement. Ronnie was anecdotal and shared tips to enable entrepreneurship at scale as a means of job creation. He said, "entrepreneurs figure out ways to get things done, the ecosystem should just support and create millions of entrepreneurs".
Dr. K P Krishnan took off his bureaucrat hat and donned the entrepreneur hat. He asked Anand and Madan to create a process that could create hundreds of deAsra that in turn would create millions of entrepreneurs. 
The eventful evening came to an end with Dr. Anand expressing his gratitude to the hundreds of ecosystem partners that work with deAsra.
For those who couldn't be a part of this event, deAsra will be sharing the highlights on Facebook, YouTube, Instagram.
deAsra is a non-profit organization founded by Dr Anand Deshpande, Founder, Chairman and MD of Persistent Systems which helps entrepreneurs to start, manage and grow their businesses. It is a platform which provides entrepreneurs with simplified, tech-enabled, expert-led services with a customer-friendly approach that are required while starting and expanding a business. For more information about deAsra Foundation, visit their page https://www.deasra.in.