Business Growth – A Different Perspective
Every entrepreneur who starts a business, always has an ambition to grow it to the greater scales and levels. He is ready to take every effort to make this ambition come to the reality. But many a times, the ideas for making this happen, are very limited and common.
Quite often, young entrepreneurs come to me asking for my views. First I ask them about their ideas. The usual answers I get are about, increasing the volumes, increasing the product range, increasing the customer base, improving the quality, try to get export orders et al. I agree that yes, these are the factors which contribute to the growth of a business and one must keep these in mind all the time. And these entrepreneurs are absolutely doing well by thinking on these lines. But as I mentioned above the ideas are common and limited. This type of growth is called 'Vertical' growth which generally everyone plans for and acts upon.
Then, I ask the second question as why you have started this business. Believe me, more than 90% people fumble. Why do you fumble? Don't you know why are you doing this business? Then people give me all the answers in the world. We want to contribute to the economy of our country, we want to generate employment, we wanted to be on our own, and we wanted to prove that we can do something and what not. All answers are good, no doubt. But main and the most important answer never comes out. Or even if it comes, comes with a shade of shame and embarrassment.
And that answer is, 'I am doing this business to earn money'. Why do people fumble to accept this? What is so shameful and embarrassing in earning money? Why do you think that earning a good fortune is a sin?
Now if you have agreeing with me about whatever I have stated above, let me share a different perspective with you. It is not about only 'growing the business'. It is about 'earning money by growing the business'. I would like to discuss two ideas with you;
Horizontal Growth: We have already discussed about the vertical growth. Horizontal growth is all about doing business of every single activity, connected to your main activity. Let me give two live examples. I will not mention the names or locations for due reasons.
The person, a businessman, was required to buy a piece of baron land and bring it under cultivation, as a part of CSR initiative by the local government. He cleared the land and started taking 'Maize' production. He used to then sell the corn kernels in the market. The rate he used to get was never satisfactory. Later, this person started his own flour mill. He used his own crop plus bought the maize from others. He started selling the Corn Flour under his own brand name. While producing the flour, lot of bran was generated as a process waste. Considering the quantity, it was not easy to dispose of this bran. So he started manufacturing using the bran and selling Poultry Feed under a brand name. Again the quantity increased like anything in few days and the total production was much more than the demand. So he started his own Poultry to consume the excess quantity, and thereby selling Eggs and Chicken. These birds in a poultry farm generate lot of bio waste. Again disposal is not easy. Now the latest addition to his business line is 'Bio CNG' generated by using this poultry bio waste.
Another person was once a micro businessman, supplying some 'C' class plastic parts to Auto industry. His customer wanted him to deliver the material 'just in time'. In order to avoid the delay, he bought a three wheeler tempo. One important thing he did that he never used to come back empty after delivering the material. He used to take some or the other return trip to earn few bucks and reduce his costs. The delivery time was for limited hours. So in the remaining time, he started hiring the tempo. In few months, he was owner of a fleet of about twenty commercial vehicles. Considering the number of his own vehicles, he started his own Garage. Now soon that Garage will be converted to 'Authorised Service Centre' of a leading vehicle manufacturer.
These are the perfect examples of the Horizontal Growth. Every single activity has been turned into business, has been underlined and marked in italics. Both of them could do it, primarily because both of them were very clear that they want to earn money.
Giving up Obsession for Primary Business: I have seen many entrepreneurs who are obsessed to their primary business. They think that doing anything else is criminal. Due to this, they suffer in two ways. One, they lose the opportunity of growing horizontally. Second, they suffer badly when their primary business falls prey to some kind of disruption. They suffer because they don't have any other source to fall back upon. Many a times, the primary business does not remain lucrative because of competition, change in technology, or change in taste of people. But some people stick to their diminishing primary businesses and vanish one day.
So the key to grow is in the motive behind doing the business. Your motive should not be only growing your business. It must be earning more money, which automatically results in or is reflected by growing your multiple business lines.
Think for a moment…
Wish you all the best….
Article Contributor:
Milind heads the internal audit division at K&P. Internal Audit is my passion. In my opinion, this function is absolutely versatile and can give amazing results. It is a very vibrant and happening field.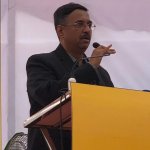 Note: The views expressed here are those of the authors and do not necessarily represent or reflect the views of deAsra.