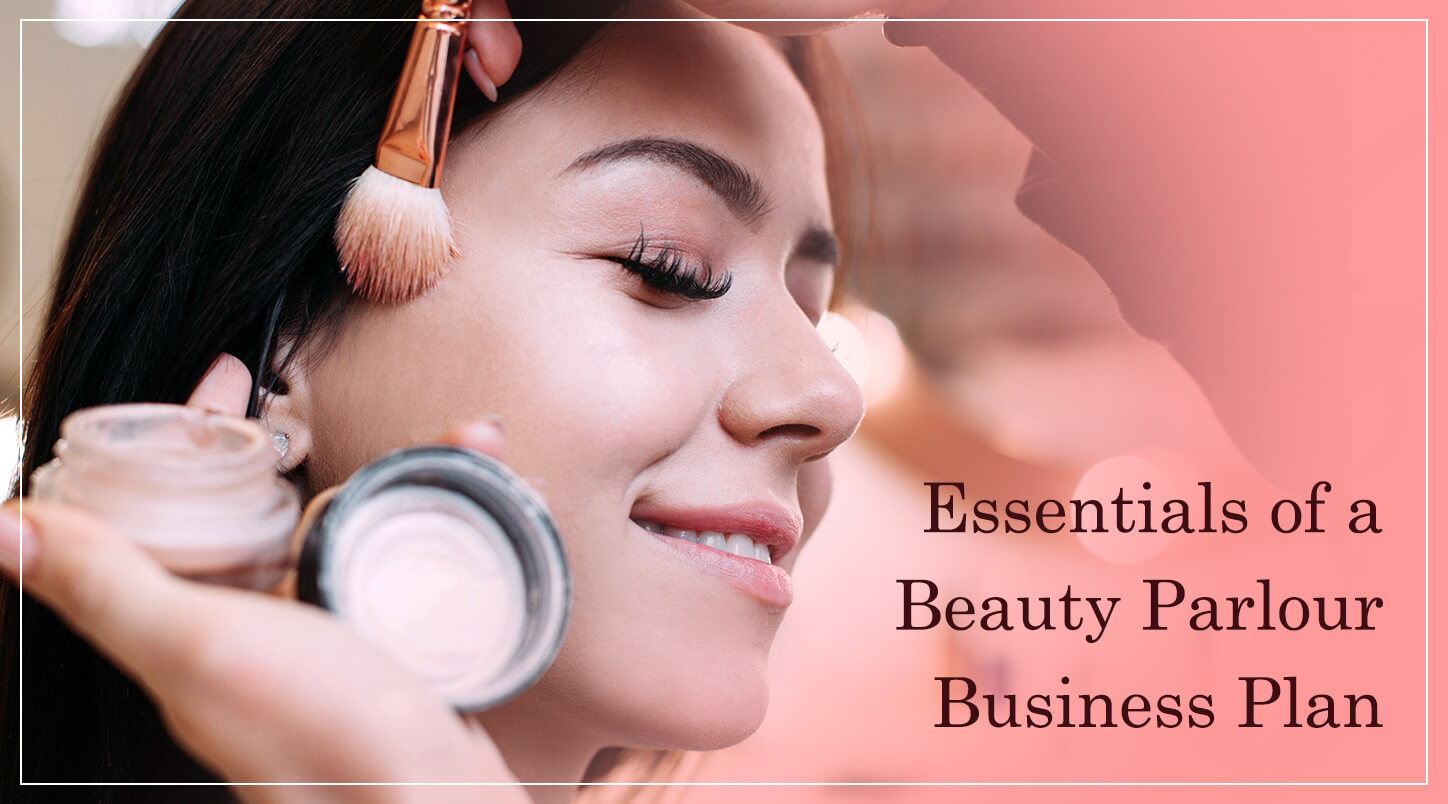 Essentials of A Beauty Parlour Business Plan
In this fast-paced world, clients are always looking for efficient services. A beauty parlour is usually angled to only a particular service that they excel at. They are efficient and quick in the services they provide. The beauty industry is booming. According to a KPMG report, the size of beauty and wellness market was expected to touch Rs. 80,370 crores   2017-18. With the rise of social media, everyone wants to look they're best, whether they're at work, home or out with friends. Physical appearences are dominating today. In this worldly world, ladies want to groom themselves just right. Courtesy to these lovely ladies, beauty parlour business is in vogue and on of the most popular business choice in today's world.
Starting a beauty business will require a lot of effort and commitment, but if you are passionate and knowledgeable about the industry, you can succeed. To further help the process, here is a list of essentials to include in your business plan.

Beauty Parlour Business Plan
Executive summary
An executive summary is the first section of a business plan and is generally considered to be the most important section. It is generally written last, after the entire plan has been finalized. The executive summary covers the highlights of all the other sections.. Generally, an executive summary will:
Be approximately 10%  of the length of the main report

Be written in simple language

Consist of short, to the point paragraphs

Be written in the same order as the main reports

Only include material present in the report

Make recommendations

Provide a justification

Be readable separately from the main report
An executive summary is an important communication tool. It will help you and your investors understand the plan at a glance.
Services provided
A beauty parlour, as opposed to a beauty salon, is dedicated to only one service. You must decide what service aligns with your expertise. There are many services that a beauty parlour can focus on like manicures & pedicures, make-up & grooming, skin treatments but mostly, beauty parlours only focus on hair. Services you can provide under hair parlours are:
Hair cuts

Hair trimming

Blowdry and setting

Updos and hairstyles

Hair Dyeing

Highlights and lowlights

Conditioning treatments
It is important that you keep up with the current trends and have a good idea as to what it is that you can or cannot provide.
Target audience
Now this will require some brainstorming and some background research. Deciding on a target market will help you narrow down your services to the ones which are in vogue and have a high demand. Describe your target market, include the demographics and market growth. A Beauty parlour is a woman's equivalent to a barbershop.
Research the age group you are targeting and the trends that are followed by that demographic. Create your USP and excel in it. Your target audience can be:
Working professionals

College students and teenagers

Homemakers

To-be-Brides

Children
Each group will require a different type of service. List down each individual section and what services they would require as a part of the market study.
Business strategy
Business strategy is simply as a firm's high-level plan for reaching specific business objectives. Strategic plans succeed when they lead to business growth, a strong competitive position, and strong financial performance. A Business plan is made with the purpose of:
Achieving effectiveness

Utilising opportunities

Mobilising resources

Securing advantages

Directing effort and behaviour

Gaining control over a situation
You must define the milestones in your business with specific dates or time periods. A well-planned timeline will help you bide by the plans and help you mark the milestones quicker. Decide what your strategy for the implementation is going to be and how you're going to spread the word once you start your business. Word of mouth goes a long way in promoting your business. Especially in the beauty parlour business, if your services make one lady happy she will sure to add more ladies to happiness. 
Brand promotion is very important in the beauty salon business. Pamphlets, leaflets, advertisements are some of the few ways to amp up your marketing skills. The success of any budding salon depends on a core group of clients.
Manpower
For an empire to stand firm on the ground, strong pillars are inevitable. Your employees will be just as a contributing factor as yourself. Proper planning with respect to manpower is one of the most challenging issues in starting a beauty parlour. For a business like this, the employees are the front line of representation so they are the most important factor in the success of your business. The main responsibilities in any beauty business depend on the kind of services the staff will provide. Some of the common ones are:
Parlour manager

Hairstylist

Colourist

Assistants

Receptionist
Hiring trained and experienced professionals will help your business. Name and describe in detail the main members of your team and what their responsibilities will be. This will act as guidance to the employees as they will have a clear understanding of their job profile and in addition, it will also give you a better idea of the requirement of personnel and what gaps you might have to work out in terms of employees.
Finances
Financing plays a major role in starting your business. It should aim to be as specific as you can when it comes to your finance, which includes describing your financial strategy and how it will support your projected growth.
The Financial Planning section involves the following tasks:
Asses the business environment

Confirm the business objectives

Identify the types of resources required

Calculate the total cost of each type of resource

Summarize the costs and create a budget

Identify the risks and issues with the budget
You must also figure out where you will get your funding from. There are multiple options to choose from. You can self finance your business or get investments or loans from friends and family who are willing. A great option is to opt for a bank loan. Find out the business loan schemes that your bank might have. Government organisations and grants also have such schemes. Research all your options and identify the one that works for you and your business.
Marketing strategy
Effective marketing starts with a considered, well-informed marketing strategy. A good marketing strategy helps you define your vision, mission and business goals, and outlines the steps you need to take to achieve these goals. It is better to have a marketing strategy before starting your business. You must decide and create the content you will be using for marketing beforehand. Be sure to set up a website for your business and make brochures and flyers.
You can even plan to use social media and post on a regular schedule. Social media is today's giant! Your business will reach masses with a good social media plan. There is no shortage of Social media platforms on which you can promote your business.  
Although these are the basic components of writing a business plan, you can edit it according to your specification. Writing a business plan is the first step you will take in making your dream a reality. Starting a business can be exciting and having a business plan helps in making the process easier and smoother. Any good business has a strong business plan behind it. For any business planning help or questions about business planning, contact deAsra.