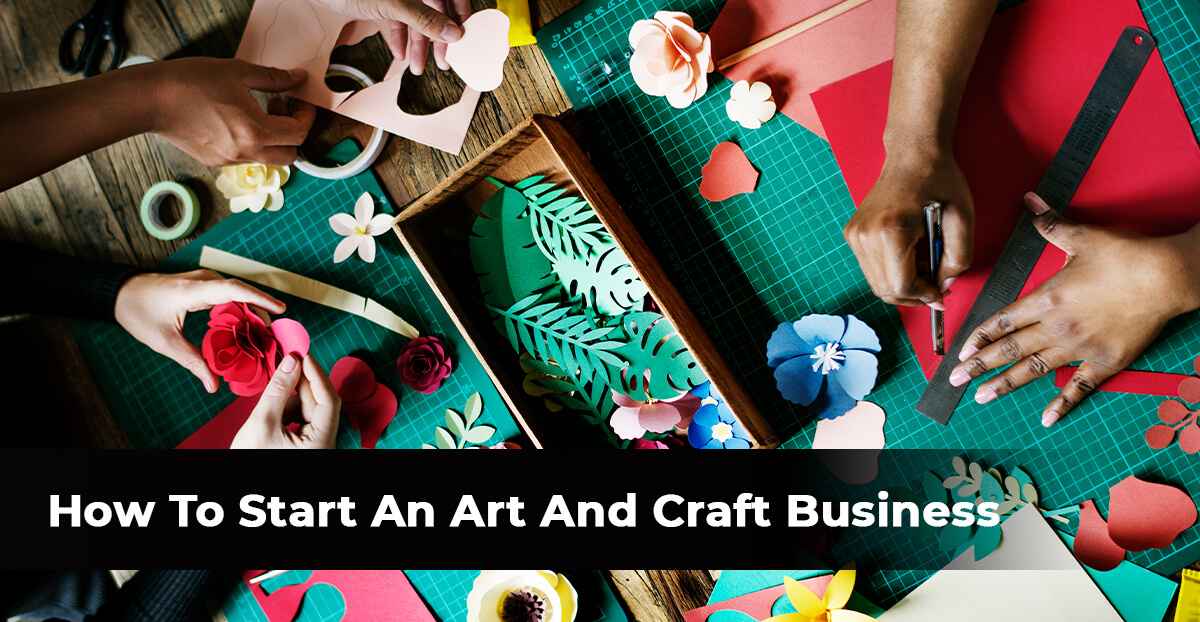 How To Start An Art And Craft Business
Art and craft has been around for eons, present in several various different forms and varieties, and is one of the ways people can display their skills and express themselves. But up until now, art and crafts has only been viewed as a hobby- an activity that people indulged in during their spare time, something they tried to fit in when they had finished everything else that was of priority. However, arts and crafts is now being considered more than a spare time activity and being bestowed with the respect of a full fledged business.
The lockdown following the COVID-19 pandemic is to be credited to a great extent for the renewed interest and growth of art and craft as a business. Several people got back to their art and craft hobbies with a renewed passion and honed their skills, making products that piqued the interest of others, leading to business opportunities. In fact, while other companies suffered an economic hit during the ongoing COVID-19 pandemic, art and craft and the material supply businesses experienced a boost, such as a Fresno based leading manufacturer of art and craft kits, like DIY tie-dye and painting kits. This reinforced the popularity and growth of arts and crafts as a business opportunity. 
The retail sale of arts and crafts in 2019 in the US amounted to approximately one billion U.S. dollars. Globally, the market size of the art and craft business was valued at 35 million USD in 2017 and expected to reach a value of 50.9 billion USD by 2024, thus giving an insight into the scope and potential for the art and craft business. Speaking of India, the country exported handicrafts worth over Rs. 126 billion in fiscal year 2020, which is considerable considering the pandemic otherwise negatively affecting the worldwide economy. 
All these facts and figures prove that the art and craft business is no longer just a hobby but a full fledged business idea that has scope for growth in the future.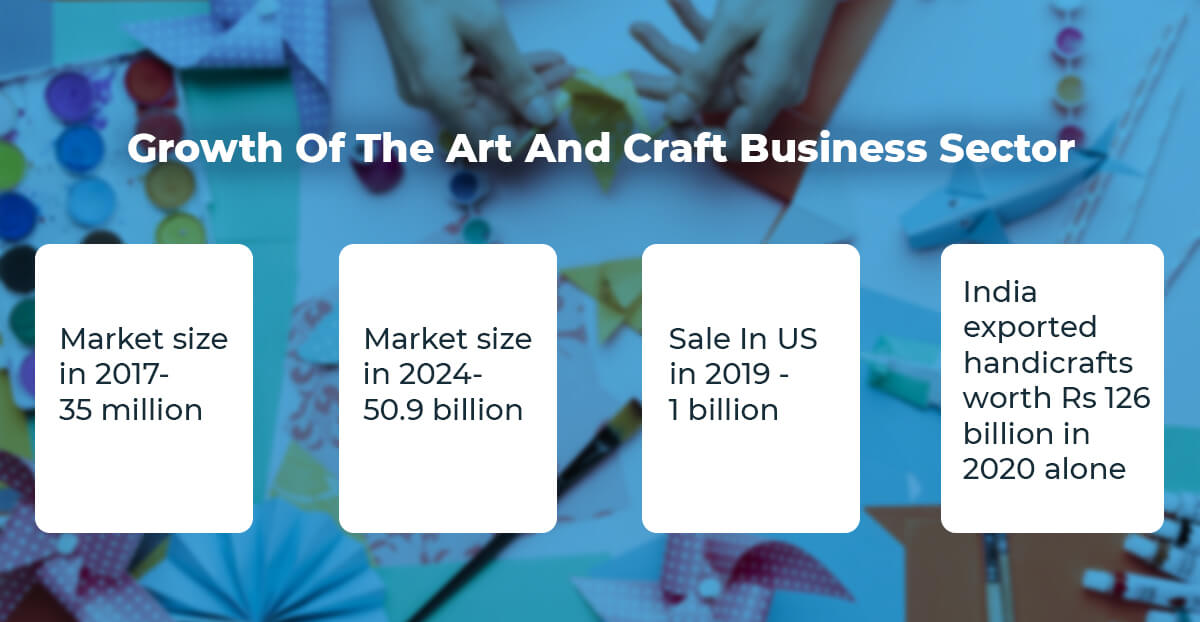 Benefits Of An Art And Craft Business
If you are a skilled artist, contemplating whether to start an art and crafts business, the following pointers will convince you to take the step forward and the above figures have already proved that there is no better time than now.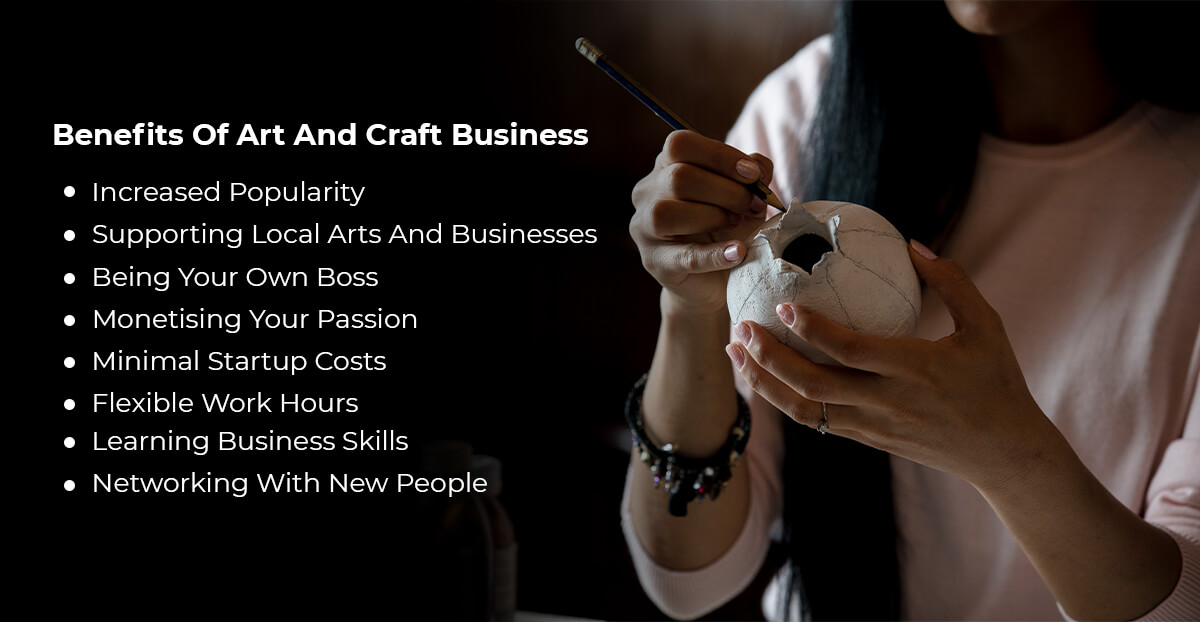 The increased time that people are spending at home owing to the pandemic is also making them invest more in craft items and artefacts to decorate their homes, to beautify it and make the surroundings more pleasant and aesthetically pleasing. This in turn has led to an increased demand for the art and craft business and its products. 
Supporting Local Arts And Businesses
The Prime Minister of India has asked for citizens to be 'aatmanirbhar' and support local businesses. And it cannot be more local than to start an arts and crafts business that supports the indigenous communities and boosts the economy. Plus it is a hobby that can be turned into a business, therefore making you Aatmanirbhar.
An art and craft business usually starts as a one-man show or probably two partners, therefore allowing you, the entrepreneur, to be independent and your own boss. You can work even in pajamas and from anywhere as you do not have to report to anyone. Nor is the business a service oriented one where you need to be presentable at all times or follow the timings of others. 
An art and craft business thus allows you to work in a stress free environment while being your own boss.
Very few have the advantage of turning their passion into a livelihood and earning money while enjoying what they do. The art and craft business is one such exception where you can monetize your passion and get paid for what you enjoy doing. 
The startup cost for an art and craft business is minimal as the only investment required is to procure the raw material and supplies. Therefore to start an art and craft business requires the least amount of time and money. 
Provides Flexibility Of Working
Unlike the service business or retail shops where the entrepreneurs need to work as per the timings of the customers, in an art and craft business you can work as per your schedule. The business thus provides flexibility in terms of work hours and timings too. Also the commuting to work or to client's site is eliminated in an art and craft business, thus providing further flexibility to you to work from wherever you wish and at whatever timings you deem appropriate.
When you turn your hobby into a business, you even acquire further knowledge as to how to run a business, how to make a profit, how and where to buy reasonably priced raw material from, how to market the business and several other aspects of running a business. This information can come handy anytime later too.
Networking With New People
You might imagine an art and craft business to be lonely where you are just involved in creating the products. But a business also means interacting with potential clients, meeting like-minded individuals and forging business relationships. The business thus allows you to network with new people, learn more about the crafts as well as about running a business and expand your reach. 
These are some of the benefits of starting an art and craft business. 
How To Start An Art And Craft Business
Now that you are convinced of turning your art and craft passion into a business looking at the benefits above, the next step is to know how to start an arts and crafts business. The pointers discussed herewith will help you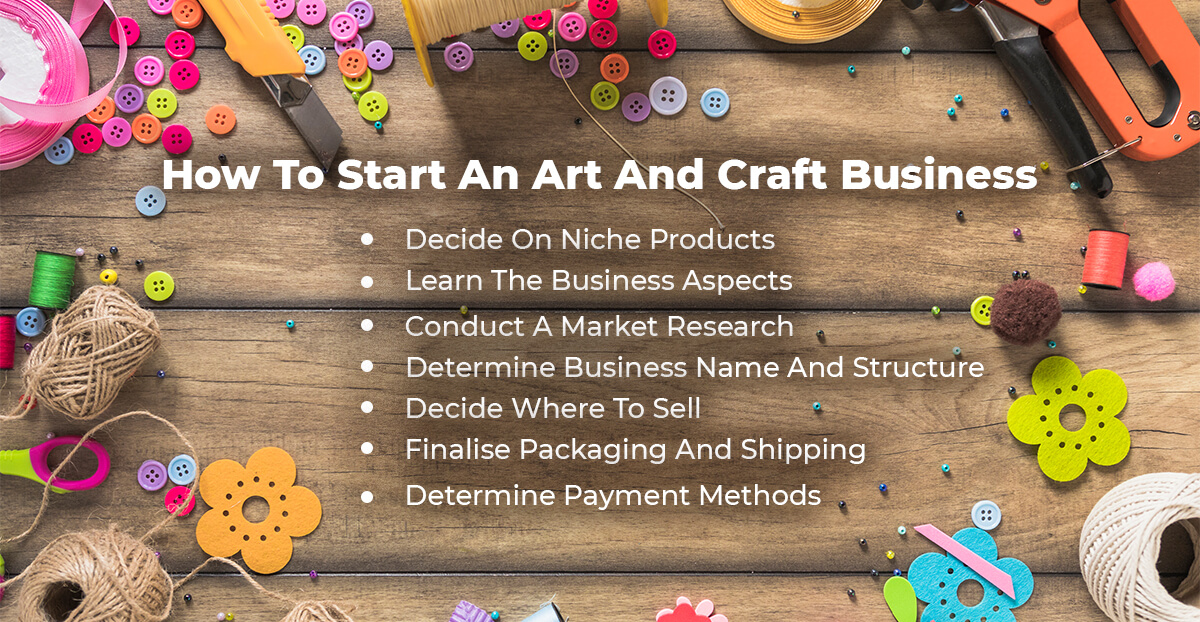 An art and craft business can include a number of items. Some of them are-
Embroidered items such as frames, wall hangings, pillow covers, cushion, stoles, etc.

Paintings and painted picture frames, wall frames, painted cushions, stoles, handkerchiefs, tshirts, shoes, painted furniture, etc.

Decoupage products like decoupage bottles, frames, candles, kettles, glasses and even decoupage furniture like drawers, etc.

Sculpting and pottery products

Paper mache products like plates, decor items and artefacts

Crocheting, and yarn craft products

Macrame craft products

Calligraphy frames, cards, etc.
These are just some of the art and craft products that you can specialise in. It is important to ascertain what craft you are good at and also what products to create. Creating a niche in terms of the kind of craft and the products helps you to specialise in it and create a brand name for you.
Learn The Business Aspects
Once you decide on what craft products you want to specialise in and create a niche for yourself, the next step is to learn about the business aspects. You need to define why did you convert your hobby into a business and what are the goals and objectives that you have. You can start by making a business plan to jot down all the objectives of the business, how much you want to expand the business, what steps you need to take to achieve the objectives, the investment of time and money that will be required, etc. You can always Download business planning checklist to help prepare a thorough business plan for your art and craft business.

Conduct A Market Research
A market research is an important step for every business, including the art and craft business where you need to ascertain what are the objects already available in the market, which one's are selling more, what are they priced, etc. This helps identify if there is a demand for certain types of items in the market and also what exactly are the customers looking for. You can visit fairs, check out online platforms such as Etsy and Handmade at Amazon to carry out the research.
A market research further helps you to find places from where you can purchase raw materials for wholesale rates, and how you can advertise your products by learning what works in the market. When you research your market thoroughly, you will find the best outlets for your products and know whether they will sell. The reality is that for you to succeed in the crafts business, you must have an outstanding product. 
Determine Business Name And Structure
It is important to have a catchy name for the art and craft business for people to associate you and your crafts with it. A catchy name also has a recall value and is easy to remember. However the name must somewhere be connected to the business for the audience to understand and make a connection. 
Along with a name, the business must also be incorporated to give it a legal structure and identity. You can always approach deAsra to know which business structure is most appropriate for the business as well as the registrations necessary for running the business, such as GST registration, etc.
An art and craft business usually finds buyers at craft fairs and exhibitions such as the Daastkar Bazaar and similar fairs across the country. However in the times of COVID-19 not many people might be willing to venture out to fairs and gatherings.
Another place to market the business, which helps sell while maintaining a social distance and even has a wide reach, is via social media marketing. You can create a Facebook page as well as an Instagram account for your products and use these platforms to reach out to the targeted audience and sell your products. You can always Avail social media management service to utilise the potential of these marketing mediums to their fullest. Additionally, you must develop a website as it adds credibility to the business and a way to contact your business. It can also operate as a secondary sales channel. 
Finalise Packaging And Shipping
Once you have scoured the market, finalised the product you want to specialise in, conducted a research, named and incorporated the business the next step is to finalise the packaging for the product. If the product is fragile that you need to ensure the packaging is secure. An attractive packaging also creates a good impression about the business and ensures repeat orders.
Additionally you need to tie-up with a transport company to handle the shipping of the products within the city as well to different parts of the country as well as the world. 
Determine Payment Methods
The final step is to determine the payment methods you can make available for your art and craft business. Considering not all orders will be within the city and if you are selling the products via online mediums then it is vital to have a payment gateway to allow payment via card or through UPIs. 
Photographs are a must for selling the crafts on various platforms and website, therefore you must invest in good photography of the craft products too along with considering the above points.
These are some of the main pointers to consider when learning how to start an arts and crafts business and to make it flourish. For any in-depth details regarding the business you can always contact deAsra Foundation to get you started on your art and craft business.