Consumers made more online payments in 2018 than ever before, particularly with mobile payments. As per reports made by PwC, the number of people making payments via mobile has doubled between 2019 and 2017.
Online payments collection can be made easy for consumers. With an ever-growing number of people resorting to online payments methods, it becomes essential for businesses to make the process less tiresome. Provide consumers with many options to make easy online payments.
As per the 2016 Annual Billing Household Survey, the average customer has over 4 different payment methods that they use for their daily needs. Offering customers easier ways to collect online payments improves customer experience. In addition to creating convenient ways to accept payments, more options can actually reduce the time it takes your business to get paid.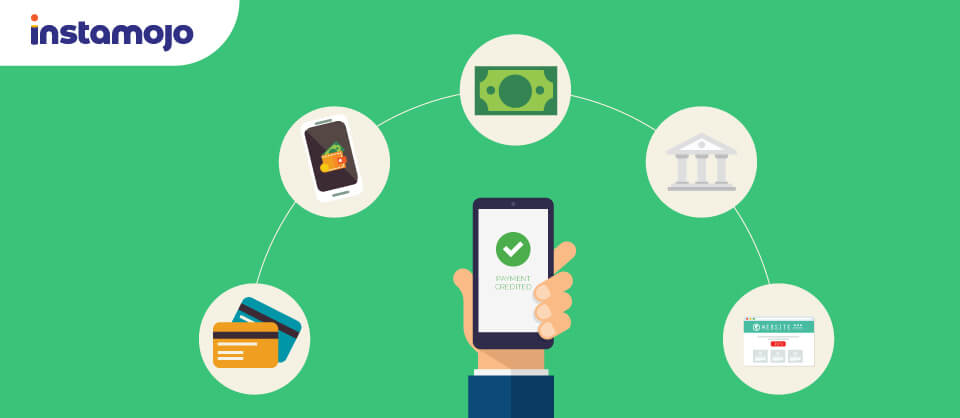 To help you understand how payments can be an easy affair, we figured out the 5 easiest ways to collect payments online for you:
Mobile Payments
Everyone has a smartphone, and almost everyone has some form of payment app on their phone. It is common these days to make payments via mobile phone primarily due to purchases made through apps. In two or fewer steps, mobile payments are safe, secure and faster for people making payments on the go. The benefits of using a mobile payment app for your business becomes known once you can manage customer accounts and send invoices from anywhere with a signal. With over 80% of customers using smartphones, the opportunity to increase revenue through mobile payments increases. Understandably, customers might have security concerns storing their financial information online. However, there are companies offering secured payment gateways, like Instamojo, that provide value to the customer.
Click To Pay Email Invoice
A new and different method to collect online payments easily is to send your customers an email invoice and get paid in 2-3 clicks. An email invoice allows your customer to pay their bills and receive a receipt in seconds. Share online payment forms with your customers via email.
This integrated experience from email, to the payment form, to the customer database, it becomes easier for you to manage your customers' payment. In a few clicks, the invoice is auto-marked as paid.
This mode of collecting payments online proves helpful for those customers who want to view their bills and receipts and at the same time, keep it eco-friendly and minimize the use of paper. This way, there is a proper report of the transactions and also, it saves time.
Recurring Billing Systems
Lots of customers prefer to pay online for monthly services like magazine subscriptions or club memberships. For these, an easy online payment form is a recurring billing system. Not only does this prove convenient for your customers, but it can also guarantee timely payment for your business too. This form of payment ensures your customers auto pay for any services they use. According to research, over 35% of customers are worried about due date tracking for payments. Sending them recurring bill reminders help make customers money reach you quickly and easily. As a seller, a recurring bill system ensures steady and positive business health for you in the long run, as money comes in on time.
Accept Debit/Credit Cards
Through payment gateways or otherwise, for easy online payments, sometimes the best thing to do is go traditional. Debit cards and credit cards are the most basic and easy ways for you to accept payments from your customers. Have a dedicated merchant account or an intermediary holding account to offer your customer this feature.
Owing to a large number of banks in India, there are several options a customer can choose from. Visa and MasterCard alone vouch for over 53% of India's user base. To get customers
Conclusion:
The world of online payments has changed the way customers and sellers make transactions. The processes may be getting easier, thanks to technology. But there is always room for improvement when it comes to collecting payments for your business. Reduce the paperwork, the signups, the re-directing, and the excess information requests. It is pretty simple to collect payments online.
Brought to you by our Content Partner – Instamojo