KAKA HALWAI – Salty snacks in sweet business
In the earlier days, sweets were prepared and eaten only on the festive days. This does not happen anymore. These days, people are looking for reasons to celebrate every day of the year. Many days like baby showers, naming ceremonies, success in exams, buying a house or car are celebrated these days. It is a must to celebrate such happy occasions with sweet treats. Kaka Halwai, who helps every Punekar celebrate every day told us about the interesting journey of this sweet business.
Picture a small shop of wooden planks selling sugary sweets like  Battase, Sugary Phutane, Revadi etc from 1892.The shop had just started offering sweets like sugary Pedhe and Barfi to people. People of Pune started developing a sweet tooth for these sweets. One day, a gentleman  with a magnificent mustache and a turban came into the shop to buy some pedhas. The shopkeeper was surprised and amazed when he saw that the person who had entered his shop was none other that Lokmanya Tilak himself! In fact, the shopkeeper was not an ordinary person either.. He was Morappasheth Gadve, also known as Kaka Halwai. Morappasheth Gadve and Tilak's relationship went beyond the bond of a customer and a shopkeeper. Mr. Gadve and Lokmanya Tilak used to do social work together and there is a photo available as its proof.
Back then, Pune was a small town, where everyone knew each other. People used to send their children to the confectionery saying, "Go, get some sugary phutane from Halwai Kaka". The confectionary was named 'Kaka Halwai' after this.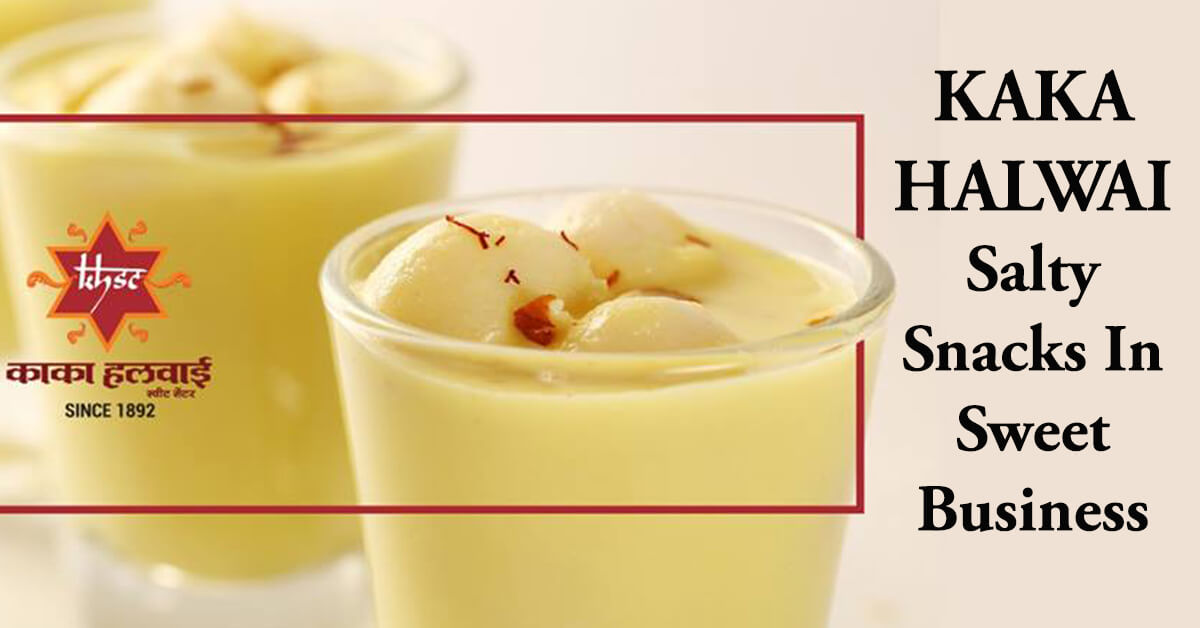 Today our seventh generation is in this business. Our every generation knows this history of our business and is proud of it. This is a grand history of flavour and every generation has utilized new, innovative ideas to promote the business along with adding new products. When the business started, there was no such thing as diet. People used to crowd outside the shop for our well-known sakhri pedha and barfi. People worked hard and ate a lot.. Back then, a single person could finish a quarter or half kg of the pedhas by himself. In the next few years, people's diet reduced, but new food products started getting introduced in the market. As a result ,people's needs started increasing along with their likes and dislikes. Different varieties of Vadis, Barfis, Laddoos, Modak, Puranpolis, Bengali Sweets etc were introduced. Today, 385 different types of food products, sweet, salty and savoury, are available in our shops, to help people celebrate every day of their lives.
You can get traditional, as well as new and modern food products in our shops, today.. It is because of this, that we can bring in new varieties of products. Before, we used to offer plain kajukatli. But now, we offer different types of flavours of the kajukatli, like fig flavoured kajukatli, gulkand-katli, etc. There are several types of pedha as well, like malai pedha, aamba pedha, kesari pedha, kandi pedha, etc. We also offer different types of chivda, too. People always want something new and different in such things. So, you have to keep thinking and experimenting to find new tastes and flavours. That is why, we believe that there are countless opportunities for businesses to grow in this field.
Let me tell you about an interesting incidence. There was one hall that belonged to Mr. Shreyas Chitale near our branch on Satara road. Once, a girl from Nagpur was set to get married in that hall. The guests were pleased with the menu that the hall had offered, but they wanted the hall to serve the Pudachi Wadi as a sweet dessert. Pudachi Wadi is a special sweet from Vidharbha (the easter region of Maharashtra) and is made in almost every Vidharbhan house. . While thinking about a way to get the Pudachi Wadi in Pune, the name of Kaka Halwai came before his eyes.He came to us and talked about it. We didn't know to make the vadi either, but we assured to buy them from Vidarbha and make them ourselves to complete his order. The people were very satisfied and happy with the Vadi made by us on the day of the wedding.  From that day, we declared the Pudachi Vadi as our speciality. Even today, we talk a lot about how people are getting used to and are enjoying the Pudachi Vadi, whenever Mr. Shreyas Chitale visits us.
This incident isn't actually a big deal, but it is very important from an entrepreneur's perspective.You lose out on an important opportunity to learn and grow in the business if you keep giving excuses like, "this is impossible" or "we only offer the products we want to make" . Entrepreneurs should listen to people's needs, demands and likings and look at them as new opportunities to try something new.We have been doing so constantly for all these years. That is why our small shop near Mandai now has more than forty branches.We have six factories in Pune, where we make our products. We do not tolerate any compromise in the taste and the quality of our products Today, cheap sweets are easily available in the market. However, we cannot guarantee the quality of the ingredients used to make these cheap products. We use the top quality ingredients for our products and the recipes used for making these products are certified too. Plenty of automation is used in the process of making the products too.This reduces human efforts and the taste and shape of the product stays uniform, as it is handled less often.We maintain strict hygiene and emphasize the personal hygiene of our employees.  They are regularly examined for medical check-ups. The factory focuses on cleanliness of the floor, machines, utensils and trays. Because, cleanliness comes first in this business.
Every product in our line of business needs a lot of preparation time.. It is possible to get this work of preparation done from other people. This gives other people to become self employed as well.. However, we need to prepare everything at our own factories for quality control.. The condensed milk used in sweets is made here itself and not ordered from outside shops. Grated coconut, slices of coconut, dry fruits and their powders etc are all made here itself. Every ingredient is inspected. We have food labs for this. The milk is inspected. The flour for sweets like laddoos, vadis, roasting and mixing of khawa etc is all done by the machines/ . The machines have a large capacity and 60kg pedhas and 1000kgs kajukatlis are produced everyday.
The taste and quality of the final product matters more than the quantity of the products produced. We have always made sure to take the needs of the food loving Punekars into consideration and tried to deliver the demands. We also stock different savory food products like Farsan, Bakarvadi, Dhokla, Samosa etc in our shops.. Pudachi vadi  and Cut Samosa are our specialty foods. Kaka Halwai's Saakhri Pedha, Anjeer Barfi, sweets made from Cashew Nuts, Bengali Sweets like Angoor Malai are people's favorites in sweets.
Since we do not compromise on the quality of the products for the sake of quantity and we keep introducing new products, we do not fear any competition.Our products are reaching to a large number of customers by taking advantage of the services offered by online food delivery services like Zomato, Swiggy, etc. We do everything, from accepting online orders to allowing online payments. Every entrepreneur should take advantage of these services to help expand his business.
Today, some of our shops are our franchises.. We have some conditions in order to set up a new franchise. The business will prosper if those conditions are met.. The condition is that 100% of the products offered in the shop should be from our brand only. The name of the shop should be Kaka Halwai only. The layout and decoration of the shop has to be done according to our rules. Franchisees will get 20% of total sales. Many of our successful franchisees have become successful by fulfilling these terms. Pune is growing day by day. The franchisees are now being started in different towns outside Pune as well. In this way, there are opportunities for hundreds of youths in Pune and surrounding districts and talukas to become entrepreneurs.
If someone wants to start his/her own independent confectionary in his/her own village, we are ready to offer advice and some training.If someone wants to start this business, it is important to keep a diversity of products offered.. Running this business on a few productsis no longer easy. As mentioned above, there should be 5-7 types of pedha, unique types of barfi, laddoos, and similarly, a variety in savoury and spicy snacks.
Apart from this, there are numerous opportunities in the business of food processing. There are many different sub-industries in the business of sweets itself. Making and providing Ukdiche Modak, Puranpolya, Khawapolya, Gulpolya, Suraliche vadya etc to the shopkeeper can also be a business.One can start his own business with only one of these products . In addition to that, roasting of chakli, kadboli, or just providing them can also be a business. Making such food products requires skills as well as hard work. The rules regarding quality and taste of the sweets should be followed strictly. There should be enough capacity to provide the food products according to the people's demand. There should be proper time management. The taste of the food should have uniformity. Proper standards of hygiene and cleanliness should be followed. It is also possible to start this business from home initially. One can get a bigger space after following all legal procedures when the becomes more successful and the demand increases.
It is not necessary for someone to have some special skills to set up his own business.For example, one can start his business of supplying large quantities of coconut, cut or grated coconut,  too. Supplying roasted peanuts and grains,  production of dried date powder, cashew-almond slices, dry fruits, cardamom-nutmeg powder, removal of seed from dates and  cleaning them, providing milk, condensed milk and paneer, preparing the vegetables needed for the stuffing of Samosa, cutting of potatoes, etc, can also be a  business. This business can also be done from home.
One can also start a business of making new equipments to help simplify the work in different industries. Initially, the khawa used to make the barfis was mashed manually with big spoons. But now, it can be easily done with the help of automatic instruments wherein they are roasted as well as mashed, without any extra work.We are now able to make the Ukadiche Modak easily after making some changes to the machine that makes Momos. The Modaks are in uniform shape, have a uniform taste, and are made on a large scale in very less time. The machines are also used to clean the big trays. The trays placed in the machine are washed with hot water and are also dried. To know the needs of such machines and making them for everyone's uses is also a good business.
This is a huge field. If you look closely, you will be able to see the vast opportunities in this field.. In fact, there are so many opportunities in this field, that we can say that this business will continue to grow as long as the people are hungry.. Kaka Halwai, who have been doing this business for seven generations have certainly proven this.
Originally Published in Yashashwi Udyojak. Subscribe Today.