How To Start Poultry Farming?
Rural business opportunities are often encouraged by the Government since they provide employment opportunities to the people residing in the area. Farming is always the chief activity in rural areas with availability of land as well as labour but certain businesses can be pursued along with farming or apart from farming as an alternative business. These businesses are quite lucrative and can definitely be explored as profitable business opportunities for aspiring entrepreneurs in the rural areas, without them having to move to the urban regions to fulfil their ambitions.
One such popular business question is how to start poultry farming. A poultry farming is the process of raising birds such as chicken, duck, turkey and geese, either domestically or commercially, primarily for their eggs or meat and sometimes even for their feathers. Poultry farming ensures that consumers get good quality eggs and meat, which has been procured in hygienic conditions and makes these available fresh and at competitive prices. Also, owing to the increased stress on eating healthy, wholesome, nutritious meals which are organically sourced, the demand for products from poultry farms is on the rise too.
For those wishing to take a plunge and reap profits with the business, a few basic essentials factors are discussed which are necessary to know while figuring out how to start a poultry business.
If you are wondering how to start poultry farming, the first step is to learn all about the poultry business. This business has several types and niche sectors to choose from, starting with the two basic types of poultry farming, namely a layer or a broiler. Layers refers to the type of poultry farming where the chicken (or any other bird) is raised for theirs eggs whereas broilers is where the chicken is raised for its meat. Additionally the poultry farm can deal with several sectors or types together ranging from egg production to meat production to poultry feed production to chicken breeding or hatchery to egg and meat processing. It is upto the aspiring entrepreneur to choose from these various types or sectors of poultry farming for the business.
Another decision that an entrepreneur has to make while planning to start a poultry farm business is to choose the type of bird to raise on the farm. Generally, poultry farmers raise birds like domestic fowl or chicken as broilers and duck, goose, quail, peacock, pigeon, turkey as layers.
Additionally, there are two ways by which chickens are raised in a poultry farm. First is the conventional system where the birds are confined and where factors such as lightning as well as temperature can easily be controlled by the farmer and the second is free-range system where the chickens are allowed to roam freely and behave as naturally as possible.
How To Start Poultry Farming Business?
Once the entrepreneur decides on the type and nature of poultry farm that he wants to run, the next steps include the actual setting up of the business and listing of the essentials required for the poultry farm business.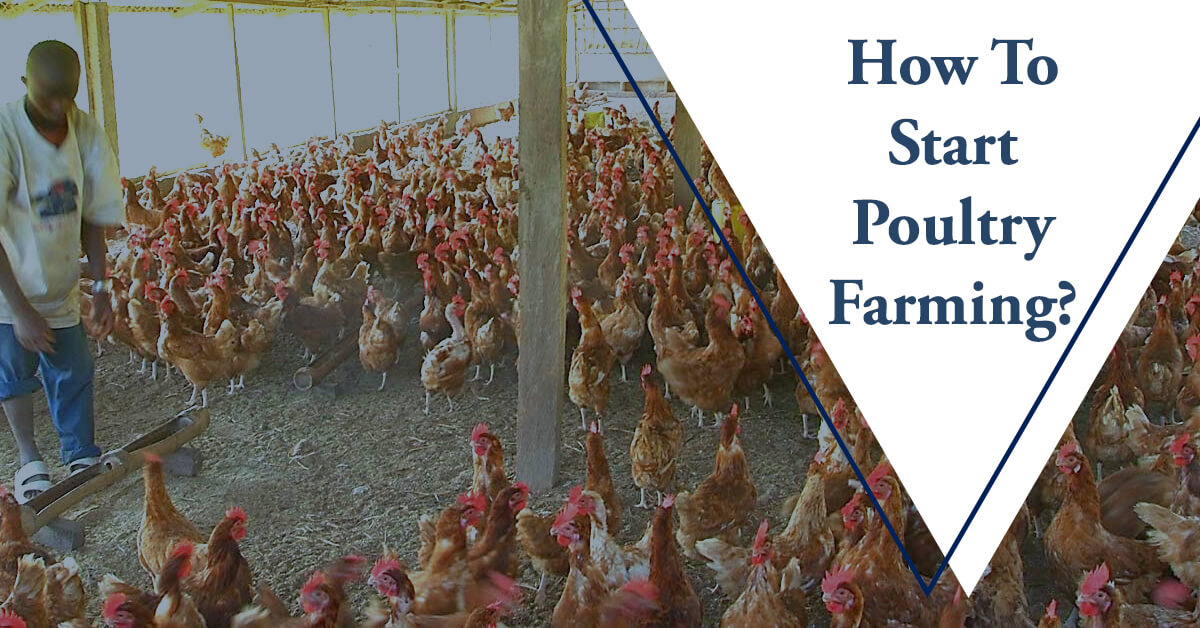 Deciding The Location
Before you ask yourself how to start poultry farming, you need to first ask 'where to start poultry farming?'. The location for setting up the housing facility for the birds within the farm is vital. Ideally the poultry farm must be located away from the noise and chaos of the city, in a pollution free, calm environment. The farm must have adequate, clean and fresh drinking water sources nearby. Also it must be kept in mind that the site is free of poultry enemies and predators like foxes and leopards. The site must be easily accessible from main roads. In other words, transportation must be easy and not very difficult. The local markets must also be easily accessible.
Obtaining The Necessary Licence
While starting any business it is vital to obtain the required licences and registrations to conduct the business legally and sans any hurdles since the permits are in place. Similarly for poultry business, certain mandatory licence and registrations are required. One of them is to register the business as a structured, legal business entity, which could either be as a sole proprietorship or a partnership or a limited liability partnership or even a one person company (OPC) or any other entity as deemed suitable for the entrepreneur. 
Another equally vital licence to obtain is an FSSAI licence which ensures that standard levels of quality are being followed for the processing of the meat or while procuring the eggs. This licence ensures that the eggs or meat are obtained in a hygienic condition and standard procedures have been followed and is one of the most vital licences to register for while learning how to start a poultry business.
Additionally, the poultry farm business can apply for an Udyog Aadhaar registration, which gives recognition to micro, small and medium enterprises, and avail the several schemes and benefits provided to Udyog Aadhaar holders. Also, for systematic and uniform taxation structure registration for GST is a must for every business, including the poultry farm business.
Arranging For Capital
The poultry farming business requires capital while setting up the business in order to build facilities in the farm such as housing area for the birds as well as feeding stations. For those who already have a farmyard or vacant space on their farm or elsewhere, the cost of arranging for land for the poultry farm is saved but otherwise entrepreneurs need to account for capital needed to either purchase a land or lease it to start the poultry farm. Additionally, capital is required for building facilities on the farm to house the birds, feeding areas for them, facilities to store the eggs (in case of layer poultry farming) or equipment and facilities for procuring broiler meat and processing facilities for standard processing and packing of the meat. Equipment costs also need to be considered while setting up the farm along with transportation costs, as well as day to day expenses such as labour wages, water, electricity, fresh feed and several other miscellaneous expenses. The basic equipment required for a poultry farm include- 
Feeders

Drinkers

Brooders

Incubators

Perches

Crates

Nests

Baskets

Lighting System

Cages and coops

Waste disposal
The capital for these expenditures can be obtained via 
Loans from banks 

Loans from non banking financial institutions

Loan or financial aid or support from friends or family

Self funding
A loan from banks or financial institutions is the recommended option as banks support ventures related to agriculture and rural areas and approve the bank application for the poultry farm loan faster, if the documents and the poultry farming business plan are found to be in place and containing desired information.
Conducting Market Research
In order to run a poultry farm prior knowledge and experience is required regarding how to raise the birds, what feed is optimum for them, what are the ideal housing conditions for the birds, why is lighting important and how to provide ventilation to birds in a caged facility. Further knowledge of how to obtain the eggs or meat, how to process it and how to store it is equally vital. All this can be learnt by studying the market, researching the trends that are favorable for the business, acquiring knowledge and training about basic skills required to run the business. Additionally, researching the competitors and how they are marketing their products can help give the entrepreneur an idea as to how to run their own poultry farm business.
These are some of the essentials to keep in mind when you are wondering how to start poultry farming. It is vital to know about the basics of the business and the niche sector that aspiring entrepreneurs wish to venture into while starting the business. For additionally guidance and assistance while starting a poultry farm business, new entrepreneurs can approach deAsra for their support.