How To Start A Cyber Cafe?
Computers have become an integral and vital part of every person's life. Today, applying for social identity cards (Aadhar card), school forms, college forms, University applications and all kinds of applications and registrations are all online and need to be applied via their websites only. Similarly, booking tickets for travel, whether it's for a train, plane or bus, booking of hotels and holidays is all done online via the computer. In fact, written work is also exclusively done on the computer nowadays. Computers play a very vital and essential role in our lives today, such that, it is difficult to imagine how things operated without them earlier. However, not everyone has the feasibility of owning a computer. Also, sometimes PCs and laptops can crash and need repair or when travelling to a different city, the absence of a computer can create quite a difficult situation. At times like these, a cyber cafe acts as a blessing. If you are wondering how to start a cyber cafe then this article is a must-read.

What Are Cyber Cafes?
A cyber cafe, often referred to as an internet cafe, is a small space or a convenience store, where there are a number of computers and access to the internet is available. Customers can use the computers and the internet for a small fee and this fee is charged on a time-based rate. Often, along with computers, a cyber cafe also houses printers, scanners and xerox machines and the customers can print or scan documents while accessing the computers.
What Are The Needs And Advantages Of Cyber Cafes
Cyber cafes are a popular concept, especially in a country like India where the majority of the population is lower middle class and where purchasing a computer is still an expensive affair. Cyber cafes provide access to computers and the internet to a number of people, especially those who cannot afford to purchase it. Considering computers and internet access are an integral part of our lives, cyber cafes are much needed and in demand too.
One of the major advantages of cyber cafes is that the computers at the cyber cafes are configured with the latest software and hardware, thus allowing customers to use the computers for a number of purposes other than for accessing the internet, such as for gaming or creating presentations or printing a document or scanning a photo or accessing other specific features of the computer, as per the need. Also, cyber cafes charge a certain amount for using the computers on an hourly rate, which is quite reasonable and affordable, as compared to purchasing a computer and configuring it with all the software and hardware and games. Also, cyber cafes allow people to interact and socialize with each other, which is not possible in the privacy of a home. In a cyber cafe, the users can solve their queries by interacting with others at the cafe and also learn new skills owing to their interaction with a number of people at the cyber cafe. 
Starting a cyber cafe is a profitable business, especially since computers are an indispensable part of daily living and needed for a number of things. Additionally, the cyber cafe business does not require a large investment nor does it require special furniture or several types of equipment or a very luxurious setting, therefore being easy to set up and start the business.
How To Start A Cyber Cafe?
A Cyber Cafe business is relatively easy to set up but a basic knowledge of the steps and processes involved is needed. A few vital steps are discussed herewith.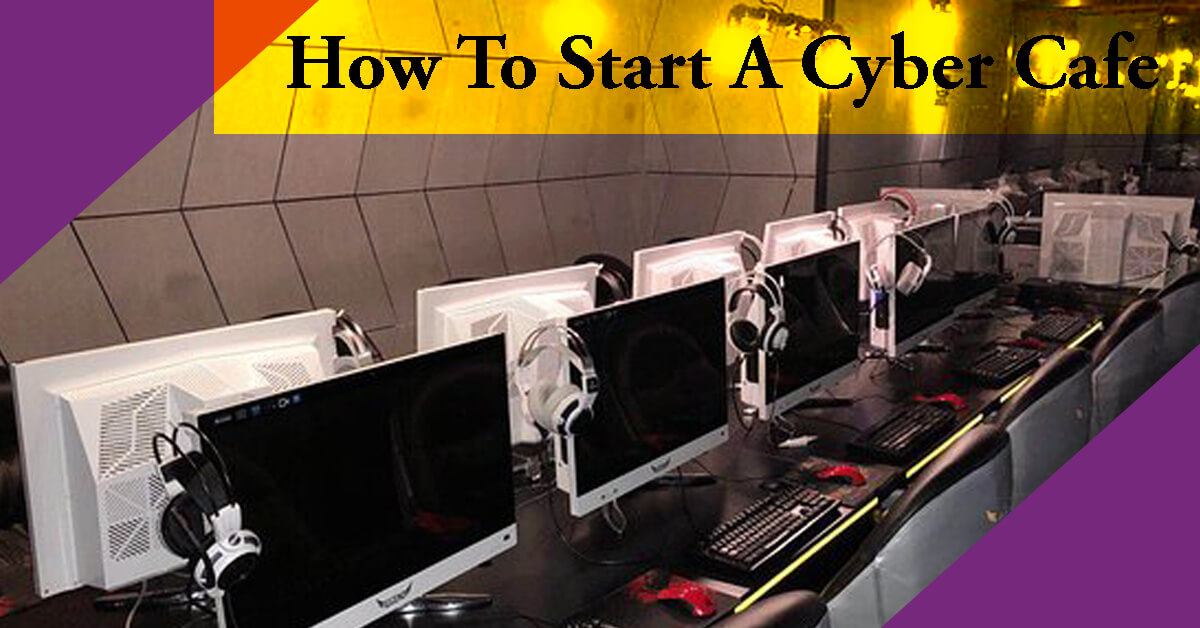 Start With A Business Plan
Before you get into the details of how to start a cyber cafe, you need to study the basics of this field. For any venture, business planning is the foremost task. When in doubt, you can always rely on a good business plan! Your cyber cafe business plan will act as guidelines for your business. A business plan mainly includes the expenses, description of your business, marketing and development strategies, management and other such important factors of a business. It is a comprehensive data of your business which will help you strategize your business.
Conceptualize The Cafe
A cyber cafe is a business idea that has been around for quite some time. Therefore in order to start a business in this field, entrepreneurs need to think and formulate an idea as to how the cyber cafe should be and how it should be run. For instance, the cafe could serve food and beverages along with access to the computers or alternatively, there could be an exclusive area just for gamers with special lighting and seating for avid game buffs to play and enjoy at the cyber cafe. Conceptualizing the cafe is an important first step in learning how to start a cyber cafe.

It is equally important to acquire the training and skills needed to start and run the business, especially technical knowledge of computers, their configuration, hardware and software. Along with information about computers, entrepreneurs need to know about setting up the place, such as construction and renovations, electrical work, network setup, computer and software installation, and setting up a security system.

While conceptualizing the type of business, entrepreneurs must also list the items needed for the cyber cafe such as computers, printers, routers, network cable, RJ-45 jacks, crimping tools, software such as Microsoft Windows (along with Microsoft Office suite), and also alternative platforms such as Macintosh operating system (Mac OS),  Linux, OpenOffice suite, as well as install firewalls and antivirus protection software. Additionally, the cyber cafe will also need tables to keep the computers, chairs, separating partitions or kiosks to give the customers privacy while they access the computer and surf the internet. Also, if serving food then the cafe needs basic equipment like a coffee machine, refrigerator, microwave, plates, glasses and cutlery to serve the customers. 

Entrepreneurs must conceptualize a clear plan for the cyber cafe, and how they want it to be to form an all-inclusive list of the requirements of the business. Aspiring entrepreneurs can talk to existing cyber cafe business owners and visit a few cafes to help formulate a clear idea about their own cyber cafe business.
Arrange For Funding
Capital is important for starting the cyber cafe business because funding is required to purchase or rent a commercial space for the cafe, and to purchase the various equipment including computers, network cables, printers, software and hardware as well as to buy the furniture for the cafe and for the day to day operational costs of the business, including electricity bills, maintenance and repair costs, salaries of workers, etc. All the minute expenses need to be considered and noted in order to apply for funding for the business.
Funding for the business can be obtained via bank loans or loans from NBFCs (non-banking financial institutions) or can be borrowed from friends and family or the business can even be started from one's savings. However, loans are more suitable for starting the business.

 

Entrepreneurs need to present the cyber cafe business idea to the loan officials and have all the documents and paperwork required for the business, ready. For a first time entrepreneur, applying for a loan can be intimidating, which is why he can avail of service such as the

facilitation of funding services

which helps entrepreneurs create a business project report, access the feasibility of the idea and help put together the documents and provide support while applying for the loans. 
Find A Location
The next step after conceptualizing the business idea and getting help to arrange for funding for the business, the next step involves actually finding a suitable place to start the cyber cafe. The location of the cafe must be to attract crowds, especially young customers, and therefore can be situated close to a school or college or near shopping malls or near food cafes. Also, the place must be easily accessible. While fixing the location for the cyber cafe, it is better to rent a place initially rather than purchase it because it helps to judge the suitability of the location and saves from huge capital investment.

After the space for the cafe is finalized, it must be designed ergonomically, to make maximum use of the minimum place. The placement of the computers, electricity connections, and seating arrangement must be made keeping the ease of the customers in mind while ensuring no damage is done to the computers and equipment. 
Obtain Necessary Permits
The next step involves obtaining the necessary licences and permits required to run the business. A cyber cafe does not require many licences except for business registration, a Shop Act License if operating the cafe within the city's municipal limits, a GST registration for ease of taxing and any gaming licences as required by the authorities. It is vital to know about the licences and to procure them before starting the business, to help operate the business without any legal issues and it also creates a professional outlook for the business.
Promote The Cafe
After the main steps of starting the cyber cafe are followed, the next vital step involves promoting the business. In order to advertise about the cyber cafe, fliers can be handed out, newspaper advertisements can be printed along with offering promotional deals such as discounts for customers sitting in the cafe, accessing computers for a longer time. Social media platforms and radio advertisements can also be used to spread the word about the business and introductory deals such as membership programs, access to new games, etc can be used to grab the attention of potential customers.
If understanding how to start a cyber cafe and handling all the aspects of the business seems overwhelming for new business owners, help can be sought from deAsra, who will help entrepreneurs with the preparation of proposals for funding and for other aspects of the business.