Happy Women's Month!
Free registrations for women entrepreneurs at deAsra, starting today!
8th of March is celebrated the world over as International Woman's Day. Individuals, companies, fathers, sons, husbands, brothers, men in particular and practically everyone out there, puts in their bit to offer their love and respect to the women in their lives.
Many ads, videos, messages, roses, cakes, gifts, fly around. Many companies and the Government launches initiatives for the woman. ICICI Bank announced this year that women working with ICICI Bank have the opportunity to work-from-home for a period of a year. What a lovely initiative, by Chanda Kochhar. Imagine how many new mothers, and their new babies will benefit with this one move! Imagine how many daughters will be able to look after their old parents with this one move! This is just one of the initiatives sweeping across the world. There are many more.
Amazing how one woman can spark of a chain of positive thoughts, ideas and action across the globe on a single day, isn't it?
Indeed, the woman is an amazing creation and she deserves every bit that makes her comfortable and happy.
Apart from all the roles that a woman has been playing diligently – that of a daughter, sister, wife, daughter-in-law, mother, mother-in-law, the one role that she plays amazingly well, is of a working professional, of an entrepreneur.
Women are natural entrepreneurs. They are naturals when it comes to taking initiative, multi-tasking, organizing, planning, committing to a cause, delivering on their commitment, taking ownership, building relationships (customers), building teams and nurturing.
We salute this seemingly new role that today's woman is eagerly and successfully playing, that of a businesswoman. More and more women, from all quarters, cities, towns and even villages are coming forward to carve a niche for themselves. They struggle to achieve a dream, however fleeting it may seem, a dream of having something of their own. A business of their own. Their own identity.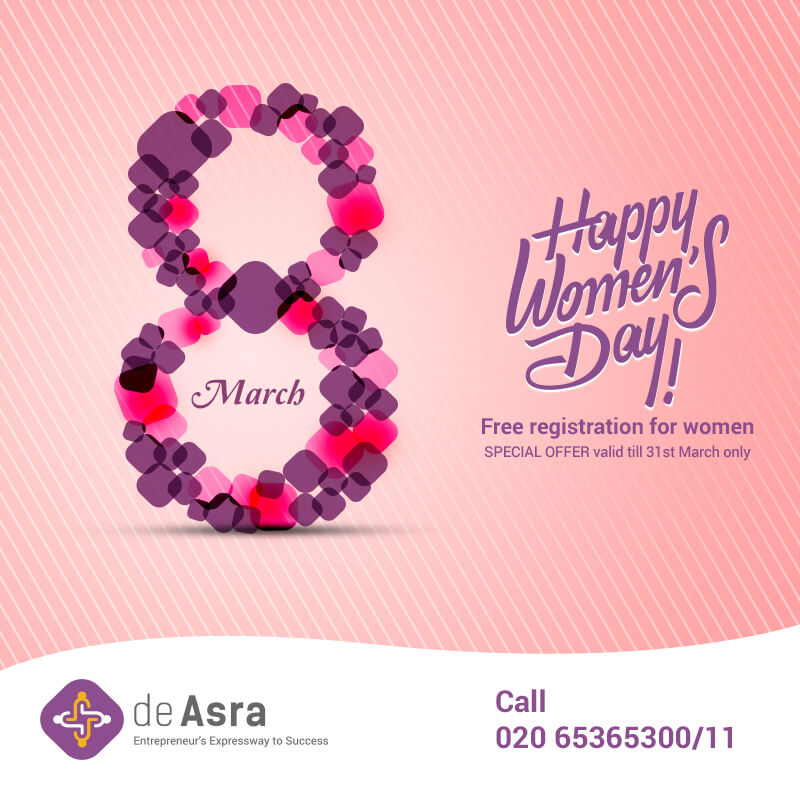 Women entrepreneurs are getting into everything right from cooking to storming male bastions like building large companies in sectors that demand a lot more. And they are doing a great job everywhere.
We love the urge, the conviction, the guts, the grit and the perseverance of women entrepreneurs. We love their commitment, their winning attitude despite obstacles aplenty. We also love the men in their lives, their families for the support they are extending to these women.
This truly is the Age of the Woman Entrepreneur.
And we at deAsra would like to offer our mite, our support in making her a success.
deAsra announces a Women's Month where we will offer all women who come to us, Free Registration! Starting today!