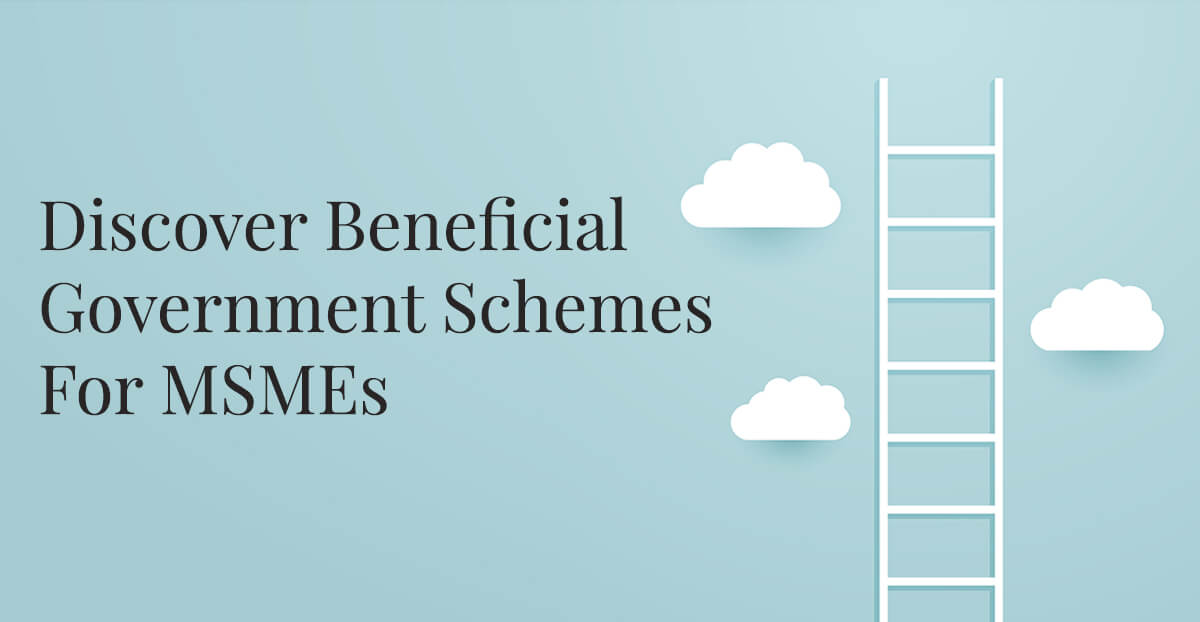 Discover Beneficial Government Schemes For MSMEs
Starting a business requires entrepreneurs to work hard, be dedicated and passionate about realising their business dreams and on this entrepreneurial journey entrepreneurs can do with all the assistance that they can get. The Government of India has a number of beneficial schemes for Micro, Small and Medium Enterprises to help them at every step on their journey to bringing their entrepreneurial dreams to fruition. However, often business owners are unaware of these government schemes for MSMEs which can help their businesses tremendously, whether in terms of financial assistance or any other guidance.
deAsra, with the help of its partner, Haqdarshak, now keeps entrepreneurs updated with the latest government schemes for MSMEs and helps small business entrepreneurs apply for the same. Five such government schemes for MSME are discussed here in  detail, including their salient features and the terms for eligibility.
5 Government Schemes For MSMEs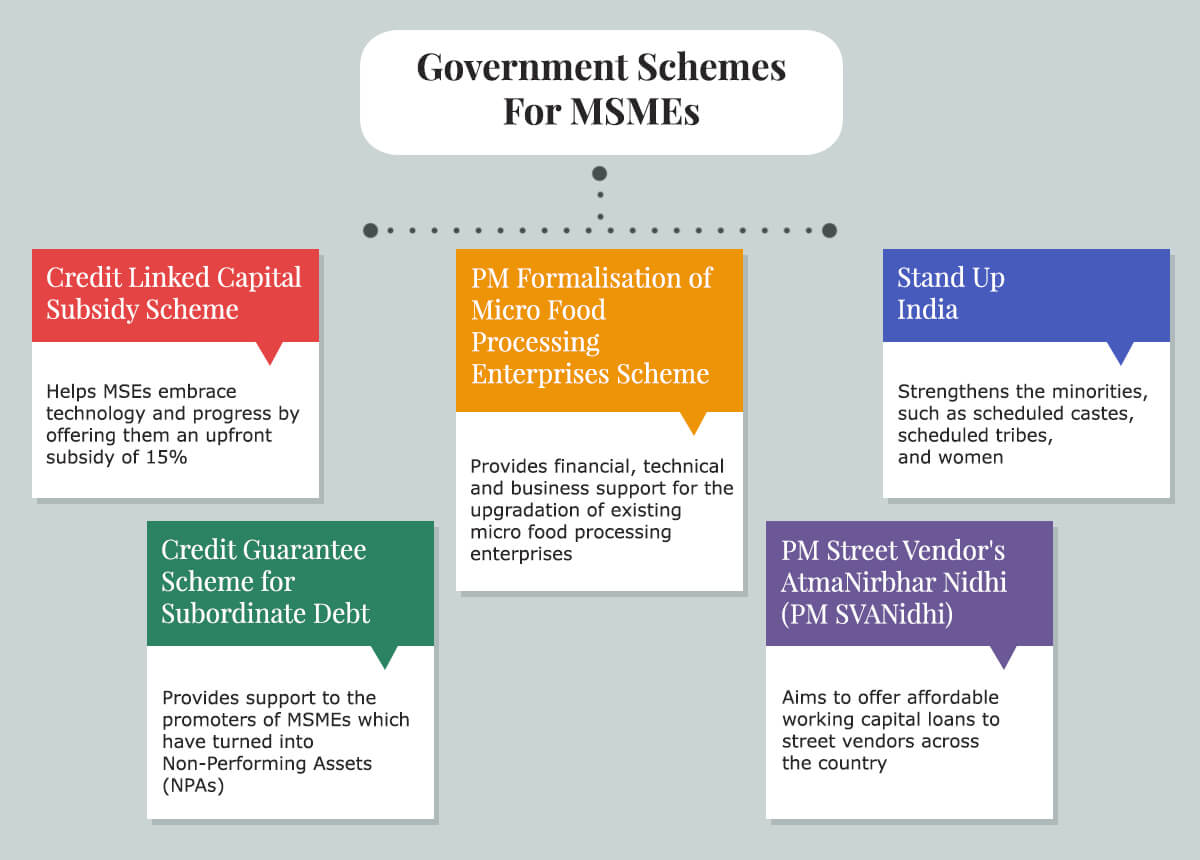 Credit Linked Capital Subsidy Scheme
A number of Micro and Small Enterprises (MSEs), such as tiny units, khadi units, village and industrial units, coir industrial units, etc., need a technology up-gradation in terms of new machinery, modern equipment and techniques. The Credit Linked Capital Subsidy Scheme (CLCSS) for Technology Upgradation helps these MSEs to embrace technology and progress by offering them an upfront subsidy of 15%.
Details And Objectives of CLCSS
This

government scheme for MSME

/MSE facilitates technology up-gradation in MSEs – such as upgrading the plant, or its machinery with state-of-the-art technology or helping new MSEs set up their facilities with appropriate, eligible and proven technology duly approved under scheme guidelines.

The scheme provides an upfront capital subsidy of 15 per cent (on institutional finance of up to Rs 1 crore availed by the MSE). The ceiling on the subsidy would be Rs.15 lakh or 15% of the investment in eligible plant and machinery, whichever is lower.

The scheme has approved 51 specified sub-sectors or products for the induction of well-established and improved technology. 

The list of technologies is available at

www.dcmsme.gov.in
Eligibility For CLCSS
Micro and Small Enterprises (MSEs) having a valid UAM (Udyam) number are eligible to apply for the Scheme.

The scheme does not qualify to replace the existing machinery/equipment with the same technology/machinery or to purchase second-hand machinery for the subsidy. 

The eligible beneficiaries for this scheme are women entrepreneurs, Private and Public Limited Companies in the SSI sector, Co-operative societies, Partnerships, Proprietorships.
The CLCSS MSME Government Business loan scheme for technological upgradation can benefit a number of businesses tremendously.
Credit Guarantee Scheme for Subordinate Debt
The Credit Guarantee Scheme for Subordinate Debt (CGSSD) is a scheme launched by the Government to provide support to the promoters of MSMEs which have turned into Non-Performing Assets (NPAs) as of 30th April 2020 by providing a certain amount as equity for the MSME units to thrive. This Government scheme for MSME will help businesses revive themselves and function again.
Details And Objective Of The Scheme 
The scheme provides a collateral-free loan or working capital facility up to a limit of Rs 2 crore for MSEs from Banks/Financial institutions/Regional Banks/NBFCs.

According to the scheme, 90%  assistance will be provided by the trust or the scheme, and the remaining 10% by the promoter.

The MSME promoters will be provided credit equal to 15% of their stake or Rs.75 lakh, whichever is lower.

The scheme's maximum repayment tenure is 10 years and the moratorium on payment of principal is 7 years.

Since it is difficult to provide an outright loan to the promoter, a sub-debt with a guarantee will ensure that the MSME unit is given the necessary financial assistance to function.

The MSMEs that have become NPAs or are on the brink of turning into one, will be able to revive themselves and function in a sustainable manner owing to this subordinate debt.
Eligibility For CGSSD Scheme
The MSMEs whose account has been operational since 31 March 2018, or has been deemed a standard or NPA account during the financial years 2018-19 and 2019-20 can apply for the CGSSD scheme.

Also, MSME units that are stressed and are considered to be SMA-2 or NPA accounts as of 30th April 2020 can apply for this scheme.

The promoters of the MSME units will be provided with a personal loan. These units can be partnerships, private limited companies, registered companies, proprietorships, etc.

Any fraud or willful defaulters are not eligible to apply for this scheme.
Businesses and promoters will benefit from the CGSSD scheme and will be able to look for opportunities to function and provide employment, thus helping improve the economy. To know more about  the CGSSD government scheme for MSMEs, entrepreneurs can visit https://msme.haqdarshak.com/en?utm_source=deasra

PM Formalisation of Micro Food Processing Enterprises Scheme
The Ministry of Food Processing Industries (MoFPI), in partnership with the States, has launched an all India centrally sponsored "PM Formalisation of Micro Food Processing Enterprises Scheme (PM FME Scheme)" for providing financial, technical and business support for the upgradation of existing micro food processing enterprises. 
Details And Objectives Of The Scheme 
The projects under the scheme are eligible for loan up to 90% of the estimated project cost on submission of viable projects by eligible beneficiaries.

The scheme aims to provide support for capital investment for upgradation and formalization with registration for GST, FSSAI hygiene standards and Udyam Registration.

The scheme increases access to finance by micro food processing units, and increases in revenues of target enterprises.

It also assists capacity building through skill training, imparting and enhancing technical knowledge on food safety, standards & hygiene and quality improvement.

The scheme also provides hand-holding support for the preparation of DPR, availing bank loan and upgradation.

The scheme also grants support to Farmer Producer Organizations (FPOs), Self Help Groups (SHGs), producers cooperatives for capital investment, common infrastructure and support branding and marketing.
Eligibility For The Scheme 
The scheme is applicable for an All India basis.

The individuals eligible for the scheme are micro-enterprises who will

get credit-linked subsidy @ 35% of the eligible project cost with a ceiling of Rs.10 lakh.

Also, FPOs/SHGs/Cooperatives are eligible.
This government scheme for MSMEs will benefit all the unorganised and organised sectors that are eligible for the scheme.
PM Street Vendor's AtmaNirbhar Nidhi (PM SVANidhi)
The PM SVANidhi scheme, launched on 1st June 2020 aims to offer affordable working capital loans to street vendors across the country. The scheme falls under the Atma Nirbhar package handled by the Ministry of Housing and Urban Affairs.
Details And Objectives Of The Scheme 
The scheme's objective is the provision of working capital loans at affordable rates of interest to street vendors who have been affected due to the lockdown owing to the Coronavirus pandemic.

The scheme is available via a mobile application too. The application offers the benefits of easy portability, e-KYC, easy application processing, and real-time monitoring.

Vendors applying for the loan will be eligible for an interest subsidy offered at a 7% rate. The amount generated through the subsidy will be credited to the borrower's account every quarter.

As per the latest announcements, the subsidies will be extended to the borrowers till 31 March 2022

The scheme also facilitates the provision of a cashback facility to the borrowers when they make transactions through digital media. These cashback benefits will be available using leading digital payment portals like NPCI, Paytm, Google Pay, PhonePe, Amazon Pay, etc. 
Eligibility For The Scheme 
This scheme is for borrowers who belong to the States and Union Territories which have rules and schemes under Street Vendors Act, 2014. 

All the vendors who have been engaged in vending business in urban areas across the country before 24 March 2020 will be eligible for the scheme. However, the vendors must possess a Certificate of Vending or ID card which has been issued by the Urban Local Bodies (ULBs).

Vendors who have been left out or who started vending after the survey conducted can apply for a Letter of Recommendation issued by the ULB to be eligible.  
This MSME government business loan scheme will help street vendors procure working capital for their business.
Stand Up India
This scheme was introduced to focus on strengthening the minorities, such as scheduled castes, scheduled tribes, and women.
Details And Objectives Of The Scheme 
The scheme provides financing for Scheduled Caste (SC), Scheduled Tribe (ST), and women entrepreneurs to realise their business dreams by providing bank loans ranging from Rs.10 lakh to Rs.1 crore. The loans are mostly for first-time ventures which may cover up to 75% of the total project cost and require the entrepreneur to commit to at least 10% of the value.

The scheme is a composite loan that is inclusive of a term loan and working capital loan.

The loan can be repaid over seven years. Also, the scheme offers a moratorium period of up to 18 months.

For the disbursement of the loan, an amount of up to Rs 10 lakhs can be sanctioned via an overdraft and can be accessed by RuPay debit card and sums above Rs.10 lakh can be sanctioned in the form of a cash credit limit. 
Eligibility For The Scheme 
Those eligible for the scheme include SC/ST individuals and women entrepreneurs. The applicants must be aged above 18 years.

For the loan scheme, only greenfield projects can apply.

Also, non-individuals, such as existing firms and businesses, can also apply for the scheme. However, 51% of the shareholding and controlling stakes of the firm must be held by either SC/ST and/or women entrepreneurs.

Additionally, the borrower should not have defaulted at any bank or financial institution to be eligible for the scheme.
This government scheme for MSMEs with the aim to strengthen SC/ST and/or women entrepreneurs will help uplift the economy too.
These are 5 of the Government schemes for MSMEs that are beneficial and can help them start-up, grow and expand. To know more about these schemes in detail and to also know about other government schemes entrepreneurs can visit deAsra's page or https://msme.haqdarshak.com/en?utm_source=deasra.