Factors Leading To Creation Of Non Performing Assets
As we are aware, any amount which is due for payment to the bank, but not paid, is termed as ''Overdue". Bank has to classify its loan accounts under two categories, viz. Performing assets (PA) and Non-Performing Assets (NPA).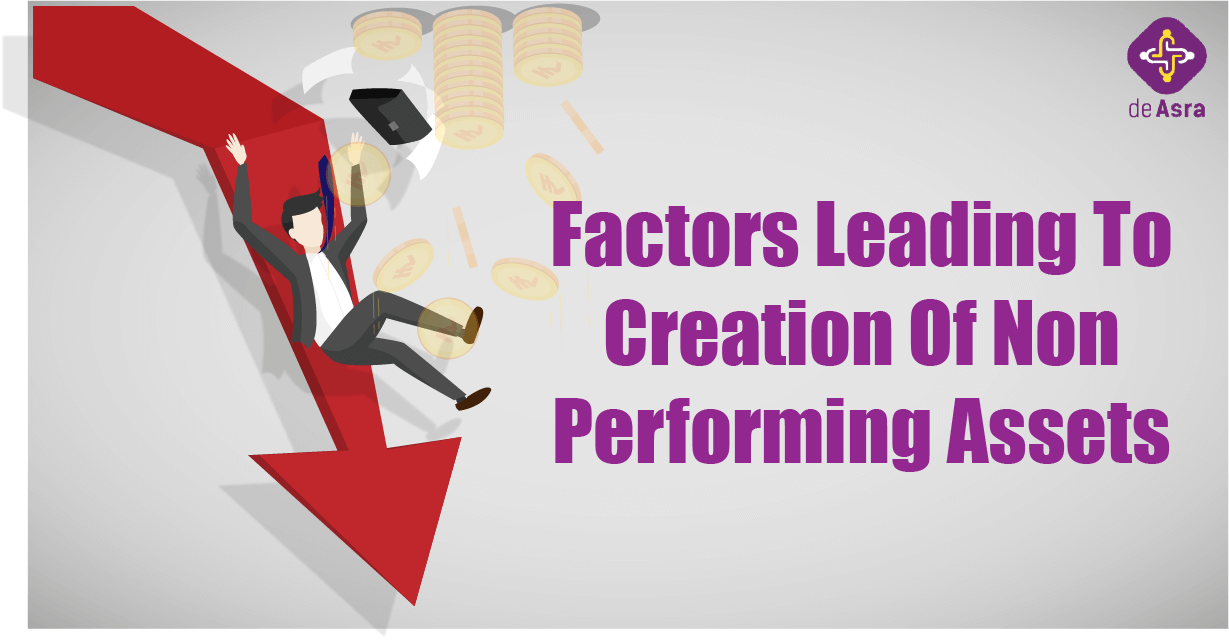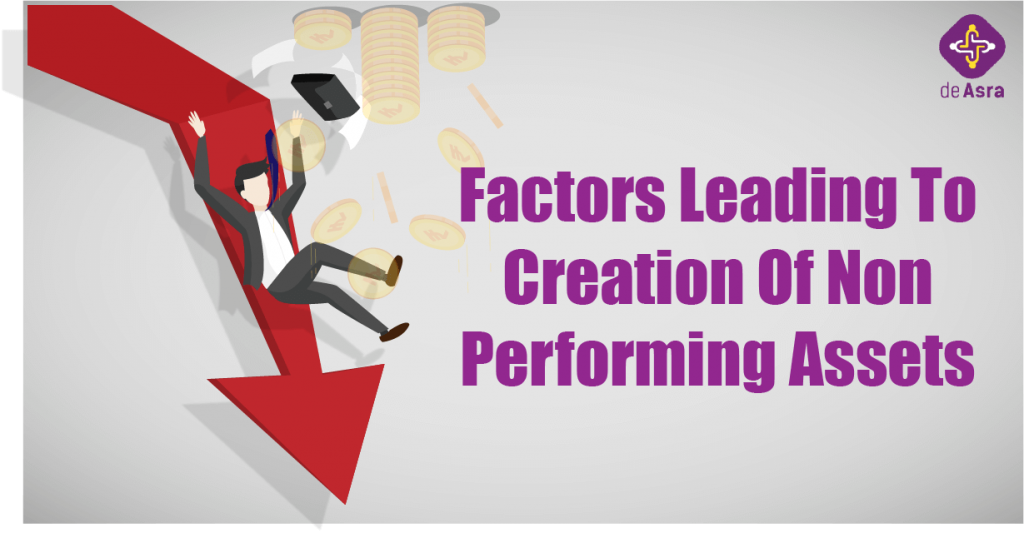 An analysis of NPA accounts indicates the following major reasons for accounts becoming NPA.
1. Diversion Of Funds
Credit facilities are sanctioned by banks for a specific purpose. Banks generally grant such facilities by assessing the needs of the borrower, taking into consideration appraisal with respect to the economic viability and technical feasibility, contribution towards the project by the borrower etc. While making assessment, certain presumptions are made. However, in practice, after disbursement, when the funds become available to the borrower, or when the sale proceeds are utilised for personal consumption instead of being recycled in business, funds get diverted for other purposes, other than the purpose for which they are meant to be used. Such diversion could also be for modernisation, expansion, helping associate concerns or projects etc.
On some occasions, it is observed that the finance provided by banks for working capital,(termed as cash- credit limit) i.e. for carrying out day-to-day operations of the business cycle in a smooth manner, are diverted for purchase of fixed assets, e.g., for purchase or renovation of office premises, machinery or construction of shed etc. On such diversion, the operating cycle gets affected due to the shortage of working capital. This results in resource crunch on day-to-day operations, which ultimately lands the business cycle in problems and it may come to a halt. This strains/ stops income generation and it becomes difficult to service the interest/instalment in time. The ultimate result is the account becomes sticky for recovery. In this way, non-observance of financial discipline is a major cause for the account becoming non-performing.
2. Business Failures – Internal factors
As already stated, credit facilities are sanctioned based on certain business assumptions, as to the level of sales, growth in sales in subsequent years, period of credit available for purchases and that offered to buyers on sale (position of creditors and debtors), availability of raw material, labour, power, marketing of the product etc. When, for any reason, these assumptions or projections get disturbed, such disturbance affects the projected cash flows of the business. When cash generation falls short of the expectations, the default in repayment is bound to occur.
Other internal factors are:-
a. Delay in project implementation and cost overrun. The business cannot escape the interest burden because of such delay and this may affect the viability of the project. e.g. If a loan is taken for importing a machine costing Rs. one crore, and is expected to start functioning in 6 months, and for unforeseen reasons it takes 12 months, the increased interest burden for additional 6 months would be a few lakhs. Sometimes banks consider this additional cost in project cost for the purpose of financing, but this additional burden may not be sustainable for the unit. Such projects suffer even before implementation or during implementation.
b. Failure of the product or poor marketing strategies.
c. Prevailing poor outlook for a particular sector/segment. e.g. the real estate sector suffered a setback for some time after demonetisation or after the application of GST. Along with this, the other segments and businesses depending on it also suffered such as the material suppliers, painters, interior decorators etc.
d. Inefficient/incompetent management.
e. Strained labour relations.
f. Problems in technology or updation of the product as per market requirements which can be termed as technological obsolescence.
g. Disputes among Promoters/Partners/ Directors.
h. Non –compliance of legal requirements.
i. Dependence on a single vendor for the supply of raw material or on a single buyer for sales.
j. Wilful default. Banks have little control on fraud or misappropriation by the borrower. On most of these occasions, instances come to surface when the damage is already done and is irreparable.

3. Business Failure – External Factors
External factors governing the business may also result in business failures. Many times such factors are beyond the control of the businessman.
Some of these factors are:
General recession
Default by buyers ( late/delayed realisation of debtors)
Abnormal price escalations of raw material or other inputs, the burden of which cannot be passed on to the buyers
Shortage of raw material or other inputs
Changes in Government policies
Exchange rate fluctuations in respect of businesses involving import-export. Bilateral relations between India and other countries
Environment policies
Accident at office/factory/unit resulting in stoppage of business for a considerable time or on a permanent basis
Natural calamities such as flood, fire etc.
Shortage of power, water etc.
NPA itself, where banks themselves are responsible
4. Banks Being Responsible For NPAs
It may occasionally happen that the bank itself could be responsible for accounts becoming NPA.
1.Banks sometimes so much get involved in their systems and procedures, documentation and other legal formalities that there is a delay at some stage in appraisal or sanction or disbursement which may have an impact on the business or may result in loss of business opportunity.
2. Factors like time overrun or cost overrun are already covered above.
3. A conservative approach may result in an inadequate amount of sanction. In such a case, the borrower may resort to external borrowing which usually carries a high rate of interest. Naturally, this borrowing gets priority over repayment due to the bank and the bank repayment gets delayed to an extent.
4. Sometimes when external pressures work, the merits/demerits of the case get ignored while sanctioning and often in such accounts, recovery is difficult.
5. Incorrect sanction stipulations regarding repayment without assessing repayment capability in terms of cash flow generation and time of cash flow, so also inadequate moratorium, (repayment holiday allowed till actual commencement of business or cash flow generation) thereby overlooking the gestation period required may lead to defaults in repayment.
6. Once the account becomes NPA, some bank officials totally deny the slightest concession or even a small credit sanction even if such sanction would finally lead to the borrower coming out of his problems. Taking proper judgement in these cases is avoided for the apprehension of further deterioration or staff accountability reasons.
7. Non-adherence to the terms and conditions of sanction, poor credit monitoring which includes field visits, scrutiny of stock statements furnished by the borrower, timely scrutiny of Balance Sheet and Profit and Loss account etc. also results in accounts becoming stressed for recovery.
These reasons cover the majority of the factors responsible for a bank asset becoming an NPA and helps business owners become aware as to how to avoid being classified as an NPA since that negatively affects the business and its reputation.
Article Contributor:
Mr. Shirish Potdar
Mentor deAsra
Mr. Shirish Potdar is a hard core banker and has a three decade combined experience with both Nationalised and Cooperative bank. Currently he is a mentor at deAsra Foundation with 37+ years of experience in banking.