Baskin Robbins – The King of Ice Creams and Cakes
People who do not like ice cream are very rare. Ice cream is that one food item which can be enjoyed in any season. That is why big ice cream brands are so popular. 'Baskin Robbins' is one of the most famous brands of ice cream in the world.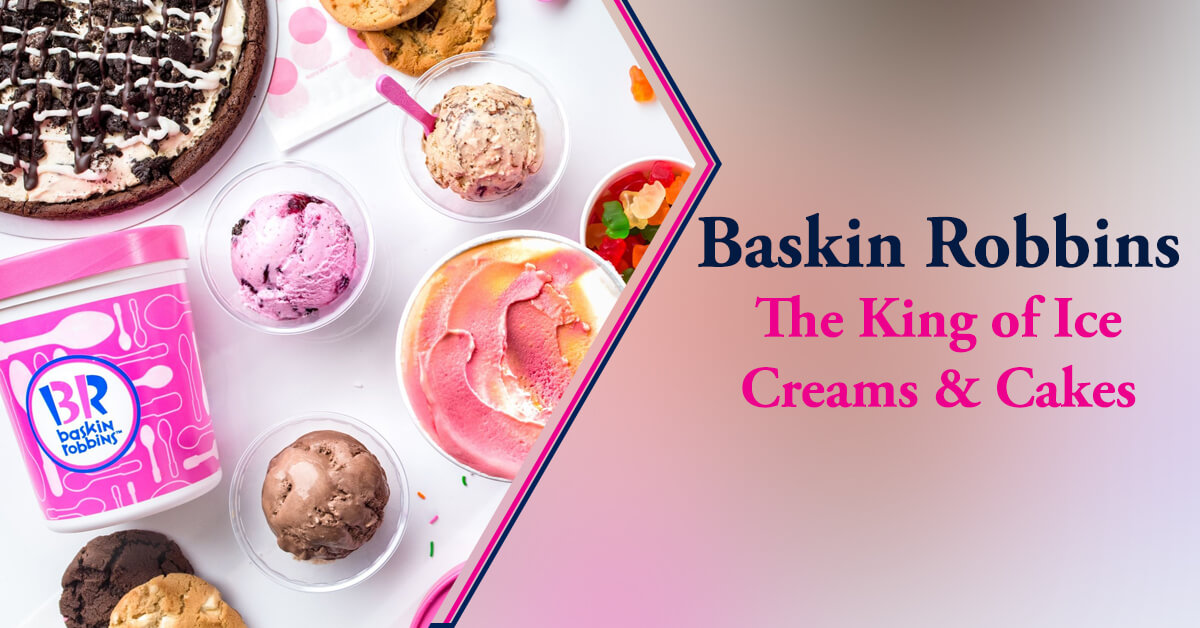 Baskin Robbins is probably the only brand of ice cream, that takes the likes and dislikes, as well as the needs and new demands of its customers into account.  Baskin Robbins was first introduced in Massachusetts, America in the year 1945. Today, Baskin Robbins is known for the 31 various flavours of ice cream that they have developed. But, has anyone ever wondered how Baskin Robbins, who have completed 55 years in this industry, came this far with just 31 flavours of ice cream. The truth is Baskin Robbins has developed a staggering 1000 different flavours of ice cream over this period of 55 years.
Baskin Robbins was named after 2 Jewish gentlemen named Mr. Burt Baskin and Mr. Irv Robbins. Both of them originally owned their own ice cream shop businesses in Glendale, California. One was named 'Burton's Ice Cream Shop' and the other was named 'Snowbird Ice Cream'. Snowbird was famous for its 21 flavors. Back then, the idea of ​​having a variety of flavours in ice creams was new. In the year 1953,  Burton's Ice Cream Shop and Snowbird Ice Cream were merged into one,  and a new ice cream shop called 'Baskin Robbins' was born . Baskin Robbins was known by and famous for their slogan, '31 Flavours'.
Many decades ago, hundreds of able, talented young men from Israel came to America for the sake of the freedom of their country which had been shackled by slavery for thousands of years. Mr. Burt and Mr. Irv came from the second generation of these men. For these immigrants, the area of Israel was nothing compared to the gigantic size of America. Also, English was not the first language for these men, but the beat the odds to settle down and prosper.
Mr. Burt Butch Baskin was born in 1913 and died in 1967. He was born in Illinois. He was the son of Harold Baskin, a Russian-Jewish immigrant. Harold came to the United States in 1925 and started his own clothing store. He got married in 1902. In 1905, he came back to Streator. He ran this shop till the year 1942 and then handed it over to his boy. Mr. Burt was in Chicago then. In 1942, Mr. Burt got married to Mr. Irv's sister, Shirley. He decided to take a break from the shop and joined the Navy. He returned to California after an early retirement in 1946.
Mr. Robbins was then in the profession of ice cream production. The relationship between him and Mr. Burt was very good. Mr. Robbins suggested him to join his business of ice cream production instead of running a clothing store. Mr. Baskin decided to listen to Mr. Robbins's advice and started his own ice cream parlor in Pasadena in a few months. By 1948, there were 5 branches of Snowbird Ice Cream Parlor and 3 branches of Burton's Ice Cream Parlor. They both then brought their businesses under a single brand and introduced their 31st flavour in ice cream: Chocolate Mint.
They forgot everything about their old ice cream shops while inventing new flavours for their new business. So, they decided to hand their old ice cream shops over to their managers and the concept of 'Franchisee' was born. In 1985, Mr. Robbins gave an interview to the Los Angeles Times. In this interview, he said that they started the first franchise and ran it successfully, when the word 'franchise' did not even exist in this industry. This series of franchisees continued and they became America's first businessmen to start franchisees in the food business.
40 franchises of Baskin Robbins were started in just one year and they had to buy the Burbank's Dairy after taking in the public demand.
In 1953, an important step was taken. Both of the two industries were merged, but they had to give a new brand name to it. Hence, they named it Baskin Robbins. In 1949, the number of shops went up to 49. The customers were happy and enjoyed all 31 flavours. A concept of different flavour every day was started. In 1960 the number of shops went up to 100. After selling the huge empire of Baskin Robbins for 12 million dollars in 1967, Mr. Robbins kept working for the company for 11 more years. He retired in 1978.
Mr. Burt and Mr. Irv  met each other in the year 1941 and became close friends. Mr. Irv's sister, Sherley and Mr. Burt fell in love with each other and got married in Washington next year. They had two sons, Eddie and Richard. During this time, Mr. Burt and Irwin handed over the branding and designing work to the Carson-Roberts Advertising Company in 1953, and told them to give a nice look for the brand name and poster. The design of the logo with pink and brown polka dots around the number 31 along with unique doodles was first featured on the store in Glendale, California. Today, more than nine thousand shops bearing the specifically styled letters and color scheme of 'Baskin Robbins' are scattered across the world.
Mr. Burt passed away in 1967 in California. However, Mr. Robbins was blessed with a much longer life than his friend. He passed away in 2008 at the age of ninety years. Mr. Robbins was very creative  and everything he did turned out to be fantastic. Although the number 31 indicates 31 flavours of ice cream, Mr. Robbins must have invented more than a thousand different flavours of ice cream. In an interview that he gave for the New York Times in 1973, he said, "There is not a single flavor that I did not like. Some of our flavors were created to commemorate certain events and people actually liked them a lot. For example, we created a flavor called 'Lunar Cheesecake' to celebrate man's first landing on the Moon and people really enjoyed it.". Beetles was a very trending music band then in America in 1964. A journalist asked Mr. Robbins if he was thinking of making an ice cream flavor in the memory of the Beatles, and he immediately gave a hint about the upcoming new flavour called the 'Beetle Nut'. The 'Beetle Nut' flavour was introduced and made available to the public in just 5 days after this.
Mr. Robbin's daughter published a book based on Mr. Robbin's journey and the hurdles he faced and had to tackle became known to the public for the first time. She wrote, ' After his retirement from the Navy, Mr. Robbins started his own ice cream parlor in Glendale, California. But he faced a lot of financial problems. He started his ice cream parlor from the $6000 insurance that he received from the Navy. But he was still a novice in the business of handling an ice cream parlour. He named it 'Snowbird' for no specific reason. On the day of the inauguration, the floor of the shop was wet and slippery due to its new construction, and it was difficult to walk or even stand on it. Yet they made a sale of $53 on the first day itself.'
Mr. Robbins' daughter described her father in her book, while his son went against him. He said, that his father put his name in as the heir of his business, when he had no interest in the business at all. "I wanted to stay away from his company and his expectations from me at all costs. I got stuck in a wheelchair after an attack of paralysis hit me in my childhood. The wheelchair became a part of my destiny for ever". One of his legs was shorter than the other by 3 inches since birth as well.  After several visits to the hospital, the doctors told him that the growth of his body had stopped completely. He realised that he would have to live like this for the rest of his life. He decided to stop any intake of sugar and started to focus his attention on walking, running and leading a healthy lifestyle instead. In those days, the cows were injected with special injections to ensure plentiful milk and their growth. Actually, this milk was forbidden in countries like Canada, New Zealand, Japan, Australia and 27 nations under the European Union. Mr. John inquired about this milk to a vegetarian diet specialist and found out that this milk had some serious side effects on any food product made with this milk along with the people who consumed these products. He realised the amount of ice cream he had consumed during his years of growth and decided to quit consuming ice cream completely.
Mr. Robbins then started using organic milk in the ice cream. One of the reasons that contributed to this shift was the book called 'Diet For A New America', written by his son. Today, the brand of Baskin Robbins has spread across 50 countries all over the world. They have conquered countries starting from 'A' of 'America to the 'Y' of 'Yemen'. The brand of Baskin Robbins has now been taken over by the well known brand of Dunkin' Donut. The brands of Baskin Robbins and Dunkin' Donuts have now become available all over the world.
Originally Published in Yashashwi Udyojak. Subscribe Today.