Maharashtra's Second Wave: Small Businesses Need Help
Anand Deshpande, Chairman, deAsra Foundation
Small entrepreneurs were adversely affected by the first wave of the novel Coronavirus and just as their business was beginning to revive, the second wave has disrupted economic activity. This is breaking their confidence, creating uncertainty and insecurity about their future. 
Small entrepreneurs such as caterers, photographers, beauty parlor professionals, fashion businesses, food businesses, and small traders are likely to face severe consequences by the current lockdown.  There are more than 17 lakh micro and small businesses in Maharashtra that employ more than 90 lakh persons and their survival is crucial. 
deAsra Foundation and Savitribai Phule Pune University's Center for Public Policy and Democratic Governance, conducted a quick survey with small business entrepreneurs to understand the impact of the second wave of the coronavirus on their existing businesses and to assess their needs. The objective is to provide timely help to small entrepreneurs to ensure that they survive and to strengthen them to foster future job creation. 
We found lack of working capital, lack of digital marketing skills and lack of connects with the market as three biggest challenges being faced by small entrepreneurs in Maharashtra.  Other challenges include their inability to pay EMIs, shortage of skilled manpower, delayed payments, depleting personal savings, reduced demand especially in segments such as events management, tourism, and hospitality. 
With our experience of working with small entrepreneurs through deAsra Foundation over the last 6 years, we observe that small entrepreneurs are struggling every day to acquire customers, to access capital, to constantly learn new skills, and to prioritize spend across competing expenses. This struggle is further exacerbated by the uncertainty created by the pandemic.  
For many small businesses the future is uncertain and with rising debt they are being forced to reconsider their very existence. Maintaining cash flow is the most pressing need at this time. The situation is aggravated as they are unable to reach their local customers due to the lockdown restrictions. Customers are shifting to e-marketplaces, pushing these small business owners in a corner making their situation from bad to worse.  The financial assistance being offered by the government and financial intuitions is woefully inadequate to meet these challenges.  Many of these small entrepreneurs do not qualify for these schemes and do not have the necessary knowledge and documentation to get the support they need.
There is an urgent need for action to support small entrepreneurs. We need all the help we can get to help our local small businesses survive in this time of uncertainty.  We must keep their spirit alive and help the small entrepreneurship ecosystem thrive.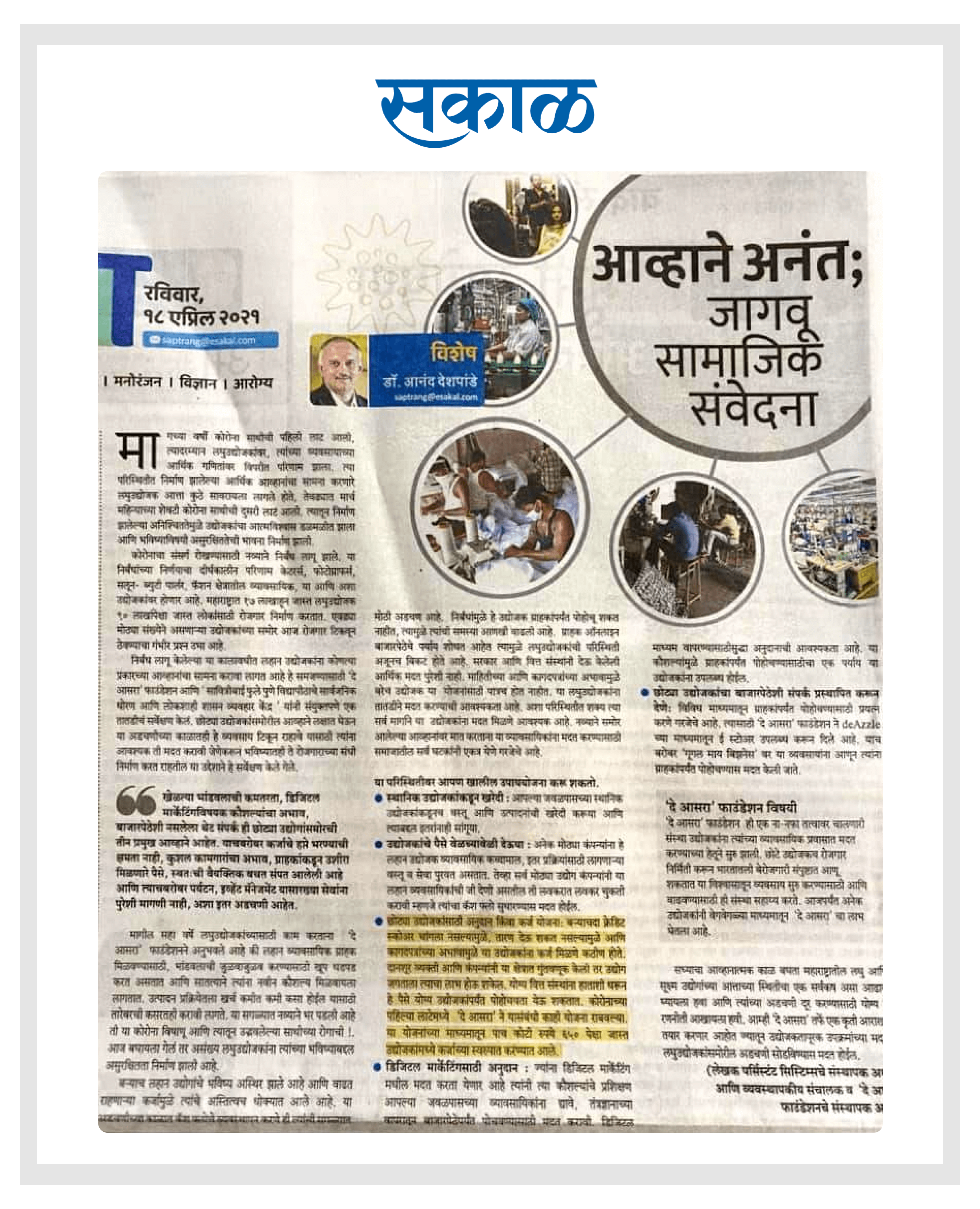 Here are some suggestions on what we could do:
Buy Local Products/Services (Be Vocal for Local): 

 I encourage everyone to buy from local kirana stores, local vendors and support small businesses around you.  Buy local goods and services and be vocal in promoting them. 

Release Timely Payments to Small Businesses:

Under these difficult circumstances, corporates tend delay payments of small companies. I urge all corporates/companies/organizations to release pending payments that are due especially for the small businesses. This will help them manage their cash flow effectively. 

Grants/Loans to Small Businesses for Working Capital:

Small entrepreneurs are getting financially  excluded  because of a lack of a good credit score, lack of collateral and the lack of understanding of the complex documentation that is required to get loans. Philanthropic investment in this sector can go a long way in strengthening India's small businesses.  Donors can provide individual grants or tie up with entrepreneurship enabling  organization that an facilitate  grants or loans through established banking and NBFC infrastructures.  deAsra experimented with a few funding models during the first wave of pandemic, and we were able to develop successful models through which INR 5 Crores in emergency loans reached roughly 650 small businesses. I would be happy to extend these models frameworks to any organization or donor who is interested  in providing  funds and support them to set up  the right model quickly and efficiently. 

Grants for Digital Marketing

:  Small businesses lack tools and digital skills to get online and market their products through digital media.  We need to financially support small businesses to acquire these skills.  This will provide them an alternate platform to engage with customers. 

Connecting small businesses with markets

: Linkages can be established across corporate value chains, e-commerce marketplaces, or local markets, but this connect has to be facilitated by experts to help small businesses revive. For example, deAsra offers a free mobile app called eStore  by deAzzle that can be used by businesses to set up their product catalogs, share  with customers and accept orders online. deAsra also offers support to get set up on "Google My Business," so that local businesses can get discovered
What is needed urgently is a comprehensive review and a new strategy to revive small and micro businesses in Maharashtra. As a follow up to this effort, deAsra Foundation will prepare a call to action plan and provide recommendations for the ecosystem to solve these problems together at scale and speed.   
(About deAsra: deAsra Foundation is a non-profit organization founded by Dr. Anand Deshpande, Founder, Chairman and MD of Persistent Systems Limited, with the aim to help entrepreneurs in their entrepreneurial journey. We believe that small businesses are the job creators that are necessary to eradicate unemployment in India and are engines of growth for our country, and with that objective in mind deAsra enables individuals start, manage, and grow their business successfully, More than 120,000 entrepreneurs have already benefited from our tools and programs.)