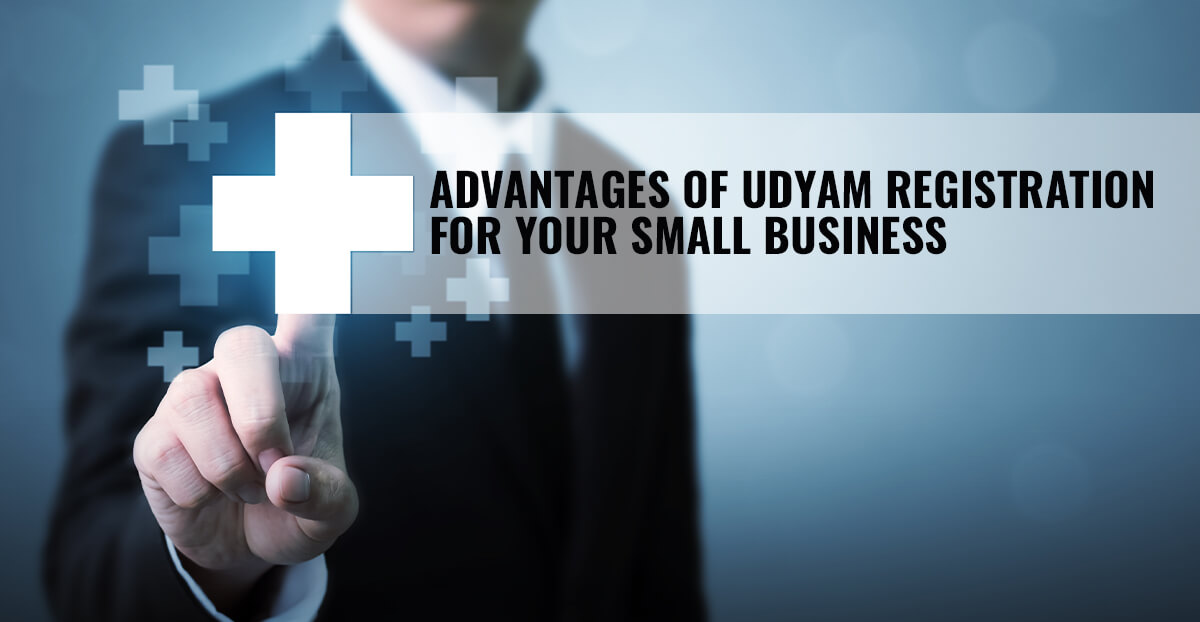 Advantages Of Udyam Registration For Your Small Business
Udyam Registration, which was introduced on 1st July 2020 by the Government of India, has always been around, albeit with another name. Previously referred to as Udyog Aadhaar, Udyam Registration helps provide businesses with MSME (micro, small or medium enterprises) recognition. This is the biggest advantage of the Udyam Registration apart from several other advantages that benefit the businesses. But first, let us understand what exactly is Udyam and then get to know its various advantages.
Udyam Registration
Udyam Registration is an identification number along with a certificate that is issued to businesses who want to get registered as a "Micro, Small and Medium" (MSME) enterprise. This certificate acts as recognition for MSMEs. Further, businesses are classified into the right category, such as Micro, Small or Medium, based on the investment and turnover of the business. Udyam Registration benefits that are available to MSMEs can only be availed if the business registers themselves under the Udyam scheme. Udyam Registration Process is easy and online if you have all the documents in place.
The eligibility criteria for businesses to apply for Udyam Registration is that it must be an existing business that is in the manufacturing or services sector. A business is classified as Micro if it has an investment of less than Rs 1 crore and a turnover of less than Rs 5 crore. A Small enterprise is one that has an investment of less than Rs 10 crore and an annual turnover of up to Rs 50 crore. An enterprise is classified as a Medium enterprise if it has an investment of less than Rs 50 crore and a turnover of up to Rs 250 crore. Entrepreneurs and business owners can download Udyam Registration checklist for additional eligibility information and the process for applying for Udyam Registration.
Udyam Registration Benefits 
There are several advantages that businesses can benefit from after they register under the Udyam Registration process. The Udyam Registration benefits MSMEs by providing them with collateral-free loans, reduced loan interest rates, concessions and exemptions on a number of schemes, among several other benefits, thereby encouraging businesses to grow and thrive. Some of the benefits of Udyam Registration are elaborated herewith.
One of the most favourable benefits of Udyam Registration for MSMEs is that it allows small scale businesses to apply for collateral-free loans which are accepted by the Government of India, Small Industries Development Bank of India, and the Ministry of Micro, Small, and Medium Enterprise under the name The Credit Guarantee Trust Fund Scheme
Subsidy On Interest Rate On Bank Loans
Along with obtaining collateral-free bank loans, another one of the Udyam Registration benefits is that it helps small businesses obtain subsidy on the interest rates while applying for bank loans.
Exemption From Direct Tax Laws
Small businesses that are registered under Udyam are helped by the Government in the form of exemption from Direct Tax laws such as relief from taxes or reduced tax rates or tax levied on only a portion of the items. Thus this helps in the reduction or removal of liability for the business.
Overdraft Facility With Exemption From Interest Rates
Small businesses and enterprises that are registered under the Ministry of MSME's Udyam Registration are further eligible under the Credit Guarantee Trust Fund Scheme to get the benefit on the overdraft and also interest rate exemption. This however may vary from bank to bank. 
Easier Approval Of Licences
It becomes easier for businesses to apply for and obtain approval on various licences, registrations and other certifications if they have registered for Udyam Registration. This is because, with Udyam Registration, businesses become eligible to apply for these official approvals, certificates and registrations.
Subsidy For Registration Of Trademark And Patents 
One more of the Udyam Registration benefits is those small businesses that are registered under Udyam's Ministry of Micro, Small and Medium Enterprises Development Act, 2006, get a sizable subsidy for industrial promotion as well as trademark and patent registration.
Reimbursement Of ISO Certification Charges
Businesses that have registered under Udyam Registration for MSMEs can claim reimbursement for the expenses made while obtaining the ISO certification for the business.
Concession On Electricity Bills
Another Udyam Registration benefit is that small businesses registered on the portal can get certain concessions on their electricity bills. This in turn helps the businesses save their resources. 
Ease In Applying For Government Tenders
Small, micro and medium businesses that have procured Udyam Registration benefit from it by being allowed to take part in Government tender auctions and can also easily avail exemption while applying for these tenders. Additionally, the registration also provides a Government security deposit waiver (EMD) while participating and applying for tenders.
The Udyam Registration provides small businesses with the advantage of reservation of certain products that can be exclusively manufactured by the MSME.
Participation In International Fairs
Small businesses and start-ups that have Udyam Registration benefit from the opportunity to participate in international fairs and trade show where they can display their products and services. This participation is approved and encouraged by the Government especially for businesses registered under Udyam. 
Apart from these, the other benefits include-
Exclusive eligibility for Udyam registered businesses for CLCSS, that is, credit linked capital subsidy scheme.

Protection to businesses under Udyam Registration against delayed payments or against materials or services supplied.

Udyam Registration benefits

for businesses also include waivers such as stamp duty and registration fee waivers.

The registration also provides credit rating fees subsidy along with NSIC performance.

Barcode registration subsidy is also available to businesses that fall under

Udyam Registration for MSME

s.

The Udyam Regsitration also provides small businesses with the eligibility for Industrial Promotion Subsidy (IPS).

Additionally, another of the

Udyam Regsitration benefits

for small businesses is the availability and eligibility to the excise exemption scheme.
Thus, manufacturing and service sector businesses that apply for Udyam Registration get access to a number of subsidies, along with eligibility to the several Government schemes and benefits offered by the Government, which in-turn help the businesses to grow and prosper. But for that businesses need to first get Udyam Registration to get MSME recognition. Once registered as an MSME small businesses can reap the several advantages that Udyam Regsitration has to offer. 
Businesses can always approach deAsra Foundation for assistance with the Udyam Registration process and guidance regarding the same.