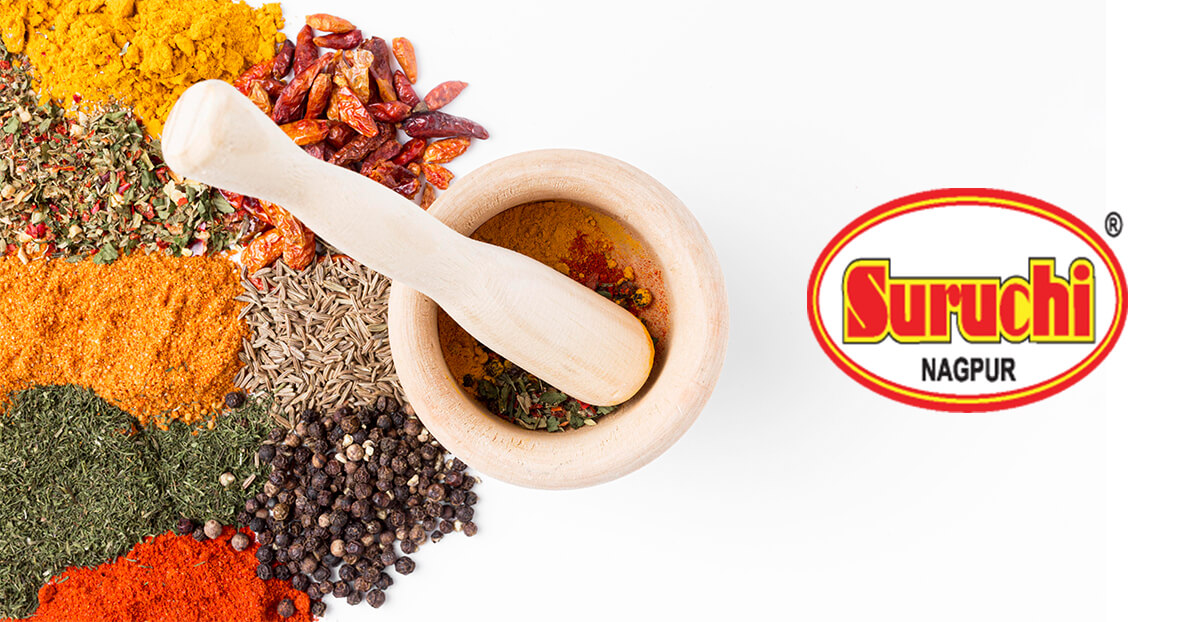 SURUCHI
A bright afternoon at an office on Karve Road in Pune .. women gathered around the dining table during lunch time. Purses unzipped, bags opened, and lunch boxes found their way on to the table. They shared their tiffin boxes as they gossiped about the day. Vidya Dixit, one of the ladies in the office served the vegetable curry she'd prepared to her colleagues. So began lunch time followed by comments such as, "Vidya! The curry tastes amazing", "Excellent!", "Very tasty". Next day, Vidyatai brought 'Usal' (lentil curry) which was equally appreciated. Soon this turned into a daily ritual … everyone loved food cooked by Vidyatai. Ultimately, a friend requested Vidyatai for her 'Masala'(spices) she used in her dishes. The others, without wasting a minute, asked her for the same. As the demand increased, a friend suggested that she brand her product. After brainstorming together, her family suggested the name 'Suruchi' and thus Vidyatai's product got its brand name. This is the story of the origin of the now well known 'Suruchi' brand. 
Once, Vidyatai's friend brought a packet of ready to make 'Bhel' (a snack made from puffed rice, crispy chickpea noodles, onions and potato and tamarind sauces) and challenged her to replicate the taste, which Vidyatai instantly accepted. Within a couple of days, Vidyatai made instant Bhel that was tastier and 'yummier'. She distributed her very own packed and instant 'Bhel' to her colleagues, and that too was appreciated a lot, which led to increased demand. Her offering of 'Masala' now had 'Bhel' for company. Something that started as a simple sample demand was now blooming into a growing business.
Every household, at some point of time, discusses various dishes of different cuisines and the people who excel in one dish or the other.. there are those whose vegetable curry, Aamti (dal curry), Khichdi (dal and rice flavored with spices), Puranpoli (roti with dal and sugar stuffing) is a specialty and delicacy. But such specialties can rarely transform into an enterprise. In Vidyatai's case, it was her destiny. 
Cooking various dishes with love and care and treating others to a feast is Vidyatai's passion. She was serious about making a career out of this hobby but 20-25 years ago, the priority of a Maharashtrian middle-class family was getting a good job as the only secure way of steady income.  Getting a job in a reputed organization was more than one asked for and Vidyatai was no exception. Her passion for culinary art was restricted to the daily routine in the kitchen. She often wanted to venture into an enterprise but her responsibilities towards her children, among many others, convinced her otherwise and eventually she stopped thinking about it amidst her job routine. But a casual conversation at the office dining table nudged her towards her passion without her noticing it.
The increasing demand for her Masala and Bhel boosted her confidence and she started exploring the various possibilities and experimented on making more products for instant use. Suggestions from friends and family were also given due consideration… Breakfast items such as Shira (sweet dish made with semolina), Upama (thick porridge made from dry roasted semolina or course rice flour), Shevai Upama (thick porridge made from vermicelli) , Amboli Flour (flour of rice, dals, lentils), Sabudana Khichdi (fasting food made from sago, potato and crushed groundnuts) and items in meals such as Mugachi Khichdi (main rice dish made using rice, dal, spices), Kadhi (a curry made with chickpea flour and buttermilk), Pithala (curry made with gram flour and spices), and Shevai Kheer (sweet dish made using roasted vermicelli, milk, cardamom) were offered in instant use form. With time, Masala varieties, and Raslimbu (spicy sauce made from lemons) and Kharatali Mirchi (pickle made from chilies) pickle were introduced. The list of product offerings went on increasing day after day.
The family was a real tower of strength and support for her enterprise from day one. Various tasks were distributed among each member – purchase of raw material, packaging and delivery to customers, etc. Presently, Vidyatai's son is ably handling all these activities and is completely in charge of the business. They recruited staff for manufacturing and packaging considering increased demand. Harshad supervises and manages their work and oversees raw material purchase and sales. Today, manpower retention is a veritable challenge, yet Harshad has easily managed it with his humility.  Vidyatai personally looks into creation of any new product, tests it for quality and only then (if satisfied) decides on production aspects.
Quality is never compromised when cooking at home, and neither should it be done while selling .. this is the simple principle that she has adopted. Cardamom powder is an important ingredient for sweets and desserts and several varieties are available in the market. The prices vary from Rs. 1200 to Rs. 1700 per kg. – the costliest naturally has the best quality, which Vidyatai uses without hesitation. Many have suggested to her that she might as well grind cardamom along with its peel … but the peels are fibrous and spoil the taste of the dessert, so Vidyatai does not approve of it. She follows such quality practices and attention to detail for all her products. Whether it is coriander seeds for masala or chillies for pickles, Vidyatai does not compromise with the quality of raw material. Another USP of Vidyatai's products is that no preservatives are used as they are harmful for health .. Suruchi products, therefore, are 100% safe.
When production was on a smaller scale, Harshad himself delivered the products as main customers were office staff. Thanks to Word of Mouth publicity, their customer base and demand increased, making a more viable system for delivery and sales indispensable. The taste and quality of the products and the instantaneous preparation further increased the popularity. Harshad then surveyed the market and placed Suruchi products in some retail shops thus reaching out to more customers. 'Promotion of a product requires sales pitch' is a common belief. Harshad listens to the prospective customer with humility and politeness and markets his product in very few words. Suruchi products are available in many shops not only in Pune but in Mumbai and other parts of Maharashtra too. 
Throughout the entrepreneurial journey, they rose up to challenges. Once a batch of 10 kg of chilli pickles was found to be bitter. Vidyatai tasted it several times but was convinced that it was not the usual taste.  Dilemma! What next? She decided not to send this batch in the market. Friends and relatives tried to convince her that the taste was not noticeable, but Vidyatai and Harshad were firm on not shipping it out as they wanted to be worthy of the customers' trust. They distributed that batch of pickles free of cost to those who liked it. 
Once, a lady customer took a packet of Bhel to Chennai and prepared it by mixing ingredients – but did not like it and decided to provide feedback to Harshad.. he immediately asked for the batch no. on the wrapper. He had noticed that some groundnuts used in that batch were rancid and had immediately recalled all of that batch. Meanwhile however, the lady had gone to Chennai and her packet was not returned. Harshad apologised and immediately dispatched another packet to Chennai as losing even one customer was an unsettling thought for him.
The Dixits have had some pleasant experiences, thanks to their policy of caring for the trust of their customers. Once a Parsi customer told them that Suruchi products had helped him take a liking for Maharashtrian dishes. A mother, whose son is in the US, told them that he could enjoy Maharashtrian cuisine in the US thanks to them. Suruchi products have proved to be a blessing for working women, the elderly who live alone, and those staying away from home for job or education.
Uncompromised quality and nurturing the trust of customers is what makes Suruchi products more and more popular. Vidyatai's hard work and Harshad's support will undoubtedly carry the business to newer heights.  
Youngsters and families have a lot to learn from the success story of Harshad and Vidyatai. The age old saying that a woman's job is cooking, serving, clearing dishes and washing them .. is no longer relevant. Cooking is now considered glamorous as many TV channels telecast cookery shows every afternoon and gain a fair share of TRP ratings. Chefs from prestigious hotels have celebrity status. Thus – I know nothing else but cooking – is no longer a handicap or a problem. It could transform into a business, which can go global and a brand can be established that brings in money and boosts confidence. Vidyatai and Harshad's example is a beacon for new businesses for families. One need not wait for an auspicious moment anymore.