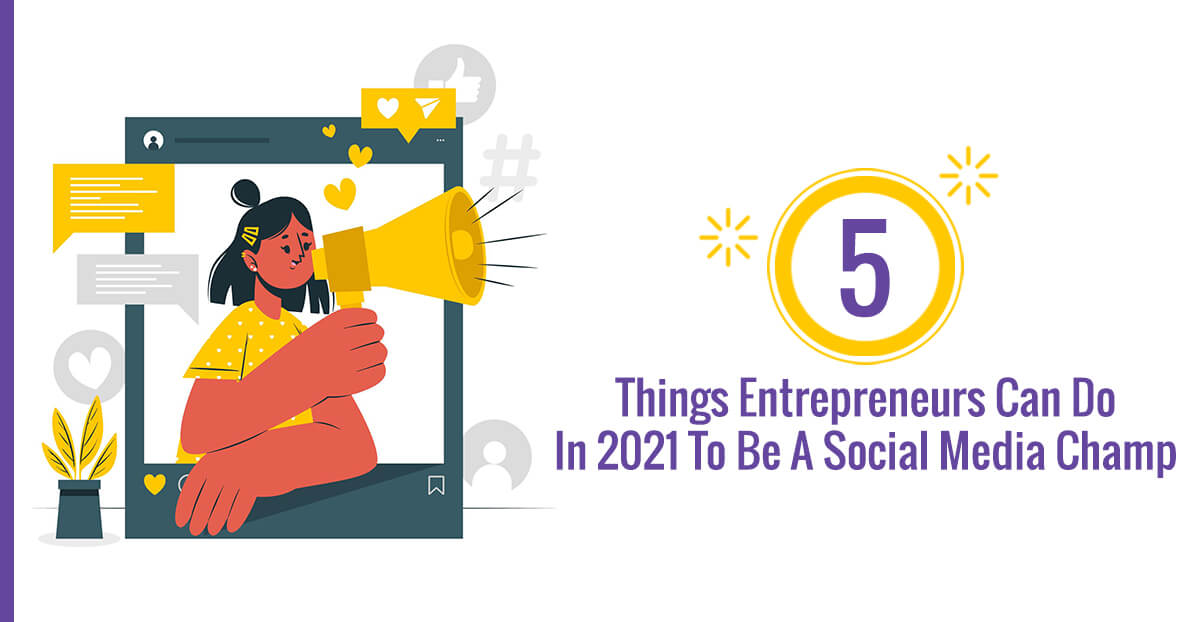 5 Things Entrepreneurs Can Do In 2021 To Be A Social Media Champ
As we have well entered into 2021, there is no denying the fact that the past year was tough and that social media played a big role in making it positive in every way possible. The power of social media is immense and undeniable. As the fear of maintaining a social distance and being safe loomed largely on everyone's mind, social media has played a significant role in helping businesses connect with audiences, operate, and grow.
The immense power of social media and its reach can be judged from these impressive statistics which reveal that 45% of the world population is on social networks (3.48 billion people) and in the past year itself 366 million new people started using social media, which is more than 1 million per day. In fact, studies have found that these digital consumers spend nearly 2.5 hours on social networks and social messaging every day. This means that in the year 2021 if a business wants to market itself and reach out to the audience it needs to do it via social media marketing because that is where everyone is.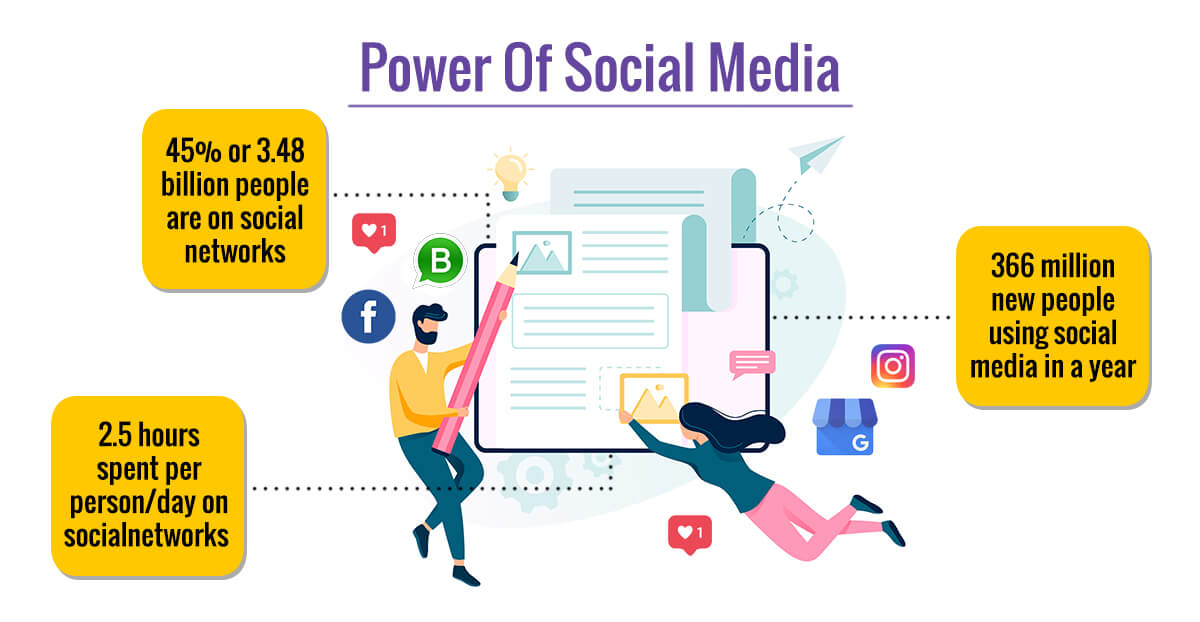 But just recognising the power of social media marketing and knowing about the various social media channels and platforms does not suffice. The social media presence of a business needs to be planned and designed such that there is a 'fluidity instead of a mere presence' in terms of the content and presence of the business on social media, as expressed by Ashwini Godse, owner of The Learning Planet, who learnt all about social media marketing at deAsra's Social Champ program. Her chief takeaway was that in order to be a social champ in covid times, she could distinguish between the need to create content rather than be a medium to receive content, thereby helping her reach out to audiences and make her business grow.
Also, usually, businesses focus only on their product or service, but being a social champ helps businesses understand how to reach out to the audience, understand their needs and engage with them, not just the existing clients but target potential customers as well. Anand Kolharkar, who provides data-driven solutions to companies and educational institutions, found answers to all his social media related queries and also found out how and what should be the outreach with regards to social media marketing with deAsra's Social Champ program. 
Here we will share 5 things that businesses can do to be a social champ and master the social media platforms and marketing skills to help their business grow and expand in 2021.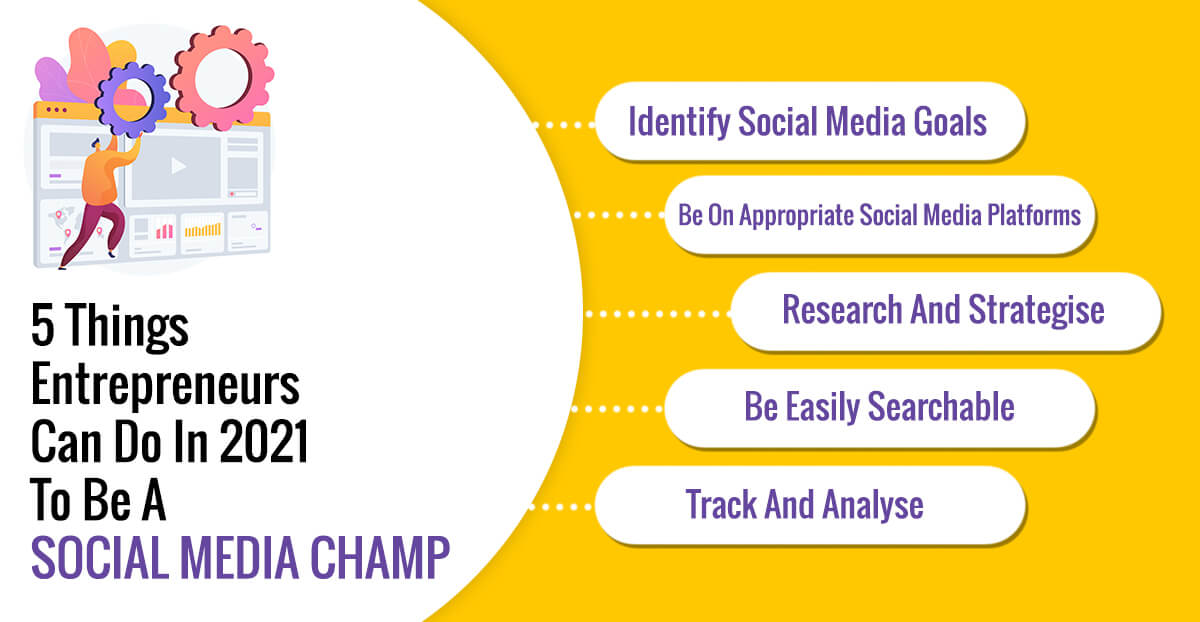 These include- 
Identify Social Media Goals

Every business sets a goal for itself but here we are talking about the goals related to

social media marketing for small business

and enterprises. In order to be a

social champ,

businesses must identify their need for having a presence on the various social media platforms and what objective they wish to fulfil. The reason might vary as per the business and its goal, for instance, some businesses might just want to create awareness about their brand or business, (like in the case of

Shirish Kaulgud

of Coefficient Consultants, who had set a clear goal that he wants to move from traditional marketing methods to social media marketing in order to spread the word about his business, have a strong digital presence and create a brand image on social media for his business) while other businesses might want to approach a niche and targeted audience via social media marketing. Some businesses might want to drive traffic to their website and others might want to improve their sales by carrying out transactions directly via the social media platforms themselves. Therefore the goal and objective of each business to be on social media platforms might be different and it needs to be ascertained before entrepreneurs take the plunge to become a

social champ

.
Be On Appropriate Social Media Platforms

One of the primary and most basic things that entrepreneurs can do to become a

social champ

is to be present on various social media platforms. There are a number of platforms and each social media platform has a different audience as well as a varying reach. So based on the objective of the business and the audience they want to target, entrepreneurs, can have a presence on any or all of the social media platforms. Some of these platforms include Facebook, LinkedIn, Twitter, Instagram, Pinterest, YouTube, etc. 

Facebook is a platform that allows users to share their opinions and express their feelings while also connecting with each other. Instagram focuses on sharing pictures and telling a story or conveying a message via the pictures. YouTube helps share content in the form of a video while Pinterest explains the process behind pictures by diverting traffic to the website. LinkedIn is primarily for helping professionals to connect and network while Twitter is a short descriptive platform to highlight what people are doing or thinking in the present. Each platform has a different objective and reaches out to a differing demographic. Businesses must therefore analyse the platforms and choose to be on the ones best suited for their business goals. 
Research And Strategise

For entrepreneurs to be

social champ in 2021, they need to conduct a thorough research about each of the social media platforms they choose and then strategise their plan of action. Research is not restricted to the use of particular social media platforms but dives deeper into aspects such as what will be the content that entrepreneurs will post on the various platforms, will the content be original or shared content or a mix of both, how often should the content be posted on each of the platforms, the time most suitable to post in order to get maximum traction, etc. The research also includes analysing what the competitors are doing and what is working for them and what factors are working against them. Once the research is done, businesses can strategise techniques to achieve their goal of being social champ

s, along with the plan of action regarding what will they post and when in order to attract maximum attention and what methods to employ to encourage greater engagement. 

If researching and strategising sounds like untraversed 

terrain for entrepreneurs, they can always choose to

register for the Social Champ

program which is an instructor-led program that tea

ches

social media marketing for small businesses

and guides them to become

social champ

s.



Be Easily Searchable

In order to be a

social champ,

businesses need to be easily searchable. One, they need to be located easily on the social media platforms by having a consistent and easy to understand and remember page or brand name. Second, apart from being visible on the various social media platforms, and posting engaging content, businesses need to optimise their websites to be easily found by the search engines. Search engine optimisation refers to the changes made to a website along with the addition of appropriate keywords to optimise the site such that whenever an interested user types in the keywords, the business's website appears among the first few on the search engine. Therefore, in order to be a

social champ

, entrepreneurs need to make their business easily searchable. Further businesses can also opt for services such as Google Adwords and Google My Business to drive engagement and create a stronger digital as well as the social presence of the business thus leading to growth and expansion of the business.
Track And Analyse

 On the journey of becoming a

social champ

the last but most important step that is often forgotten by entrepreneurs is to track and analyse their progress. The analysing and tracking of the results helps entrepreneurs determine which social media strategies worked for the business and which did not. This further helps them improve their techniques as well as the content and adjust the marketing promotions accordingly to get positive outcomes for their

= for small business

campaign. Tracking and analysing requires knowledge of specific social media marketing methods and tools which can be learnt by opting for the

SMM services

(social media marketing services) offered by

deAsra

. 

These are the basic factors that entrepreneurs can keep in mind and implement in order to become social champs in 2021 or they can easily approach deAsra Foundation for their expert knowledge and expertise in social media marketing.