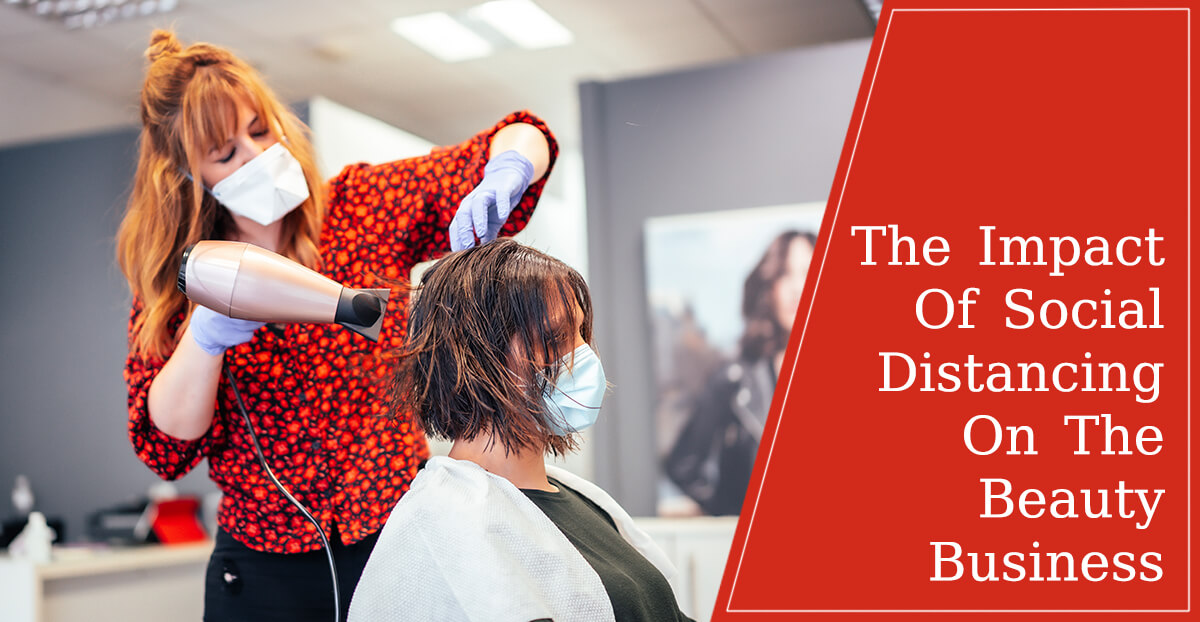 The Impact Of Social Distancing On The Salon Business
The covid-19 pandemic has toppled the entire world. Possibly for the first time ever, almost the entire world was in a lockdown in fear of an unknown virus. This lockdown was imposed in our country for a long time too. With the lockdown several businesses too had to close operations to ensure safety of themselves and of others. Now that we are slowly learning to live with the virus, keeping in mind safety procedures, businesses too are looking at restarting their operations post the lockdown. 
The main safety standard to follow is maintain a healthy social distance while wearing a mask and gloves. The prescribed safe distance is a minimum of 6 feet away from each other to maintain social distancing. However certain businesses cannot operate by following social distancing norms and have been greatly affected by the pandemic-led lockdown and physical distancing safety measures. One such business that was otherwise quite popular is the salon business. 
The basis of a salon business depends on one to one interaction and is difficult to work on customers from a six feet distance. Imagine how will a stylist cut your hair from that far or a make-up artist apply make-up while maintaining the safety social distance of 6 feet. Even waxing or threading cannot be done from afar. The lockdown and social distancing norms have affected the salon business greatly. 
Impact Of Social Distancing On The Salon Business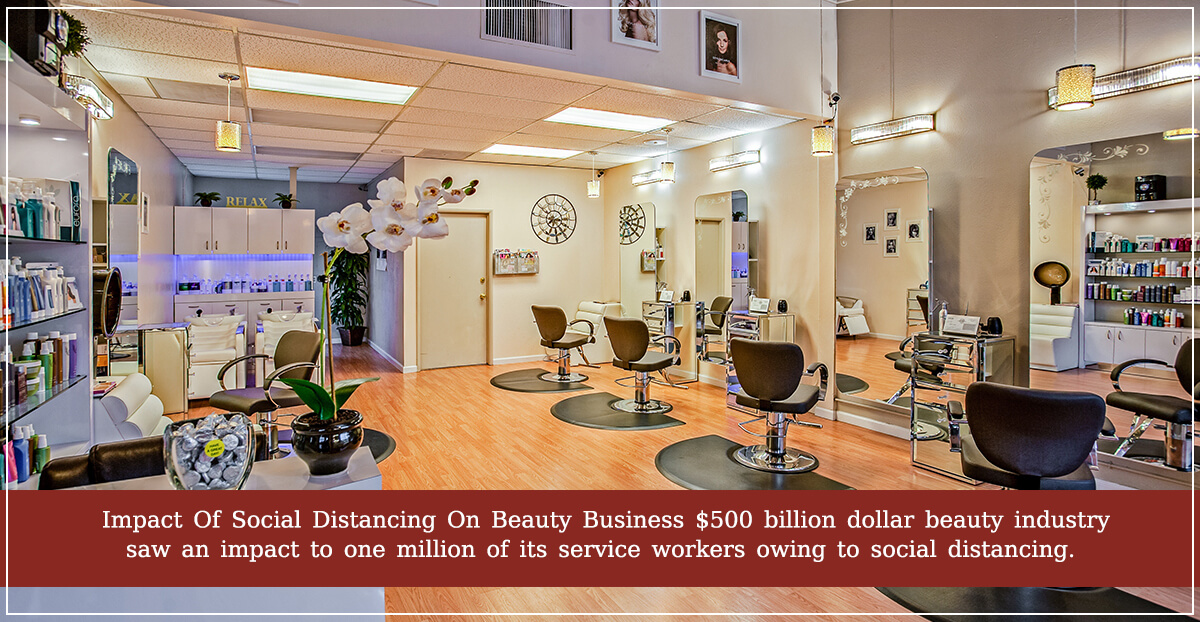 The salon business is one of those businesses that cannot operate from a distance. And the lockdown and social distancing norms have greatly affected the business. The global beauty industry, which includes salons, marketers, retailers,etc employs approximately a million people and generates $500 billion in sales a year. Within a few weeks of the pandemic led lockdown several of these people were forced to shut down and many left without a job as their livelihood was impacted.  Owing to the lockdown several salon businesses were forced to close down, leaving hairstylists and makeup artists out of work. Even high-end brands had to face the brunt of the lockdown and of the social distancing criteria, where for instance brand stores such as Sephora have also had to temporarily close their operations. It is being estimated that close to one million service workers in the beauty industry are being impacted by the coronavirus and the social distancing that is necessary as a safety measure.
As the country is slowly resuming pace, the salon business too has been looking at restarting operations while keeping all safety measures in mind. The industry however needs to think of innovative ways to cater to their clients while taking safety precautions and considering the social distance norm. 
Resuming The Beauty Business
The way ahead for the beauty and salon business needs planning and also warrants the need of innovative ways to provide services to the clients while ensuring the safety of the employees as well as the customers. All of this while maintaining a safe distance. Following are certain ways in which the salon and makeup business made changes in order to adapt itself to the new normal of working while considering the social distancing norms. 
Installing Safety Measures
One additional investment that every business needs to make in this 'new normal', including the salon business, is to purchase all the safety gear and equipment. The protective gear includes gloves, masks, visors, and single use kits which are disposed after each customer/service. Along with these the make-up business has revised its processes for skin, make-up and hair in order to reduce touch as much as possible and aims to use biodegradable disposables as far as possible. Apart from the safety gear, the business also needs to invest in equipment such as sterilization machines to sterilize the tools and other equipment post every use. Another contact less device that businesses can and need to invest in is billing machines for contactless billing and payments. All of these investments to ensure safety are a must and can be met by making a request for an MSME loan which is an emergency loan that will cover these essential although unplanned expenses. 

Adopting Digital Alternatives
As the salon business is reeling under the effects of social distancing, one of the ways that the business can adjust to the 'new normal' in the covid-19 times is by embracing digital technology and mediums as alternative ways to reach out and connect with customers as well as for the business to operate. 
The business can train its staff and employees about new techniques (make-up, hair, beauty treatments, etc) and also to educate them about the new safety measures and practices to undertake when resuming the business. The digital mediums have been a boon in these times and statistics reveal that over 4,250 e-training sessions have been conducted for 50,000 hairdressers and beauticians in this period of lockdown and social distancing.
The salon, especially the makeup business can even connect with customers by giving tutorials online and conducting informative sessions on digital platforms to engage customers. Alternatively salons can conduct paid classes for teaching makeup skills or hairstyles that people can easily learn on their own. Getting online provides infinite opportunities to the salon business owners and entrepreneurs can get an online starter pack to tap into the benefits of having a digital presence.  An online presence in terms of a website as well as on various social media platforms helps the business be in sync with the times, understand the needs of the audience and be visible to them as well as connect and engage with them.

Another way the salon business can prepare to resume its operations is by looking at upgrading skills, thereby utilising their time to learn new techniques that can further help the business. Some of the basic skills that can be learnt such that the customers can be served while maintaining a safe social distance include-
Learning contactless waxing techniques that can cater to customers safely.
Another similar technique is to learn threading without holding the thread in the mouth but instead winding it around the neck safely thus avoiding touching the thread without a mask. These and many other beauty techniques and skills can be learnt in order to provide services to customers safely, while maintaining hygiene.
Creating A Marketing Plan
The salon business in order to overcome the negative impact of lockdown and social distancing can create a marketing plan that will help them reach out to customers. A marketing plan will help the business revive itself along with other measures such as taking safety precautions, upgrading skills of the staff, and getting used to being online. To stay in touch with and connect with customers while maintaining a healthy social distance can be difficult but the internet has been a boon in these times. The reach and popularity of digital mediums has made it easy for the salon business to advertise about themselves via a website, Google Ads, a blog, social media presence such as on Instagram, Facebook,etc where they can offer various discounts, giveaways, combo deals, etc. The can post helpful tips, tutorial videos, informative seminars, etc to help reach out to and connect with the customers. 
A marketing strategy used by retailers in the beauty and salon business is to group customers into categories such as crisis active consumers, crisis dormant customers and newly active customers. The strategy involved offering cosmetics along with personal care items to crisis active members, to offer discounts and promotions on products to dormant customers to rekindle spending and offer loyalty points and bonus to newly active customers in order to make them regular customers.
These and similar marketing strategies can be planned by the salon business to keep afloat even while maintaining a social distance. 
All of the suggestions discussed above are some of the ways in which the salon and makeup business can deal in a positive way against the impact of social distancing on the business. And for assistance in procuring a loan or for getting online in order to market the business, the entrepreneurs can seek assistance from deAsra Foundation at the earliest.