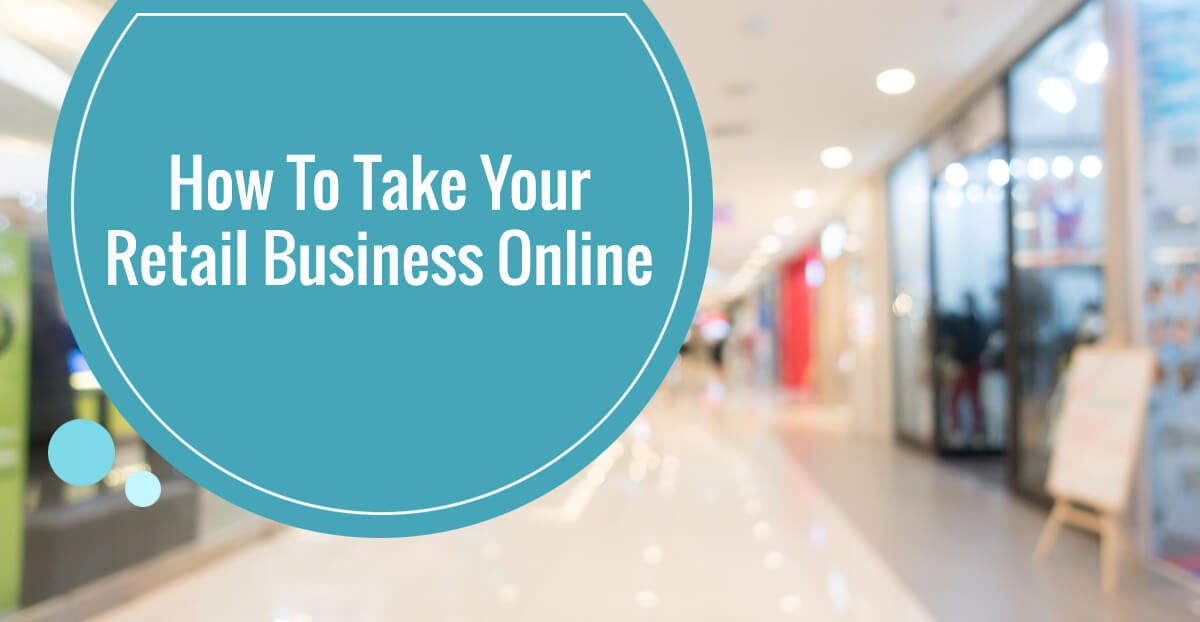 How To Take Your Retail Business Online 
If the pandemic and subsequent need to maintain social distancing has taught businesses something, it has to be the need for them to be available online. Many retail brick and mortar stores suffered huge losses when the country went into lockdown due to the pandemic. And this lockdown made them realize the best way to reach out to customers is through online channels.  
Having an online presence has helped small businesses immensely, especially brick and mortar stores. These shops can reach customers conveniently through online mediums. Also, since the reach of these shops extends beyond their physical location, it has led to an increase in the number of customers too.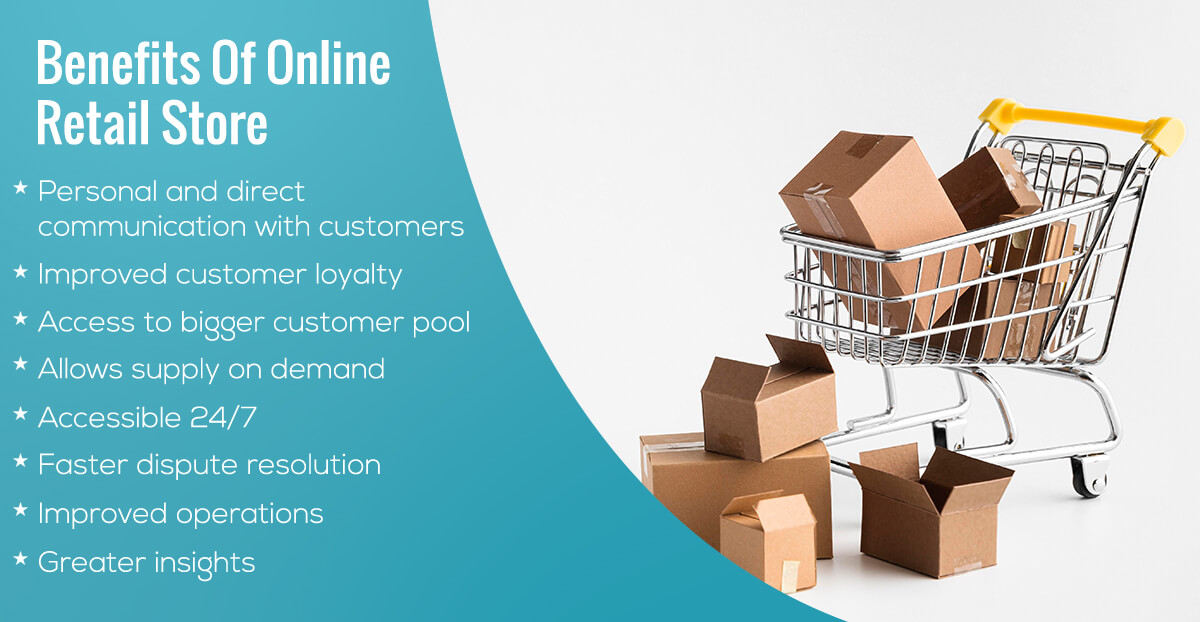 A retail store enjoys several benefits by switching to online channels. Some of them are discussed here-
An online store allows entrepreneurs to have direct, personalized communication with their customers 

An online store helps improve customer loyalty and retention.

An online store can help the business reach out to a bigger customer pool. It reaches out to more people than the number of walk-in customers. 

An online store provides supply on demand. This eliminates the need to maintain a large stock that takes up place and requires a lump sum investment too.

An online store is open and available at all times thus catering to customers 24/7, unlike a physical store. 

 An online store allows faster dispute resolution.

An online store allows optimized business decisions and operations to provide better service. 

An online store provides access to analytics such as where is the business most popular geographically, which products are more popular, on which platform is the business most popular, etc. This will help understand the business better and make suitable changes to improve sales. 
Now that it is evident that an online retail store has several benefits, it is time for you to take the plunge and take your retail business online. You too can take your store online with the assistance of the Social Champ program. This program will help you get online easily and manage your online presence efficiently and effectively.
The Social Champ program helps you understand the social media ecosystem for your small business. It further familiarizes you with platforms like Facebook, Instagram, WhatsApp, etc and how to optimally use these networks to market your business. 
The program is just the perfect introduction you need to digital platforms thus helping take your retail business online. 

Ways To Take Your Retail Business Online
There are quite a few ways through which entrepreneurs can take their brick-and-mortar retail business online. One of the most obvious ones is creating a website through which customers can access the store easily. 
But along with a website, there are several social media platforms that can help you open an online store, taking your retail business online. And that too free of cost. Social media platforms have a large number of users, in fact, Facebook alone has more than 2.85 billion monthly active users. Taking your retail business online on these platforms helps reach out to a wide audience, thus resulting in the growth of the business.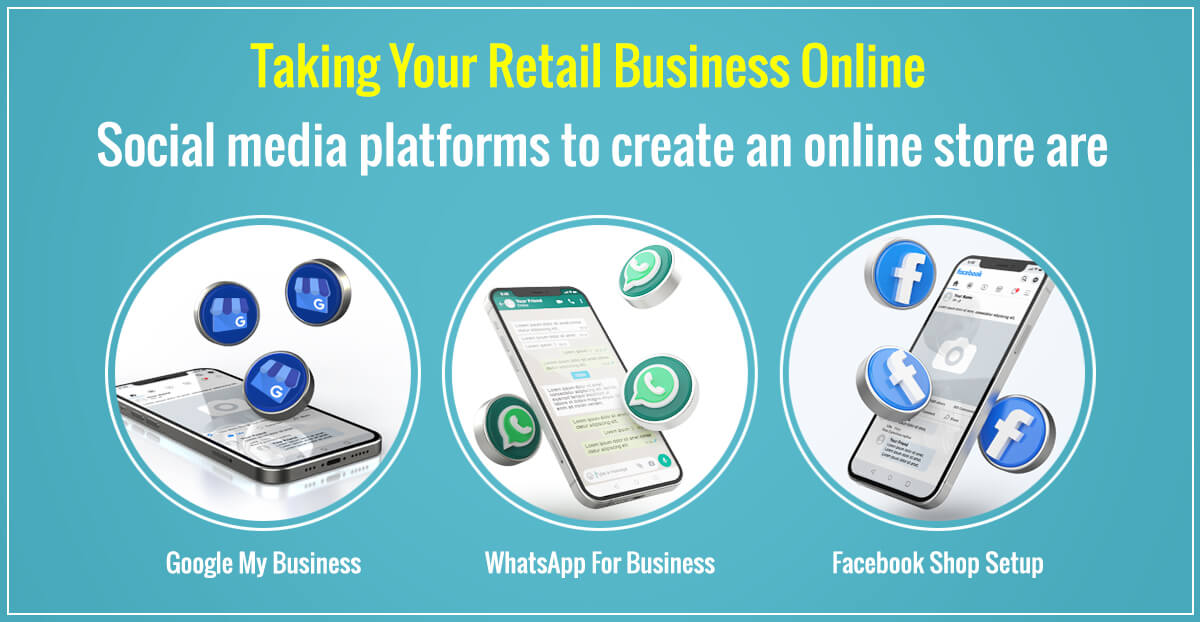 Let's get to know these channels better, along with their characteristic features which will help the transitional journey of taking your retail business online.
Google My Business (GMB)

WhatsApp For Business 

Facebook Shop Setup
Google My Business
Google My Business is a free-to-use business tool and app that provides you with the ability to list your business location on Google Maps and be visible for local search results. It also displays important information regarding the business such as the contact details of the business, the website link as well as allows posting upcoming events or links related to the business. 
The features of Google My Business which help your retail business online include-
Business Information

Product Catalogue/Service Listing

Google Posts

Google Business Website

Appointment Bookings

Questions and Answers/Reviews

Insights
These features help the business appear on the search engine along with the products or services and all the relevant information. Helpful tips and detailed steps provided here will assist you in taking your business online via Google My Business.
WhatsApp For Business
The messaging app WhatsApp enjoys immense popularity, especially in India, across all ages. It is an easy and effective platform to take an entrepreneur's retail business online. WhatsApp for business has advantageous features, such as 
Business Profile

Contacts Labels

Catalogues

Quick Replies

WhatsApp Payments in India

Interactive Business Message

Automatic Greeting Message

Automatic Away Message

Message Statistics

List Messages and Reply Buttons

Facebook Shops Integration
These features help create a business profile on the messaging app that customers can view. It also allows the display product catalogue with easy payment options. The automation of messages also assists in moving your retail business online seamlessly.
Facebook Shop Setup
Facebook Shops have recently added features which are virtual storefronts that live natively on your Facebook page. This feature is also present on an Instagram account. A Facebook Shop, helps your customers discover, share, and even buy your products on the social media platform itself.
The features of the Facebook Shop Set Up include-
Helps showcase the product 

Allows grouping of items to create a custom creation 

Provides customization features like layout and colors for storefront

Allows a Shop Setup that appears on Facebook, Instagram, WhatsApp, and Messenger
These features, which are available for all users, help create a brand identity for the retail business online. The Facebook Shop Setup creates a native shopping experience making the business discoverable through its business page. 
These are a few of the social media marketing channels that can be explored by you to open an online store. These platforms will also make your digital journey easier as you take your retail business online. Additionally, these platforms will help you reach out to an audience beyond your physical location, thus leading to greater opportunities. Marketing by choosing social media management services has several benefits as experienced by many businesses and your business too can benefit from it. 

For further information regarding the social media marketing tips and how to use these networks for your business, you can take guidance from the mentors at deAsra.