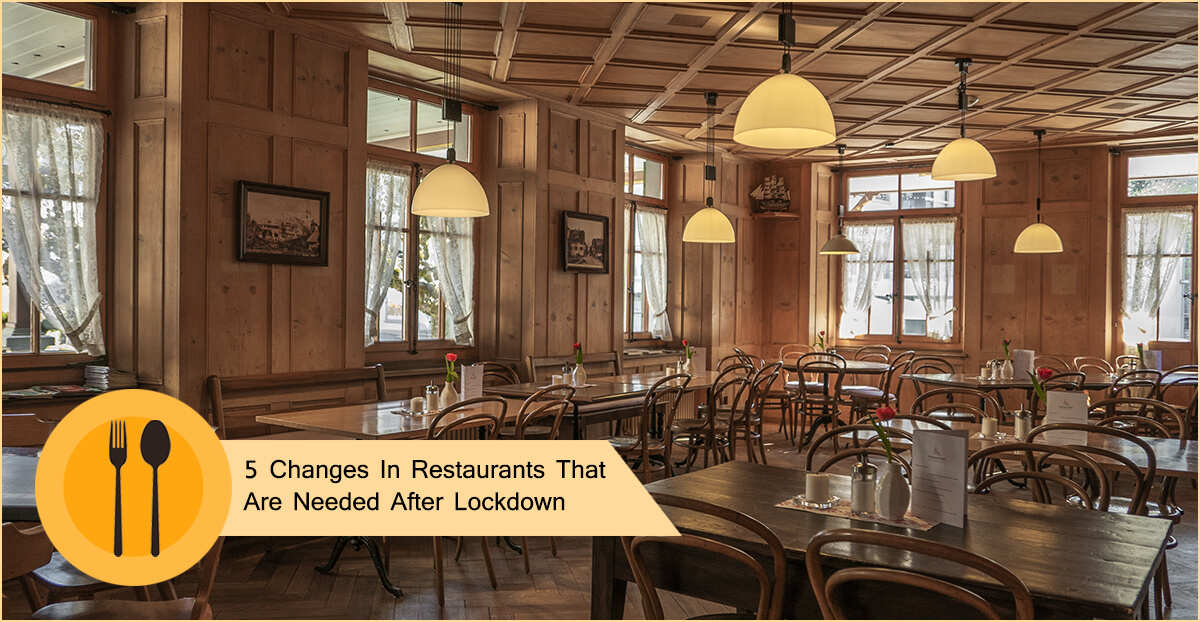 5 Changes In Restaurant Business That Are Needed After Lockdown
2020 has been a year of unpredictable events that no one would have ever anticipated. The corona virus related pandemic is going to be a turning point in everyone's lives. And when we get to the other side of it, things will definitely be a lot different. The way humans will interact with each other and the way businesses will operate will change drastically and that will be the 'new normal' we have to get used to. Many businesses have had to rethink the way they will conduct operations in the future. 
This is especially true for businesses that rely on physical interaction and socialising or mingling of individuals. Such as gymnasiums, movie theatres, and the most popular- restaurants, bars and cafes.
Restaurants were the places where people came to unwind, meet others and enjoy a meal together with pleasant company. It was not just about the food but about the whole experience of going out and interacting with others as well as socialising. Post covid-19 this experience might not be possible for a long time. Restaurants have borne the biggest brunt of the present pandemic situation and will no longer be able to operate in their usual way for the next several months at least. 
Impact Of The Lockdown On The Restaurant Business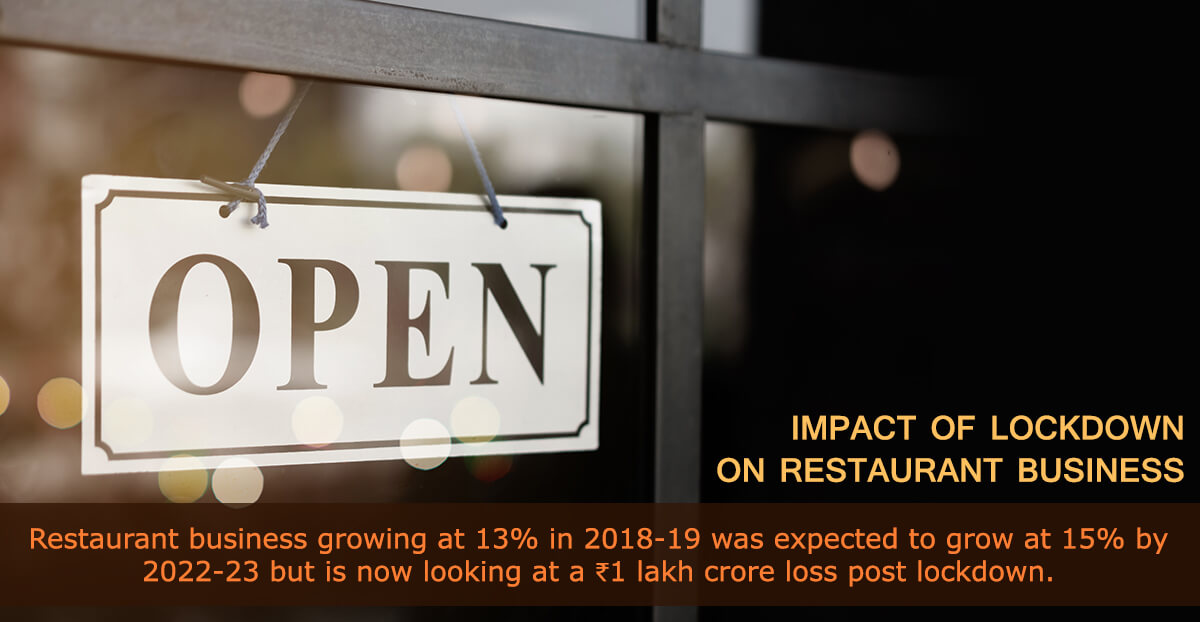 The lockdown has impacted the restaurant business adversely. Once a thriving business sector which was steadily growing with each passing year has witnessed the biggest slump ever. The National Restaurant Association of India (NRAI) had put together a Food Services Report in 2019, according to which the restaurant business, (part of the organised segment) had a compound annual growth rate of 13% in 2018-19 and was expected to grow at 15% to reach a market size of approximately ₹2,57,907 by the year 2022-23. However the pandemic and subsequent lockdown have negatively impacted the restaurant business, so much so, that several well known restaurants around the globe have had to shut shop permanently. And the restaurant industry looks at an estimated loss of approximately ₹1 lakh crore only during the lockdown.  
As per statistics, the restaurant business contributed significantly to the Indian economy as it had an annual turnover of ₹4 lakh crore, employing a significant number of people but now all the restaurant owners are feeling the survival of their business is at risk. This risk is owing to the fact that the restaurant business model relies on interaction with people, which in the present times is a high risk model. 
With lockdown easing down, the restaurant business too needs to find innovative and alternate ways to operate. And for this they need to implement certain changes too, in their business model and practices.
5 Changes In Restaurants Needed After Lockdown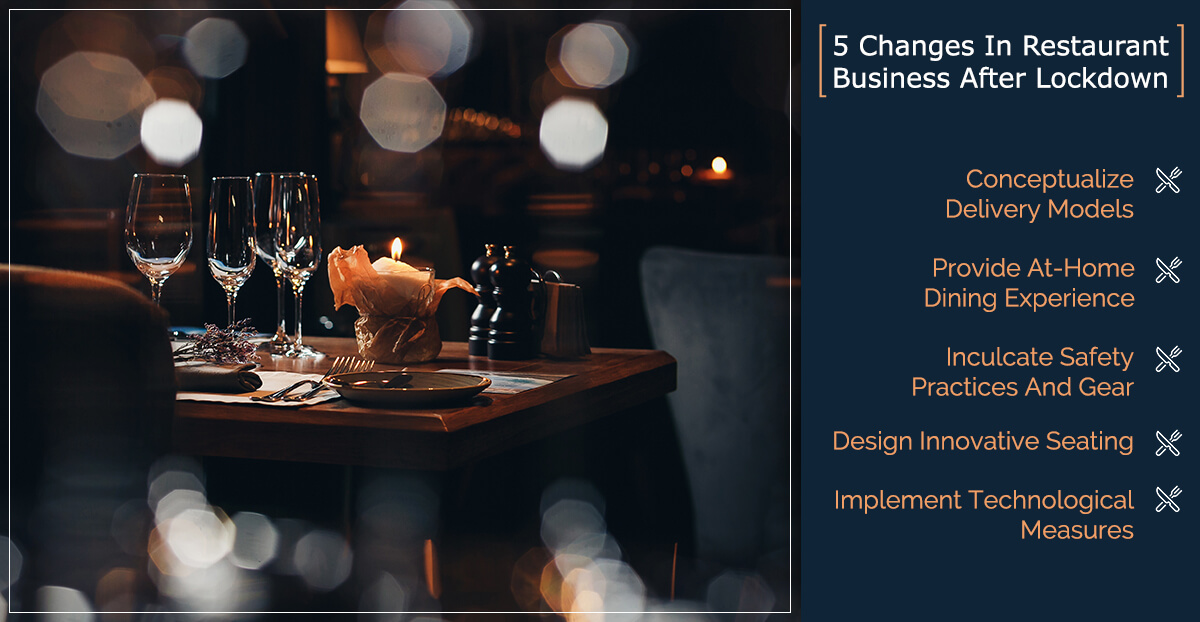 Restaurant owners can try to get back on their feet post the lockdown and easing of rules by implementing certain changes. We have discussed 5 changes that restaurant business owners can implement to adjust to the 'new normal' post the lockdown.
Conceptualize Delivery Models
The best way for restaurants to follow social distancing and still operate is by getting the food and experience to the customers since the customers cannot come to the restaurants. By concentrating on various delivery models the restaurants kill 2 birds with one arrow. First is the business continues to operate, thus helping with the cash flowing in while at the same time ensuring the safety of the restaurant staff as well as the customers. 
The business can either tie up with a food delivery provider to deliver their meals directly to the doorstep or they can employ people specifically for their restaurant only. The restaurants can also consider providing curb-side delivery or provide pickup facility via a drive through, thus ensuring minimum human contact. 
While providing food delivery, restaurants can even go a step further by thinking of innovative packaging. They can even ease the burden of the customers by providing disposable (and sustainable) plates and cutlery, and napkins too.
Provide At-Home Dining Experience
The restaurant business is all about the experience- of sitting there, enjoying the ambience, the company, the food, the music and socialising. This might not be possible while functioning in the post lockdown times, especially when providing home delivery of food for safety reasons. Restaurants can bring that experience to the customers doorstep by setting up a table within the customer's home with live cooking and butler service, even music. While providing such a service, they need to satisfy the customers, ensuring them that they are taking all safety measures and precautions, even with respect to the few personnel who will be providing the personal service to the customers. 
Inculcate Safety Practices And Gear
As and when restaurants open for customers to be seated within their premises, they need to introduce a safety procedure for the staff as well as the customers. Apart from taking the temperature of everyone, wearing gloves and facial masks by the employees, the  restaurant business owners need to invest in additional sanitising and disinfecting practices along with equipment. Restaurants need to have enhanced handwashing procedures too.  The restaurants need to make an additional invest to purchase safety equipment for their staff as well as their guests, such as – several quantities of disposable gloves, facial masks, face shields, along with hand-washing machines, sanitisation stations, digital equipment to minimise contact while choosing a menu or while making a payment, etc. All of this will require additional funds which can be arranged via a request for MSME loan by the restaurant owners. 

Design Innovative Seating
When opening after the lockdown, the restaurant business needs to seat it's guests such that social distancing norms are adhered to. For starters, they can take only limited booking/reservations for a day. Also, instead of making the guests stand at the restaurant while waiting to be seated, they can give out waiting numbers with preassigned timings or make them sit in their own cars and message them when the table is ready for them. This also helps the restaurant clean and sanitise the place between guests. 
Additionally, to maintain a minimum of 6 feet distance, restaurants need to seat guests on alternate tables and also not across each other but diagonally away from each other. Restaurant owners can think of out of the box ideas too- such as place soft toys or mannequins or cardboard cutouts at several tables/or in between 2 tables in order to strictly maintain social distancing. Alternatively, they can also make individual cubicles or bubble seating where the guests are more than 6 feet away and also in their own safe, hygienic bubble which has minimal contact. Some restaurants thought of innovative caps and headgear which have protrusions on it, thus helping guests stay safely apart by default. Whether by employing creative, innovative methods or by just limiting the number of tables, restaurants can limit the number of people seated and help maintain social distancing. 
Implement Technological Measures
Apart from the hygiene and safety equipment, restaurant owners can even invest in technology to help operate with minimum human contact, while maintaining a safe distance. To begin with, restaurants can have an app or online messaging service through which customers can book a table, select a time slot, even pre-order if necessary and be notified about whether the restaurant is ready to seat them or not. Additionally, they can have touchless digital menus from which the guests can select their order. Further, the business can even have mobile pay options such as payment gateways or touch-less card swiping facilities. Some restaurant businesses that can afford it, can go all out and even consider automation of some aspects of their business such as serving food via a robot or through an automated, contactless system.
Along with these technological additions to enhance the restaurant business, the owners must also consider utilising social media platforms for the business. They can avail social media management service to get a business account on the various platforms such as Facebook or Instagram and can further use these platforms to advertise, market and grow their business reach. With the help of social media restaurants can touch base with a wider audience than they normally would. They can also display the safety features and measures undertaken by them via photos thereby reassuring customers to visit the restaurant.

A restaurant business thrives not just on the food they provide but also on the experience they provide to the customers. The above 5 changes suggested are just some of the measures that the business can take to be ready for customers post lockdown while ensuring safety. For further elaboration and assistance on loans for implementing these changes or for taking advantage of social media platforms, the restaurant business owners can approach deAsra for guidance and support.