Essentials Of A Photography Business Plan
"Photos are a return ticket to moments otherwise gone ", truly resonates a quote. Photographs are the best way to preserve and cherish a memory for the longest time. Special moments and achievements can be re-lived by going through the photographs of those special occasions. 
In fact, in today's digital age, photos and images are the new ways of communicating and conveying messages and information whether for world events, sports, arts, fashion, or any other field. In fact, people nowadays document every moment of their lives and days by clicking photographs.
Since a picture speaks a thousand words, photography is definitely a profitable business to venture into especially for those who are avid photographers and whose pictures speak more than written words ever can. 
Also, along with being a popular and lucrative business, the photography business has several advantages too-
Earning Money Pursuing Your Passion
A photography business gives you the opportunity to convert a hobby into a business and therefore earn money while pursuing the hobby. A photography business thus allows you to earn by doing something you love. 
Being Your Own Boss
A photography business will help you to be independent and operate independently, without reporting to a boss or being restricted to an office and its timings. Thus, with a photography business, you can be your own boss.
Job Satisfaction
Often individuals work to earn a living but it is not something that they enjoy. A photography business gives you the job satisfaction of doing something that you enjoy.
Flexible Work Hours
The photography business allows you to work as per your convenience rather than being restricted by a 9 to 5 timing job. The business thus allows flexibility and convenience.
Visiting New Locations
Another advantage of the photography business is that you can travel to new scenic locales and picturesque locations for the photo shoots, especially now when customers prefer to have pre-wedding shoots, baby photoshoots and weddings at exotic destinations.
Making New Contacts
Photography business allows you to meet several new people owing to the nature of the business and thus forge new contacts. These new contacts help you to build a strong network. 
Helping Create Lasting Memories
Lastly, the photography business allows you to contribute towards creating lasting memories for the clients and to be a part of their special celebrations too. 
Owing to the number of advantages of the photography business, there are many who foray into the business, which is why you, as an aspiring entrepreneur, need to strive to be different and stand apart from the competition. As an entrepreneur, you can start with a detailed and meticulously prepared business plan, which will help devise strategies to stay ahead of the competition while at the same time being able to strike a chord with and appeal to the customers. 
A business plan is a roadmap of the business idea that describes the entire business in detail and also shows how the entrepreneur intends to put the plans into action and achieve business goals. A business plan is a must for every business and is beneficial for the business too.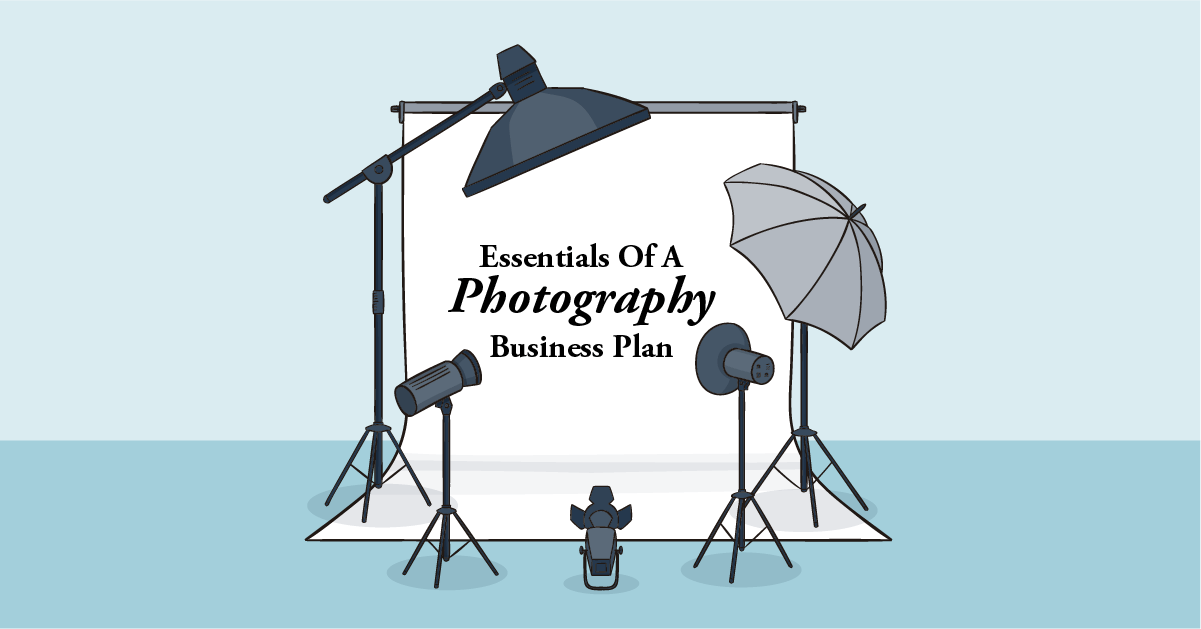 Benefits Of A Photography Business Plan
Provides Structure

– A business plan gives a definite structure to the vague business idea. A structured business plan is easier to envision, especially for others, and also to follow the plan to fruition.

Saves Resources And Time-

A business plan takes into account complete details of the business and even enlists all the resources needed for the business, even in the future. This list which takes all the needs and requirements of the business into account helps save on resources and also helps save time which might otherwise be wasted in planning the business at every step and on making a list of resources at every step.

Aids Loan Application

– The business plan gives a detailed description of the business, its goals and objectives and returns too, all of which helps give an idea about the success of the business. This especially helps while applying for a bank loan, since the bank officials will get an idea about the business via the meticulously prepared business plan and the chances of securing the loan are higher. In short, the business plan helps

secure funding as it addresses all concerns of funding institutions.

Helps Stay Relevant

– A business plan helps the business owner stay relevant to the goals and objectives of the business, especially after a few years of establishing and running the business, when the goals become unclear or forgotten. A business plan thus helps the business to stay relevant to the goals of the business.

Assists In Making Future Projections-

A business plan helps in

giving a good understanding of how the business will operate in the future and thus assist in making future projections of the business.
 A photography business plan is beneficial and a must for every business, including the photography business. However, it is vital to know what a business plan must comprise of, in order for the plan to be effective and for that to happen a business plan checklist is needed to ensure that all the points are covered in the business plan.

Essentials Of A Photography Business Plan
The essentials of a photography business plan include-
Business Objective
The business objective chalks out the exact nature of the business in detail. This includes information about the kind of photography business you, the entrepreneur, want to specialise in and create a niche for yourself in as well as identify the target audience. It could be wedding photography, or portrait photography or food photography or fashion photography or nature and outdoor photography, etc. There are several types of photography to choose from and further the plan must include ways in which the actual business will be conducted, and also specify if you will rent out an office space or studio space or work from home (since a photography business allows that liberty). Additionally, the business objective and details must include a list of equipment needed for the particular type of photography business. A basic list of equipment needed for photography business includes-
Good camera

Camera batteries

Charger for the batteries

Tripod

Camera bag

Lenses

Lighting

Props such as background curtains, seating props, and various other props as appropriate for the type of photoshoot including balloons, streams, balls, glasses, artwork cutouts and several others

Backdrop

Studio space

Computer

Editing software

Smartphone which has a good camera

Photography apps on the phone

External hard drive

Photo printer
Vision And Future Projections
The business plan must include the future vision for the business, answering questions such as where do you see the photography business in a few years and what goals do you hope to achieve. Probably the vision could include having your own studio space or professionally catering to different types of photography assignments or having a team of more than 10 or having pictures used for magazine shoots or having your own calendar shoot, the future goals can be many but need to be specifically included in the plan. Also, future business projections in terms of business output and profits need to be mentioned. For instance the expected gross income in the next 5 years and the percentage growth estimated to be achieved each year.
Capital Requirement
While chalking out the business plan, estimating the capital investment required for the business is vital. The business requirements, investments to be made in terms of photography equipment and studio space (rental or owned), future funds required for expansion and funds for day to day operational expenses such as transportation, lighting, electricity, props, etc. Also consider the amount to be paid for models in case of fashion photography and for products and styling props purchased while shooting for products and advertising purposes. All of these expenses need to be taken into account while estimating the capital required for the business and included in the plan.
Securing Funds
Once the business goal and the capital required to achieve it are described, the business plan must also include ways in which the photography business intends to obtain the funding. Bank loans or funding via non banking financial institutions are ideal options. These places too are more likely to approve loan applications if the business plan is in place and is thorough.
Market Study
Another vital element that might seem irrelevant to a business plan but is a must to be included is the detailed market study of the competition. Study can include what photography trends are in vogue, how are competitors operating, how they are approaching customers, what are the customer requirements, the appropriate pricing and similar research conducted on targeted audience and the competitors.
Advertising Strategy
The business plan must even include the strategies devised to advertise about the business and approach the desired audience. A website is crucial in today's digital advertising times along with having a presence on various social media and photo sharing platforms such as Instagram, Pinterest, Facebook. Approaching customers via informative videos and blogs, such as on topics like ideal photography lighting, props and poses for better photos, shoot styling ideas, etc. must be thought of and included in the business plan.
Summary
The summary in a business plan is a brief gist of the business objective, vision and manner in which the business will be conducted. 
Conclusion
These are some of the essentials that must be included in the photography business plan. Further, professionals like those at deAsra can help chalk out a business plan along with a summary relevant to the photography business and the entrepreneur's business objectives too.