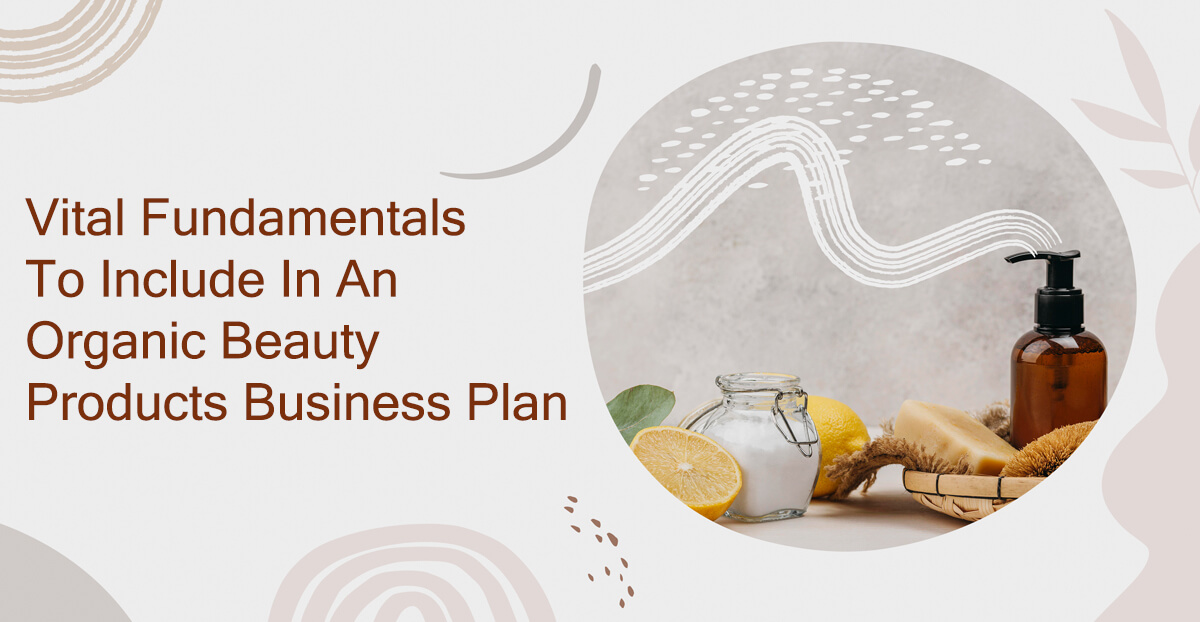 Vital Fundamentals To Include In An Organic Beauty Products Business Plan
If you are an aspiring entrepreneur wishing to dabble in the organic beauty products business, there has never been a better time to start your business. In recent times there has been an increased awareness for organic products, especially organic beauty products. Take a look at any of the beauty products in a supermarket and those with the terms 'natural', 'chemical-free', 'vegan', 'cruelty-free' and organic are likely to be picked up first by the consumers.  Also, formulating organic beauty products with plants, leaves, roots, bark, herbs, spices and flowers is one of the most satisfying and rewarding skills. 
Reports and statistics also support this trend, where an increase in the demand for organic, clean beauty products is observed among conscious consumers, thereby leading to a high number of sales of organic beauty products. All of this points to the increasing popularity of clean, organic products and it is the right time to start an organic beauty products business. 
Advantages Of Organic Beauty Products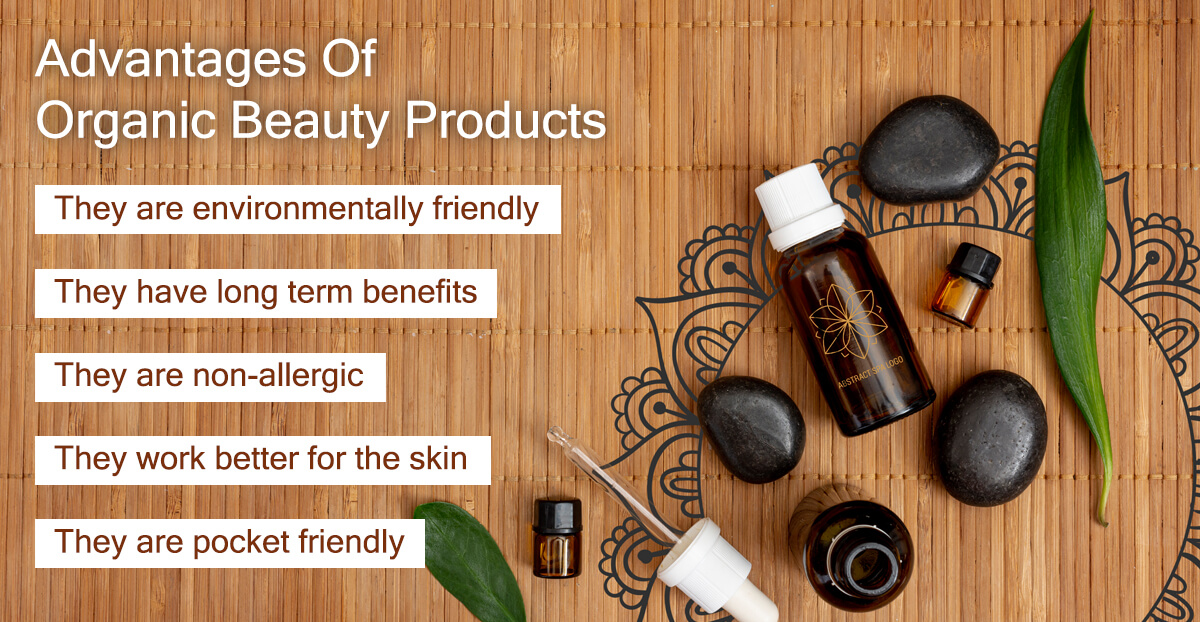 The sales figures in 2020 have shown that there has been a conscious shift among customers towards organic beauty products.  These organic cosmetics and skincare products have several benefits too. The primary advantages of organic beauty products include-
They are environmentally friendly

The biggest advantage of using

organic beauty

products is that these products are non-toxic and do not contain any harmful chemicals. Since organic beauty products are made from natural ingredients that are locally sourced they are sustainable and environmentally friendly. The absence of skin-damaging material adds to the benefits of these products.
They have long term benefits

Organic beauty products are made using natural ingredients. Our country has a rich resource of indigenous ingredients such as amla, chandan, wild turmeric, mulethi, and many more which have beneficial effects on the skin, especially for the long term. 
They are non-allergic

Since all the components of

organic beauty products

and cosmetics are naturally sourced and devoid of any harsh chemicals, most of the products are non-allergic, making them safe to be used by individuals of almost all age groups.  
They work better for the skin

Our skin acts like a sponge absorbing what it comes in contact with whether it's dust, sunlight, chemical-laden lotions or organic beauty products. When absorbed, the natural and safe ingredients of

organic beauty products

are safe for the skin, not causing any side effects and work better for the skin. 
They are pocket friendly 

Organic beauty products

are devoid of harsh chemicals and not made in laboratories. These products are usually made at home or small scale units, using naturally found ingredients. All these factors cut down on the overall cost of the products in the long run and make them pocket friendly for the customers. 
These are the preeminent advantages of organic beauty products. But apart from knowing the benefits, aspiring entrepreneurs need to acquaint themselves with the essential factors to consider to start an organic beauty products business and create a detailed business plan for the same.
Vital Fundamentals To Include In An Organic Beauty Products Business Plan
A business plan is a vital first step while starting any business. The business plan helps entrepreneurs enlist all the essential factors, details, information required to start the business along with stating the vision and mission of the business. In short, a business plan acts like a road map providing directions and guidance to fulfil the goals of the business within a given time frame.  
The core information to be included in an organic beauty products business is as follows- 
Executive Summary 

Company Description 

Market Analysis 

Management and Operational Description 

Financial Summary

Marketing Plan 
These form the crux of every business plan but starting an organic beauty products business also means putting in hours of learning, researching, as well as practising the formulations. It also includes gaining business skills from financial to marketing skills.

Entrepreneurs can avail Business Planning and Idea Validation services to create a thorough proposal along with the vital fundamentals included in the plan. Some of the vital fundamentals to include are as follows-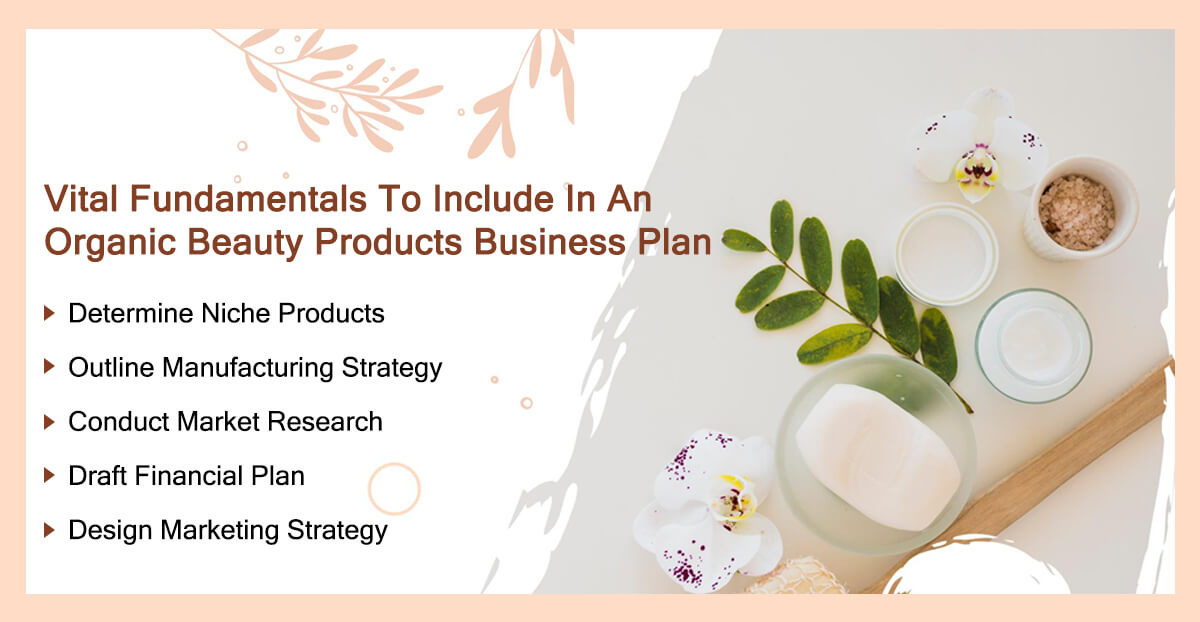 The objective of the business needs to be determined and explicitly mentioned in the business plan. This includes specifying the niche organic beauty products that the business will specialize in, whether it is hair masks, hair cleansers, hair oils or face packs, face scrubs, face cleansers, face oils, or body oils, body scrubs, body soaps, or organic cosmetics like lip colours and cheek tints, etc. The market for these products and how these products will be sold must also be determined, whether in a retail shop, or supplied to retailers, or via e-commerce stores or through a website or social media marketplaces, etc.
Outline Manufacturing Strategy
Along with determining the niche products to specialise in, thorough research must be done regarding the manufacturing process, ingredients required, the cost, etc. in order to start the organic beauty products business seamlessly. 
The products can be manufactured either at home or in a small unit (approximately 250 sq mtr to 500 sq mtr). The ingredients required for the specific products need to be listed along with details regarding where to obtain them from, how they will be stored,  how to make the beauty products from them and the packaging details. In addition to this information, the machinery required for the manufacturing process needs to be listed too- such as a grinding machine, sieve, gas stove to roast some of the ingredients, containers to mix, spatulas, spoons, etc. 
The details regarding who will handle the manufacturing process, the number of employees- a manager,  accountant, and the responsibilities of each of these must also be included in the organic beauty products business plan.
Analysing the market, especially the competitors is also an important part of business planning. The market research includes finding out what products are more popular among consumers, which products have high demand and why, and what is the pricing for these products. Data such as what are the competitors doing, why are their products selling, how are they packaging and pricing their products, and many such details need to be researched, analysed and included in the organic beauty products business plan.
Business planning includes planning for the financial aspects of the business too, such as what are the capital requirements for the business, and how will these requirements be met. Aspiring entrepreneurs must enlist all the expenses to be incurred in order to start the business, such as the cost of purchasing the raw materials, cost of purchasing the equipment, the rent for the manufacturing unit, the salaries for all the employees, the cost of packaging material and logistics, cost of marketing the products and other miscellaneous expenses. 
Once all the capital requirements are enlisted, the next step is to arrange for funds to fulfil these requirements. A business loan can help with starting the business and cover the costs. Entrepreneurs can apply for loans from banks or NBFCs Non-Banking Financial Companies) by submitting a funding proposal. A guided method to create a funding proposal can be found here.  Alternatively, entrepreneurs can opt for deAsra's Funding proposal service to help create a thorough proposal with all the necessary details and documents.

Design Marketing Strategy
 Another crucial aspect to consider and include in the organic beauty products business plan is the marketing strategy for the business. The marketing plan elaborates where the business will market itself and how. It could be planning where to market the products, whether via e-commerce platforms, websites, social media channels such as Instagram and Facebook or through traditional advertising methods such as pamphlets, brochures, and print ads. But in today's digital times, marketing and advertising via social media marketing methods are the most effective. The marketing plan can include all this information in detail.
This is some vital information that needs to be included in the organic beauty products business plan. For detailed information and assistance, whether for business plan creation or funding proposal creation, entrepreneurs can reach out to the experts at deAsra.