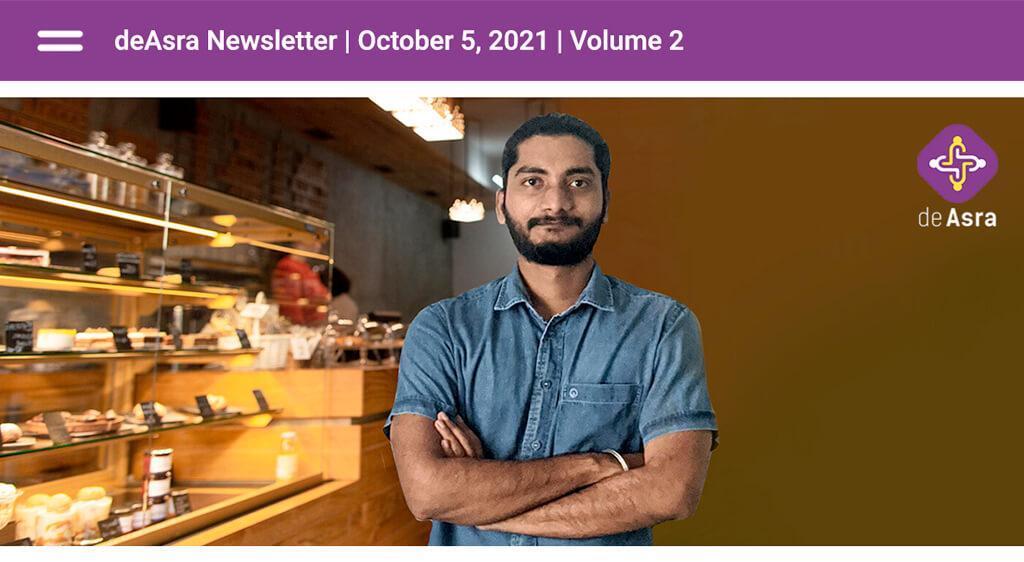 October 2021 Newsletter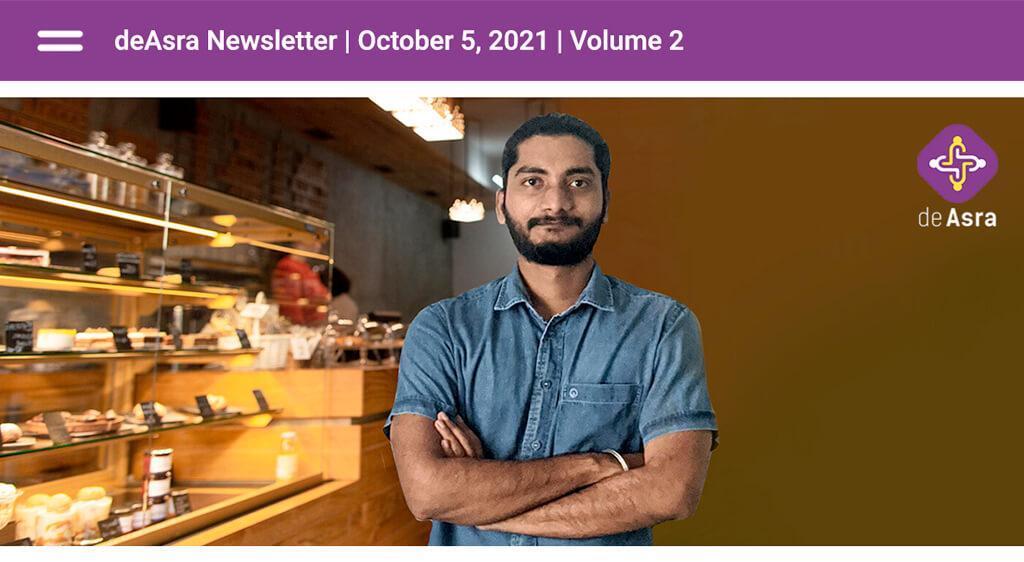 Greetings from
 deAsra Foundation!
deAsra
Foundation has been nurturing entrepreneurship for over 6 years and has shaped the lives of 1 Lac+ entrepreneur. In order to positively impact the entrepreneurial ecosystem, we have also started engaging in research and policy advocacy while leveraging our experience of working with entrepreneurs, community partners and service providers. We are also actively collaborating with entrepreneurship development organisations to design & implement on-ground entrepreneurship programs. We are eager to share some of our recent achievements with you!
Impact Report for Social Champ Program
deAsra 
in collaboration with
Upgrowth
conducted a program designed to introduce the idea of marketing business through social media platforms. In wake of the ongoing pandemic, which has yet again underlined the importance of technology and the need to leverage it, Social Champ was born to facilitate the ease of entrepreneurs in managing their social media handles and to help them increase their visibility on digital platforms. Some of the focus areas of the session were – best practices for social media management, content and graphic creation training and expert mentoring and support. A total of 19 participants were a part of this program. Key Impact & Learnings of the Program:
Twenty three percent participants experienced an average increase of up to 20 percent revenue coming through their social media handles.
Forty six percent participants said that they have received up to 5 queries on an average per post on their social media handles.
Fifty four percent participants had an average increase of engagement in the range of 5 percent to 25 percent.
Sixty seven percent participants saw an increase in the number of followers in between the range of 5% to 25 percent.
Specifically new business owners felt that the program was an ideal start towards digital marketing
Find the detailed impact report  here.
Impact Article for Business Loan Readiness Program
According to an internal survey conducted by
deAsra
, around seventy percent small business entrepreneurs were found to be ineligible for loans. The Business Loan Readiness Program was therefore aimed at building literacy and knowledge around fund raising and ensuring that entrepreneurs have the tools and resources available to receive funds from formal lending institutions, such as non-banking financial corporations and banks. This program was spread across three weeks, with two sessions each week. The program was uniquely designed to help participants learn in a group and get one-on-one support as well. A total of 18 participants took part in this program.
Key Impact & Learnings of the Program:
Fifty percent participants applied for a loan post the program
Most voted features: mentor expert interaction and the content shared during the sessions
Over forty percent of the responding entrepreneurs shared that they found the program to be worth the investment.
Forty four percent of the entrepreneurs shared that they would recommend the program to other entrepreneurs that they may know
Younger businesses found more value in this program vis-a-via established businesses
Find the detailed impact article here.
Impact Study for MSME Loan Initiative Program
deAsra
conducted a survey of around 1000 participants in April 2020, beginning of the Covid-19 lockdown period, with some of its platform users to understand the challenges faced by small entrepreneurs amidst a global pandemic. 50% of the survey respondents reported, "Lack of Finance" as the biggest hurdle faced during the pandemic. In order to address this issue,
deAsra
tied up with multiple Financial Institutions (NBFCs, Cooperatives, Banks etc.) to provide access to capital to these entrepreneurs. The participating Financial Institutions were Gromor, Happy, Janaseva, Microgram, Saraswat & Lending Kart.
Key Impact & Learnings of the Program:
Female applicants and those in the age of 30-40 years stood a higher chance of eligibility for a loan
Female loanees have taken a greater number of smaller loans
Individual/Proprietorship Firm is more likely to get loans
Loan eligibility is high for small amounts of loans
Applicant with business address proof, co-borrower and bank statement are more likely to get a loan
More than seventy five percent of loans are taken by enterprises with less than 5 employees
Loan taken for expansion of capital is lesser in frequency but has shown zero defaults beyond 90 days
Find the detailed impact study here.
Association with G.A.M.E and HBOB
Entrepreneurs from
deAsra
Foundation participated in a study on virtual mentoring for non tech women entrepreneurs conducted by Global Alliance for Mass Entrepreneurship (G.A.M.E) and Her Business is Our Business (HBOB). The programme involved milestone-based mentoring and comprised of 36 mentors and 92 mentees. The final envisioned outcome was to build capability and independence within the entrepreneurs through support in business growth.
Key Impact & Learnings of the Study:
42 mentees completed their business plan
20 mentees completed the goal setting process
A higher percentage of mentees completed business plans when they had mentors who were more task focused
Entrepreneurs pivoted businesses to respond to business challenges brought on either by Covid or due to inherent issues
Entrepreneurs reported renewed focus on different avenues of business that were perhaps dormant or yet undiscovered
Entrepreneur engagement is higher when they are already part of the ecosystem
Monitoring and tracking progress of entrepreneurs without a customised technology platform is a challenge
Find highlights of the study report by HBOB & G.A.M.E here.
Collaboration with Weave Magazine, Avantika University
Avantika University published an article by Pradnya Godbole, highlighting
deAsra's
technology solutions, different pathways of partnerships, and research collaborations in the latest edition of their Weave Magazine.
Find the detailed article here.
If you have any queries or want to collaborate with
deAsra
on research/policy advocacy work in the space of entrepreneurship, please get in touch with:
Pradnya Godbole (CEO, deAsra Foundation) at 
pradnya@deasra.co.in
Or
Anshika Kushwaha (Lead- Research & Policy Advocacy – deAsra Foundation) at 
anshikakushwaha@deasra.co.in
For details on deAsra's monthly achievements and information on deAsra's entrepreneurs, please refer to the latest edition of the Monthly Dashboard –
Click Here