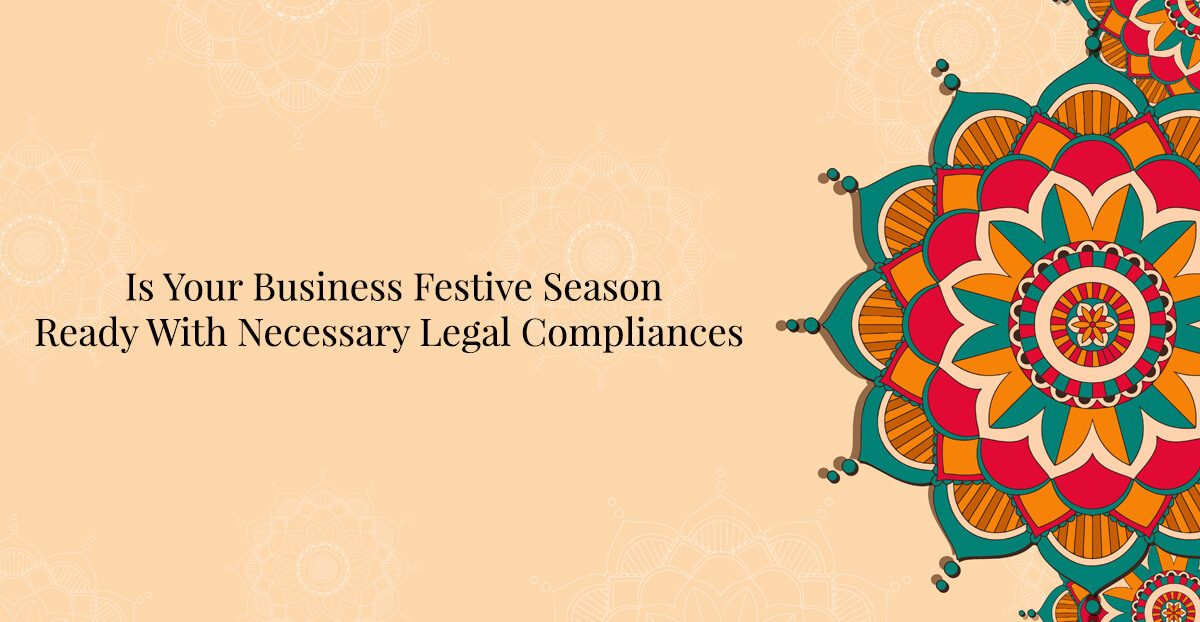 Is Your Business Festive Season Ready With Necessary Legal Compliances? 
The festive season in India is here with Navratri and Durga Puja starting, closely followed by Dussehra and Diwali arriving soon. The festival season is celebrated with much fanfare throughout the country and the advent of all the festivals means increased activity and a boost to the sales of numerous businesses. This is especially true for businesses catering specifically to these festivals and that is dependent on the festive season.
Businesses For The Festive Season
When we talk about festive season-specific businesses, the festivals are Dusshera, Durga Puja, Diwali which are all the most awaited festivals celebrated enthusiastically across India. And the businesses that operate specifically during these festivals include-
Festive food and confectionery business 

Fire-crackers business

Diyas and lanterns business

Floral decoration and flower business

Rangoli colours and material business

Lighting and electrical equipment business

Pooja and religious items business

House cleaning business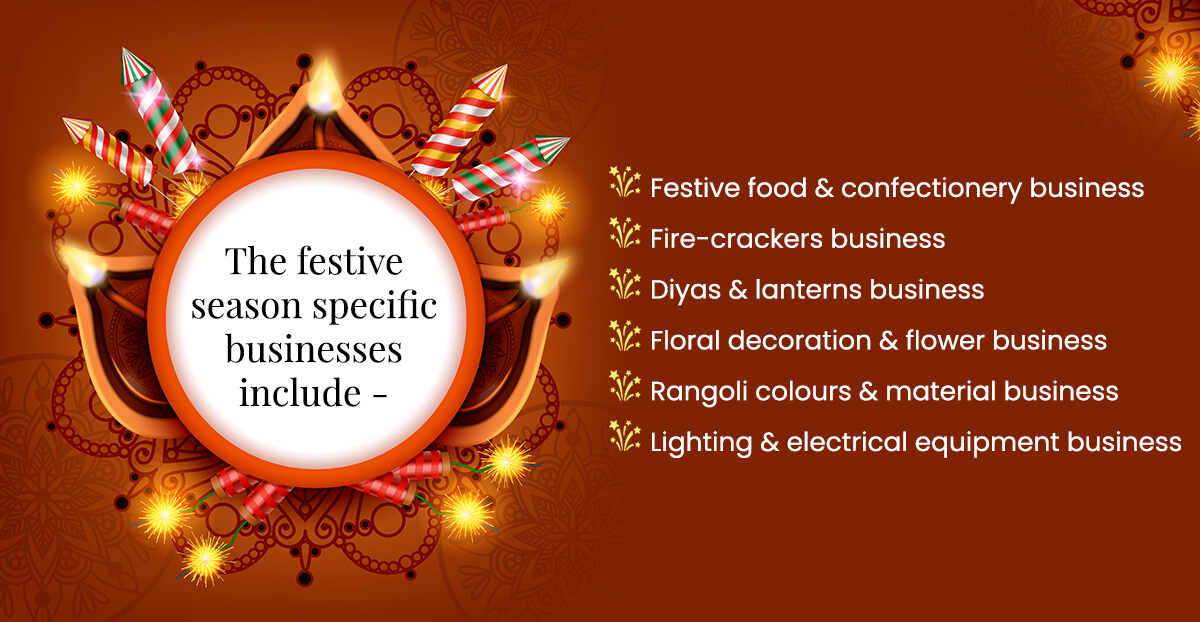 These businesses gain momentum at the start of the festive season and are largely dependent on these festivals for their sales. But are these businesses prepared for operating seamlessly during the festive season? Have they adhered to the necessary legal compliances that are mandatory for businesses to operate, especially during the festive season?
Necessary Legal Compliances For Businesses To Be Festive Season Ready
There are some legal compliances that are absolutely necessary for businesses to operate but several season-specific (or festival-specific) businesses tend to miss out on obtaining the same. And then end up paying a fine or facing a penalty for not obtaining necessary legal compliances. Businesses need to know of basic legal compliances necessary for them and its importance to procure all the required, mandatory registrations needed to operate the business.
Let's look at the necessary legal compliances that businesses need to obtain to be ready for this festive season.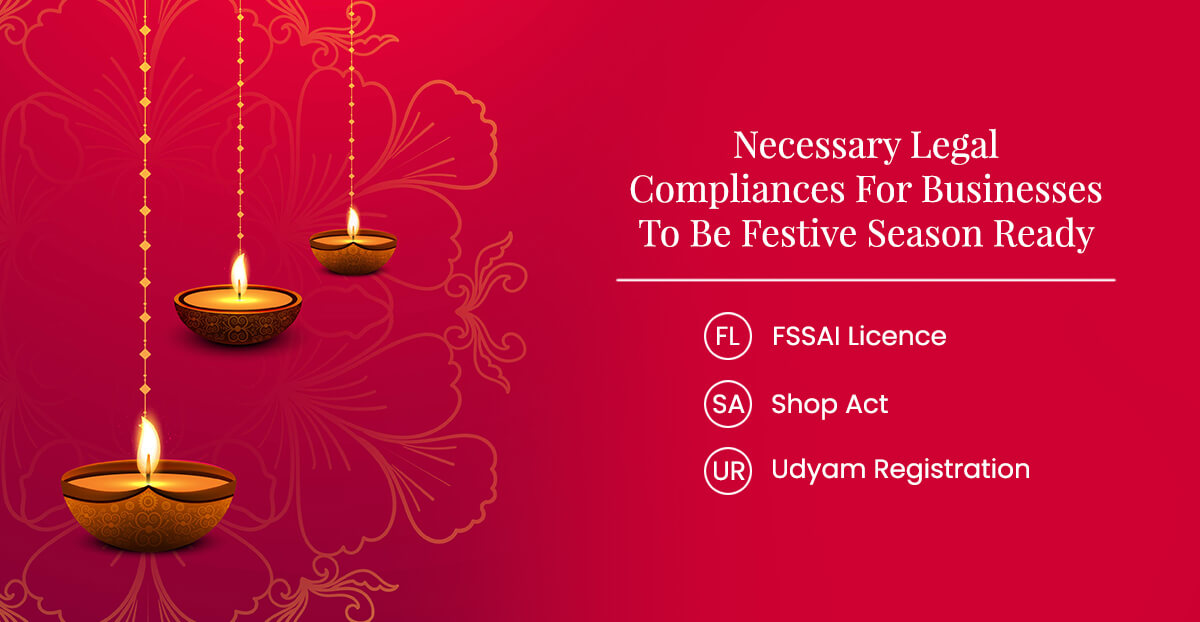 The Shop Act is a registration that is mandatory for businesses and every business, even if it is operated from home or based out of one's residence, must obtain the Shop Act Licence or Intimation. The Shop Act has been introduced by the Government to regulate businesses and their working conditions. The Act also helps provide rights to employees and employers of the unorganised sector. This includes regulating the working hours, the terms of service, the payment of wages, holidays, leaves and other conditions for people working in commercial establishments.
Procuring the Shop Act is especially necessary for businesses operating specifically during the festive season such as-
Lantern sellers

Diya sellers

Rangoli colours and material sellers

Food stalls

Home chefs making festive snacks and confectioneries

Firecracker stall owners, etc.

These businesses can Obtain Shop Act easily via deAsra's platform and services. 
FSSAI Registration and Licence
The FSSAI Registration and License is another legal compliance that is mandatory for food business operators- manufacturers, retailers, and those handling, packaging and distributing the food too. FSSAI or the Food Safety and Standards Authority of India is the governing body that stipulates rules and regulations to be followed by food business owners in order to maintain quality,  standard and hygiene. 
In the upcoming festive season, several home chefs start making sweets and snacks especially for the festive season like Diwali, where they make gujiyas, chivda, chakri, chirota, and many more snacks that are specialities of various regions within the country. Similarly, several food stalls and small food business owners operate only during the festivals such as Durga Puja, Navratri, Diwali. All these food businesses need to adhere to the required legal compliances by mandatorily applying for FSSAI Registration or Licence (depending on the turnover and investment).
In fact, from 1st October 2021, FSSAI has made it mandatory for food businesses to mention their FSSAI licence or registration on their invoices and bills. Thus making it necessary for food business operators to avail FSSAI Licence to operate seamlessly during the upcoming festive season.

Another necessary compliance to comply with, especially for businesses operating specifically during the festive season, is the Udyam Registration. Udyam Registration, which is also known as MSME Registration, is a government registration that is provided along with a recognition certificate and a unique number to certify and identify businesses as micro, small, or medium.
The Udyam Registration is a zero cost registration via an online portal that apart from recognizing businesses as micro, small and medium, makes them eligible to avail of several Government benefits and schemes. 
These are the basic compliances that are necessary for small businesses operating during the festive season. For these festival-related businesses to operate with hurdles, they must obtain the necessary legal compliances. The team at deAsra can assist these businesses with the application process to obtain the mandatory licenses and registrations.