How To Start A Supermarket?
There are some businesses that are vital for consumers and the economy alike and a supermarket is one such example.
Supermarkets are the link between the production/manufacturing and distribution of a number of goods and are the midpoint where supply meets the demand. By acting as the middle link, supermarkets help the economy tremendously. Supermarkets are even touted to strengthen the community as it is one of the few businesses that allows a face to face interaction with a large number of customers on a daily basis and thus provides a place for people to interact and engage socially. 
It is in fact difficult to imagine life without a supermarket. Supermarkets house a wide variety of essential products needed by people on a day to day basis, such as common edible items available for general use such as snacks, soft drinks, vanity products like beauty cream, moisturizer, comb, etc., bathroom essential items like soap, shampoo, face wash, detergent powders, etc. along with tea, coffee, sauce, cleaning items required for domestic cleaning plus cosmetics, hygiene products, grooming item, etc., meat products both packaged and non-packaged, baby care products, house ware, cooking utensils, decorative items, etc. Along with all these items, some supermarkets also keep and sell electronic items for domestic purpose like iron, microwave, TV, fridge, etc., along with furniture products and also clothing items for children, men and women.
Supermarkets are important to the customers and the community at large and have a number of benefits, thus making it a rewarding and excellent business idea for aspiring entrepreneurs to explore. So this is the right place for you if you are wondering how to start a supermarket.
Importance and advantages of supermarkets include –
Strengthens The Community
Supermarkets bring people together as it becomes the one-stop shop for a wide variety of goods. A supermarket sees a large footfall every day thus allowing people to interact with each other on a social level and even unites them under a single roof. The supermarket thus helps spread awareness about issues, educate people about causes and thus strengthens and brings the community together.
Provides Variety And Choice
Supermarkets display a wide variety of items all under one roof. Also there are a number of brands available for any particular item, therefore providing customers with a lot of choices. This choice is not available in smaller shops. Hence supermarkets house wide variety of products giving customers a lot of options to choose from.
Saves Time
A supermarket houses a variety of goods under one roof, thus saving the time of the customers, who would otherwise have to take the time to visit different stores to buy the various different things they need. 
Saves Resources
Supermarkets act as a one stop shop for customers to purchase all the daily essential items needed for survival and to run the house. Thus, supermarkets help save resources such as fuel and effort spent to purchase the individual items from the various specific stores.
Helps Economy
Supermarkets help boost the economy by supporting a lot of industries and businesses and giving them an opportunity to market their products and to connect with a number of customers. 
Entrepreneurs who are pondered with the question of how to start a supermarket can be sure that they can definitely benefit from it, given the number of advantages a supermarket has, however, as with every business, they need to learn how to start a supermarket and what are some of the essential factors to consider while starting one.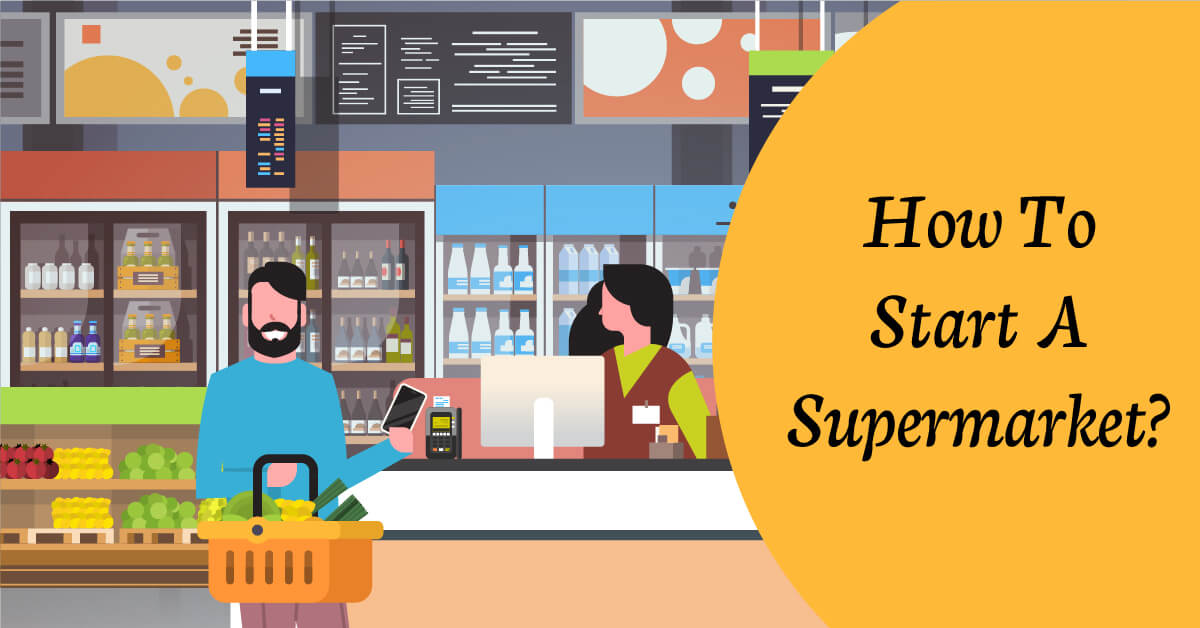 How To Start A Supermarket?
In order to start any business, including a supermarket, three vital things are required – planning, business skills and capital. 
Business Plan
Before you ask yourself how to start a supermarket, you need to ask yourself what is the premise of starting a business? The initial step irrespective of the type of business is to draw a business plan, outlining the details for the proposed business. The business plan elaborates on the workings of the business while mentioning the objectives, goals and vision of the business. The business plan helps provide a direction to the business owners if they get waylaid from their goals. The business plan includes details regarding the type of business entity the supermarket business will choose and conform to along with the financial and marketing aspects of the business, chalking out how the business will be conducted. The business plan must also include a feasibility study, outlining the research done to highlight the benefits and viability of the supermarket business. Additionally, the licences required to run the business must also be mentioned in the business plan.
The business plan is also presented to others while seeking a loan for the business or for any other aid or investment. Therefore, the business plan must be prepared very carefully and must include all the requisite details about the business.
Business Skills
Along with a business plan, business skills are also required to put the plan into action and execute it to perfection. While figuring out how to open a supermarket, the business skills come in handy for a variety of actions, including finding a suitable location for the store, procuring the inventory and hiring staff, running and managing the actual business and marketing the business.
Deciding Location For The Supermarket
While starting a supermarket, the location of the store makes a huge difference and has a significant impact on the business performance as well. The city and locality will decide the type and price range of the products to stock and display. Other factors to consider are the ease of access, ample parking space, storage space and availability of resources.
Sourcing Products/ Suppliers And Arranging The Shelves
A supermarket is a place where a wide variety of products and goods are sold under one roof. Therefore, it is vital to source the various products directly from manufacturers or from suppliers and wholesalers who provide a number of brands and at reasonable rates. The display of the shelves also requires business skills, so as to ensure that the aisles can be accessed easily and products are categorised and displayed attractively in order to be noticed easily by the customers.
Hiring Staff
Staff is very important for a supermarket, to help customers who are looking for specific items, to arrange the shelves systematically, to keep stock and to manage the store. Business skills are necessary to hire staff that is skilled, knowledgeable about the products and is polite and helpful.
Advertising The Business
Since supermarkets are omnipresent, advertising about the business and creating a brand value is vital and requires business skills. There is competition in the supermarket domain, therefore marketing strategies must be applied such as offering promotional deals, attractive offers, gifts, discounts, arranging events within the store, etc. to increase the footfall.
Capital Requirement
The third and most vital aspect, along with a business plan and business skills, is capital required for starting and operating the supermarket. A supermarket requires a sizeable capital for a number of factors, which include-
Store space-

the place can be purchased or rented, either option requiring a significant capital investment to be made.

Stock-

purchasing and displaying a variety of products requires a stock of number of items, all of which requires capital.

Equipment-

a supermarket requires number of equipment such as display shelves, trolleys, baskets, refrigerators for storing perishable goods, bags, weighing scales, trays, etc. 

Technology-

supermarket requires cash registers, bar coding machines and computers as well as software to keep a tally of the goods and to make the billing process smooth flowing.

Licences
a supermarket business requires certain licences and permits to operate, most of them being mandatory, such as a Shop Act registration, FSSAI licence, GST registration and a few more. The application for each of these licences also requires a certain amount of capital.
Salaries-

supermarket requires staff and the salaries of all these employees as well as day to day expenses need to be considered while calculating the capital requirement.
The capital needed for all these essential requirements can be obtained via bank loans or NBFCs (non banking financial institutions). Alternatively, capital can be borrowed from friends and family too or obtained from savings, but a supermarket requires a significant investment and therefore a loan is a more reliable and recommended option. Since the funding list is extensive, the application for obtaining the loans must also be made carefully, while keeping in mind the funding checklist to help facilitate the loans faster. The funding checklist outlines the necessary information and documents required while applying for a loan. A business plan is one of the essentials to be submitted along with the other required documents while applying for a loan. The impression created about the business via these documents helps build a positive image regarding the business and speeds the sanction of the loan. Capital is essential for starting a supermarket, without which the business plan and business skills cannot be put into action and therefore it is vital to be aware of the requirements while applying for funding and prioritise the funding applications. If you more queries regarding how to start a supermarket, guidance and assistance can be sought from experts such as those at deAsra to help create an attractive application to seek funding for the business and ensure growth in the supermarket business venture.