How To Start A Photography Business?
Are you the designated photographer for all your friends and family whenever there is a get-together? Does your social media feed have more photos of beautiful objects, scenic locations and breathtaking images captured by you rather than photos of yourself? Do people rave about your photography skills? Do you concentrate more on photos and the image quality and lighting rather than outfits and celebrity outings and related videos on your Instagram account? If you answer yes to most of these questions and if you have a passion for photography then you must consider converting your hobby into a vocation. A photography business is one such business, out of a numbered few business opportunities, that allows you to convert a hobby into a profitable venture. 
Apart from being a popular business choice, a photography business has several advantages, such as, it helps you to be independent and work as per your convenience and timings. Additionally, a photography business eliminates the need of reporting to any superior and allows you to have flexible work timings.  Also, the business can often take you to new places and locations that you might not be able to see or visit normally. The business also provides networking opportunities by allowing you to meet and interact with new people.
Owing to its benefits many photographers want to turn into entrepreneurs but because of the lack of knowledge about how to start a photography business, they shy away from taking the plunge. A few essential pointers will help entrepreneurs get started on their photography business.
How To Start A Photography Business?
In the photography business, the work speaks for itself but there are certain essentials to keep in mind which help gain insight into how to start a photography business step by step as elaborated below.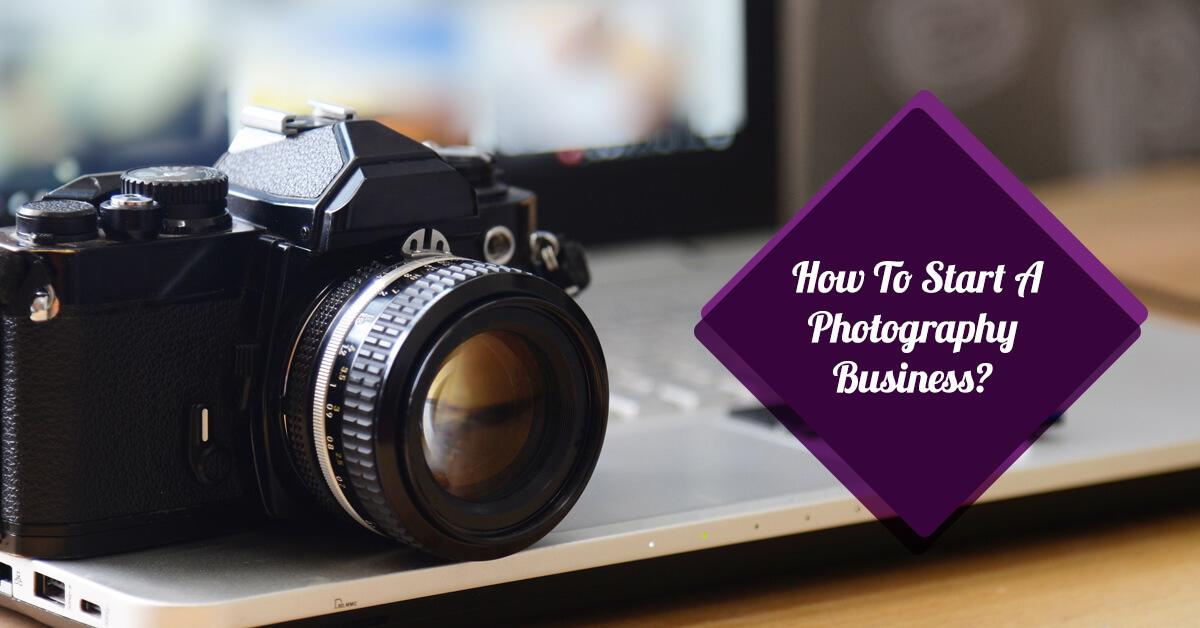 Nature Of Photography Business
Before you step into the details of how to start a photography business, one of the starting points is deciding the kind of photography business to run. There are a number of fields and further specialisations in the various fields of photography. Some types and forms of photography that can be explored as a profession include-
Food Photography
All the mouthwatering photos of food that you see online, which make you crave the delectable dishes is thanks to the photography skills which present food in an appealing style. Food photography is very profitable and high in demand, especially owing to the online selection and delivery of food. The photos of the food items need to look tempting and everyone is not skilled enough to take photos of food items in a visually appealing manner and that explains the demand for good food photographers.
Travel Photography
We often choose travel locations based on the scenic photos of the location and this is due to travel photography. Travel photography involves seeing locations from a different perspective and capturing the essence of the place, thus making it an interesting field.
Fashion Photography
Fashion has got it's glamorous tag thanks to photography skills that make fashion related garments and accessories look stylish and desirable. It might include the need for models to don the fashionable garments and accessories for the photoshoot. Thus as a photographer you might have to hire models routinely. This field of photography is one of the most popular ones with a demand for it as it is one of the rapidly growing sectors.
Wildlife & Nature Photography
This field of photography captures natural wonders and wildlife in transfixing images, however the photographer needs to be dedicated, passionate and patient about the topics (nature and wildlife) to click the perfect shot.
Still Photography
Also known as product photography, this field involves clicking images of products and brands, especially for the purpose of marketing and is a profitable field that requires the photographer to be a little creative too, in order to help style the products or place them uniquely.
Architectural Photography
Modern day architecture requires a photographer who appreciates the novel structures and can bring out the unique-ness via the images. Also this field will allow the photographer to travel to different locations too.
People Photography
This is the most popular form of photography that individuals are aware of and budding entrepreneurs look forward to pursue. This captures humans with their lenses and is further divided into following specialisations-
Weddings / Event Photography
This covers photography for special occasions and events such as birthdays, weddings, baby showers etc. This is the main reason why people look to hire a photographer. Specific occasion photography such as pre-wedding photoshoots have become such a big deal that couples set aside a sizeable budget exclusively for it and are ready to travel to various exotic locations for the same too.
Maternity Photography
Nowadays maternity shoots are very popular and a lot of to-be-mothers wish to capture their precious moments for eternity. Photographers can specialise in this field alone and invest in interesting props and setups for the same.
Newborn & Baby Photography
A baby's first few years are captured in innumerable photographs and specialists in the field have themes and props for this type of photography, such as a cake smash theme or a mermaid theme, etc.
Portrait Photography
This field captures individuals in portraits that make the images stunning and frame-worthy.
Action or Sports Photography
This field includes clicking pictures exclusively of sports events, which are so popular or of individuals who are in motion and is challenging but interesting field with scope for profits.
Photojournalism
In the digital times, photos can convey news better than words and a photojournalist's job is to do just that. This field is much in demand and pays well too but keeps the photographer on his toes.
These are just some fields of specialisation in a business that has countless other types of photography specialisations.
Business Set-Up
Once the entrepreneur decides his field of specialisation from the various types of photography, the next important step is to actually set-up the business. This requires a-
A photography business plan includes details like the business objective, how the entrepreneur will conduct the business and earn via photography, place of business, study of competition and marketing strategies for the business, the expected capital investment for the business such as for the place, the photography equipment like camera, lens, stands, and other accessories and the expected profits from the business, etc.
The business owner needs to jot down an exact figure that needs to be invested into the business and the ways in which this capital can be procured, either via loans or savings, etc.
A photography business is such that it needs to be seen rather than heard for customers to be impressed and for them to approach the business for future assignments. In order to woo customers, the entrepreneur, as for every other business, feels that they need marketing help, more so in the case of photography business, that relies on visual images for marketing. Some marketing strategies that can boost the business in today's digital times are discussed below

A website is a must in today's time as it provides an insight into the kind of services offered by the photography business and is also a place where customers can view the previous work of the photographer. The website must be easy to navigate and the gallery of images must be up-to-date, thus speaking of the body of work done by the photographer and displays the skills too.
A presence on all the various social media platforms is a must if you want to succeed in the photography business. Facebook and Instagram alone can help you obtain photography assignments as well as market the business and the services offered in the best way possible. An active social media page and daily updates helps draw the attention of customers.
This service by Google helps your business and the key services offered being one of the first ones to appear whenever a potential customer conducts a search online. Use keywords wisely and reap in benefits of this advantageous marketing service.
This can help you as a photographer build a rapport with the visitors to the blog, who can down the line turn into customers. The blog can talk about ways to make a photoshoot interesting such as discuss poses or photography styles for a maternity shoot or props that can be used for particular types of shoots such as a pre-wedding photoshoot or themes that can be explored for a baby photoshoot or a shoot to announce the arrival of a baby. The blog needs to be informative and creative rather than simply marketing the business.
This is a world catalogue that allows accessing, discovering and saving information in the form of images. Therefore a photographer can showcase their work, their specialisation and ideas via this platform. Further images can be downloaded and reused from this site, sometimes for a small charge that goes to the image owner (mostly the photographer) thus helping earn a profit and advertising about the business too.
Photography is a business that requires you, as a business owner, to network with various individuals and even collaborate with other photographers or business owners. Look to network even when not earning from the collaboration as it provides opportunities to learn and connect with others, which can turn to be helpful anytime in the future.
These are some of the essentials of how to start a photography business and strategies to market the business. For detailed assistance with marketing services and related queries, deAsra can be approached for their guidance and expert services.