How To Start A Jewellery Business Online?
Fashion today is not just defined by the clothes you wear but by the way you style it with different accessories, including bags, shoes and of course, jewellery. Jewellery is a perennial favourite among women and is fast finding space in a man's wardrobe too. In fact, ask any lady what she wants as a gift and 8 out of 10 times jewellery is going to pop as an answer.
Over the years, jewellery too, has seen a sea of change in terms of types of jewellery items available such as the neckpieces, earrings, rings, bracelets, bangles, rings on the eyebrows, armbands, waistbands, toe rings and also, varied materials are now used to make jewellery, right from quilling paper to silk thread to different metals to precious stones to silver, gold and diamonds. This limitless variety and types help make jewellery available in a wide range of prices and for every and any occasion too.
Owing to its constant demand and popularity as well as the wide variety of jewellery available make jewellery business a profitable business opportunity, especially for those wanting to start small and also for aspiring women entrepreneurs. Thus, this is the right time to ask how to start a jewellery business online?
Also, in keeping with today's digital times, starting a fashion business online is even more lucrative as the business owner can display a wide variety of products to an even wider audience.

How To Start A Jewellery Business Online?
Online is the way to conduct business if you are looking at starting a fashion business because-
Large Marketplace
The online market is seamless and can reach out to people across borders and around the globe, thus making it a very large marketplace for selling products that would otherwise not reach to such a large audience.
Reach All Genders
A jewellery store is often chiefly visited by women and some men might shy away from entering the store or might be reluctant to shop for jewellery in a store but there are no gender specifications in an online store. An online store can connect with and appeal to men and women at the same time.
Approach Diverse Audience
Online stores can have a wide variety of products, jewellery in the case of an online jewellery store, that is suitable for different age groups, different choices, different preferences, etc. For example, there can be jewellery delicate jewellery for working women, or extensive wedding jewellery or trendy jewellery catering to college-going crowds and young customers, all of whom can be approached at the same time. Thus an online store helps approach a wider audience 
Operate From Anywhere
An online store allows the entrepreneurs to operate from anywhere, they do not need to have a physical location if they do not have funds to set up a shop. They can operate the business even from the comforts of their own home or even travel while managing the online store, taking orders from any place and making deliveries to several locations as well. An online store is thus extremely mobile and can be operated from anywhere and is not restricted by boundaries or space specifications. 
Save On Resources
Before you ask yourself how to start a jewellery business online, you need to understand the basics of this business. When a store is online, entrepreneurs do not need to have a physical shop. Also, they save on costs for construction and furnishing of an actual store, electricity, daily transportation costs, additional staff costs, all of which can be diverted towards procuring or manufacturing more goods (jewellery) and improving the online store and its interface. Thus, online stores help save a lot of resources. 
Open Anytime
An online store is not restricted by timings or locations and is a store that can be accessed 24/7 by the customers. This is advantageous to the customers as well as the entrepreneur who can provide sales and services 24/7 without physically being tied up to a particular location.
Lower Risk
An online store has an investment in terms of setting up the website and investing in the products but the investment is not as much as a physical store. This, in‌ ‌turn, makes the business a low-risk venture with higher chances of returns and making a profit. With the lower risk to drain down the entrepreneur, he can concentrate on more ways to market and promote the business.
Apart from these advantages, online retail and starting an online business have several other benefits too like it is easy to start, is a low-cost option, is a trusted platform which is growing steadily, thus encouraging entrepreneurs to explore it as a model of conducting business.
Additionally, jewellery is a great fit for e-commerce as the products or jewellery items are lightweight and easy to ship, and also come in many variations, along with the possibility of customisation.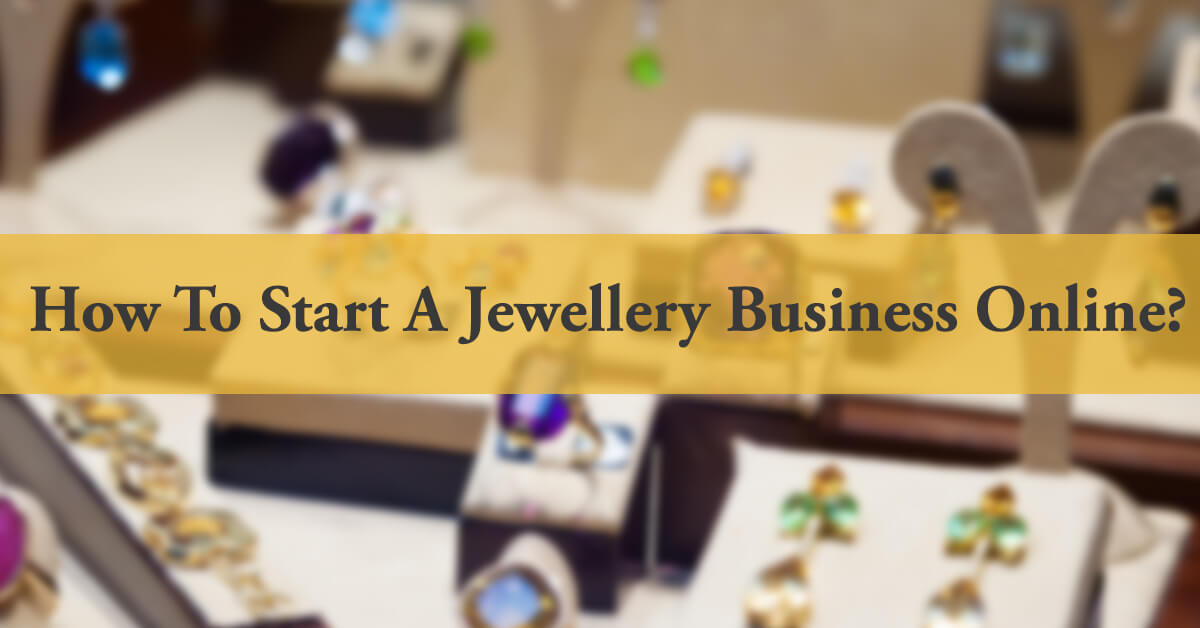 Starting A Jewellery Business Online – Things To Consider
How to start a jewellery business online? Firstly, you need to keep in mind certain criteria and conduct research, all of which will help the business to establish itself smoothly and make profits rapidly. These criteria include-
Create Business Plan – The first step while starting any business is to have a business plan in place which covers all the details of the business, such that it can be used in order to secure finances. A jewellery business plan must include the type of business envisioned (a type of jewellery to sell, target audience, jewellery to be made of any specific material, price range, etc.), the entity to be registered (proprietorship, partnership, LLP or company), the objectives and future projected goals and targeted achievements along with the number of funds needed, areas where the funds will be utilized and ways of procuring the funds.
Conduct Research –

Research and analysis are vital for every business. Research must include details of the current trends, which jewellery products are currently selling faster, reasons for the selling, ways in which competitors are vying for customer attention, marketing strategies to advertise about the products, any services or products that are in demand but are short on supply or any scope for novelty products, etc.

Decide To Outsource Or Manufacture

– Another important factor to consider is whether the jewellery on display and for sale is to be outsourced or manufactured by the business itself. Each of the 2 options has its benefits and the kind of jewellery to be showcased also decides the materials and manpower needed for manufacturing. For instance, silk jewellery or bead jewellery is easy to make and does not require much manpower, silver and gold jewellery requires access to precious metals as well as skilled labour. Some jewellery like the terracotta jewellery or lac jewellery is indigenous to a specific region and is best outsourced, thus providing a means of employment and marketing for rural products. The choice to outsource or manufacture thus depends on the type of jewellery and on the skills, capacity and preference of the entrepreneur to manufacture or sell.

Create Website Or Sell Via Portals

– An online business needs an online address which is established via a website. Entrepreneurs must give the website serious thought, in terms of its interface, ease of use, simple navigation and user-friendly process of placing the order and making payments. The display pictures of the jewellery must also be attractive and captivating. Alternatively, entrepreneurs can sign up with existing shopping portals to market and sell their jewellery. 

Review Site Periodically –

For a business to succeed, it must be reviewed regularly and must thus work on the shortcomings or inadequacies. Therefore, checking the functionality of the website is a must and also in case of selling via any portals, then they too must be reviewed regularly.

Obtain Feedback To Improve And Innovate

– Entrepreneurs must look for ways, probably such as a questionnaire, where customers can leave their feedback and suggestions. This gives an idea of what is happening in the market and the needs of the market. It helps judge the marketing strategies and plan, whether the pricing is appropriate, helps understand the demands of the majority of the customers, review the team work of the members, etc.

Experiment With Materials And Designs –

In order to stay relevant and create niche products, entrepreneurs must experiment and use different materials for jewellery, such as combine silver and enamel jewellery, or silk thread and wire jewellery, quilling and silk thread jewellery, or gold and precious stones jewellery, etc. While experimenting with materials is great, different designs and features can also be added to regular jewellery to make each piece unique.
These criteria will help in starting and running an online jewellery store successfully. For further tips and information on how to start a jewellery business online, contact deAsra.