How To Start A Clothing Line?
Do you like designing clothes? Are you wondering how to start a clothing line?
If so, then you are on the right page.
The market for clothes and fashion industry is rapidly growing. If you have a passion for designing clothes, you can become successful. However, to earn considerable profits with your clothing line, you need to learn how to run a business, keep customers happy, and manufacture clothes that your users would want to buy.
In reality, being passionate about fashion only contributes half to your business. Starting a fashion business requires business management skills as well. Initially, you will have to juggle between marketing, sales, product quality, and retailing while still creating great designs.
So, to help you, we have prepared a 9-step guide for how to start a clothing line. Using the guide, you can evaluate factors such as goals, designs, marketing budget, and seed funding.
How to Start A Clothing Line?
Starting your own business includes the funding, business model, paperwork, initial costing, number of employees, etc. Once you have analyzed these aspects, you can focus on attracting, maintaining, and retaining customers.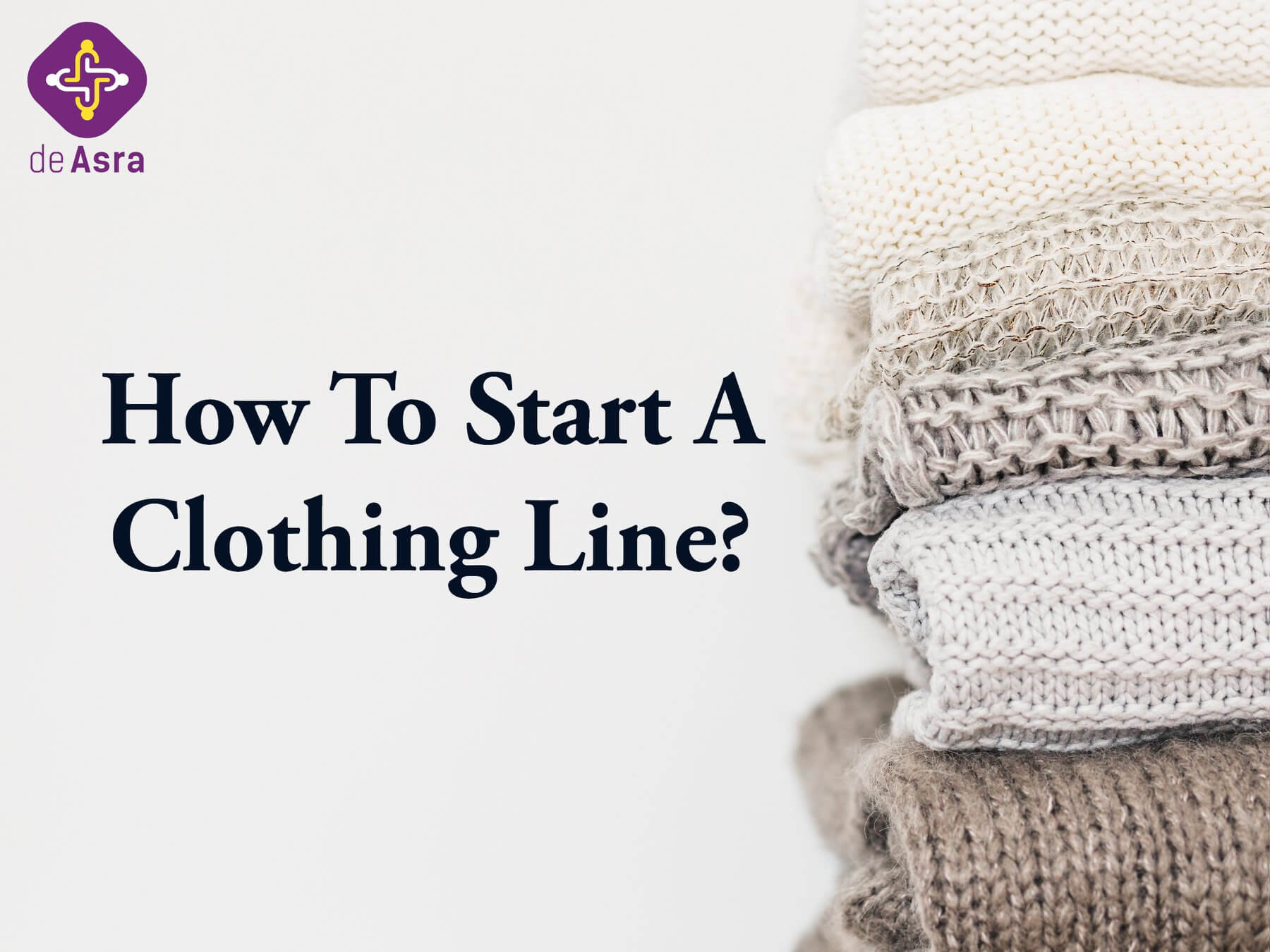 Let's see how to start a clothing line and the factors you should consider while doing so.
1. What Will You Sell?
When it comes to starting a clothing brand, you have many options. If you have knowledge of different products, it can be easier to go ahead . For instance, check the clothing options you can consider:
Printed t-shirts.
Casual and formal shirts.
Denim.
Winter wear.
Ethnic wear.
Dresses.
Lingerie.
Sportswear.
The best part here is that you can start a clothing line with any of the above products. There are various brands that manufacture a single type of product only.
Apart from deciding the clothing type, you also need to pay attention to your business model.
Let's see what business models can be chosen for a clothing line:
Wholesale Clothing Line.
Create-On-Demand.
Customized Cut-And-Sew.
The wholesale clothing line means creating apparels in bulk and sending it to retailers. This method may require more investment but the profit margin will also be high. You can purchase the raw material at a lower cost in bulk.
The create-on-demand business of specific products is a trend now a days.This is usually an online business model, which is not followed by many. The reason being that this model is similar to cut-and-sew. Hence, most users prefer customising the design instead.
The cut-and-sew is a tailoring-related clothing line wherein you can create samples of ready-made apparels while also giving customers an option to customize. This is extremely feasible for users as well as designers. It gives them a chance to start with low funding.
2. Funding
Every business requires a capital investment which means the entrepreneurs own shares as well as borrowings if required form financial institutions. However, it is not necessary to acquire funding from investors or on loan. If you have enough savings, you can use that as well.
To collect funding for your clothing line, you will need to find an estimate of the cost of setup. This is called cost analysis, which includes everything from business setup charges to the cost of marketing. Everything that requires money to start a new business should come under cost analysis.
Business registration fees.
Designing, content, and marketing charges.
Online portal charges.
Insurance amount.
Inventory product charges.
Cost of managing employees.
Cost of production.
Cost of distributing products etc
Certainly, the list is big. But, most of these investments are required while setting up a business. The recurring costs may include  the cost of managing employees, production, inventory etc.
One major reason for evaluating funding is to analyse how much profit you need to make to break-even. Just being consciously aware of your goal helps move towards it.

3. Market Research
Every product actively sold in the market has some demand. It is not possible to create demand for a certain product, so you will have to research the demand-supply ratio. Usually, it is preferred to go for a product that has high demand but low supply. This will instantly boost your scope of selling and give you enhanced exposure.
With that being said, it is not always necessary that the supply has to be low. Sometimes, even with the minimum difference in supply-demand, businesses flourish. This is because they offer high-quality products.
Hence, here are the steps you can follow:
Check if there is a demand for a particular product in the market.
If it is high, then check the supply of the particular product. If the supply is low, then you are in the right market.
If it is low, then evaluate if you can improve the quality and provide something creative and more qualitative. If yes, then you proceed .
4. Decide the Business Structure
Now, decide what type of business structure you would like to register such as sole proprietorship or partnership.
The sole proprietorship is the most basic structure that has one person who is responsible for the entire management.
The partnership will have a share and investment from multiple partners. The role of each partner will be decided beforehand. But, this structure doesn't give much flexibility of working to small owners as no one will have full control of the business.
To register the business, you will need to complete the paperwork and legal formalities.
5. Choose Name and Logo
Since you are starting a clothing line, your logo and name should be creative. It should reflect the artist in you. Hence, make an attractive  logo for  your product/business
Remember, the logo of the company is not just a task, in fact, it reflects your identity. The logo should be unique and your users should be able to connect with the product you like to offer in the market through the logo and the name.
The name of your company should be unique and recognizable.
6. Location
If you are starting with a small investment, you can sell your products from home. Selling your clothes online is another good option…So, if your concern is how to start an online clothing store you will need a good e-commerce website which will help you to gather more customers and spread the word about your clothing line. Although it might seem easy to start at home, you will eventually have to scale and improve, maybe a physical store after two years and more employees would help you grow your business.
For instance, you will need a good e-commerce website, maybe a physical store after two years and more employees.
If you are setting up a full-fledged business, then choose a busy market where people are interested in buying designer clothes. Here, ensure that the location of your shop is prime and clearly visible to customers. There shouldn't be too many clothing boutiques nearby. If the location doesn't satisfy the needs of your customers, marketing and sales efforts will also fail. Hence, be particular about selecting the location.
7. Employees
Hiring employees depends on your seed money. If you are starting a home office, one employee for each task such as stitching, designing, management, etc. will be enough. You will automatically realize the need to scale with time and then you can hire additional staff.
However, the requirements of a full-fledged business are more. An in-market store will need more employees.
It is essential to hire the right people for your business, as these individuals will directly contribute to your growth. It is advisable to, prefer using recruiters or outsource the hiring work to an agency in order to get best staff members.
8. Manufacturing
If you are hiring a team to cut and sew in-house, then manufacturing and related coordination would become simpler. You have to bring designs to your team, raw material, and evaluate the end product. You can modify the design  as and when required without any hassles with an in-house team.
Some people also prefer getting clothes made by a manufacturing unit. For this, you will have to be really careful. Go for sample designs first, take them to the market, and see the response of customers. If it turns out to be positive, you can place a bulk order.
Once the final products are designed, ask your friends and family to review it, and then move them forward to the market.
9. Marketing
There is more to a clothing business than just manufacturing. At some point, you will have to market the products. Use the power of digital media, spread the word of mouth, and give newspaper ads. Currently, Instagram marketing is a great medium for marketing your products to a large audience. You can also use influencer marketing to instantly reach a huge number of audience.
How Can deAsra Help?
If you are still wondering how to start a clothing line, then contact deAsra.
We can help you with the complete setup with guidance in entity selection, market analysis etc. A lot of people want to start their own business but what pulls them down is a lack of support.
deAsra aims to provide assistance and support to the budding business owners. Contact us now and let us assist you in setting up your business.